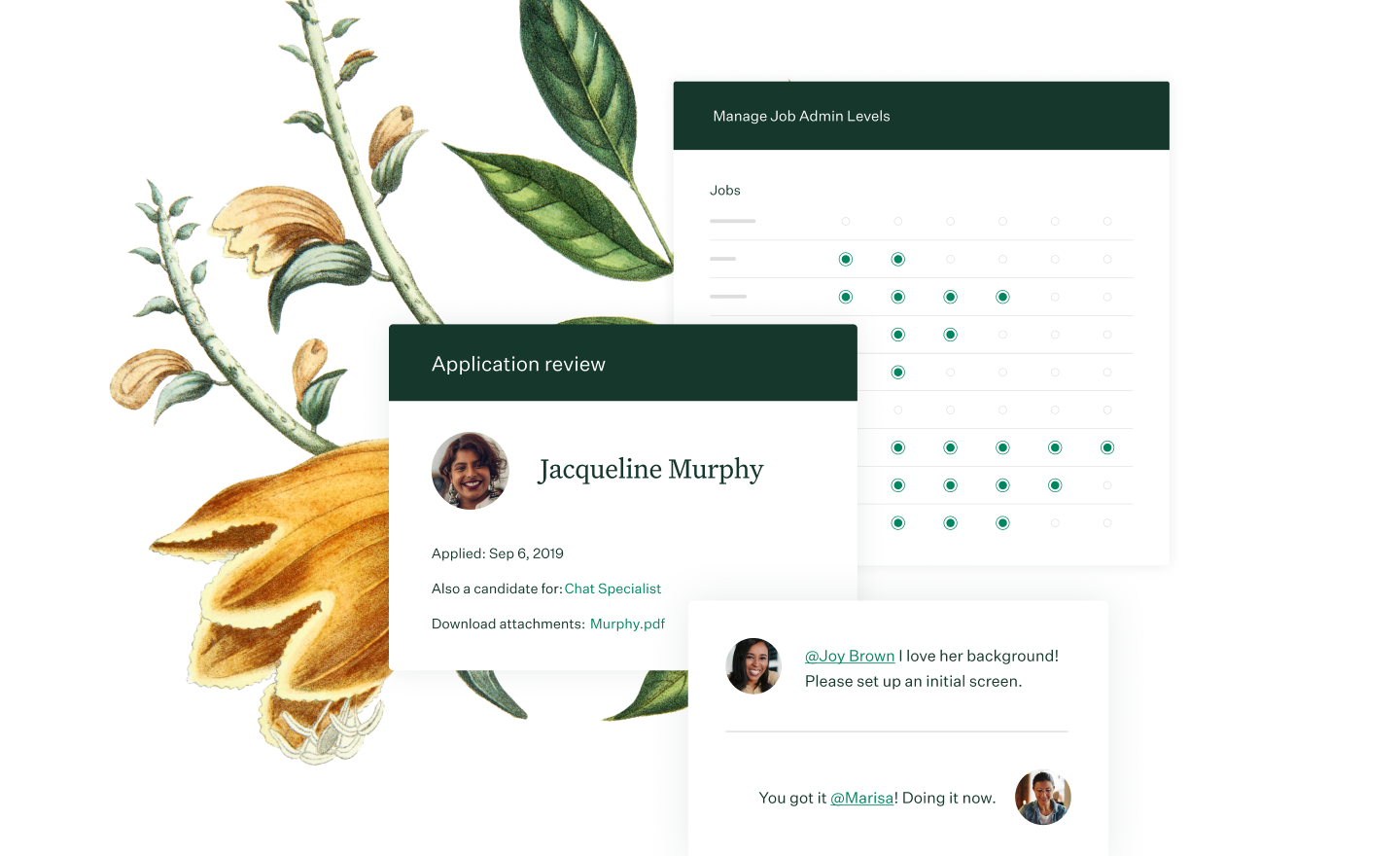 Train your organization on structured hiring and establish a process for ongoing adoption.
Greenhouse has worked with thousands of the most successful companies and, from that, we've identified the most effective ways to introduce Greenhouse and drive adoption of structured hiring processes company-wide. Here are the most common launch tactics our customers swear by:
Referral programs
Launch or promote existing incentive-based programs

Executive sponsorship
Announce Greenhouse at company-wide meetings to promote awareness

Training
Conduct in-product training, led by experts at the company, or let teams learn at their own pace with these on-demand webinar tutorials
Activation
Use posters, flyers and newsletters to help spread word there's a new tool in town
Note: The objective of this guide is to build a plan for establishing company-wide structured hiring training and adoption.
Create permission guidelines
There are three key things to keep in mind when setting up Greenhouse permissions:
1 Identify the role contributions of each hiring team member to determine
who should receive admin permissions. Limit the number of site admins
and ensure they're enabled to support a strong candidate experience.
2 Create permissions documentation. This will make it easier for your team to assign the correct permissions to new users as you continue to grow.
We've included examples below:
Recruiters
Permissions access level
Job admin private (specific roles/departments at the organization)
Job admin standard* (all roles at the organization)
*Organizations with the custom job admin feature can create multiple job admin access levels for different use cases.
Permissions
Job admin private and standard:
See and do everything across assigned jobs

Advance, reject and email candidates and prospects across assigned jobs
User-specific options:
Edit users' advanced permissions

Create and override approval flows

View EEOC and demographic reports

Create and view private candidates

Bulk edit jobs

View private notes and salary info, manage offers and approve jobs/offers

Manage prospects

Developer permissions
Executives
Permissions access level
Job admin standard (all roles at the organization)
Permissions
Same as Recruiters
Hiring Managers
Permissions access level
Job admin private (specific roles/departments at the organization)
Permissions
Same as Recruiters and Executives
Anyone else at the company
Permission access level
Basic user access
Permissions
Basic user access:
Share open role posts to social networks

Submit referrals

Participate in interviews*
*Basic user permissions are the minimum access level needed to efficiently interview candidates.
User-specific options:
3 Create an off-boarding process to remove access to Greenhouse as team members leave your organization.
Want to learn more? Take a look at this video on permission tiers and custom job admin levels and this user-specific permissions overview.

Launch or refresh your referral
program
Employee referrals are the best source for quality talent leads, as they generally cost less to hire, perform better, and stay longer than candidates sourced externally. Take a look at these 5 basic steps to building a strong referral program at your company.
Operationally, you'll want to make sure your referral program:
Prioritized the importance of diversifying teams
Enhance your referral program using integrations with several
referral sourcing partners
Greenhouse offers to help you create effective and efficient programs.
Organize a Greenhouse
rollout plan
We've gathered the templates our most successful customers use to launch Greenhouse and get their teams bought-in.
Here they are sorted according to permission level:
Job admin: Hiring managers, coordinators and recruiters
| | | |
| --- | --- | --- |
| Actions they'll take | How to communicate with them | Resources for training them |
| Everything! | Same as Job Admin group | New Admin training guide |
Build a culture of great hiring
Once you've rolled out Greenhouse, it's important to continually reinforce structured hiring processes to keep them top-of-mind for everyone at your organization. Here are a few of the top ways our customers drive cultures of great hiring.
Keep communication consistent
Consistent and ongoing communication is key to ensuring everyone stays on track. These examples of notifications will keep your team engaged throughout the hiring process:
Track ongoing progress
At Greenhouse, our average time-to-hire – from role creation to offer acceptance – is between eight and 12 weeks. This timing can vary, but we measure our performance and effectiveness against diligent responsibilities, expectations and deadlines set with each person involved in the hiring process.
While your company's hiring process is unique and timelines may vary, it's important that those timelines are established and then communicated throughout the organization. We've mapped out the Greenhouse recruiting workflow here for context.

Train new hires on Greenhouse
Make sure that structured hiring with Greenhouse remains a company-wide priority by including training in your new hire onboarding process. Here are a few Greenhouse training templates built for some of the most common roles: