Scorecards allow your hiring team to review all of a job's candidates using a set of predetermined criteria.
After job criteria are created, interviewers use scorecards to submit feedback on candidates as part of the structured hiring process. Interviewers then review submitted scorecards as a group during the candidate roundup.
Scorecard components
Scorecards include skills, traits, qualifications, and other attributes you want in a candidate. You can then choose one or more of these as focus attributes for interviews.
Configure a scorecard
You configure a scorecard during a job's setup. At this time, you can add and categorize attributes on which you will assess candidates. You can also choose which, if any, attributes to focus on during the candidate roundup.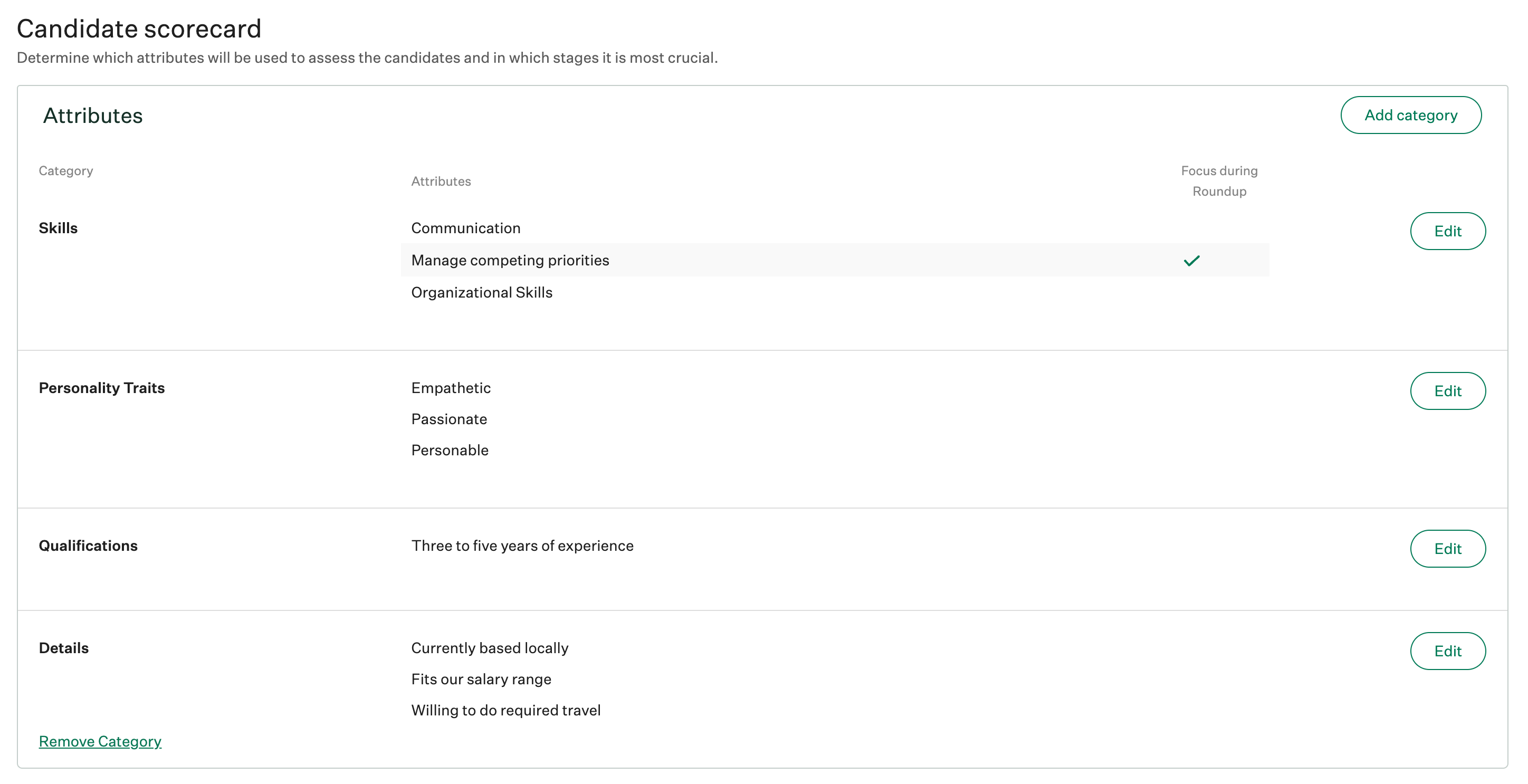 Note: Jobs require a scorecard by default, but you can also make scorecards optional.
Reconfigure a scorecard
You can reconfigure a scorecard even after a job's status is changed to open. You can edit one scorecard at a time or edit scorecards in bulk.
Assign a scorecard
A scorecard is automatically assigned to an interviewer once their interview is scheduled.
You can also assign a scorecard manually.
Example: If you want to request feedback from another team member without scheduling an interview, you can assign a scorecard manually to ensure their input is considered. This method of assigning scorecards also works for group interviews in which every interviewer needs their own scorecard or last-minute interviews that don't require scheduling.
Fill out a scorecard
Once an interview ends, the interviewer will be able to fill out their scorecard.

The scorecard includes multiple sections.
Key takeaways
List your conclusions, pros, cons, and anything that should be followed up on in later interviews. You can also add private notes, add a note for another interview, and @ mention another user.

Attributes
Rate how well the candidate demonstrated focus attributes and additional attributes. To learn more about the strategy behind our rating system, click here.

Overall recommendation
Give a recommendation of whether the candidate passed the interview. Options include Definitely Not, No, Yes, and Strong Yes. You can also skip this step.

View a submitted scorecard
Scorecards can be viewed in the Scorecards tab of a candidate's profile by users with job-based permissions or above.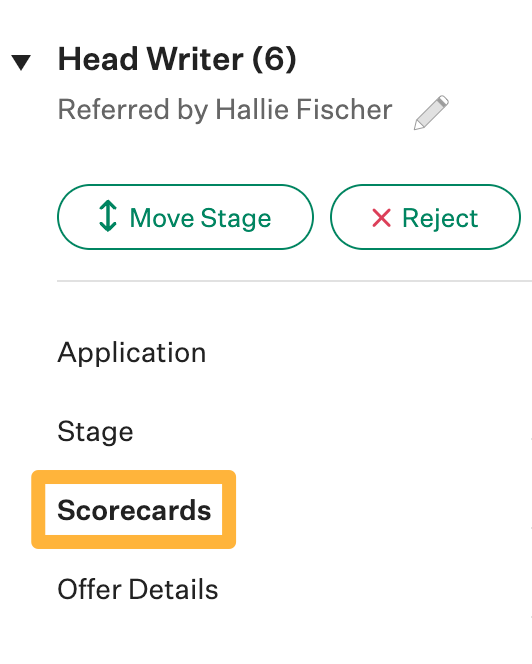 Depending on your permission policies, interviewers who submitted a scorecard will be able to view their past scorecards never, always, or only after all other interviewers submit their scorecards for the interview. Access to view these scorecards for users without job-based permissions will be contained within the interview kit solely.
Whether Job Admin can view all scorecards depends on your Job Admin level permission policies as scorecard visibility is configurable for these users. Site Admins, however, can view all scorecards for all candidates without needing any specific scorecard visibility permissioning.
You can also set up new scorecard notifications to alert specific users when a new scorecard is submitted for a candidate.
Click here to learn how to edit a scorecard after it's submitted.