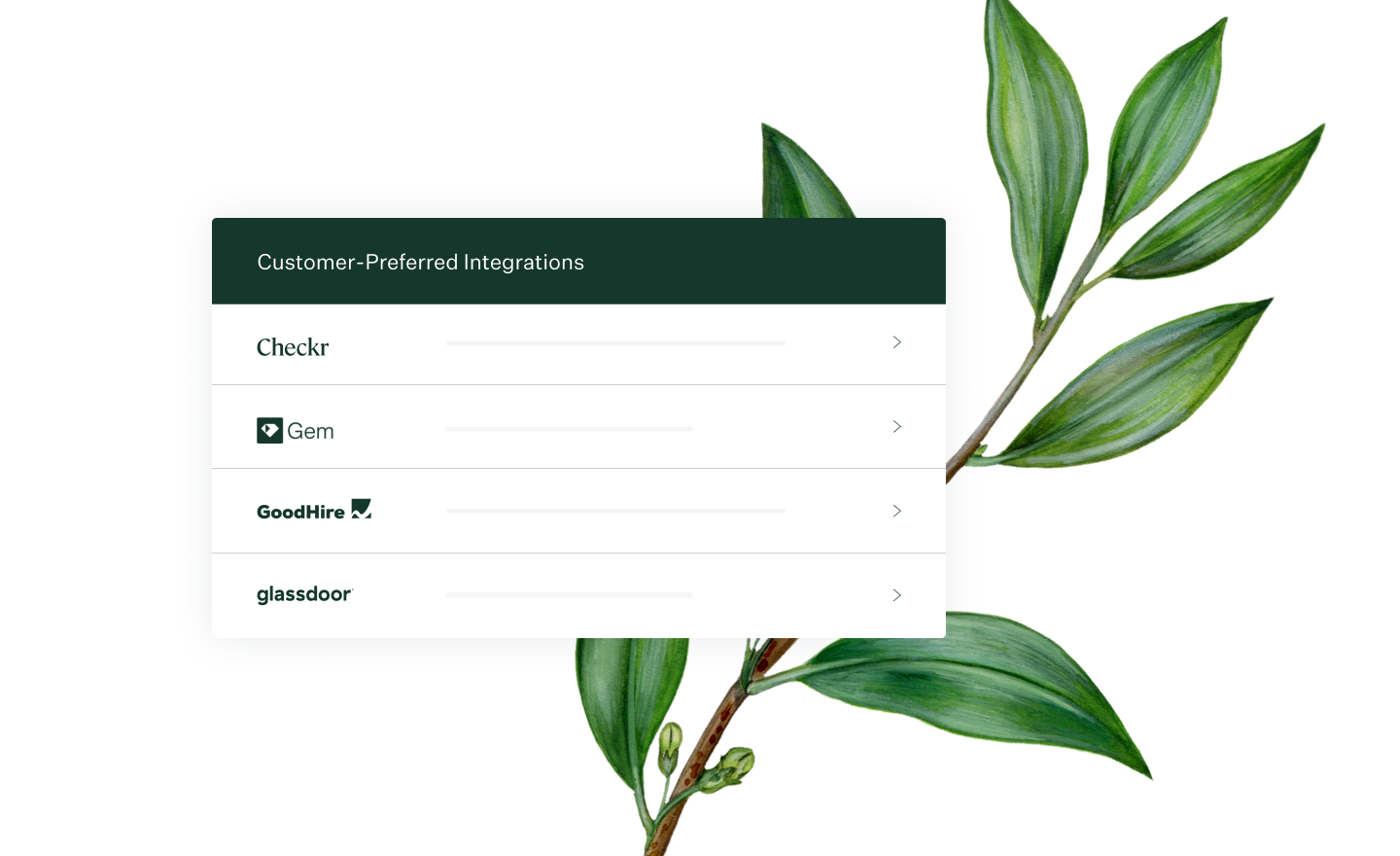 Enable seamless integrations to get the most out of Greenhouse.
Our fast-growing ecosystem of Greenhouse integration partners helps you seamlessly work across the most innovative tools in every category of hiring. The Greenhouse Customer-Preferred Partners are the tools our customers have tested, implemented and recommend as their most effective integrations.
Note:The objective of this guide is to set-up baseline integrations, and learn how to leverage pre-built integrations and an open API for any system
Enable baseline integrations
Scheduling
Make sure that anyone scheduling interviews has connected their calendars with Greenhouse. Here are some useful integrations that most Greenhouse customers have integrated to make scheduling easier:
Candidate sourcing tools
Consider tapping into any of our candidate sourcing tools integrations, to scale your hiring efforts by searching priority databases, boosting employee referrals and managing a fleet of agencies.
Electronic signature
E-signature tools like DocuSign can help expedite and streamline your offer letter process. Check out all of our e-signature integrations here.
Customize your hiring solution
With hundreds of pre-built integrations and an open API, you can connect Greenhouse with any platform or system. Here are some common integrations Greenhouse customers use to customize their hiring tech stack for their unique needs. You can easily request demos to learn more about partner platforms.
Background checks
Get background checks rolling through Greenhouse with any of our candidate background check integrations.
Candidate testing
We offer integrations with a number of candidate testing partners focused on screening candidates with online skills tests.
Customer-Preferred-Partner: HackerRank

connect
HRIS
Invest in a system to manage your employees' data. Greenhouse Recruiting integrates with HRIS systems to automatically send new hire information for seamless onboarding.
Customer-Preferred -Partner: Namely

connect
Establish an onboarding process
Greenhouse can help orchestrate the transition from new hire to integrated team member with Greenhouse Onboarding. Here are tips for facilitating a best first impression with your new hires.
Design a personalized onboarding experience

Use a consistent framework for onboarding

Implement automated tasks that work in the background

Analyze results and optimize your onboarding performance over time
Check out Greenhouse Onboarding for more information reach out to your Account Manager or accountmanagement@greenhouse.io for more information.
Keep track of your progress
Don't forget to track your progress against your hiring goals with Greenhouse. We made this handy checklist to help you keep the momentum going from your success – use it to execute the next steps in optimizing your hiring process.