HackerRank, the developer skills company, helps businesses attract, evaluate and hire the best technical talent from around the world. Over 2,000 customers across all industries, including 25% of the Fortune 100, rely on HackerRank to raise their hiring bar. More than 7 million developers trust HackerRank to learn and practice coding skills.
Greenhouse Recruiting's integration with HackerRank allows you to seamlessly add HackerRank's assessment to a job's interview plan.
Set up the integration
Note: HackerRank Developer accounts can't be used with the HackerRank integration. You need a HackerRank Recruiter user account to send tests.
Each person at your organization who plans on using this integration needs to set up a HackerRank API key in their respective Greenhouse Recruiting accounts. A HackerRank global API key can be generated from a HackerRank account administrator's account and then be shared among other recruiters at your organization.
Generate a HackerRank API key
To generate a HackerRank global API key, log in to HackerRank.
Navigate to Settings, and then select Integrations.

Search and select Greenhouse Recruiting on the integrations page and click Configure.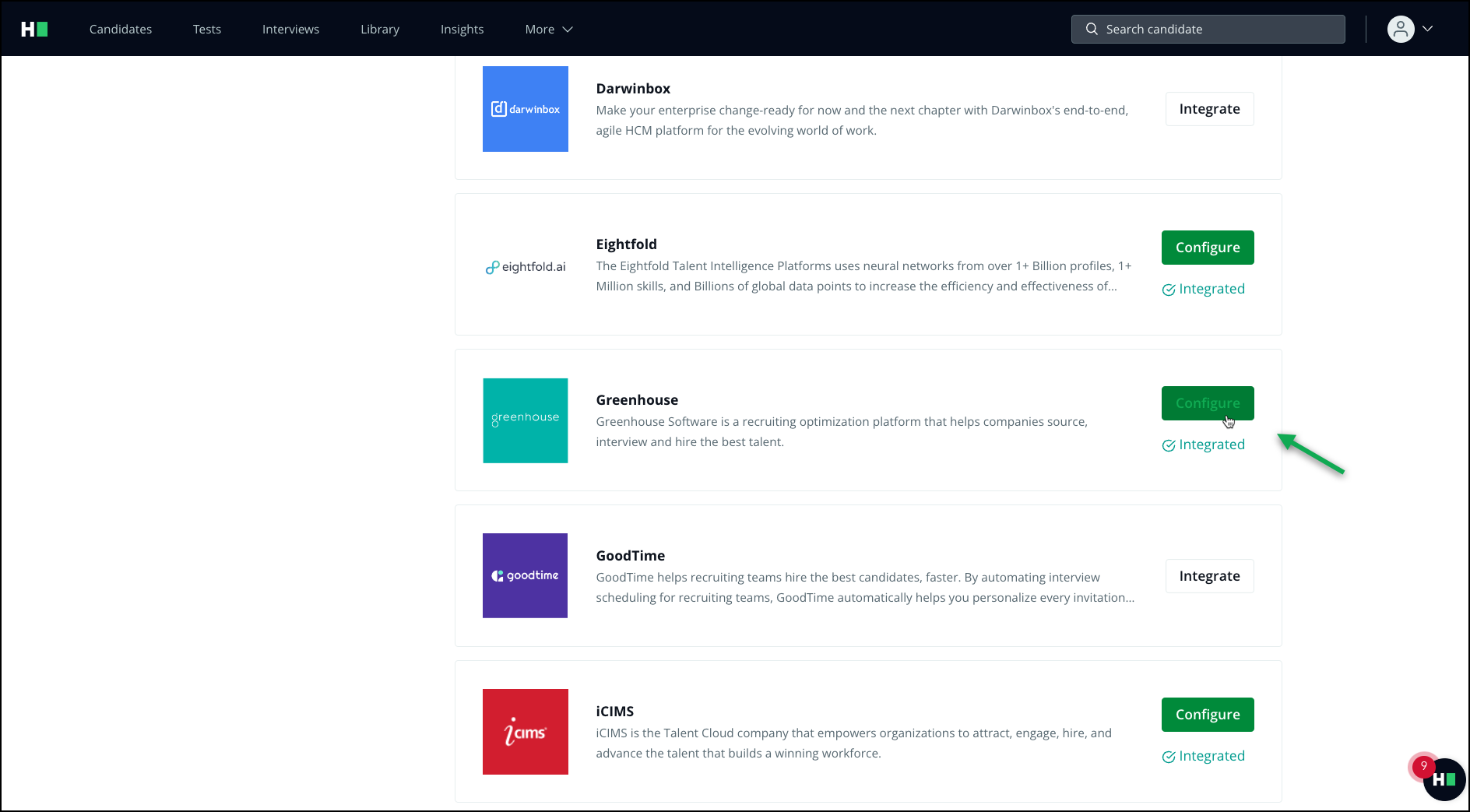 Click the Generate an API token icon below the API key to save the key to your clipboard.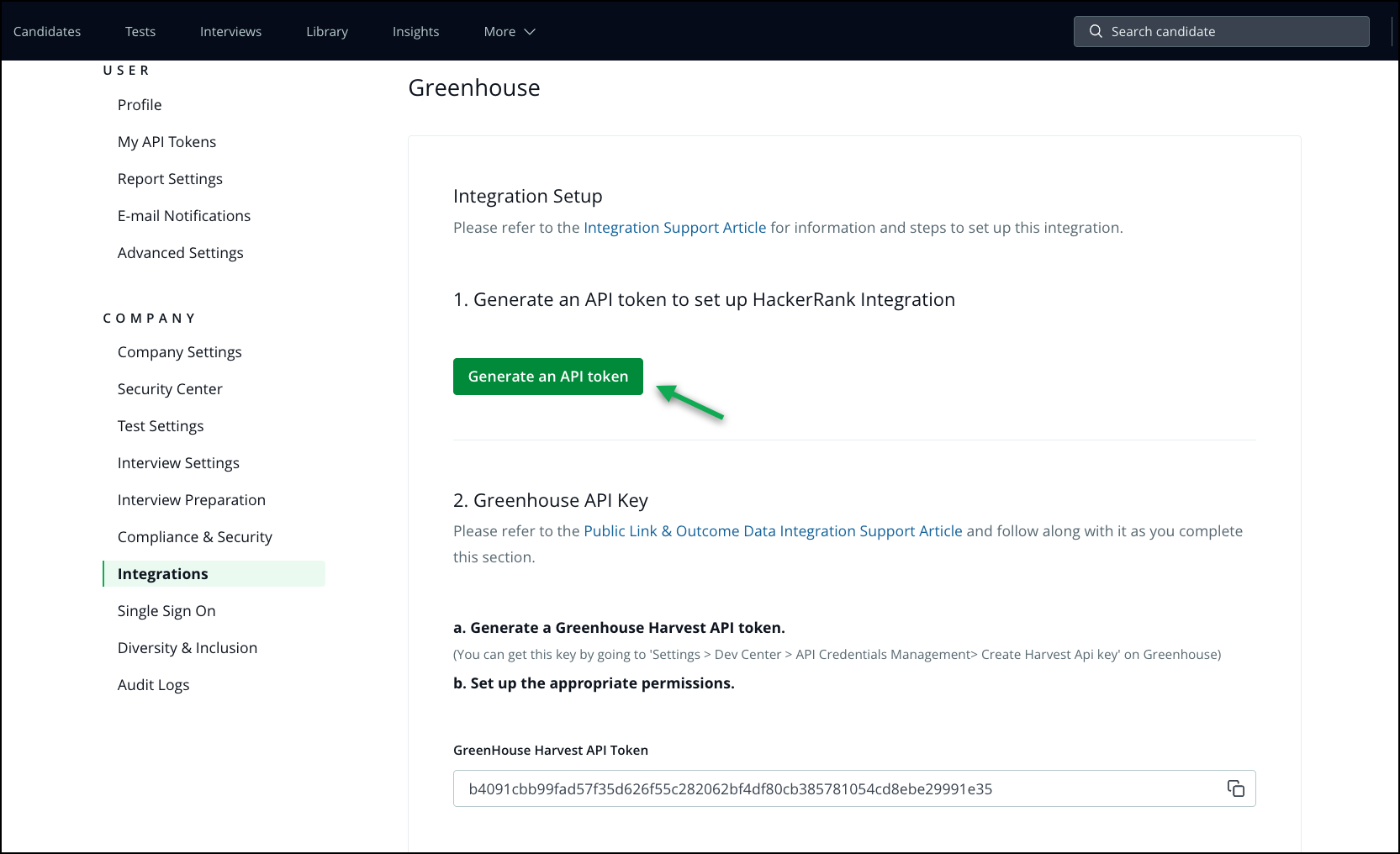 Note: After generating the HackerRank global API key, securely store this key. Every new user will need to enter the global API key into their individual Greenhouse Recruiting user accounts.
Enable in Greenhouse Recruiting
With your HackerRank API key copied, log in to your Greenhouse Recruiting account and click Integrations on your navigation bar.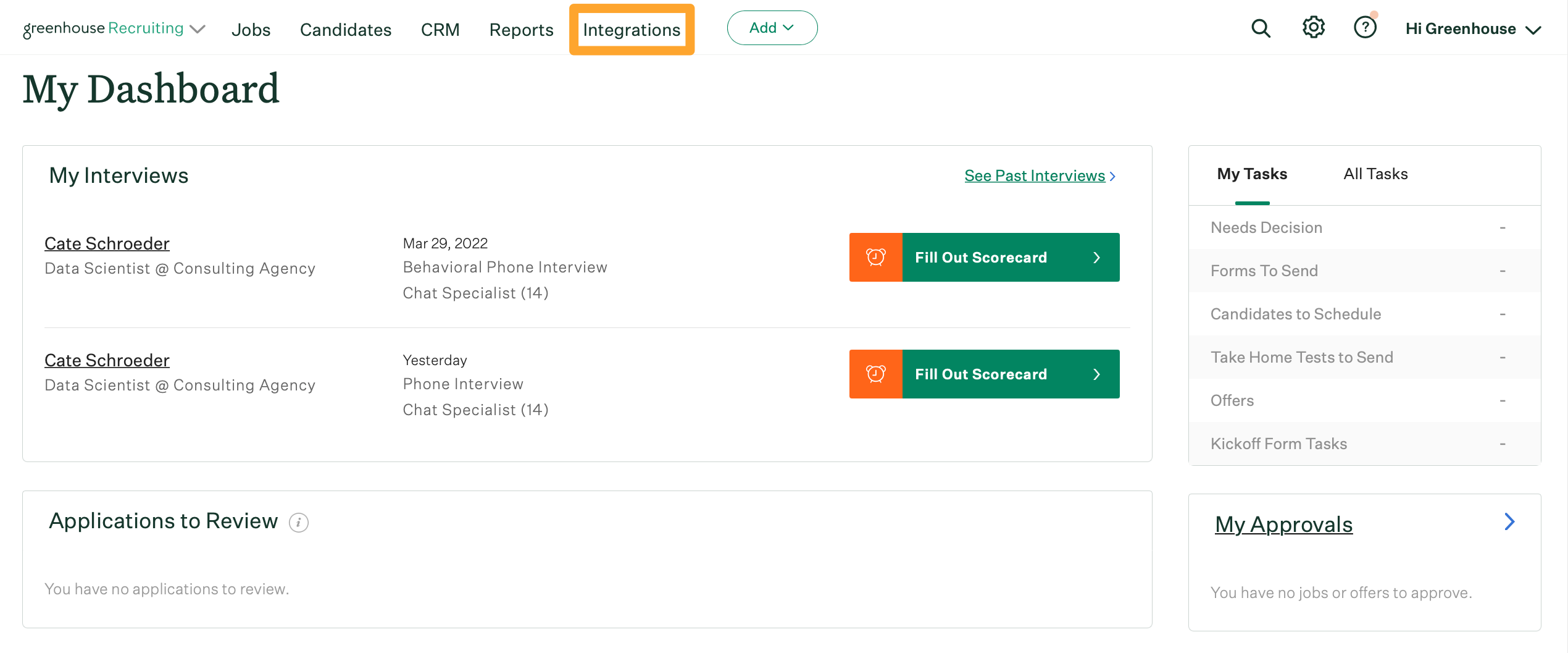 Find HackerRank in the integrations search bar. Click Connect.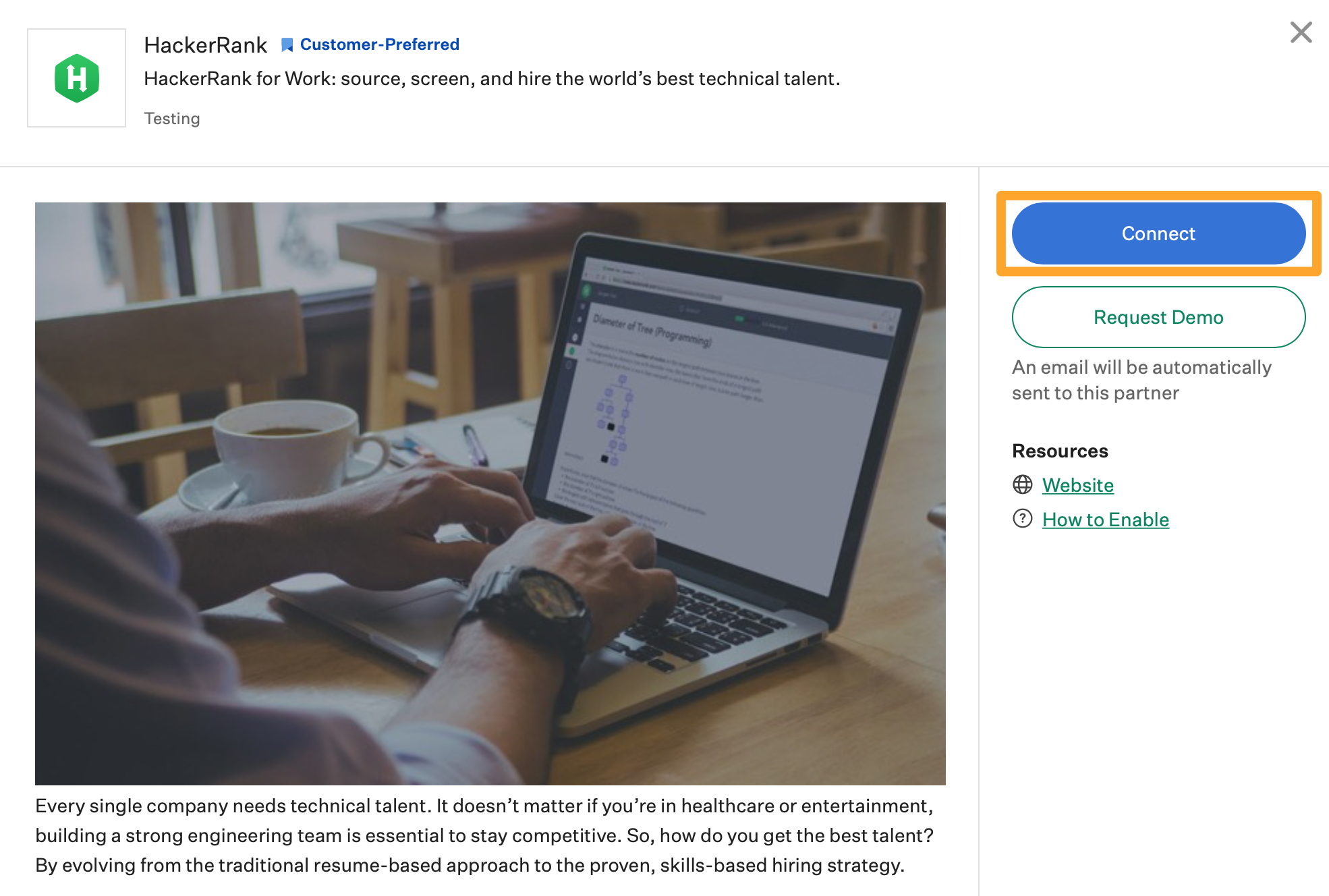 Paste your HackerRank API key, and click Save.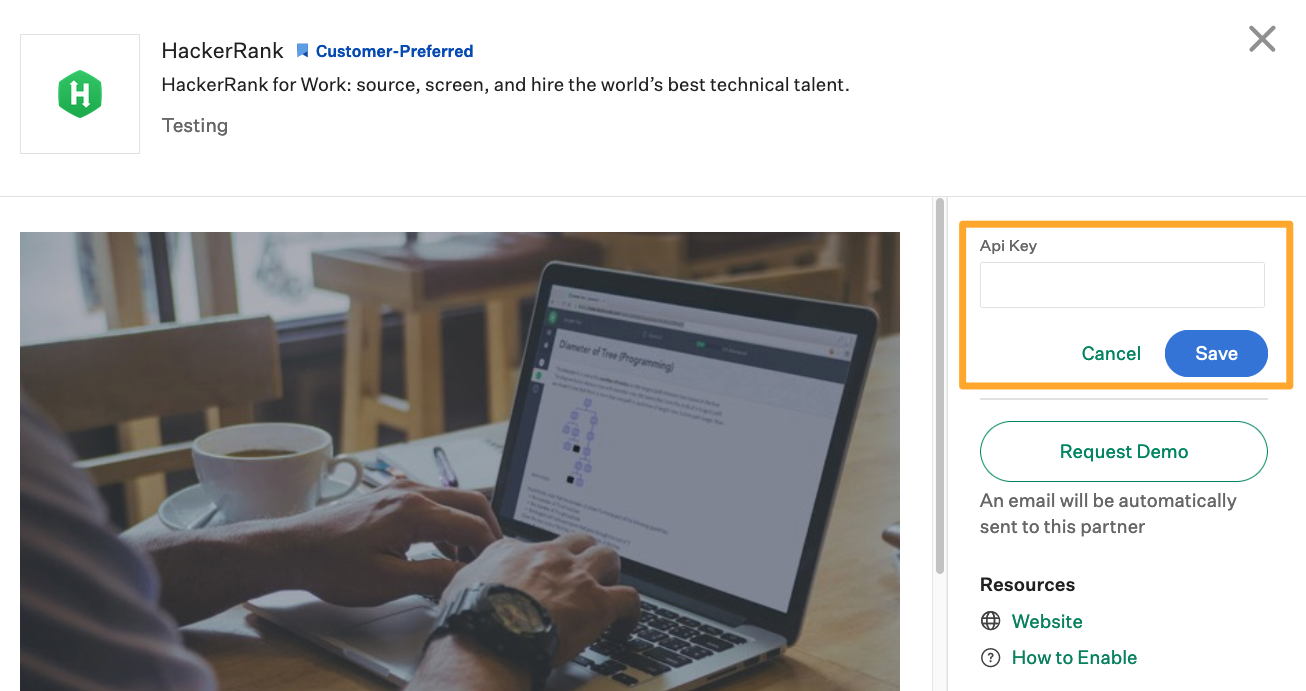 Once complete, the integration is set up and ready to use.
Use the integration
Configure a job's interview plan
Once the integration is enabled, add the HackerRank assessment as an interview stage.
Update an interview plan and choose HackerRank interview from the list of stages.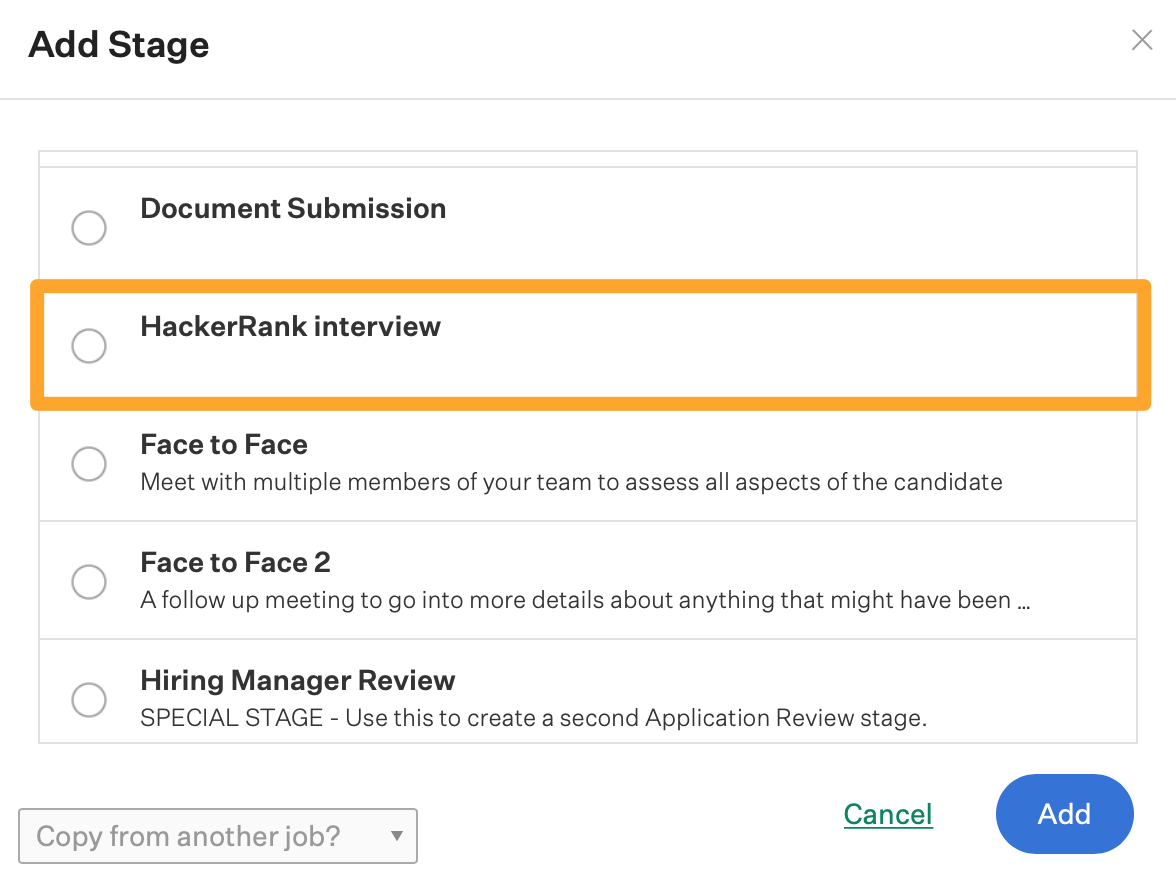 Note: Stage transitions can't be used with the HackerRank integration.
Once the stage has been added to the job's interview plan, click Edit Take Home Test to choose the specific assessment and grader.
Note: The assessment configuration, including any additional settings like the email template or branding, must be configured in HackerRank.
Send and review the HackerRank test
When candidates are moved into the HackerRank interview stage on a job, a Send Test link will display on the candidate's profile.
Click Send Test and the candidate will receive an invitation with login credentials to complete the HackerRank assessment.
Note: When you send a test in Greenhouse Recruiting, the interview instructions are actually sent by HackerRank.
The status of the test will be viewable in Greenhouse Recruiting:
Take Home Test to be sent.
Waiting for candidate to submit test
Scorecard due from [ GRADER ]
Once the candidate has submitted their test, you can view their HackerRank score by opening the interview kit for the HackerRank interview.
Live coding exercises with the HackerRank integration
Some organizations like to use the HackerRank integration to create a live coding exercise, rather than a take-home test. To configure a live coding test, add a new interview stage named Code Pair and configure it with all the necessary questions and focus attributes. Candidates can then be moved to this stage and scheduled as normal.
When it's time for the live exercise, the interviewer and candidate can both log into the HackerRank platform and conduct the exercise. The interviewer can then complete their assessment using the Greenhouse Recruiting scorecard.
Frequently asked questions
What sort of HackerRank license do I need?
Users need a HackerRank recruiter license to send out tests. HackerRank Developer accounts cannot be used with the Greenhouse Recruiting/HackerRank integration.
Can I use stage transition rules to automatically send assessments?
Stage transition rules can't be used with the HackerRank integration.
Additional resources
For more information on the HackerRank integration, contact Greenhouse Technical Support.