Your company's hiring process does more than dictate your hiring teams' effectiveness – it helps define your employer brand to candidates.
Thoughtful, strategic and transparent processes make your candidates feel comfortable, informed and valued. And they empower your hiring teams to work more efficiently and better communicate with hiring managers and executives.
The spectrum of hiring processes at companies is what we call the Greenhouse Hiring Maturity™ curve, which we break down into four stages: chaotic, inconsistent, systematic and, finally, strategic.
As companies climb the Greenhouse Hiring Maturity™ curve, we start to see similarities between the behaviors and strategies that help to deliver a great hiring experience.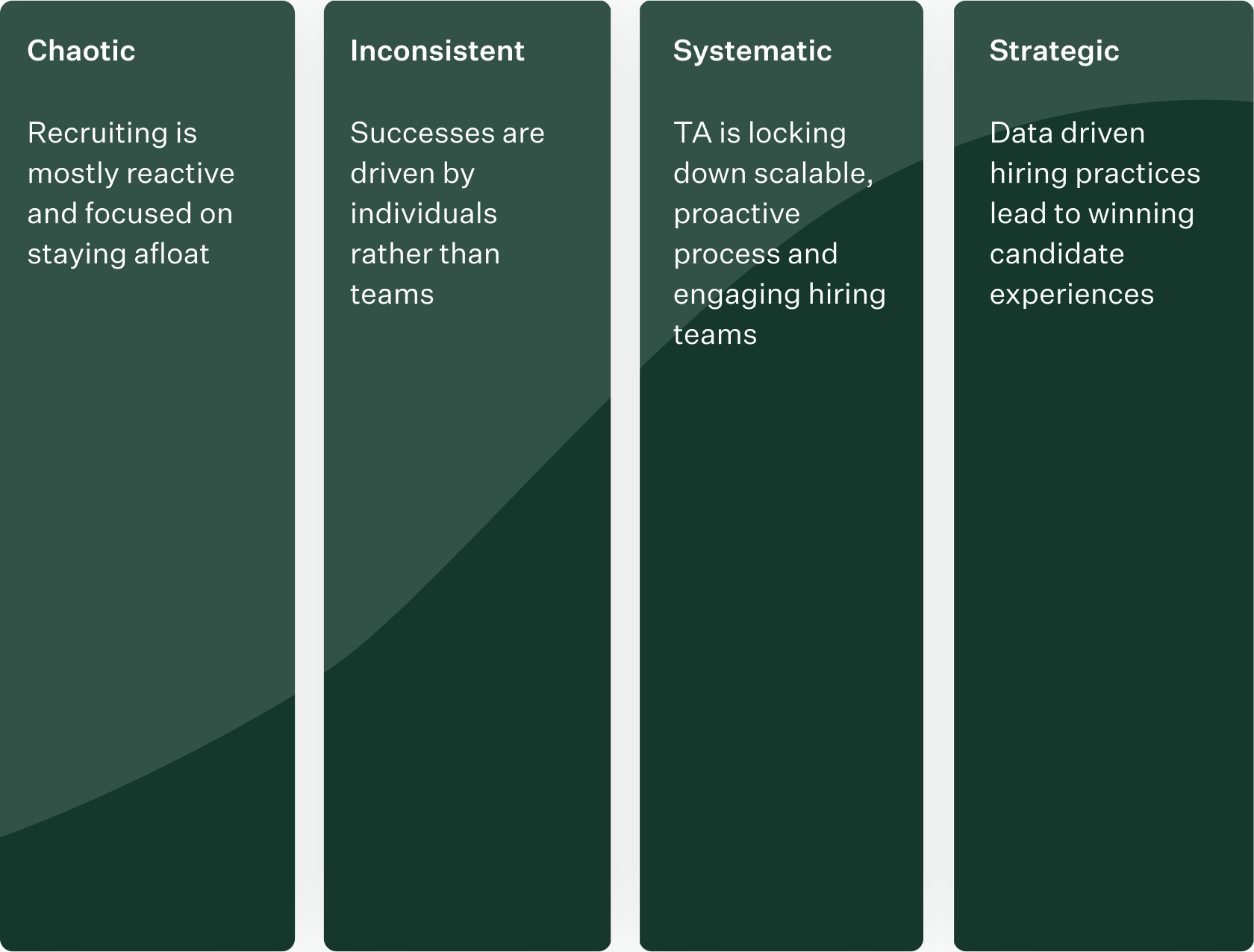 Chaotic/inconsistent
At this stage, it's important to lay the groundwork to deliver great experiences for both candidates and your internal teams. Start building a better hiring culture by engaging employees from all levels of the organization, especially those who will interview future candidates. The conversations and action items below will help you to implement repeatable processes within your Greenhouse account – and every hiring touchpoint.
Key conversations to enable change management:
Additional actions to configure Greenhouse with your team:
Systematic
When it comes to the hiring experience, you have the right foundation, but there's room to improve. Strengthen your employer brand even further by taking charge of strategic communication with candidates and future applicants. Ensure consistency in your hiring process with clear guidelines and task assignments.
Key conversations to enable change management:
Additional actions to configure Greenhouse with your team:
Strategic
The experience you provide candidates, new hires and hiring managers is a competitive advantage – and it's benefiting the entire organization long term. You have the confidence to compete for and win top talent. To keep your hiring experience top notch, here are actions we see the most strategic companies continuing to iterate and improve on:
Key conversations to enable change management:
Quick actions to configure Greenhouse with your team: