The interview kit contains everything an interviewer needs to conduct a focused, purposeful interview and provide useful feedback afterwards. This includes interview instructions, interview questions, the candidate's resume, and a scorecard. Click here to learn more about configuring interview kits.
As an interviewer, you can access your assigned interview kit two ways:
By clicking the interview kit URL in the calendar event for the interview
From the My Interviews panel on the My Dashboard page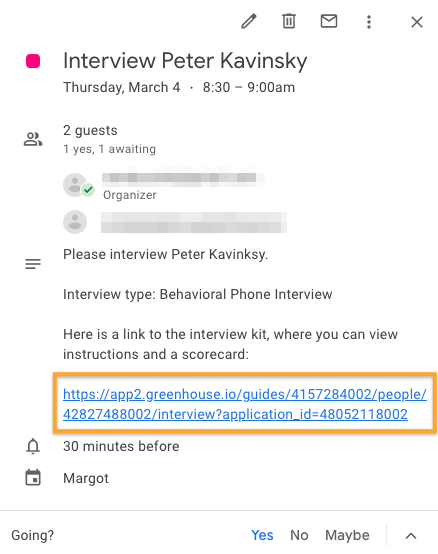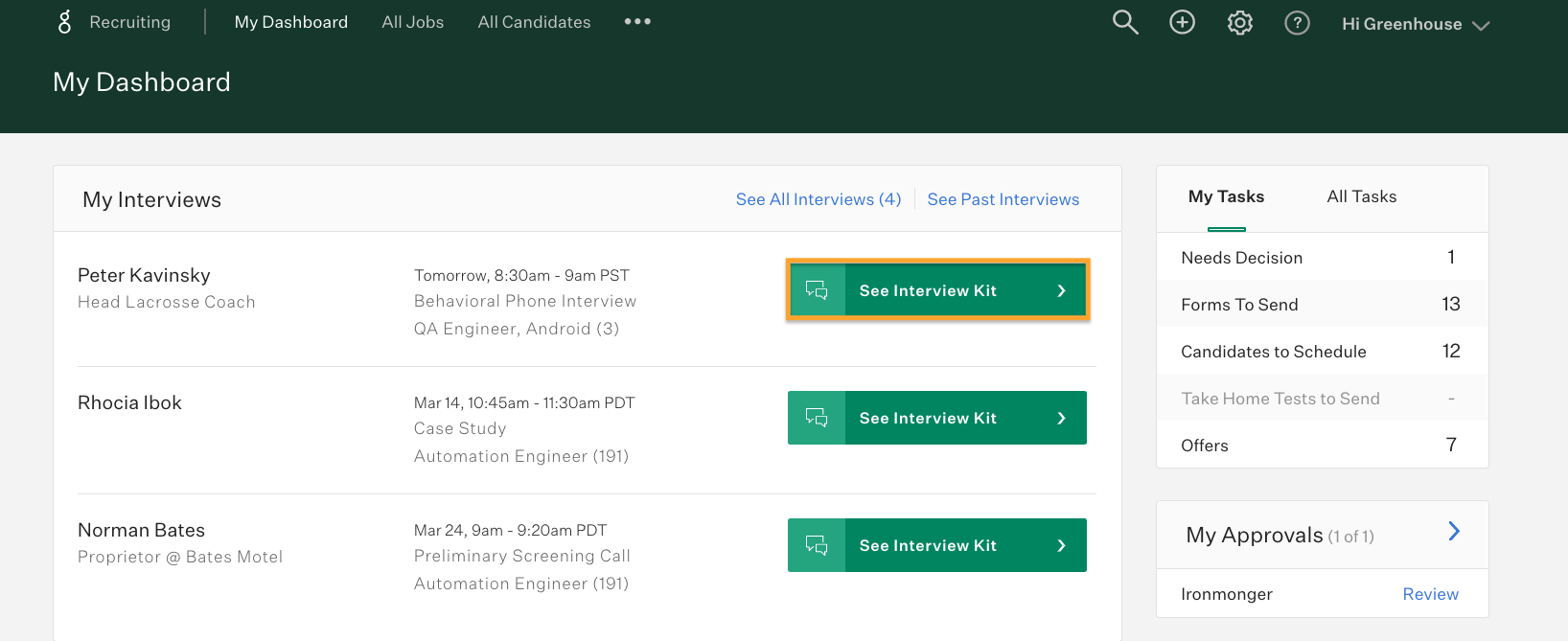 From the Interview Kit page, the following information is available in the right-hand panel:
Candidate's name and contact information
Candidate's name pronunciation recording and personal pronouns (if provided)
Candidate's resume and cover letter
Candidate's interview schedule
Links to other interviewers' submitted scorecards (if permitted by your organization)
Option to download your interview kit as a .pdf file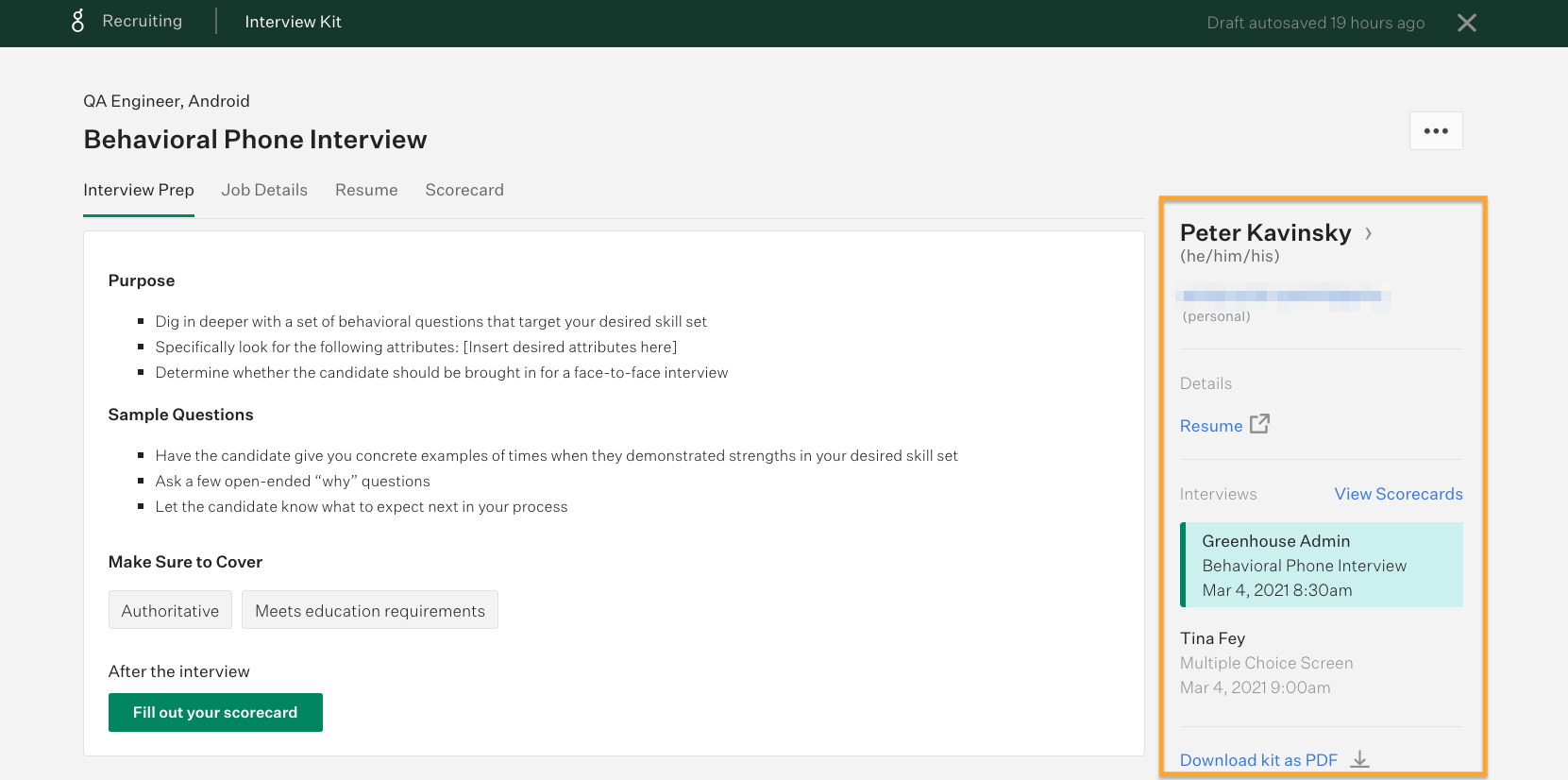 The following tabs are available at the top of the Interview Kit page:
Interview Prep
This tab includes details provided by your recruiting team to help shape the interview. Your team might include context about the role or interview, sample questions, and guidelines to keep in mind during the interview.
The Interview Prep tab also includes any notes previous interviewers added for other interviewers (see Note for Other Interviewers in the Scorecard section below).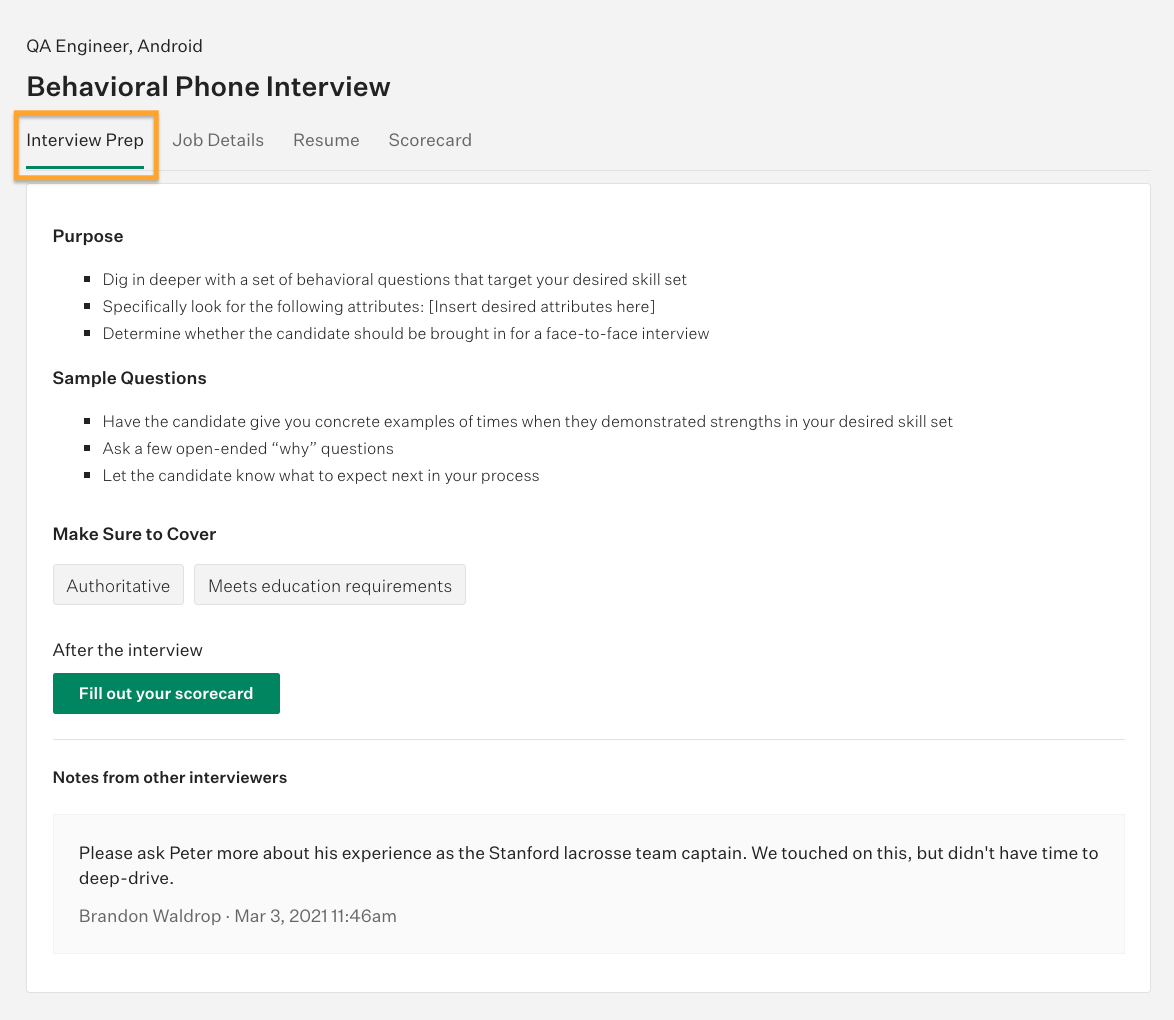 Job Details
This tab includes details provided by your recruiting team about the job's team and responsibilities. It also includes a copy of the job's live external job post (if one is available).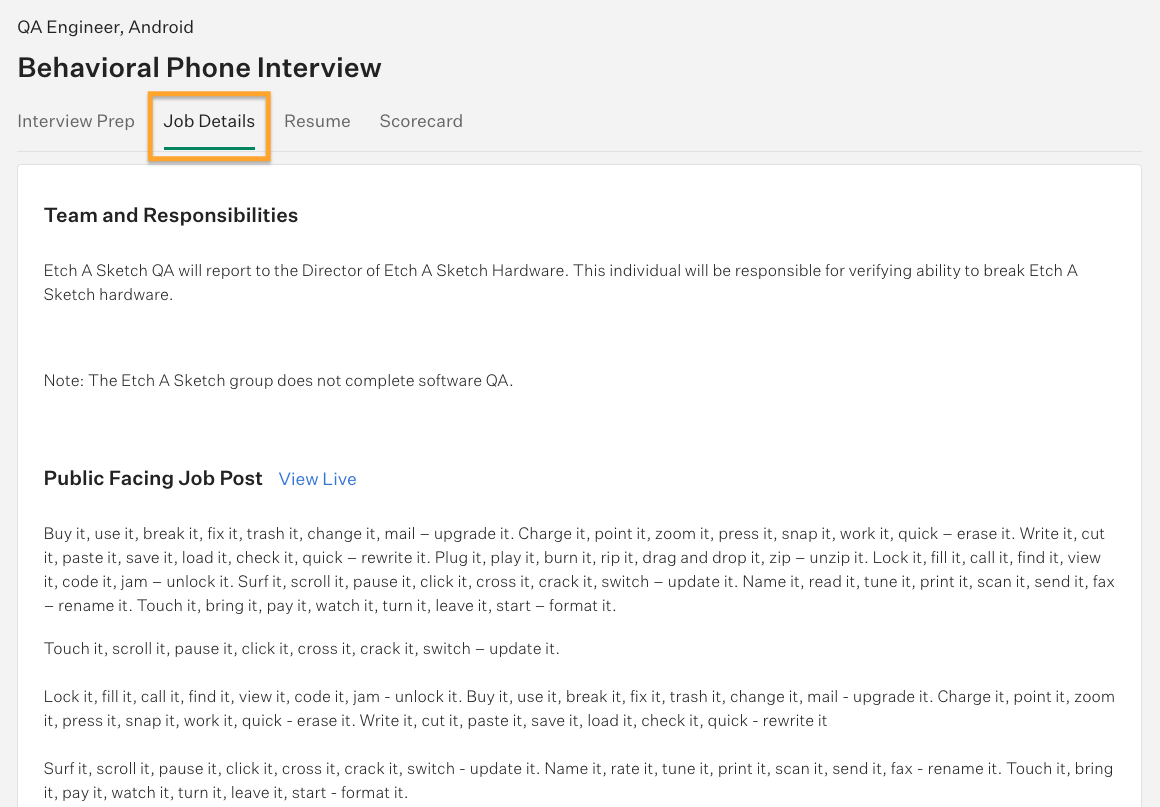 Resume
This tab provides quick access to review the candidate's resume and/or cover letter, if available.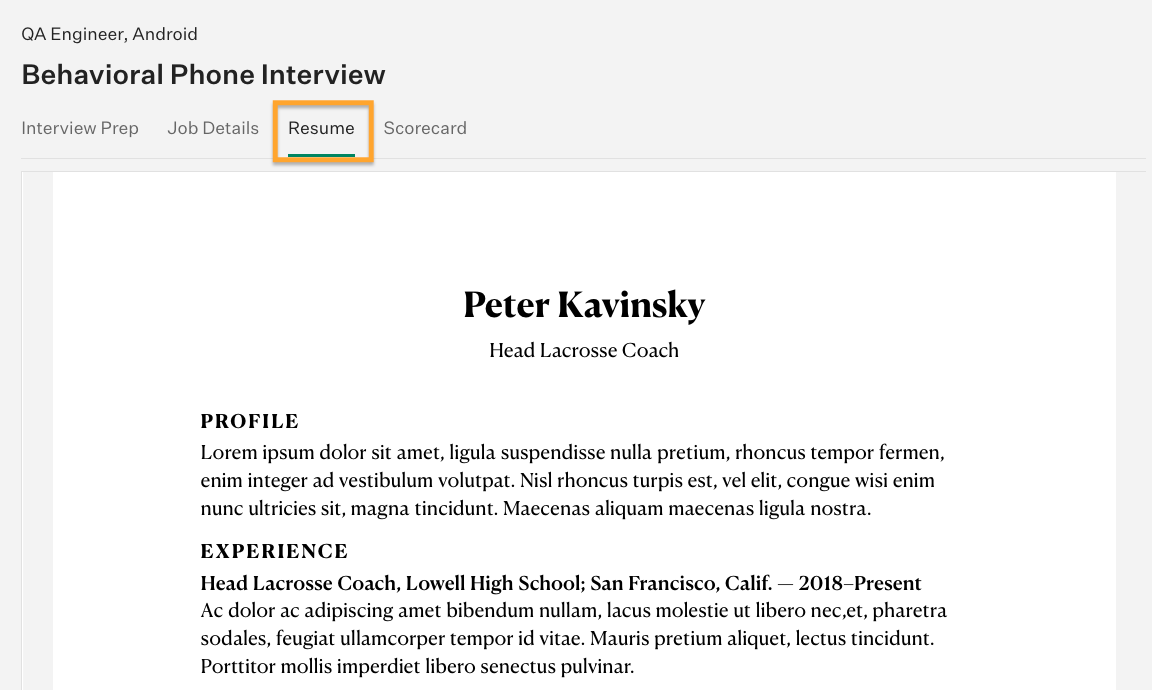 Scorecard
This tab is used to record your feedback during and after the interview.
Key Take-Aways: Use this text field to enter feedback, conclusions, pros and cons, things to follow up on, etc.

Private Notes: Click this link to reveal a text field where you can enter notes visible only to Job Admin and Site Admin users with permission to view private information about the candidate.

Note for Other Interviewers: Click this link to reveal a text field where you can enter notes that will be visible to other users scheduled to interview the candidate, as well as to Job Admins and Site Admins. Notes added to this field appear under the Interview Prep section of the Interview Kit for other interviewers, as well as in the candidate's Activity Feed, and are considered public notes.

Interview Questions: Any interview questions your organization created appear in the Scorecard section, each with a blank for you to add notes.

Does the candidate show clear competence in the following areas?: All attributes your recruiting team selected for the job appear in this section. Focus attributes appear at the top; these are attributes your internal team has asked you to focus on specifically. Be sure to provide a rating for all focus attributes (and notes about why you selected that rating!), as well as for any other attributes that stood out to you during the interview.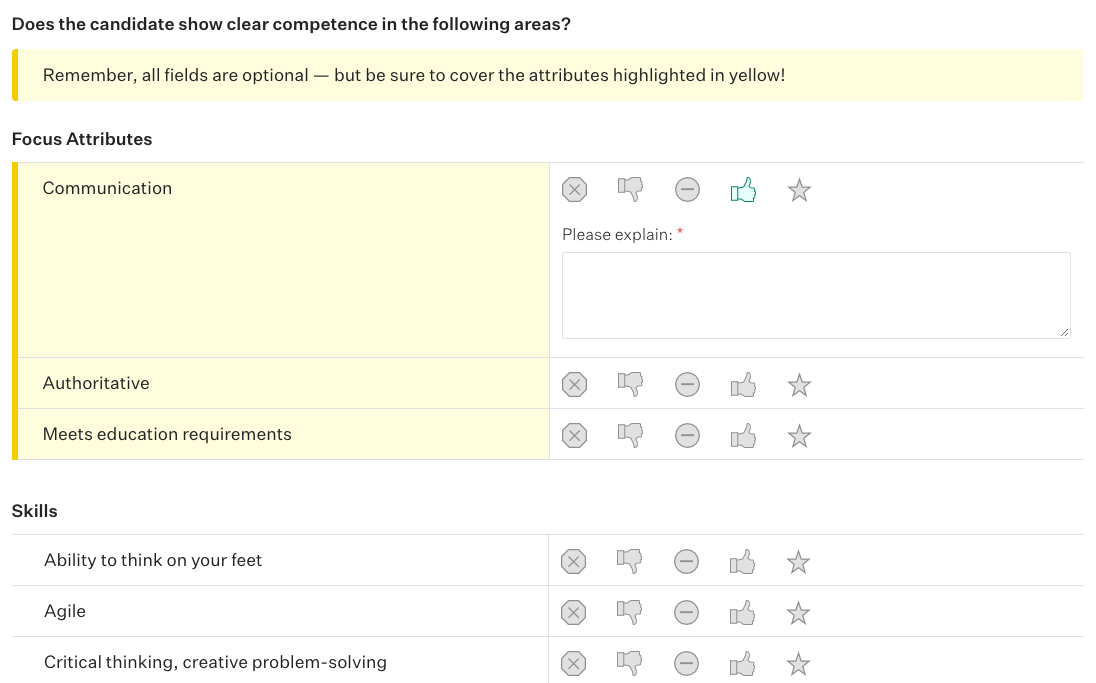 Overall Recommendation: Did the candidate pass the interview? After the interview, review your feedback to make an overall recommendation: Definitely Not, No, Yes, or Strong Yes.

Click Submit Scorecard when finished.