Permissions: –
Product tier: Available for all subscription tiers
The interview kit contains everything an interviewer needs to conduct a focused, purposeful interview and provide useful feedback, including interview instructions, interview questions, the candidate's resume, and a scorecard.
Access your interview kit
As an interviewer, you can access your assigned interview kit in your email invite or directly in Greenhouse Recruiting.
If you have the meeting invite, you can click the interview kit URL in the calendar event. If you're logged into Greenhouse Recruiting, you can view the interview kit for upcoming interviews on My Dashboard.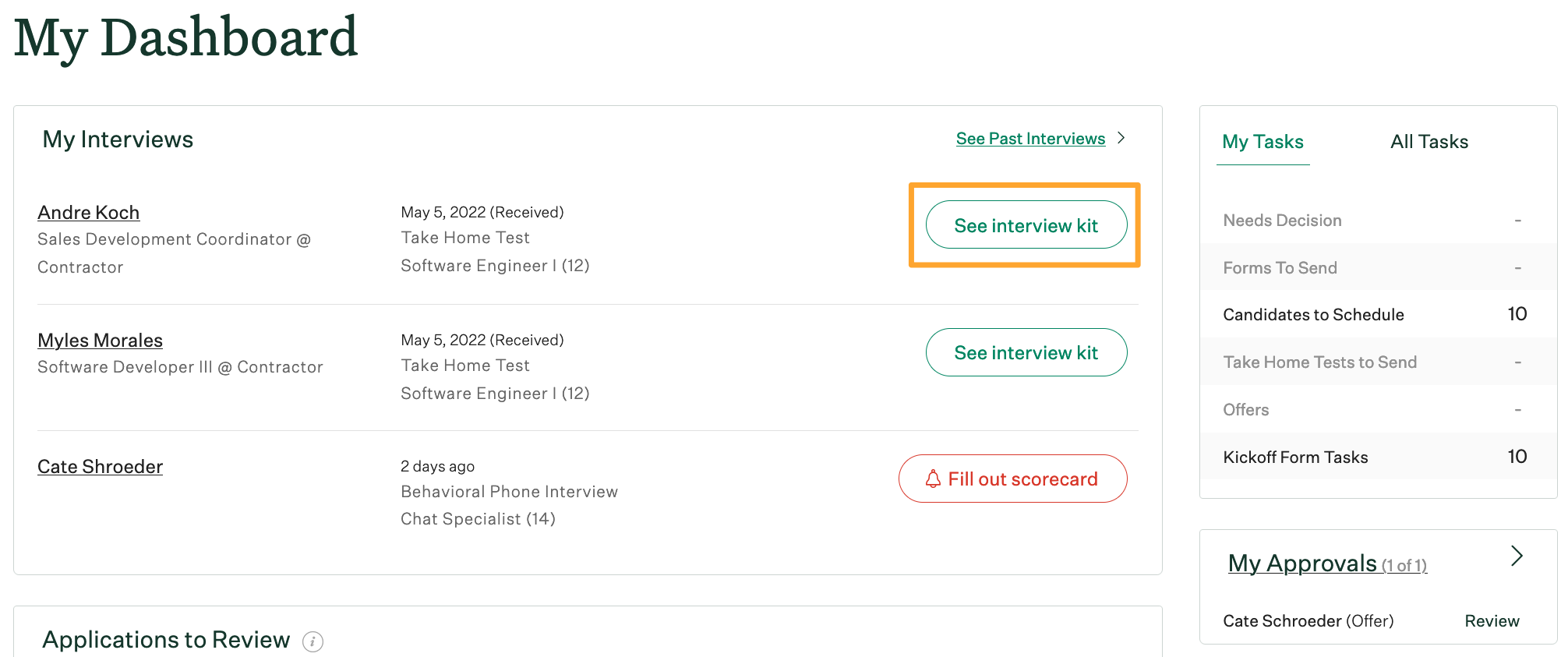 Parts of an interview kit
When you open an interview kit, you'll have access to some key information on the right side of the page.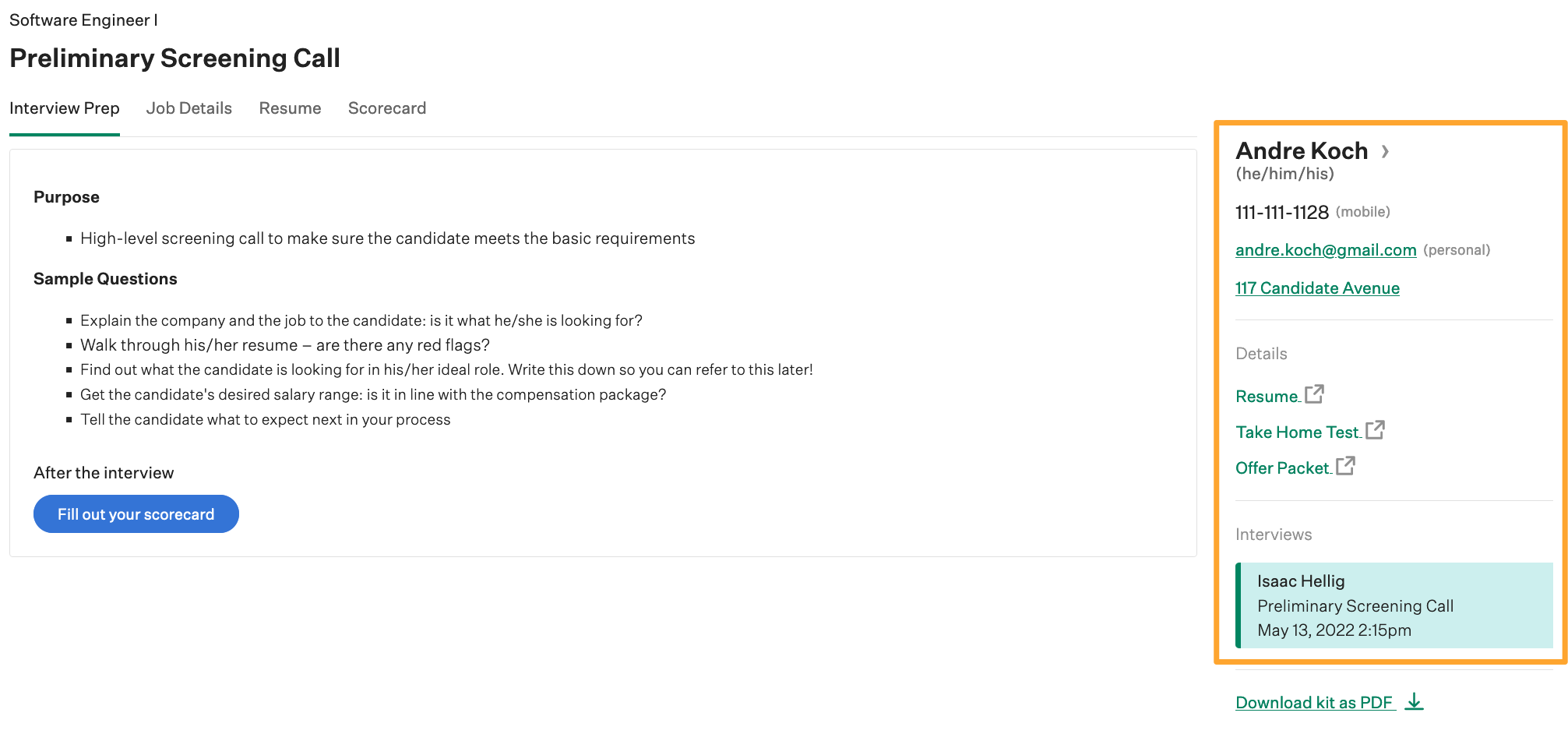 This includes the following information:
Candidate's name and contact information
Candidate's name pronunciation recording and personal pronouns (if provided)
Candidate's resume and cover letter
Candidate's interview schedule
Links to other interviewers' submitted scorecards (if permitted by your organization)
Link to download your interview kit as a .pdf file
You can navigate to different parts of the interview kit by selecting the tabs at the top of the page.
Interview prep
This tab includes information from your recruiting team to help guide the interview, such as context about the role, sample questions, or specific focus attributes for each question the interview.
The Interview Prep tab also includes any notes previous interviewers added for other interviewers (see Note for Other Interviewers in the Scorecard section below).
Job details
This tab displays information from your recruiting team about the job's team and responsibilities. In case you need it, this tab also includes a copy of the job post that the candidate used to apply. If a candidate didn't apply through a job post, this tab will include details from the job's primary job post.
Resume
If a candidate submitted a resume or a cover letter with their application, it will display on this tab.
Scorecard
This tab is used to record feedback during and after the interview.
Key Take-Aways: Any feedback, conclusions, pros and cons, or other impressions from your interview.

Private Notes: Notes that are visible only to Job Admin and Site Admin users with permission to view private information about the candidate. Open this textbox by clicking the Private Notes link.

Note for Other Interviewers: Notes that will be visible to other users scheduled to interview the candidate. Job Admins and Site admins will also be able to see these notes.

Click the link under the Key Take-Aways section to add notes for other interviewers. Notes added to this field are considered public notes and will appear under the Interview Prep section of the Interview Kit for other interviewers and the candidate's Activity Feed.

Interview Questions: Responses to the interview questions in your interview kit. Each question will come with a separate field based on the type of question.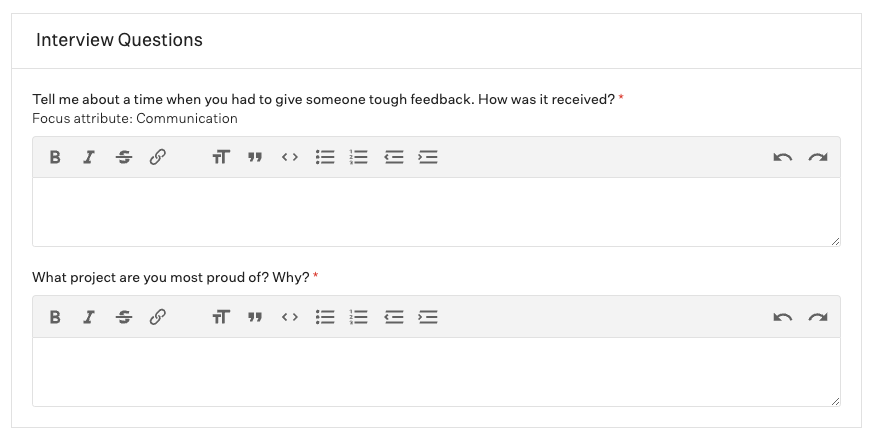 Does the candidate show clear competence in the following areas?: All attributes your recruiting team selected for the job appear in this section. Focus attributes chosen by the interview team appear at the top of the list and will be highlighted in yellow. Remember - while the fields are optional, the focus attributes were chosen specifically for your interview and are a critical part of the interview kit.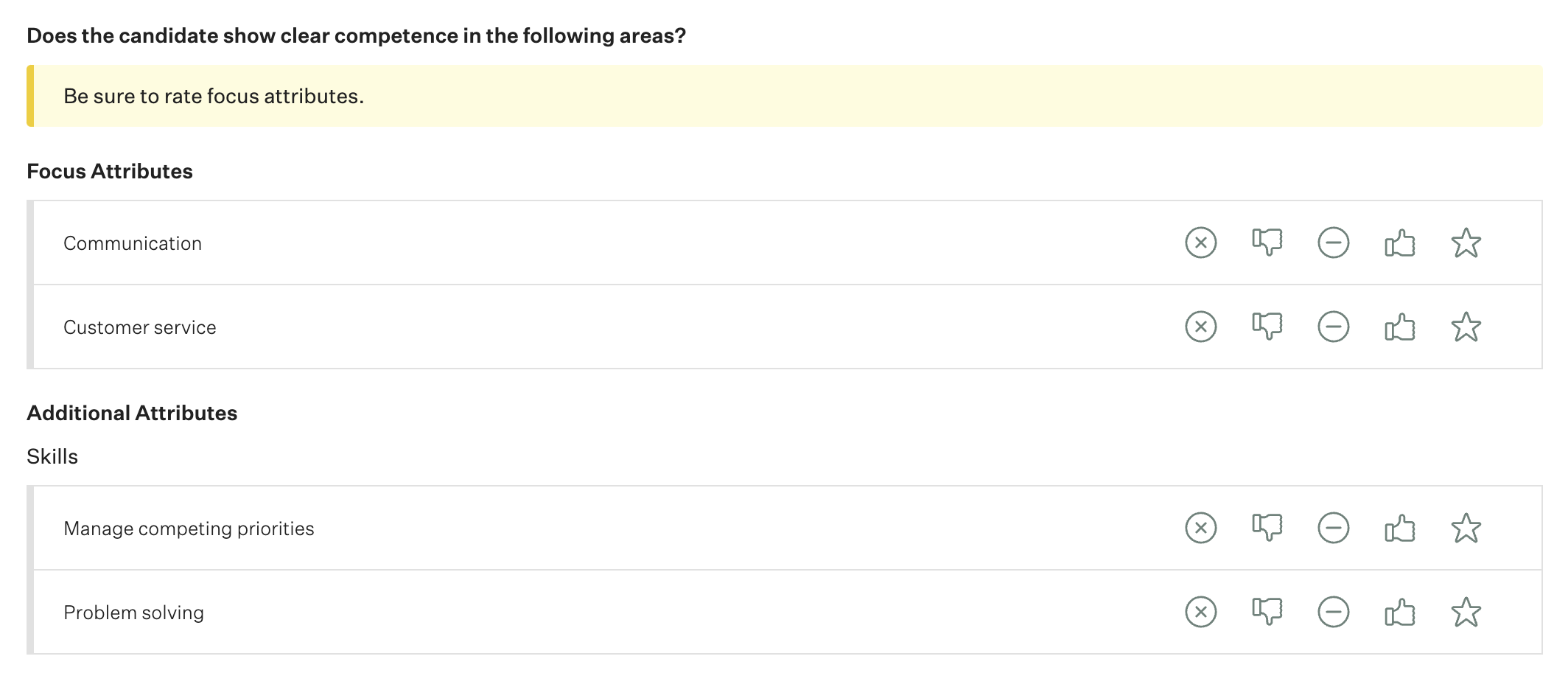 Overall Recommendation: Did the candidate pass the interview? After the interview, review your feedback to make an overall recommendation: Definitely Not, No, Yes, or Strong Yes.

When you're finished, click Submit Scorecard.
Modify a submitted scorecard
If you want to amend or change a scorecard after it has been submitted, you can modify it in your Past Interviews. You can only update your scorecard on jobs that are currently open. You cannot view or modify scorecards for closed jobs.
Note: Anonymous Take Home Tests cannot be modified.
Select See Past Interviews on My Dashboard.

Select See Scorecard for the interview.

Click Edit in the top right corner of the scorecard to make changes.

Make changes to your scorecard as needed and select Update Scorecard at the bottom of the page to save.
Additional resources