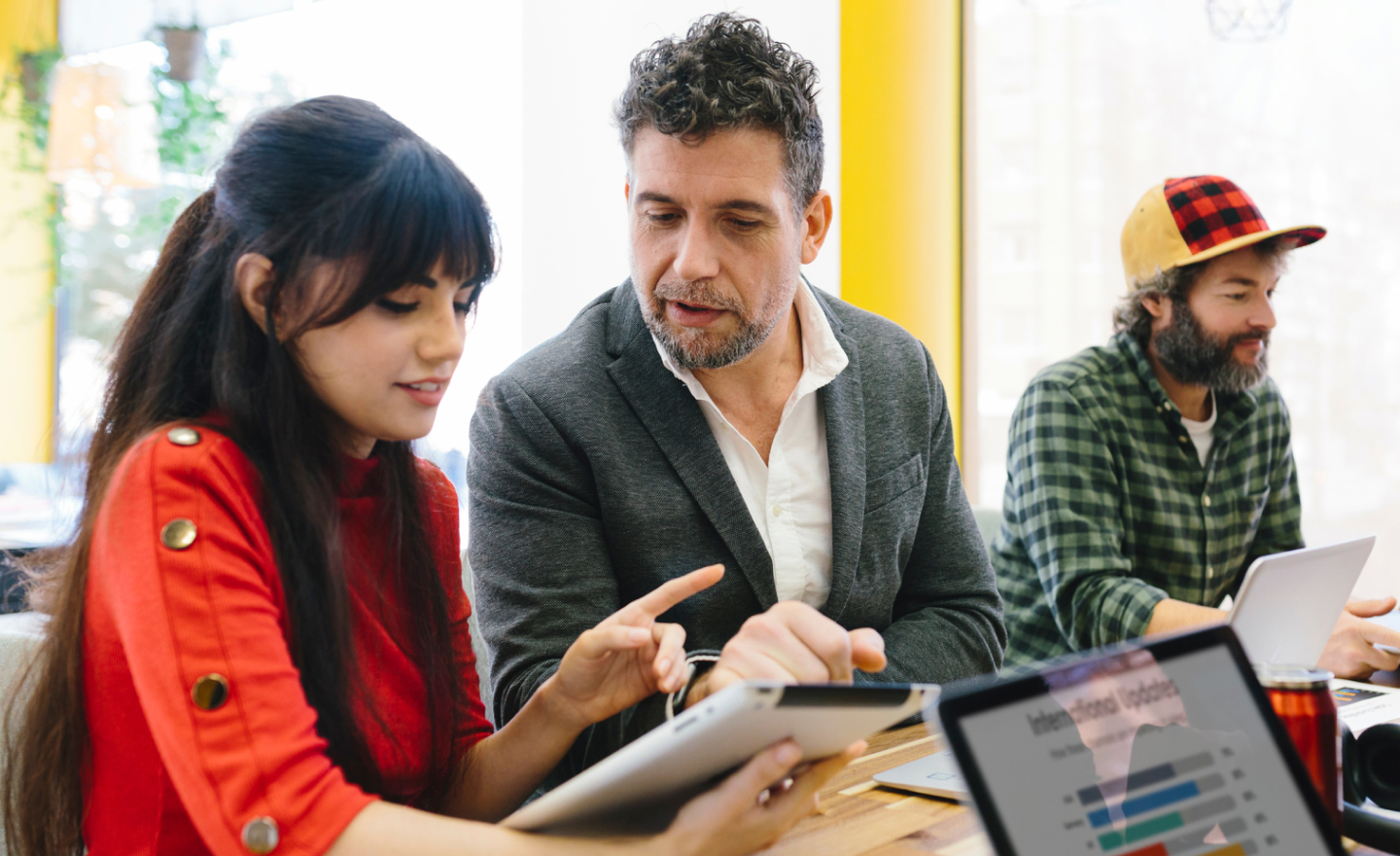 Hiring processes generate a wealth of data along the way – from a candidate's source to the number of interviews scheduled per week. The companies that excel at hiring know how to maintain quality data and use it to their advantage.
Maintaining quality, reliable data helps keep your team focused on your top-priority jobs and candidates in your day-to-day workflows. You can then look to that data to make more informed, strategic changes to your hiring process.
Making those improvements help you move up the Greenhouse Hiring Maturity™ curve, which we break down into four stages: chaotic, inconsistent, systematic and, finally, strategic. As companies climb the Greenhouse Hiring Maturity curve, we see them start to focus on key behaviors and strategies that help them to fully leverage hiring data to their advantage.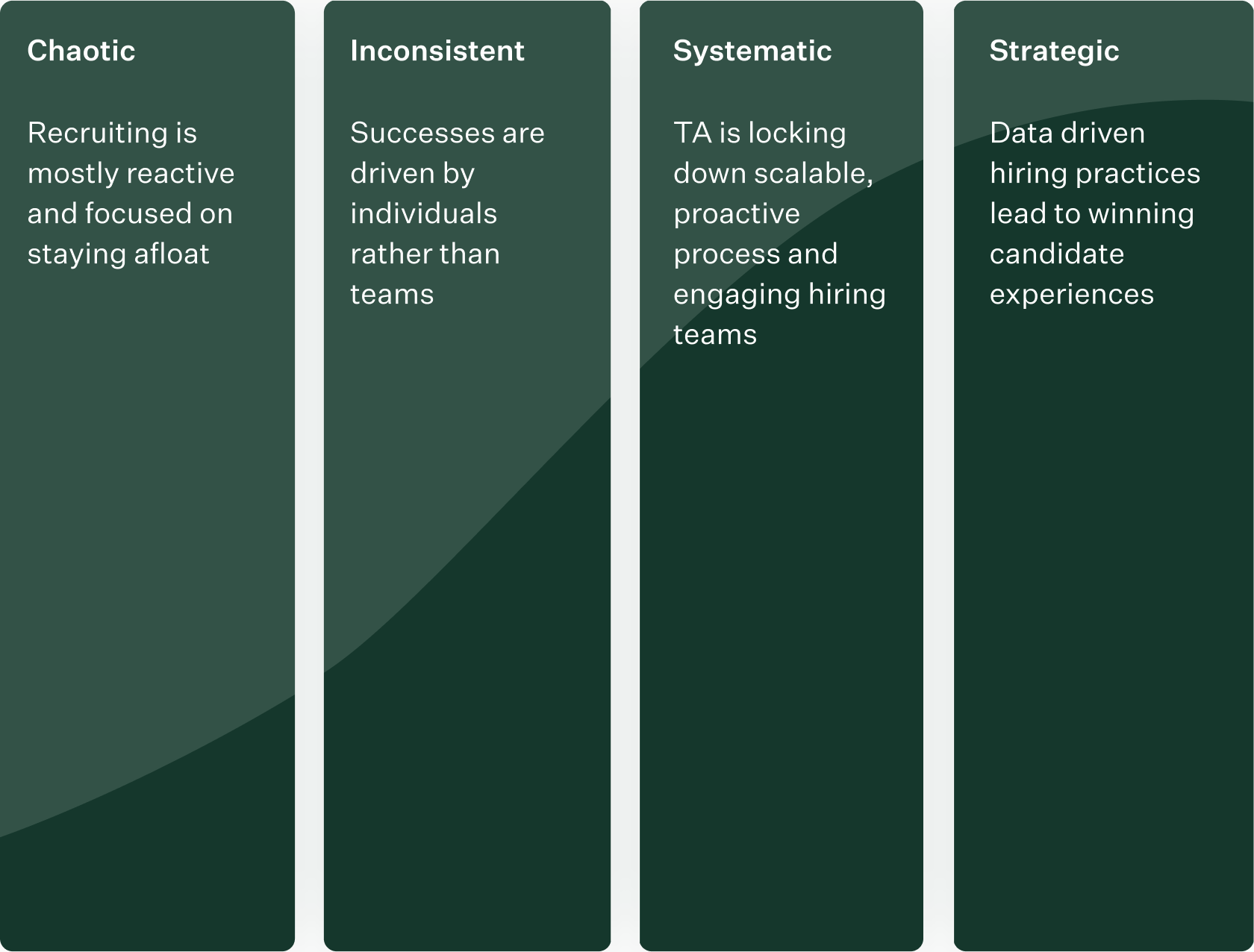 Chaotic and inconsistent stages
At these stages, it's important to lay the groundwork for effectively measuring, iterating on and improving your hiring process. Start out by seeking clarity on your workflows and what data you'd like to report on – this is the foundation of designing a structured, consistent hiring process. Follow up with building consistent workflow practices and getting familiar with key reports that align to those priorities.
Key actions for enabling change management:

Build a hiring process map to gain clarity on your hiring process flows
Document all key processes – how a role gets opened, how a hiring manager gets updated on progress and how a role gets closed

Learn about the many benefits of a hiring process map with this insightful

customer example
Identify reporting needs and KPIs that will help your company track performance and drive improvement
Additional configurations to make in Greenhouse with your team
Systematic stage
At this stage, your data is trending toward consistency and accuracy – also known as "data integrity" – which means you can begin drawing valuable insights from your hiring data. The quality of your reporting depends on the accuracy of your data. So as you work to become more strategic, take control of your Greenhouse Recruiting account's data integrity. Become more specific about how you'll measure your hiring team's performance and evaluate your headcount/capacity planning.
Key actions for enabling change management:
Train your team on data integrity best practices
Gain insights into hiring team performance by identifying recruiter performance metrics
Leverage data to help align your recruiters on what strong performance looks like

Consider including such metrics as sourcing goals, as well as expectations around volume of hiring
Proactively forecast hiring needs by developing headcount and capacity planning models
Define what constitutes a full workload for a recruiter at your organization – read our

blog post

to see how we do this at Greenhouse

Create a planning model for your organization that allows you to better anticipate hiring needs and plan for the year rather than constantly fielding one-off headcount asks

Check out this blog post for ideas and considerations to help you plan
Additional configurations to make in Greenhouse with your team
Explore advanced reporting tools like report builder to create custom reports for your organization (available for customers on our Advanced and Expert tiers) – Webinar and Support article
Strategic stage
At this stage, you have granular insight into each dimension of hiring. You can consistently identify which parts of your hiring process are effective and those that need improvement. Here are some practical tips to help you truly become a leader in the space – and stay there.
Key actions for enabling change management:
Invest in recruiting operations
Recruiting operations can level-up your reporting abilities and help you continue to build a more predictable hiring process

Read our blog

to learn more about the role and value of recruiting operations
Conduct process retrospectives at a regular cadence
Maintain a consistent schedule for reflection and process iteration to ensure you are constantly moving the needle and improving

Gather key stakeholders involved in the hiring process to discuss what's going well, what's just okay, and where you should focus your efforts

Identify action items and next steps for refinement

Learn more about planning and leading a process retrospective with the help of our

blog post
Develop ways to track new hire quality and onboarding time
Start reporting on the quality of your new hires based on actual performance in the role – consider circling back on the initial scorecard after 90 days in the role

Assess the overall employee lifetime value, including how fast your onboarding team is able to ramp new hires, to help measure the quality of your hires

Check out

this blog post

to help determine the ROI of a quality hire and read

this eBook

to better understand the value of investing in your people
Additional configurations to make in Greenhouse with your team