Candidates size up job opportunities from the moment they land on your career page. How your company communicates your brand, culture and available opportunities impacts your organization's reach and the quality of your candidate pool. Creating a seamless application process and following that up with a well-structured hiring flow helps ensure that quality candidates develop a good first impression of your company and can easily apply.
The effectiveness spectrum of companies' hiring processes is what we call the Greenhouse Hiring Maturity™ curve, which we break down into four stages: chaotic, inconsistent, systematic and, finally, strategic.
As companies climb the Greenhouse Hiring Maturity curve, they start to focus on key behaviors and strategic conversations to improve how they identify and attract top talent.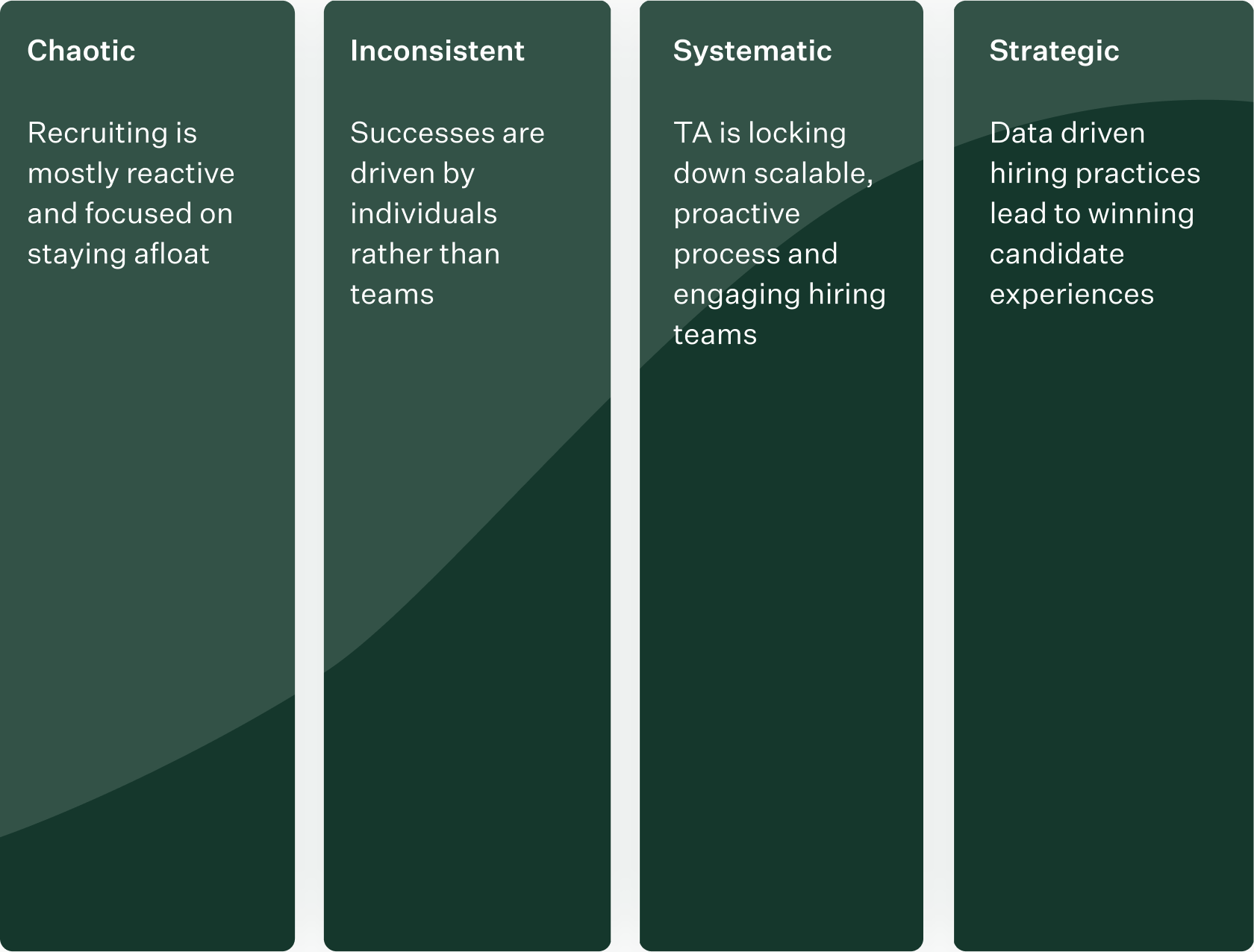 Chaotic and inconsistent stages
At these stages, it's important to lay the groundwork for a stronger candidate pipeline. Take a comprehensive look at your entire sourcing effort. Identify what's working and what needs improvement. Read the following strategic tips and action items to help get you started (we've included some helpful resources too).
Key actions for enabling change management :
Additional actions to configure Greenhouse with your team:
Publish job posts to free job boards
Add potential candidates as prospects in Greenhouse to build a talent database
Systematic stage
Your company has the right foundation to find and engage top talent, but there's room to improve. Encourage your recruiting teams to reach out to past applicants and prospects to get a more objective view of your hiring process. Work on turning your company's vision for DE&I into reality by drafting concrete goals and systematizing behaviors that support those outcomes.
Key actions for enabling change management :
Strategic stage
It's clear that attracting talent is your competitive advantage. Your sourcing tactics and hiring approach draw in great candidates. Your whole company is invested in recruiting and helping identify great candidates. In the spirit of continuous improvement, we see the most strategic companies continuing to invest in key initiatives and actions to stay on top.
Key actions for enabling change management :
Additional actions to configure Greenhouse with your team:
Measure progress and identify areas for improvement on your DE&I goals with custom demographic or standard demographic questions.
Learn Greenhouse course: Collect candidate demographic information. This resource will help you determine which option is best for your organization.