An important step in a structured hiring process is defining your team's roles and responsibilities for a particular job. To assist with this, Greenhouse Recruiting includes four Hiring Team roles. Hiring Team roles are assigned on a per-job/candidate basis, and each role includes its own set of responsibilities and tasks that will be assigned to the user in that role.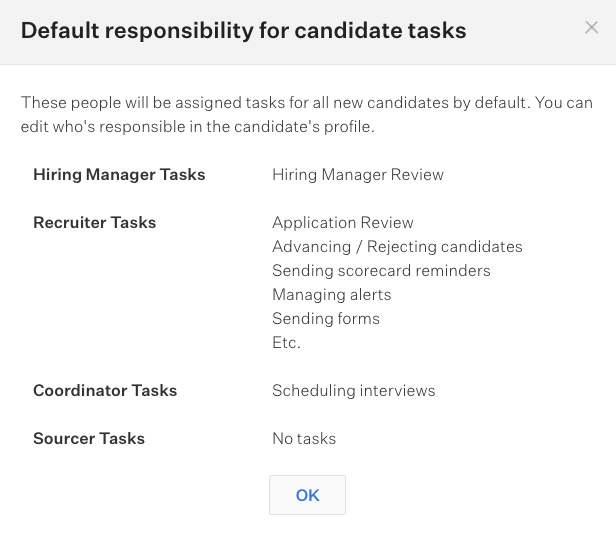 Note: It is not possible to edit the tasks assigned to each Hiring Team role.
The information a user sees on their Greenhouse Recruiting Dashboard, such as assignments in the My Tasks panel and applications to review, will be based on the user's Hiring Team role on various jobs/candidates.
Example: In the image below, the user is assigned as the Recruiter on the Automation Engineer job's Hiring Team. Accordingly, the user will be responsible for reviewing applications in the Automation Engineer job's Application Review stage, as well as advancing or rejecting candidates on that job after all scorecards in a stage are submitted (indicated by the Needs Decision task in the My Tasks panel), and sending Forms for the job.

In addition to defining which users own which tasks, Hiring Team roles can be used to filter candidates and jobs on the All Candidates page, on the All Jobs page, and in reports.
Note: A user must be granted Job Admin permissions on the job, or be a Site Admin, before they can be assigned a Hiring Team role on the job. Click here to learn how to assign a job-based permission to a Job Admin.
To assign the Hiring Team for a specific job, navigate to the job (All Jobs > job), then click the Job Setup tab. From the Job Setup page, click Hiring Team in the left-hand panel.

On the Hiring Team page, locate the Who's responsible for this job? panel, then click Edit inline with each Hiring Team role to assign a user(s) for that role.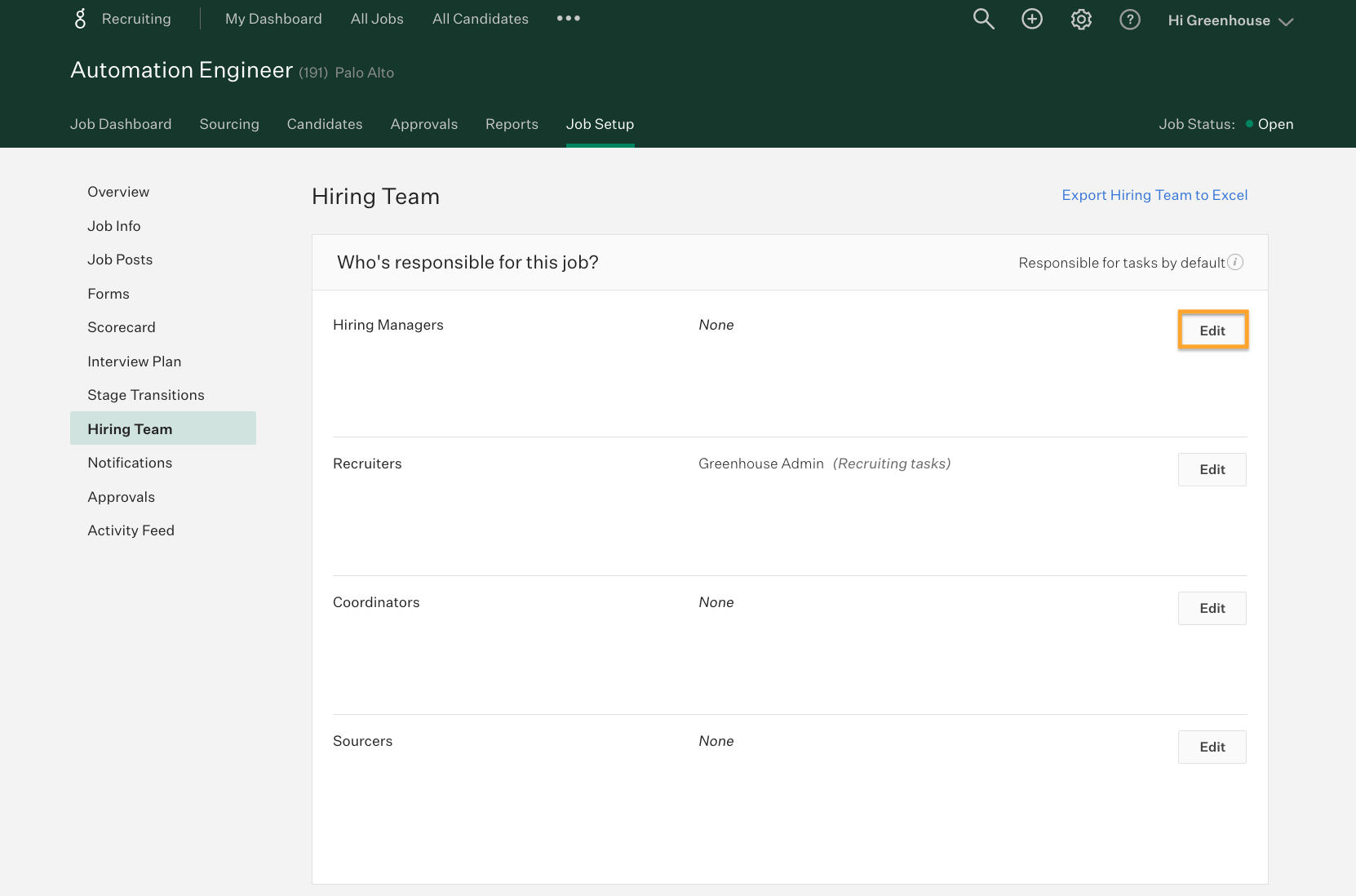 Note: It is not possible to assign Hiring Team roles in bulk. You cannot add a single user as a specified role, such as the Recruiter, on multiple jobs simultaneously. The Hiring Team must be configured for each job individually via the job's Hiring Team page.
For more information about Hiring Team roles, please visit the links below: