Hiring processes generate a wealth of data along the way – from a candidate's source to the number of interviews scheduled per week. The companies that excel at hiring know how to maintain quality data and use it to their advantage.
Maintaining quality, reliable data helps keep your team focused on your top priority jobs and candidates in day to day workflows. You can then look to that data to make more informed strategic changes to your hiring process.
Making those improvements to your hiring processes follows what we call the Greenhouse Hiring Maturity™ curve, which we break down into four stages: chaotic, inconsistent, systematic and, finally, strategic.
As companies climb the Hiring Maturity curve, we see them start to focus on a few key behaviors and strategic conversations to fully leverage hiring data to their advantage.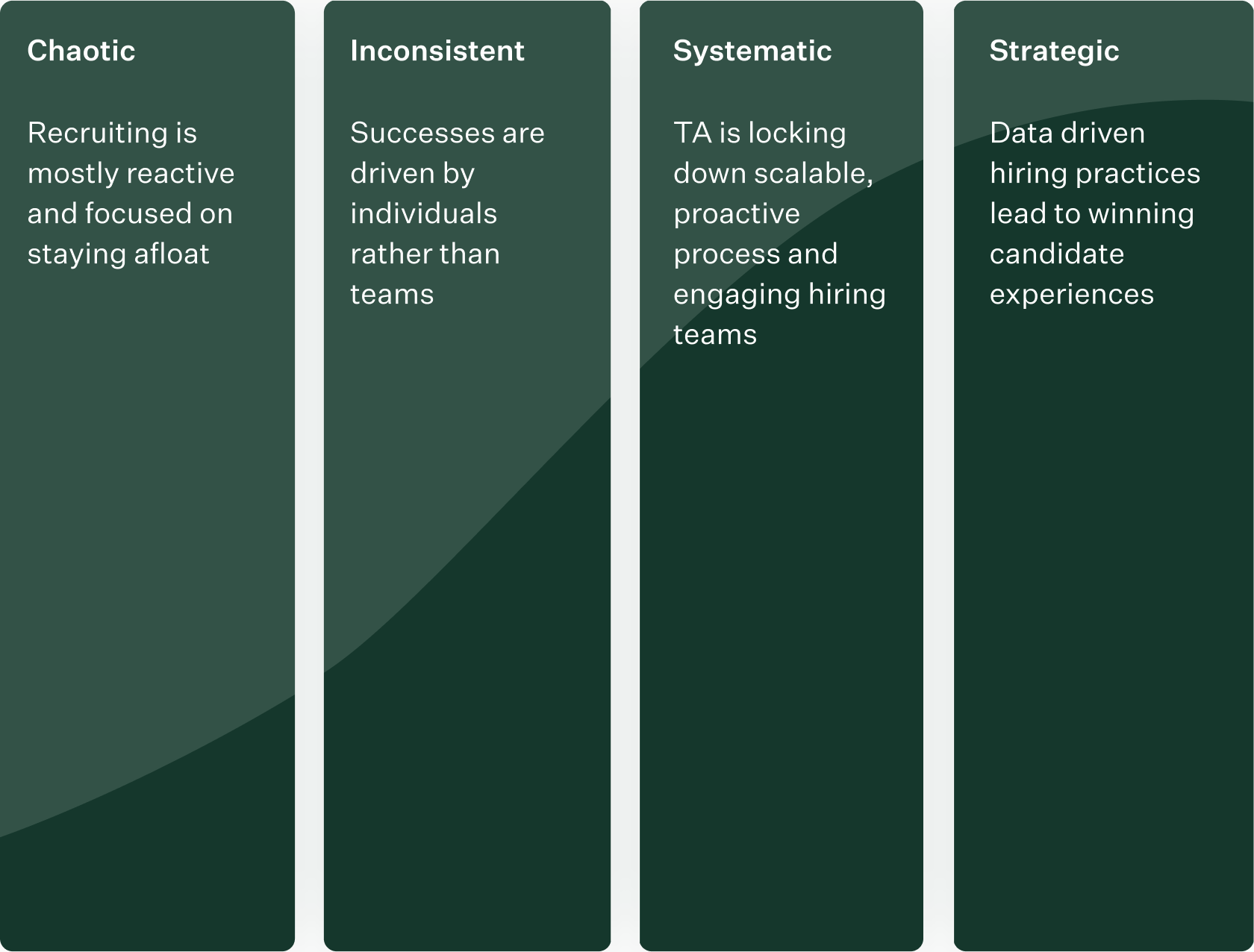 Chaotic/inconsistent
At these stages, it's important to lay the groundwork so that you can measure, iterate on and improve your hiring process. Start out by simply gaining clarity on your workflows and what data you'd like to report on – this is the foundation of designing a structured, consistent hiring process. Follow up with building consistent workflow practices and getting familiar with key reports that align to those priorities.
Key conversations to enable change management:
Quick actions to configure Greenhouse with your team:
Systematic
At this stage, your data is trending toward consistency and accuracy – this is referred to as "data integrity," and achieving that means you can begin drawing valuable insights from your hiring data. The quality of your reporting depends on the accuracy of your data. So as you work to become more strategic, take control of your Greenhouse Recruiting account's data integrity. Become more specific about how you'll measure your hiring team's performance and your headcount/capacity planning.
Key conversations to enable change management:
Additional actions to configure Greenhouse with your team:
Strategic
At this point, you have granular insight into each dimension of the hiring process. You can consistently identify which parts of your hiring process are effective versus those that need improvement. Here are a few tips to help you truly become a leader in the space – and stay there.
Key conversations to enable change management:
Quick actions to configure Greenhouse with your team: