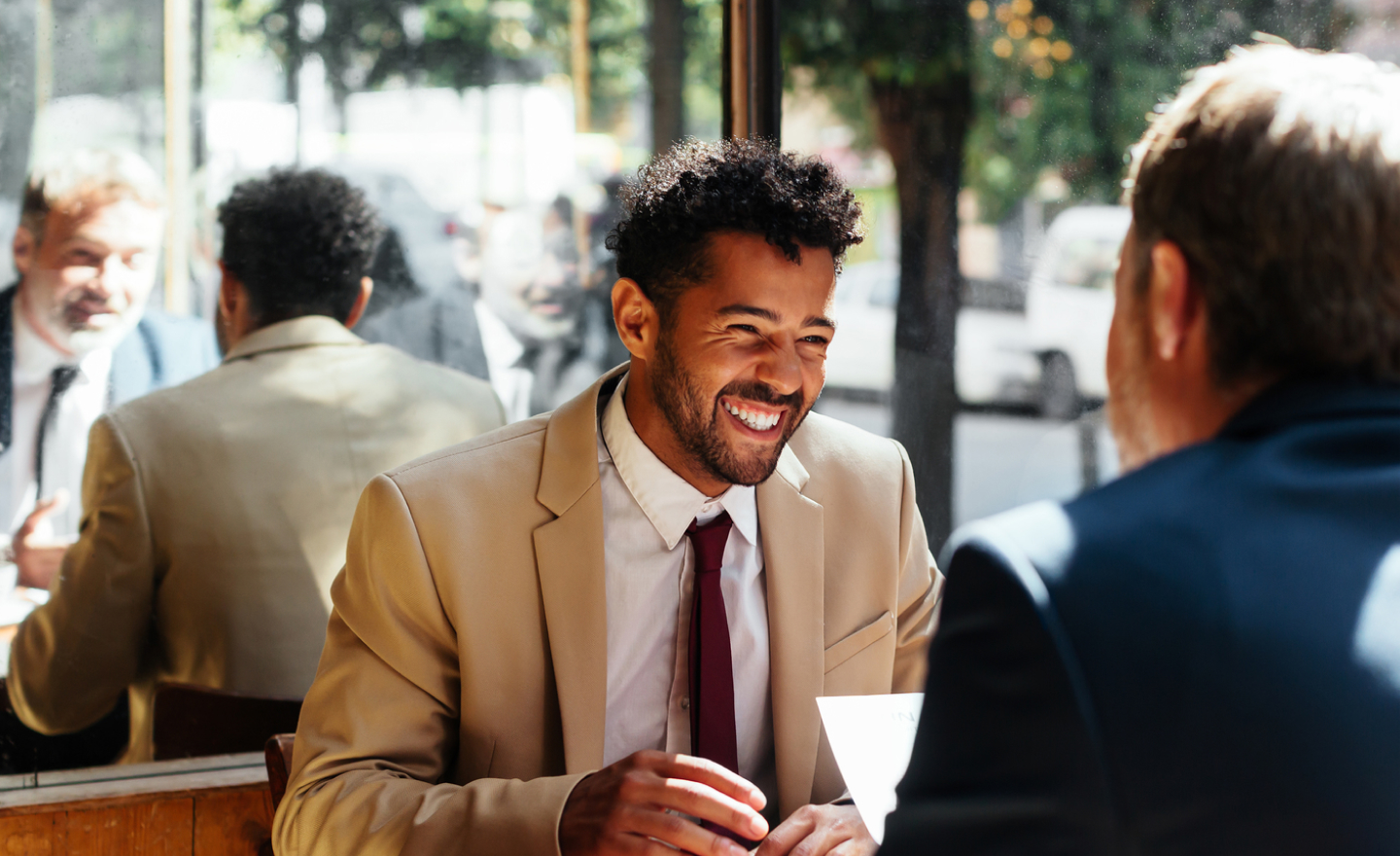 Candidates size up job opportunities from the moment they land on your career page. How your company communicates your brand, culture and available opportunities impacts your organization's reach and the quality of your candidate pool. Creating a seamless application process and following that up with a well-structured hiring flow helps ensure that quality candidates develop a good first impression of your company and can easily apply.
The spectrum of hiring processes at companies is what we call the Greenhouse Hiring Maturity™ curve, which we break down into four stages: chaotic, inconsistent, systematic and, finally, strategic.
As companies climb the Hiring Maturity curve, they start to focus on a few key behaviors and strategic conversations that change how they identify and attract top talent.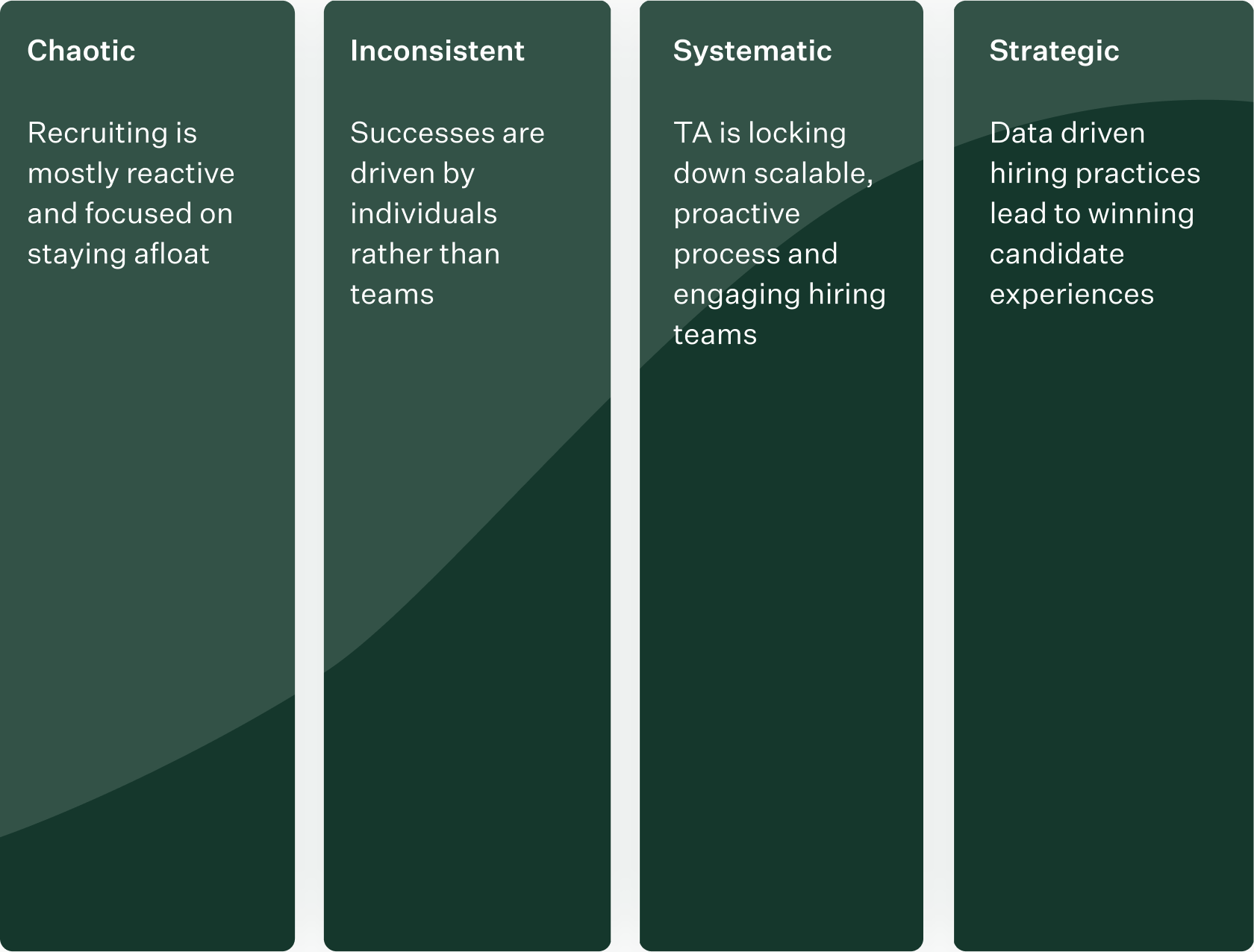 Chaotic/inconsistent
At these stages, it's important to lay the groundwork for a stronger candidate pipeline. Take a comprehensive look at your entire sourcing effort. Identify what's working and what needs improvement. The following strategic conversations and action items can help get you started.
Key conversations to enable change management:
Assess your company's referral strategy and consider incentives
Referrals are the #1 source of new hire quality, with high retention rates, engagement and performance
Incentives and a structured referral process are powerful ways to boost engagement (read this e-book to learn more about building a strong employee referral program)
Take action in Greenhouse with the following configuration:
Post your referral program in Greenhouse

5 mins
Train employees how to submit referrals and post to social media
Define your employer brand and promote it with a customized career page
Clearly outline your values, mission, culture and anything else that makes your company a great place to work
Read our e-book for guidance on how to draft and share your employer brand story
Give candidates the right first impression with a career page that helps them understand your culture and workplace
Get inspired with these Greenhouse customer career page examples that vary in approaches and content
Put your ideas into action with technical guidance from our support site
Prompt conversations with your company's leadership about building a DE&I strategy that begins with your hiring practices
Align with leadership on your organization's vision and strategy around building a diverse, equitable and inclusive workplace
Improve employee satisfaction and attracting top talent
Identify an executive sponsor to help define and map out your DE&I strategy
Read our guide on how to get started with DE&I, and watch our webinar for in-depth DE&I strategy guidance
Take action in Greenhouse with the following configuration:
Publish your organization's commitment to DE&I in Greenhouse
Additional actions to configure Greenhouse with your team:
Systematic
Your company has the right foundation to find and engage top talent, but there's room to improve. Invest in organizing your recruiting teams to reach out to past applicants and prospects to get a more objective view of your hiring process. Begin implementing your company's vision for DE&I by drafting concrete goals and systematizing behaviors to support those outcomes.
Key conversations to enable change management:
Develop a strategy for evergreen hiring
Have a strategy to build the pipeline, consistently nurture talent and be ready to make hires on a rolling basis for those roles you will have a consistent need for, especially as you grow
Learn best practices to leverage your existing talent base and maintain continuously open positions in our support center
Take action in Greenhouse with the following configuration:
Publish jobs available to internal employees to the internal job board

30 mins
Add structure to your talent database by adding prospect pools

30 mins
Collect general interest applications by adding a prospect post to your careers page

45 mins
Translate your organization's DE&I commitment into concrete goals for your recruiting team
Set specific DE&I goals to align your team on new sourcing and interviewing practices
Rely on your DE&I executive sponsor to engage management across departments for organizational change
Read this blog post for guidance on embodying DE&I leadership at your company
Take action in Greenhouse with the following configuration:
Mitigate bias at key points in the recruiting process by turning on Greenhouse inclusion nudges

5 mins
Strategic
It's clear that attracting talent is your competitive advantage. Your sourcing tactics and hiring approach draw in great candidates. Your whole company is invested in recruiting and helping identify the best candidates. In the spirit of continuous improvement, we see the most strategic companies continuing to invest in key initiatives and actions to stay on top.
Key conversations to enable change management:
Build partnerships with employee resource groups (ERGs) to increase the diversity of your pipelines
Use your ERGs to help foster a robust pipeline with increased diversity
Empower your people team to manage and support your ERGs
Check out this resource for more guidance on establishing ERGs
Accelerate hiring efforts by engaging Talent Magnets across the organization
Talent Magnets attract talent by actively promoting your hiring brand's story in their networks
Learn more about Talent Magnets and the Talent Maker mindset in our guide
Encourage "Talent Magnet" behavior, prompting individuals to help create a workplace that attracts top talent
Read our e-book to discover how to best support your company's own Talent Magnets
Create specialized sourcing plans and hiring strategies for each unique search
Ensure you're scooping up passive talent and bringing in a diverse candidate pool by referring back to specific sourcing plans
Learn how you can develop specific sourcing plans with this customer case study
Additional actions to configure Greenhouse with your team: