Permissions: Employees
Product tier: Available for Greenhouse Welcome and Greenhouse Onboarding subscription tiers
When you log into Greenhouse Onboarding, your homepage gives you a quick view of your employee dashboard. This article will guide you through navigating each section of your homepage.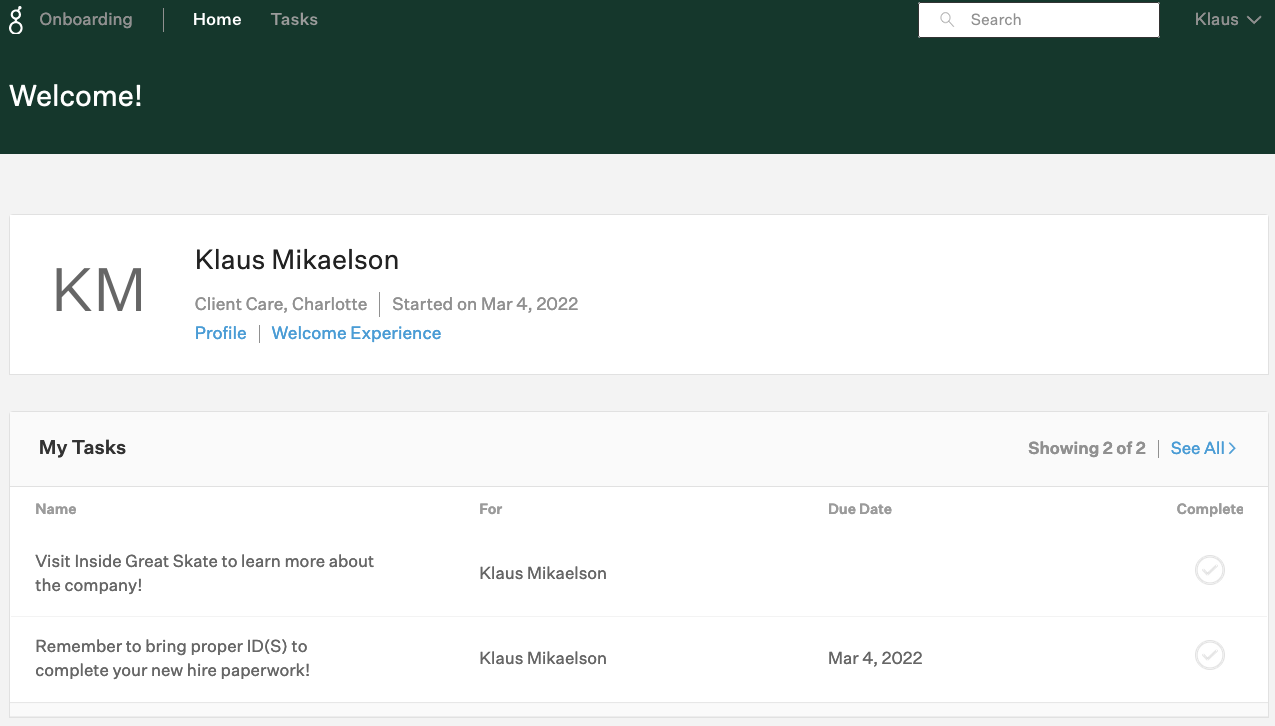 Navigation menu
The navigation menu includes the following tabs:
Home: Click the Home tab anytime to navigate back to the homepage of your employee dashboard
Tasks: View and manage any tasks that have been assigned to you
Search bar: Search for users in your organization and view their employee profile

Click the dropdown arrow next to your name in the top-right corner of the page to access the following tabs:
Profile: View and manage your employee profile
Help: Search our Support site for answers to common questions and helpful resources
Account Settings: Customize your email notification settings
Sign Out: Sign out of your Greenhouse Onboarding account
Greenhouse Recruiting: Navigate to Greenhouse Recruiting only if you are a part of the hiring team for your organization and have a Greenhouse Recruiting account
Employee dashboard
Your employee dashboard displays your name, department, location, and start date.
You can also view and edit your employee Profile, or access your Welcome Experience.

My tasks
Tasks that are pending completion will appear under the My Tasks panel on your homepage. Up to ten tasks will appear here. Click See All to view all active and completed tasks.

Click on the task to view additional details. Mark the task as complete once finished.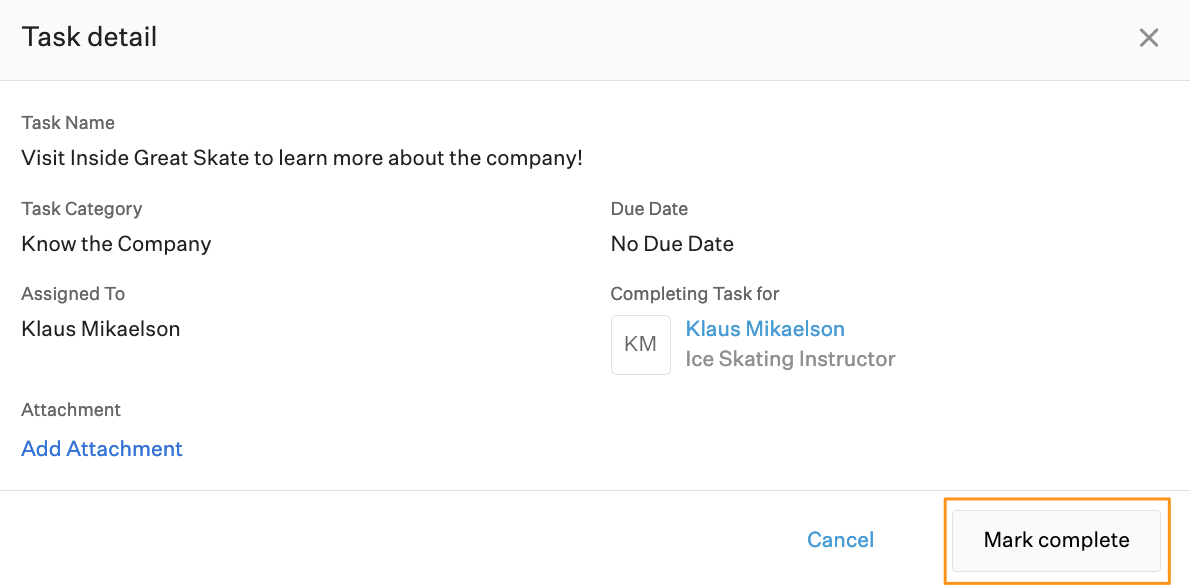 Documents to sign
Note: The Documents to Sign feature is not included in Greenhouse Welcome. Access to this panel requires a Greenhouse Onboarding subscription.
Documents will be available to sign and download from the Documents to Sign panel. Click Needs Signing to go through the electronic signing workflow.

Once signed, click View to download the document to your files.

Feedback questions
Your organization may send you feedback questions to answer about your role and experience with the company. The Ask Date shows you when the feedback question is available to answer
Note: Only feedback questions with a current or past Ask Date will be available to answer. If you do not see a Feedback Questions panel on your homepage, this means there are currently no active questions to answer.
Click Answer Questions to begin.

Provide your response, then click Submit Answers at the bottom of the page.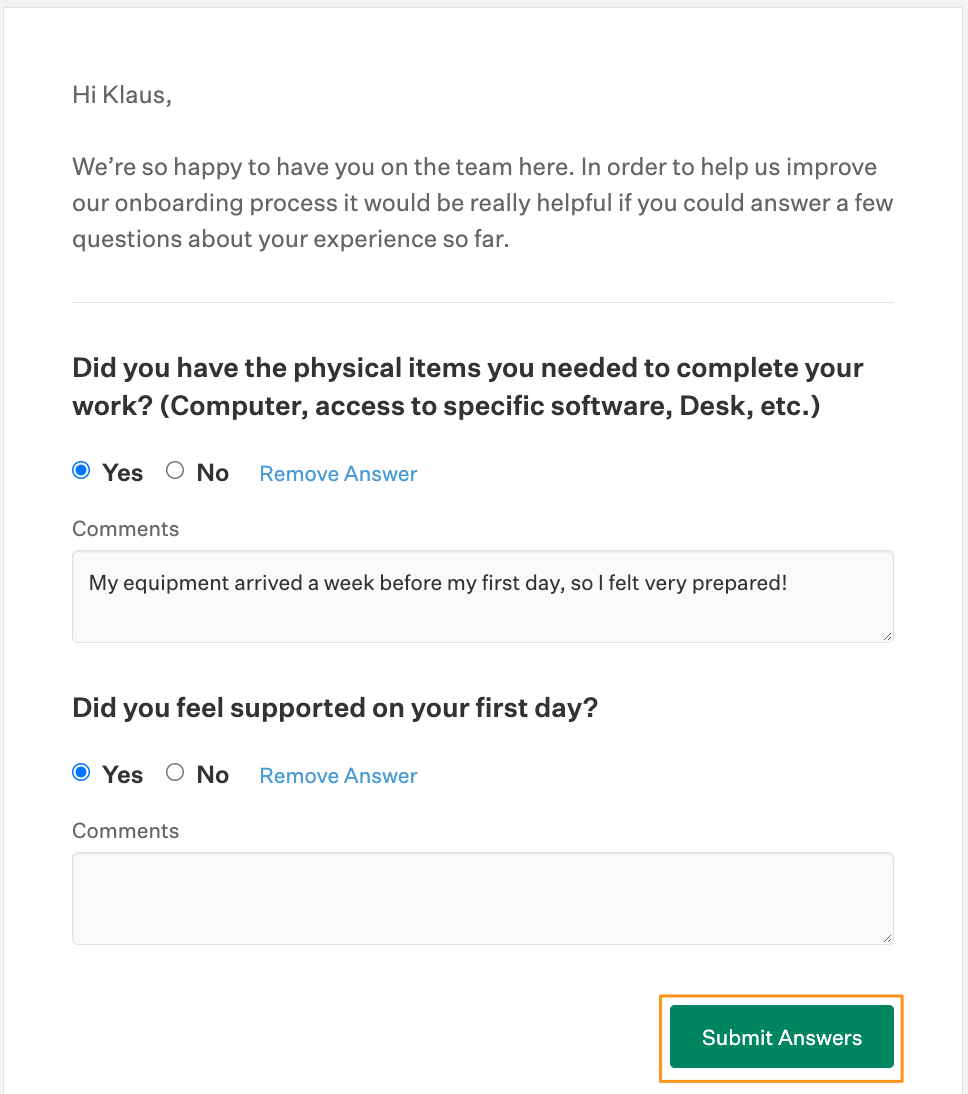 Once all feedback questions have been answered, the Feedback Questions panel will disappear from your homepage. You can view completed and future questions from the Feedback tab within your Employee Profile.

Additional resources