Permissions: Owners and Coordinators
Product tier: Available for the Greenhouse Onboarding subscription tier
Powered by eSignature by Dropbox Sign, the E-Signature feature in Greenhouse Onboarding helps your onboarding team automate essential paperwork and start new hires off on the right foot.
Create E-Signature templates and map signature fields to your team's onboarding forms and documents. You can also add counter signers and define rules for assigning documents automatically to specific new hires in their onboarding plan.
Create a new E-Signature template
From your Greenhouse Onboarding homepage, navigate to Settings > Onboarding Plan > E-Signature Templates.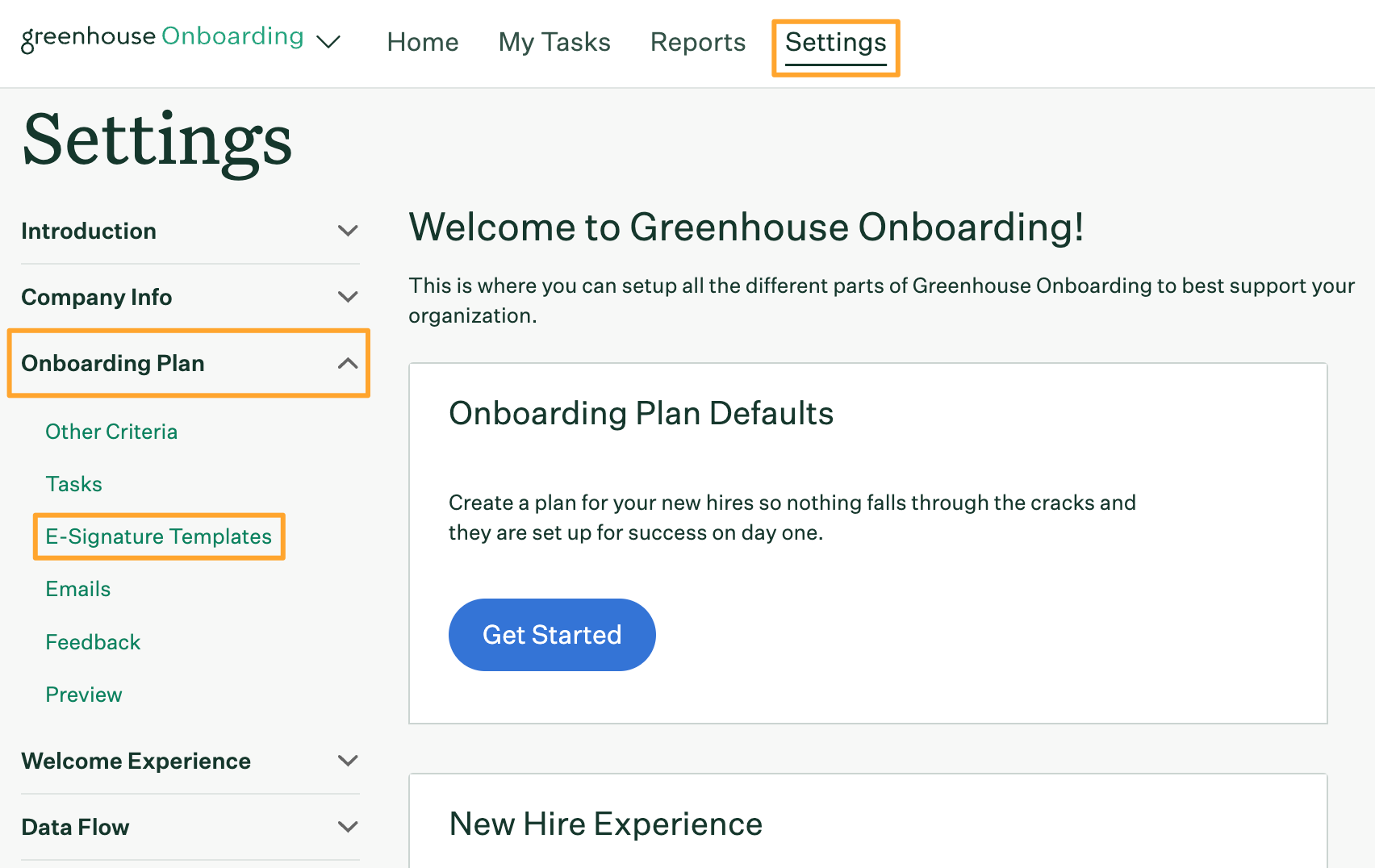 On the E-Signature Templates page, click Add Template.

Use the Create E-Signature Template dialog box to give your new template a name.
Mark the Requires a different public facing name? checkbox if you want a different name to be visible to employees when they sign this document. Enter a public name in the resulting field.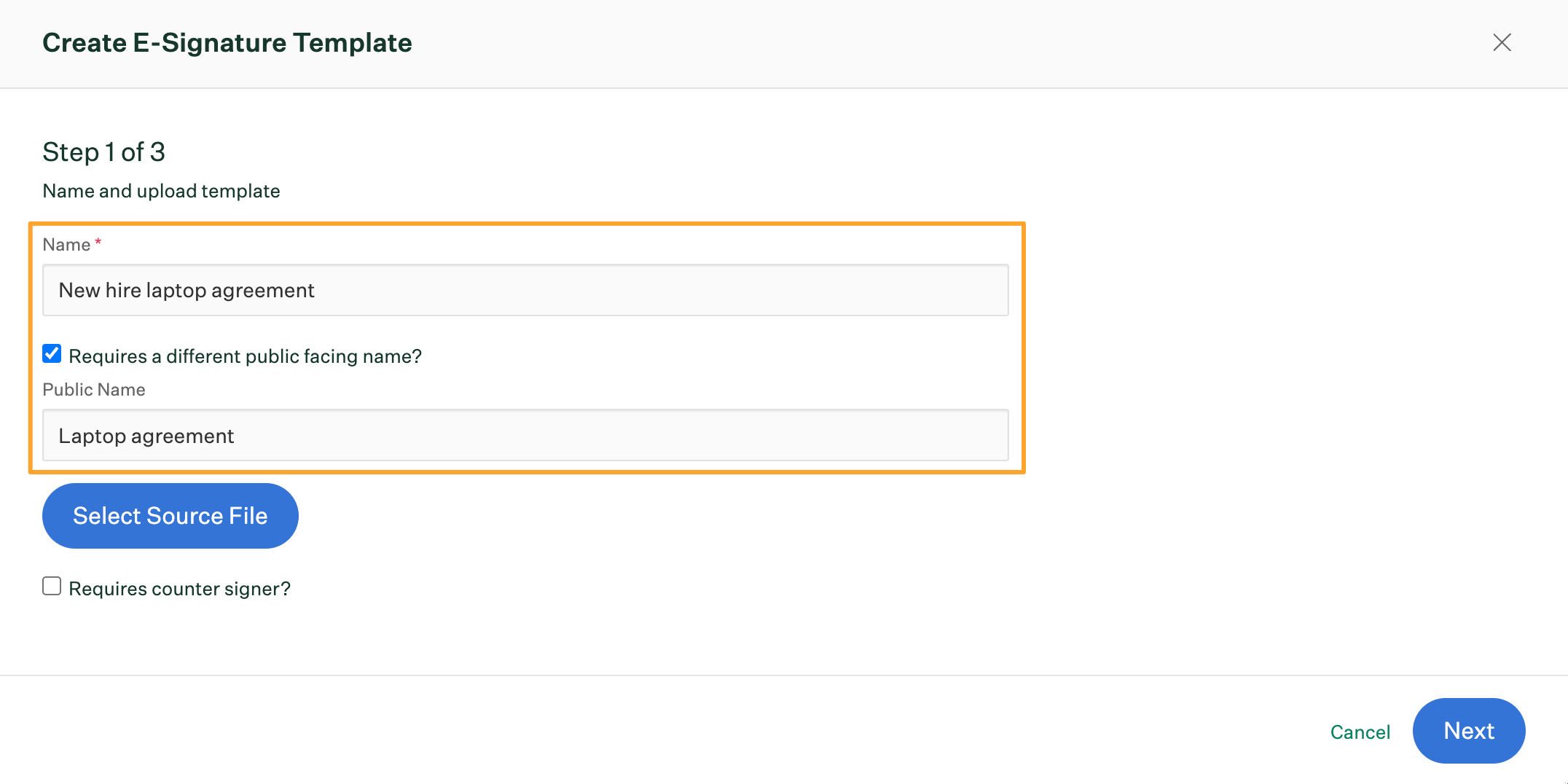 Click Select Source File to upload a PDF of your E-Signature document.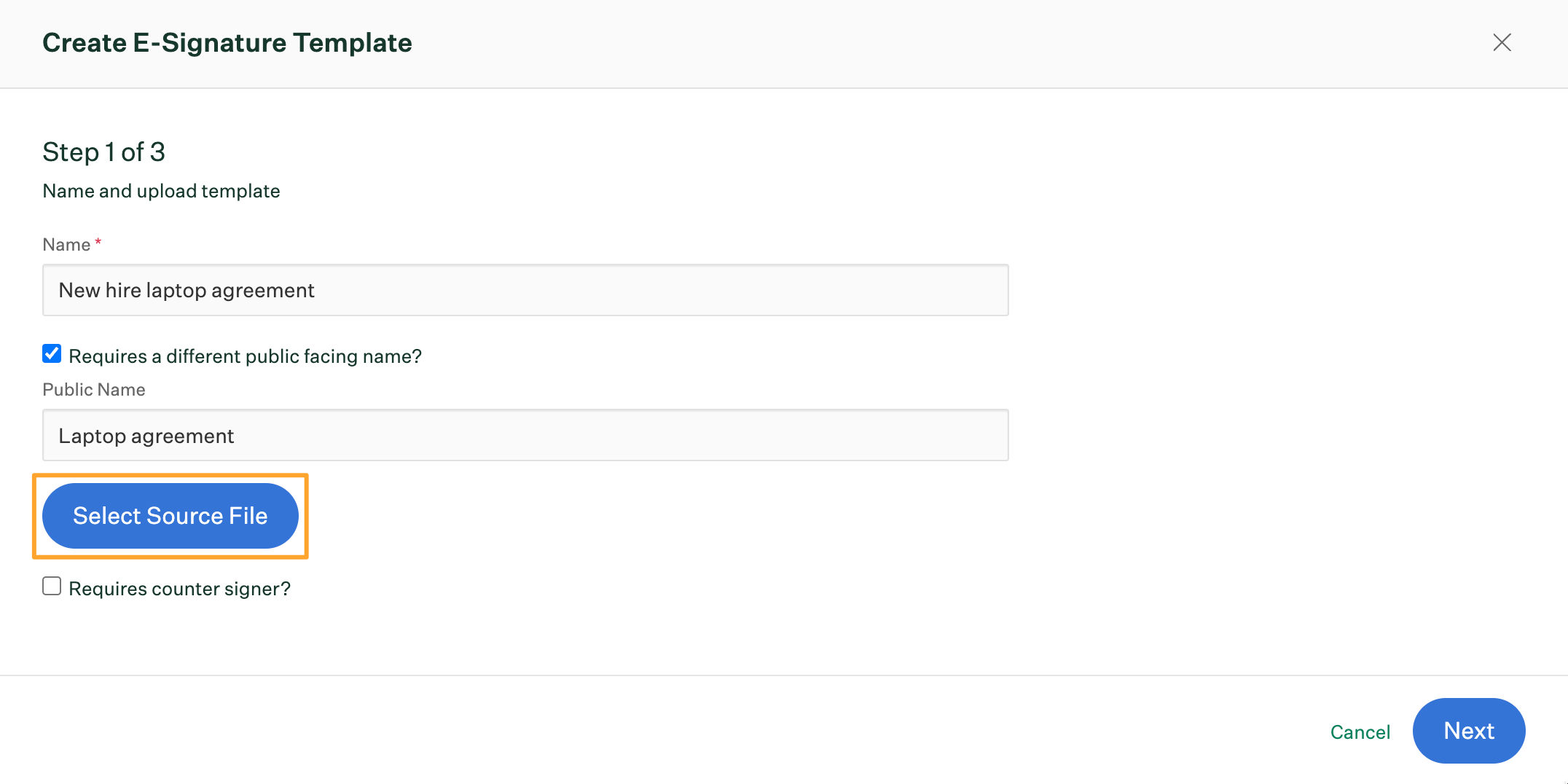 Mark the checkbox for Requires a counter signer? if you'd like another employee in your organization to counter sign on this E-Signature document.
Use the Who should counter sign on this? field to select a specific employee or an onboarding team role (such as Manager or Onboarding Coordinator) as counter signer.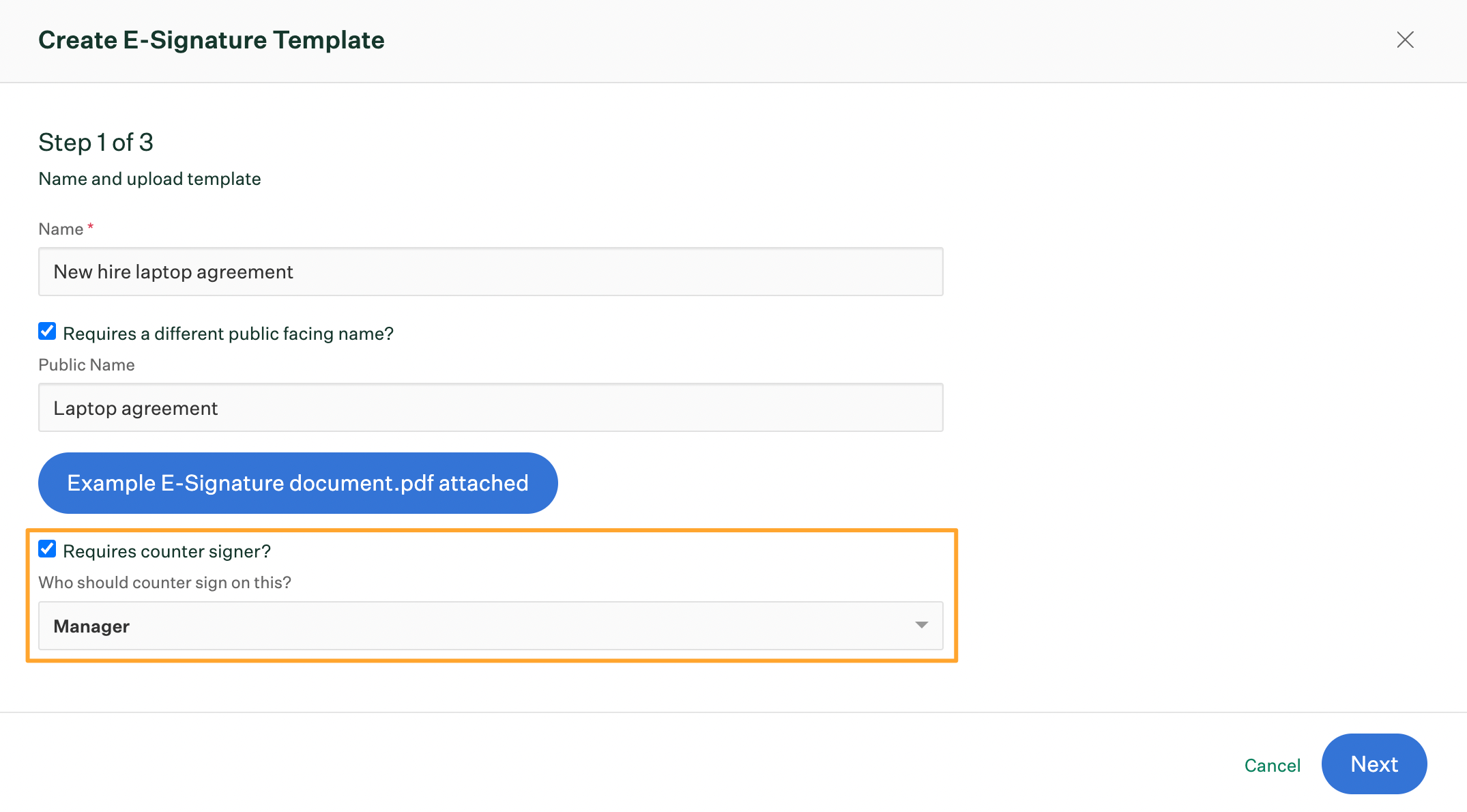 When you're done, click Next.
Configure signature fields
On the next page, you can map any of the following fields to your uploaded E-Signature document:
Signature fields
Auto-fill fields
Date signed
Full name
Email
Company
Job title
Standard fields
Textbox
Checkbox
Dropdown
Radio group
Use the Signers dropdown to select whether a field will be required for the new hire or the counter signer (if applicable).
Click and hold a field to drag it directly into your document.
Once you've placed a field in your document, you can then move it around, resize it, or set it as required.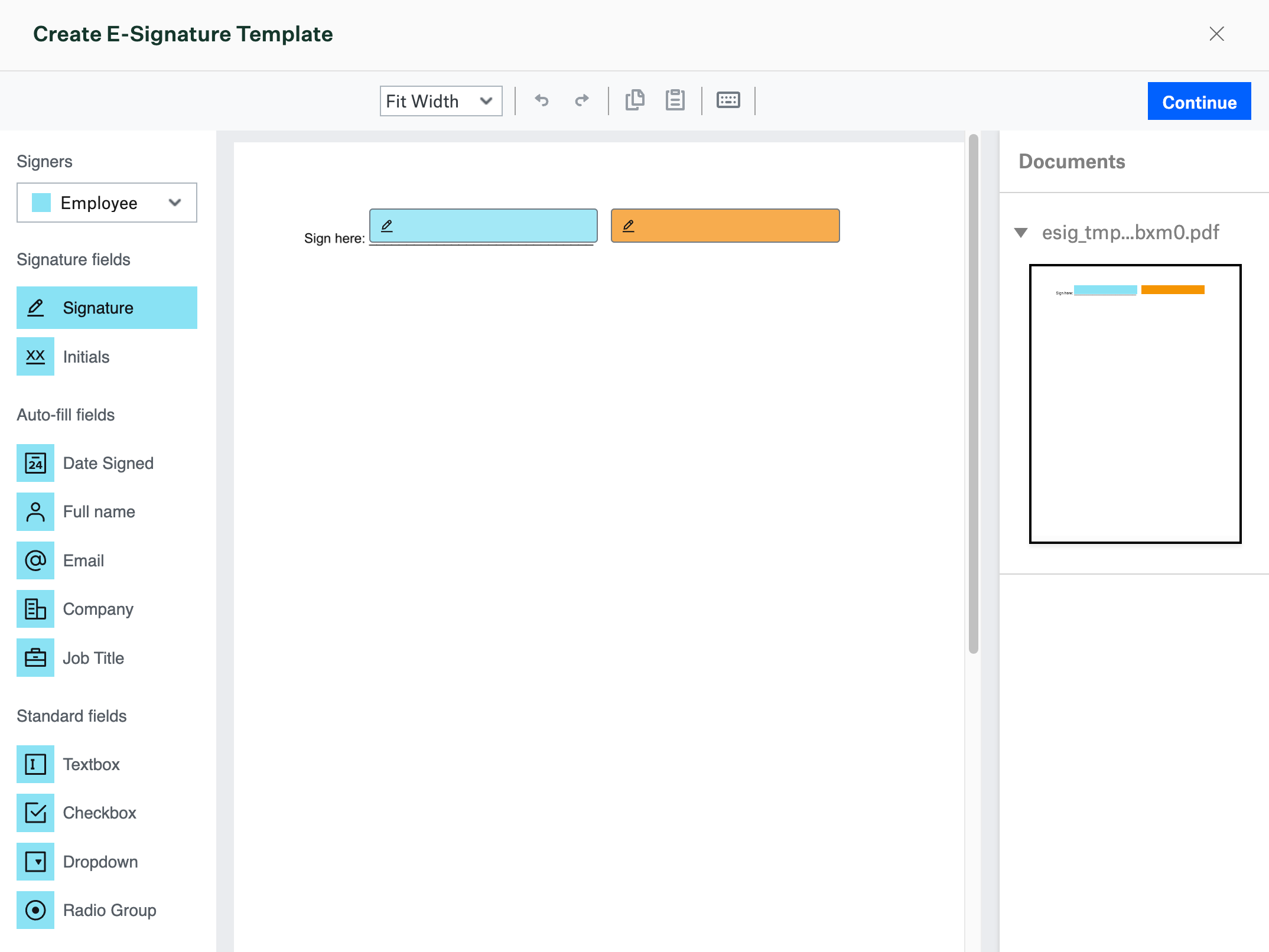 When you're done mapping your E-Signature document, click Continue.
Add template rules
In the last step, you'll set an assign date and apply match rules to configure who should receive this E-Signature document and when.
Toggle the Add to Onboarding Plan switch on if you want this template to be assigned automatically to new hires when they receive their onboarding plan.
Note: Toggle this switch off if you want to assign your E-Signature template manually on a case-by-case basis. When toggled off, you won't be able to configure an assign date or new hire match rules.
You can assign this template manually to new hires in the Documents tab of their employee profile.
Use the Assign Date dropdown to assign this template on the new hire's start date or a custom date relative to their start date.
Note: If a new hire is added to Greenhouse Onboarding after the scheduled assigned date lapses, they will immediately receive this E-Signature request.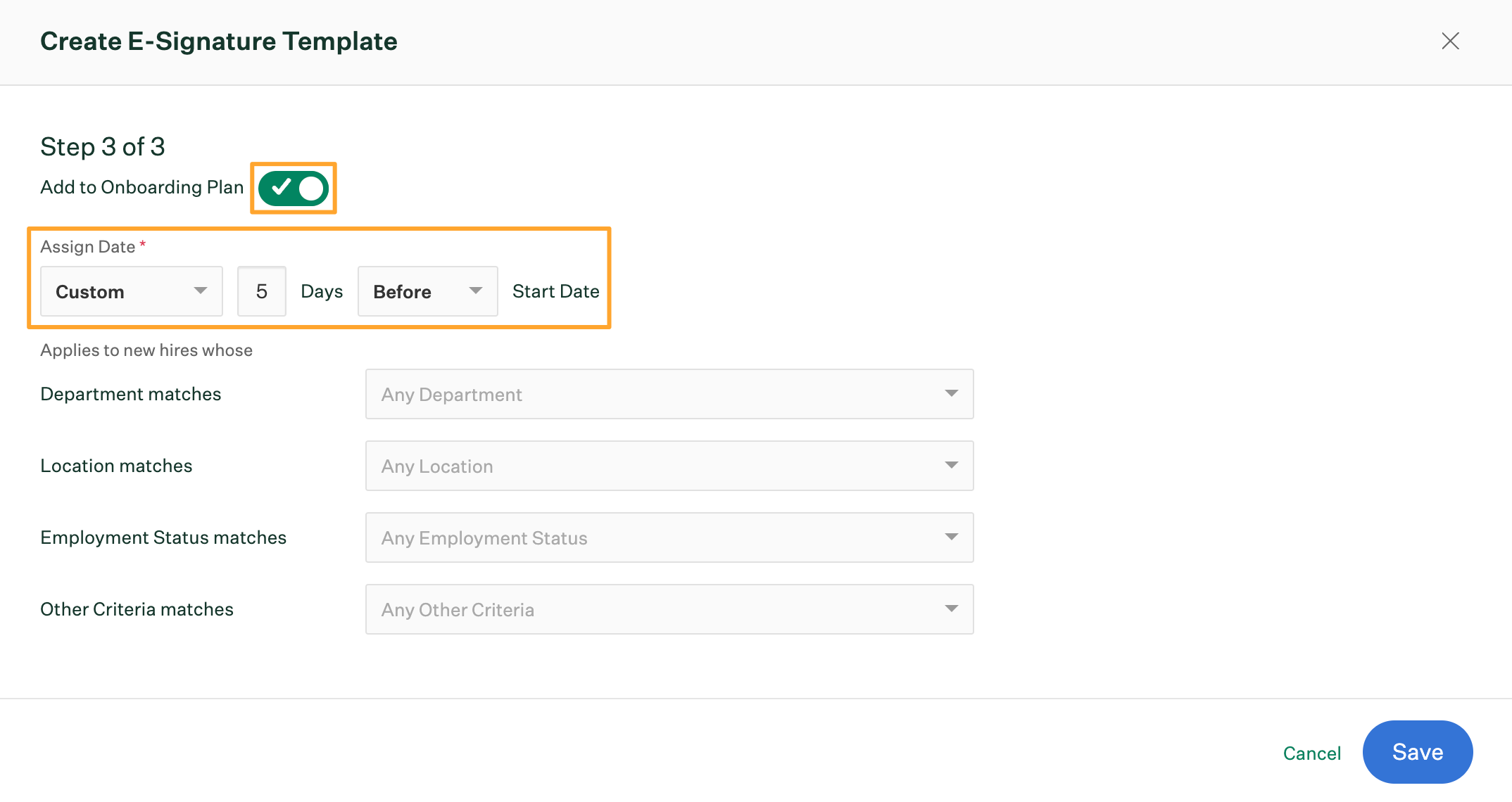 Use the dropdown fields for Department matches, Location matches, Employment Status matches, and Other Criteria matches to specify which new hires should be assigned this template.
Example: You'd like to assign an E-Signature template to new hires who are full-time employees based in London. Select London for location match and Full-time for employment status match.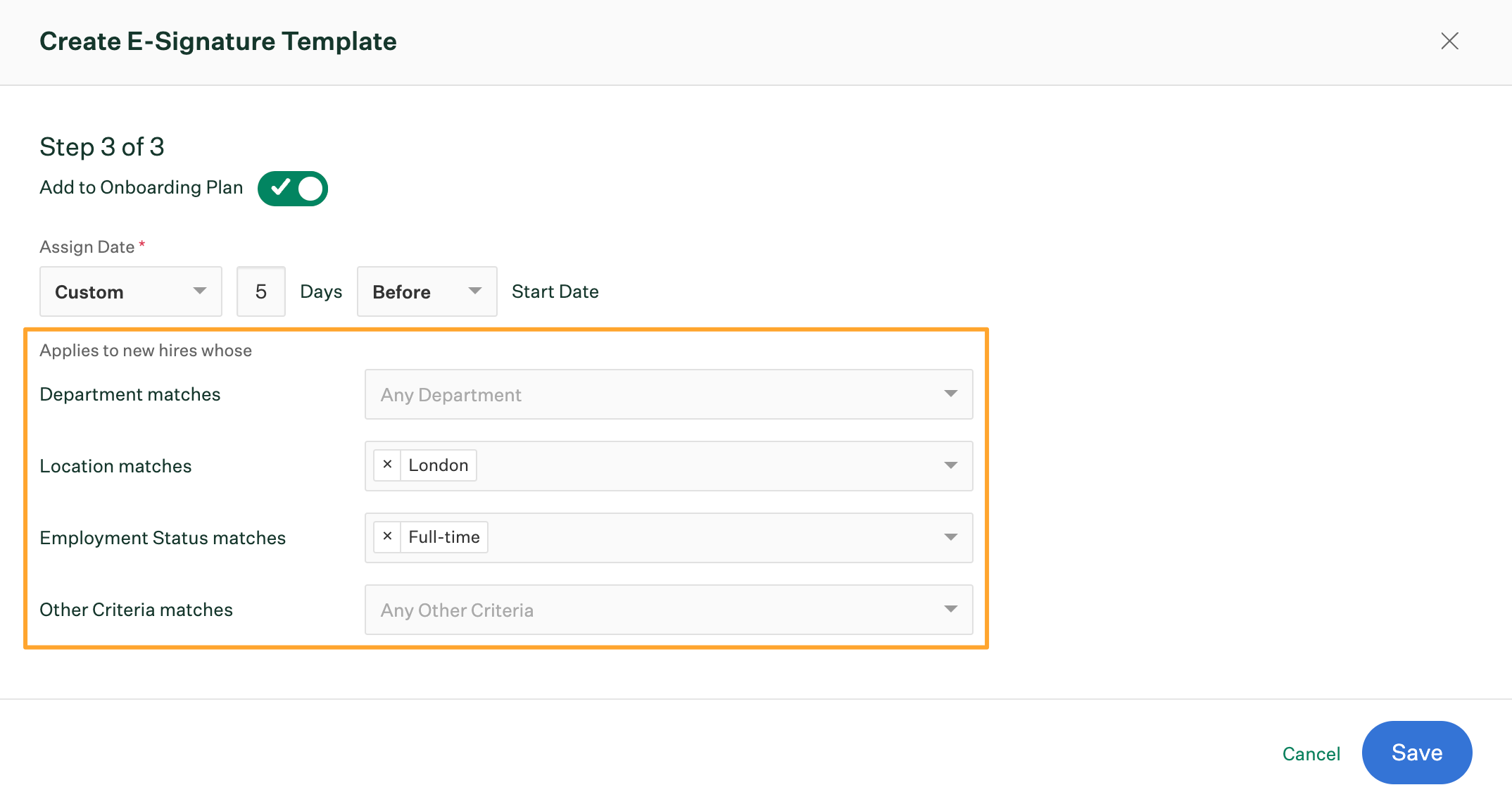 When you're finished, click Save.
Your new E-Signature template will now be automatically assigned to matching new hires on the schedule you've configured.
You can edit this template as needed from the E-Signature Templates page in Settings.
Additional resources