Permissions: Coordinators and Owners
Product tier: Available for Greenhouse Welcome and Greenhouse Onboarding subscription tiers
When you log into Greenhouse Onboarding, your homepage gives you a quick view of your admin dashboard. This article will guide you through navigating each section of your homepage.
Navigation menu
The navigation menu includes the following tabs:
Home: Click the Home tab anytime to navigate back to the homepage of your employee dashboard
Tasks: View and manage any tasks that have been assigned to you
Reports: Access the Report dashboard to view and build reports
Settings: Setup and manage settings for different parts of Greenhouse Onboarding to best support your organization
Search bar: Search for users in your organization and view their employee profile

Click the dropdown arrow next to your name in the top-right corner of the page for additional settings specific to your user account.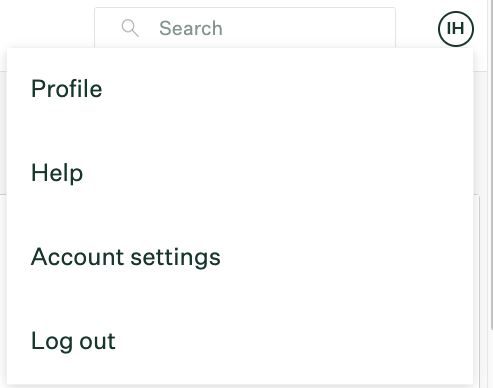 Check out the following pages for more information:
Profile: View and manage your own employee profile
Help: Search our Support site for answers to common questions and helpful resources
Account Settings: Customize your email notification settings
Sign Out: Sign out of your Greenhouse Onboarding account
If you also have access to Greenhouse Recruiting, you can quickly navigate between the applications using the logos in the top left corner.

Your employee dashboard
Your employee dashboard displays your name, department, location, and start date. You can also view and edit your own employee Profile, or access your Welcome Experience.
Click Add a New Hire to manually add a new hire in Greenhouse Onboarding.

Pending hires
The Pending Hires panel shows you candidates who were marked as hired in Greenhouse Recruiting and need to be assigned an onboarding plan. Click here to learn how to onboard your pending hires.

My new hires
If you are assigned as a manager for another user, you will have access to the My New Hires panel.
Click your new hire's name to view their employee profile and complete any assigned tasks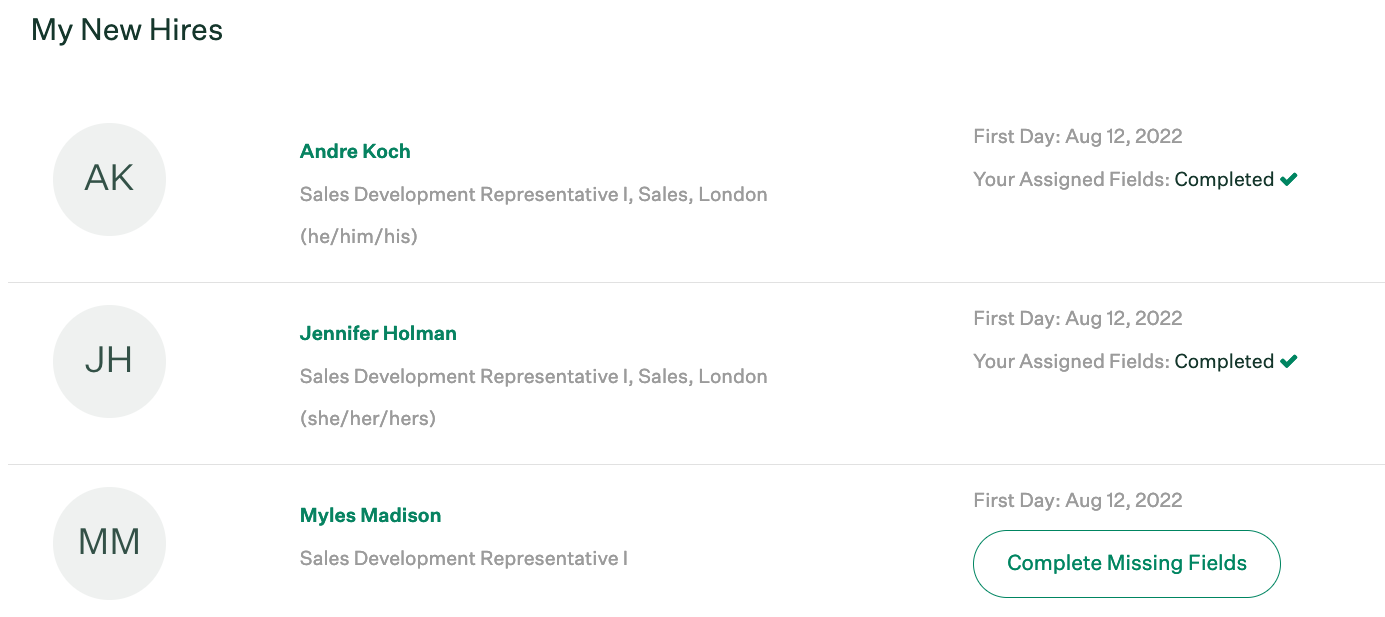 My tasks
Up to ten tasks that are assigned to you will appear in the My Tasks panel. Click See All to view all your tasks.

New hire feedback questions
The New Hire Feedback Questions panel shows you feedback questions for up to 10 new hires in your organization.
Click See All Feedback to view and filter feedback questions for all new hires.

New hires by start date
This panel groups new hires by their start date for easy organization.
When you click the link in line with the start to see all new hires on that particular date or click See All new hires, you will be taken to the New Hire Dashboard, where you can filter by start date, department, and location.

Additional resources