Permissions: Managers
Product tier: Available for Greenhouse Welcome and Greenhouse Onboarding subscription tiers
As a manager, you can use your Greenhouse Onboarding homepage to quickly check the status of your incoming new hires and review any of your assigned tasks related to their onboarding.
Note: Your homepage view may vary depending on the custom permissions you've been granted by your organization's admins.
Navigation menu
The navigation menu includes the following tabs:
Home: Click the Home tab to navigate back to your homepage at any time
My Tasks: View and manage any onboarding tasks assigned to you
Search bar: Search for users in your organization and view their employee profile

Profile and account settings
In the top-right corner of your homepage, click your initials to access additional settings specific to your Greenhouse Onboarding profile and account:

Navigate to Greenhouse Recruiting
If you also have access to Greenhouse Recruiting, you can quickly navigate between applications with the dropdown arrow in the top-left corner.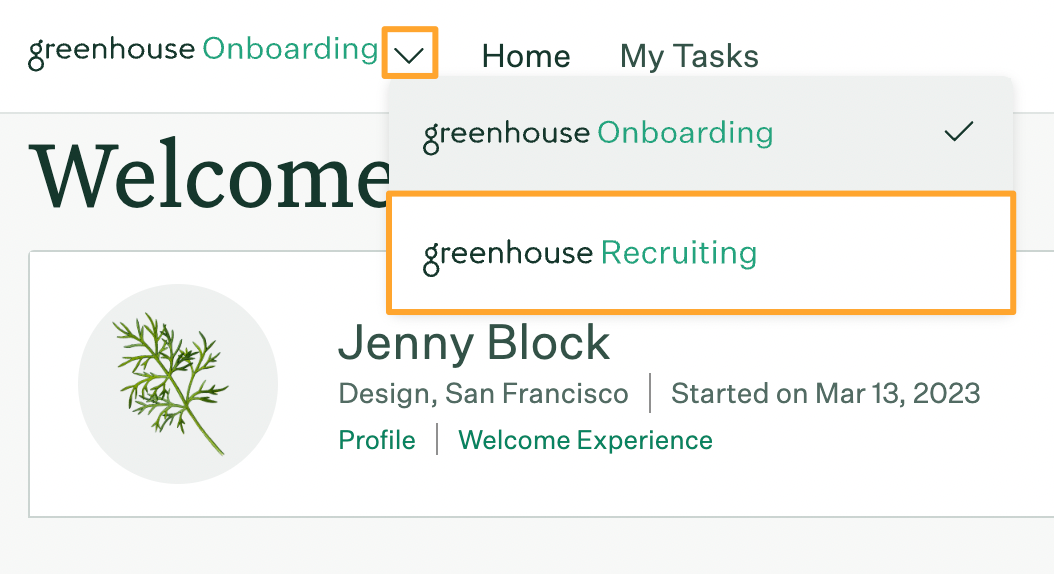 Your employee dashboard
Your employee dashboard displays your name, department, location, and start date.
You can also view and edit your personal employee profile or access your welcome experience resources.

My new hires
You can view your direct reports under My New Hires.
Click your new hire's name to view their employee profile and complete any assigned tasks.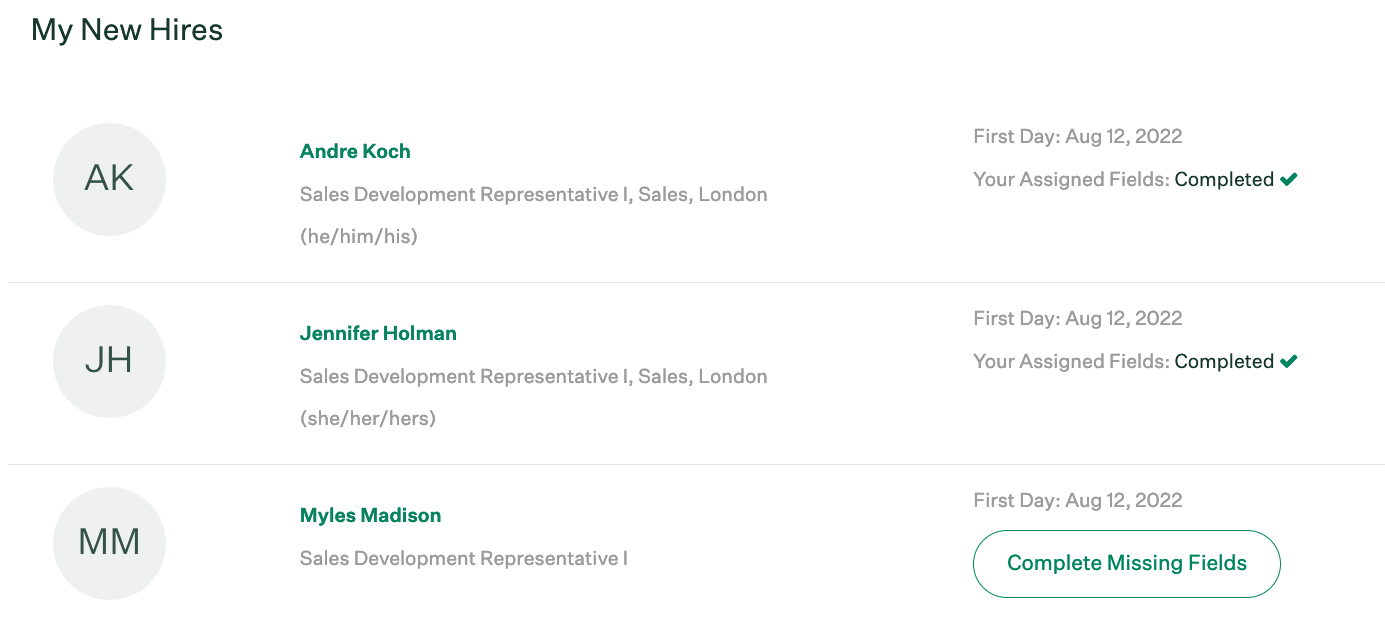 My tasks
Use the My Tasks panel to review your currently assigned tasks and their due dates.
Click See All to view all your tasks.

Documents to sign
Note: E-Signatures are available to the Greenhouse Onboarding subscription tier only.
Use the Documents to Sign panel to review your assigned E-Signatures, complete signatures, and download any signed documents.
Click Needs Signing to begin signing any of your incomplete documents.
Once you've signed, click View to download your completed E-Signature.

Feedback questions
Use the Feedback Questions panel to answer assigned feedback questions about your onboarding experience.
Click Answer Questions to begin responding to any incomplete feedback questions.

Additional resources