Permissions: Coordinators and Owners
Product tier: Available for Greenhouse Welcome and Greenhouse Onboarding subscription tiers
The feedback feature in Greenhouse Onboarding allows your team to survey new hires about their onboarding experiences. Use feedback to report on successes and gaps in your organization's onboarding plan.
Enable feedback
To enable feedback questions, navigate to Settings from your homepage navigation bar.

On the Settings page, select Onboarding Plan > Feedback from the left panel.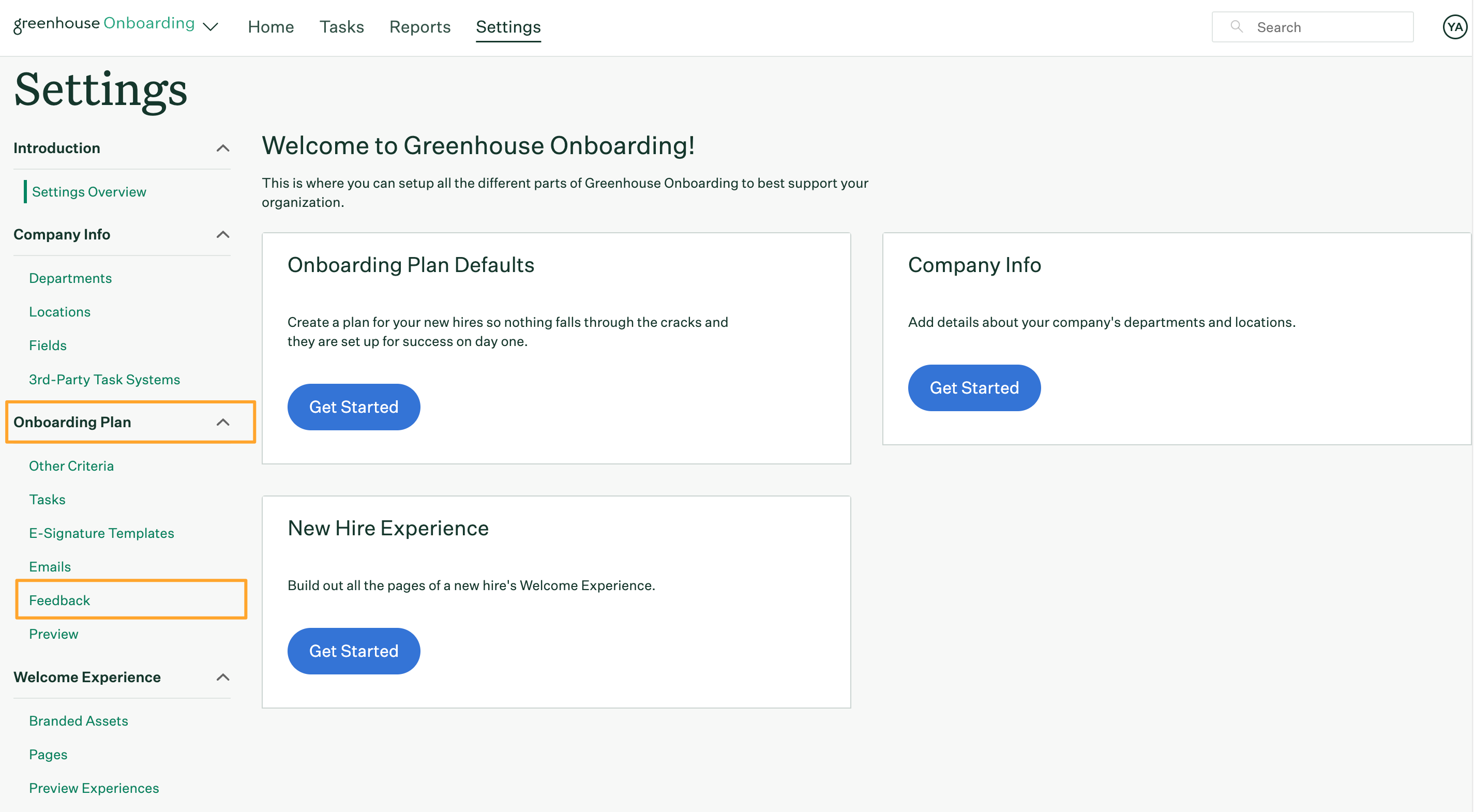 Toggle on Feedback from your new hires to activate the feedback feature.

Note: To turn off feedback questions for your entire organization, switch the toggle off.
Create feedback questions
Greenhouse Onboarding provides a few basic feedback questions that are available to you by default. You can add to this list of questions based on the type of feedback you'd like to collect for your organization.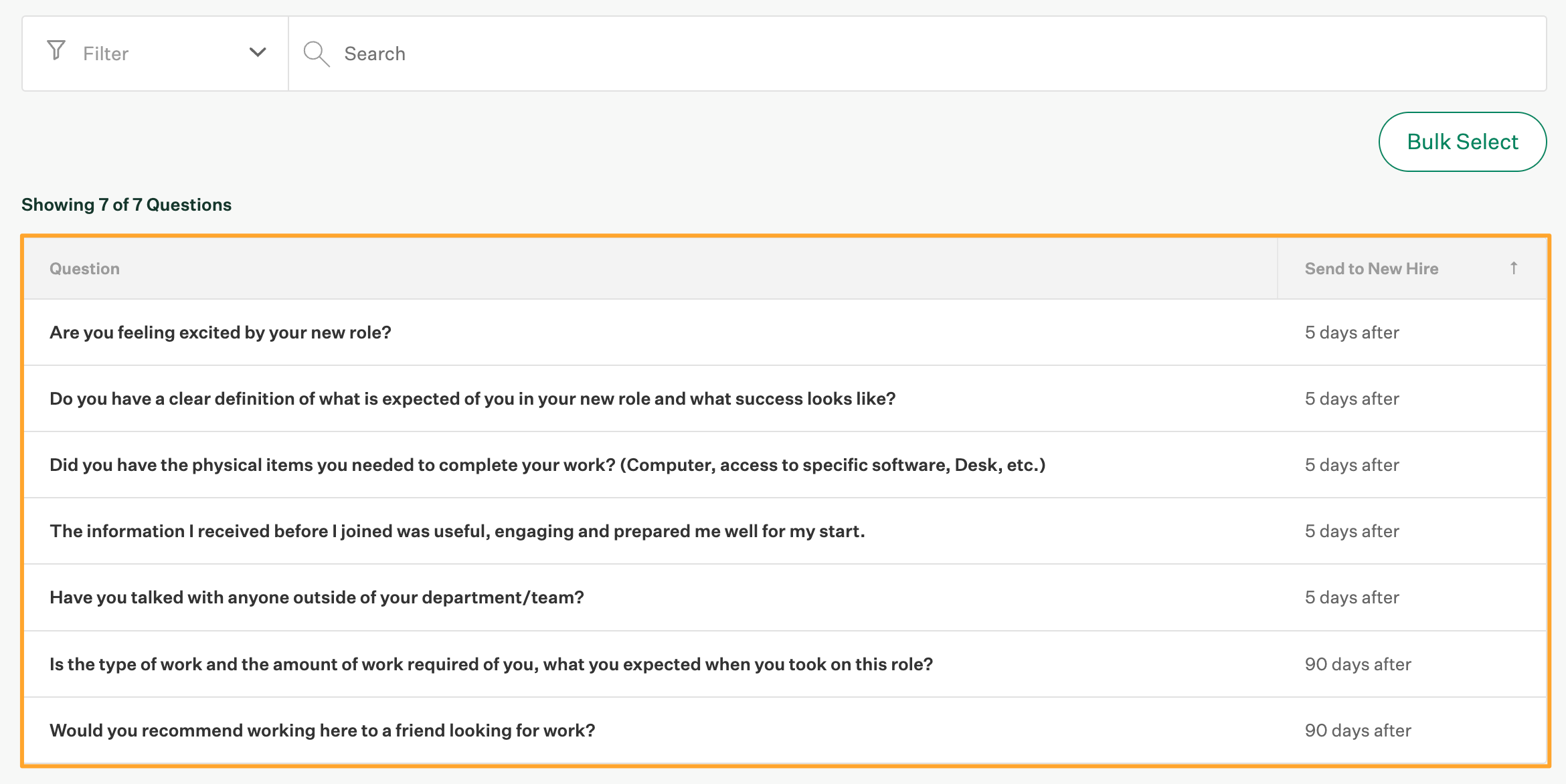 To create new feedback questions, click Add a Question.
Note: Feedback questions require a yes or no answer.

You can also edit or delete feedback questions at any time.
Learn more about creating and editing feedback questions in Greenhouse Onboarding.
New hire perspective
New hires will receive feedback questions in an email based on the schedule you defined when creating questions. They'll also receive reminder emails for 14 days for any unanswered feedback questions.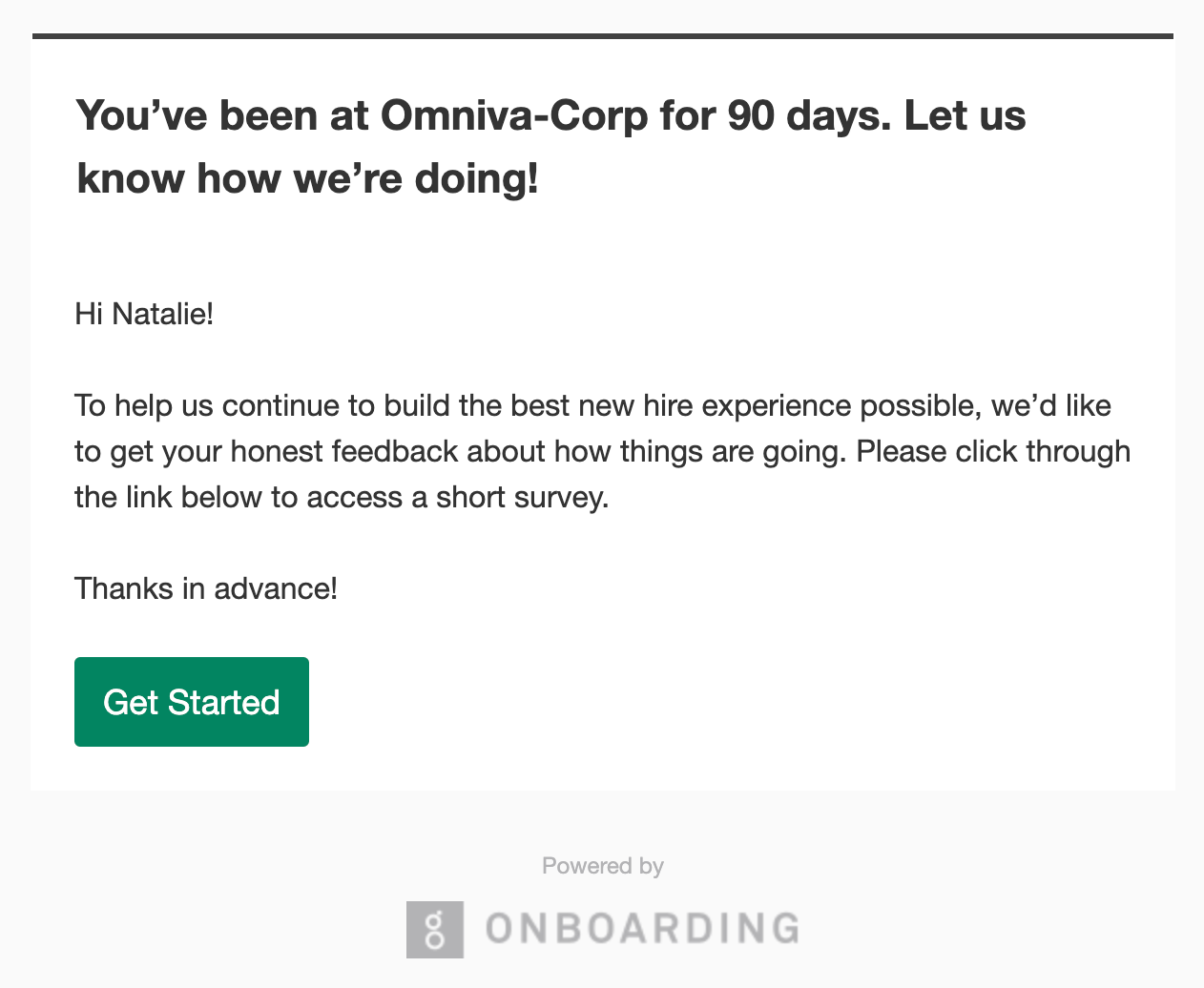 New hires can click Get Started to navigate to Greenhouse Onboarding and respond to their assigned feedback questions. They'll click Submit Answers to submit their feedback.
New hires won't be able to change their answers to feedback questions after they've submitted responses.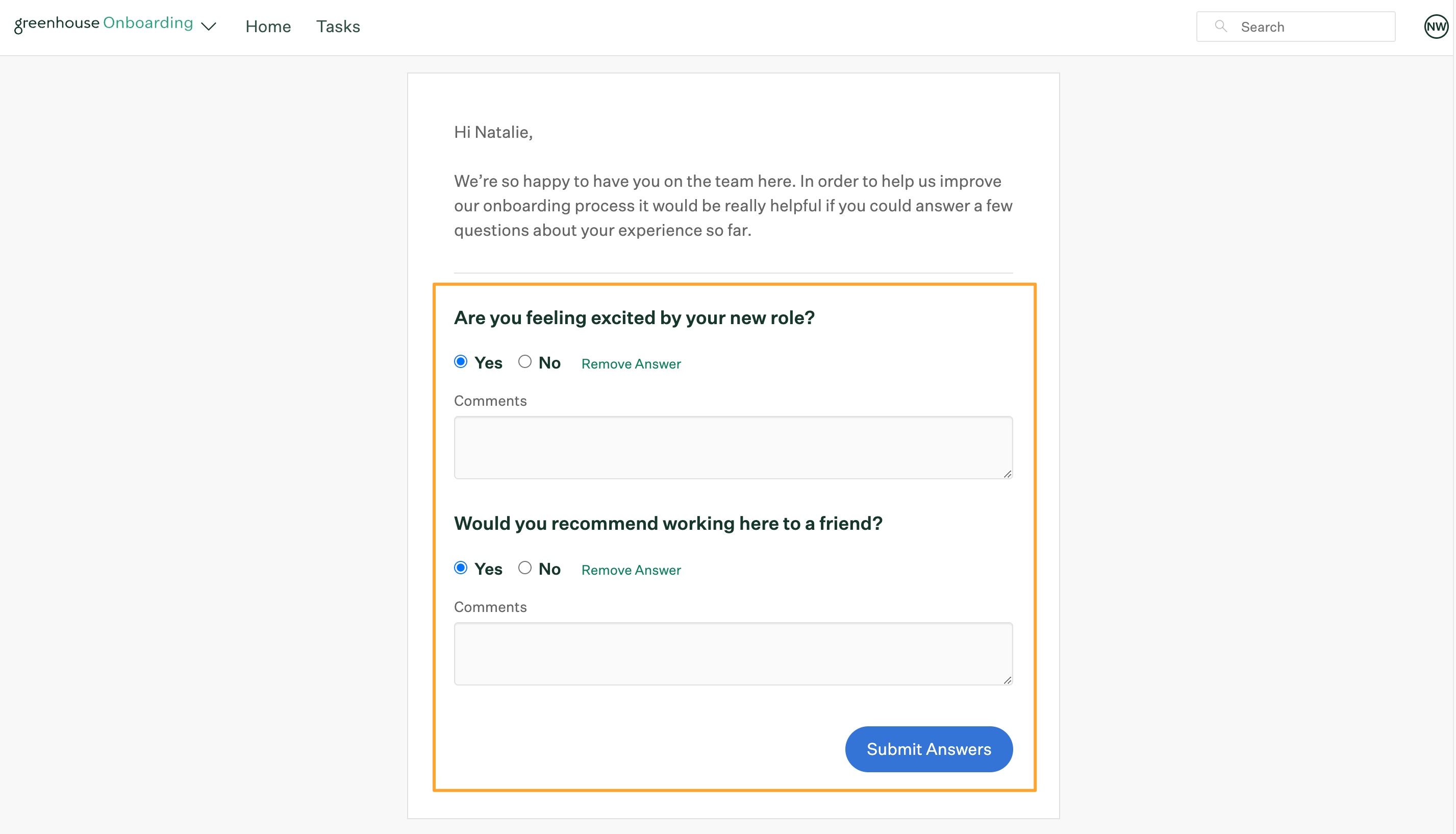 Note: You can remove feedback questions from a new hire's profile at any time. Reminder emails will stop being sent if you delete unanswered feedback questions.
Review feedback responses
New hire feedback responses will be automatically forwarded in an email to the recipient you selected when creating feedback questions.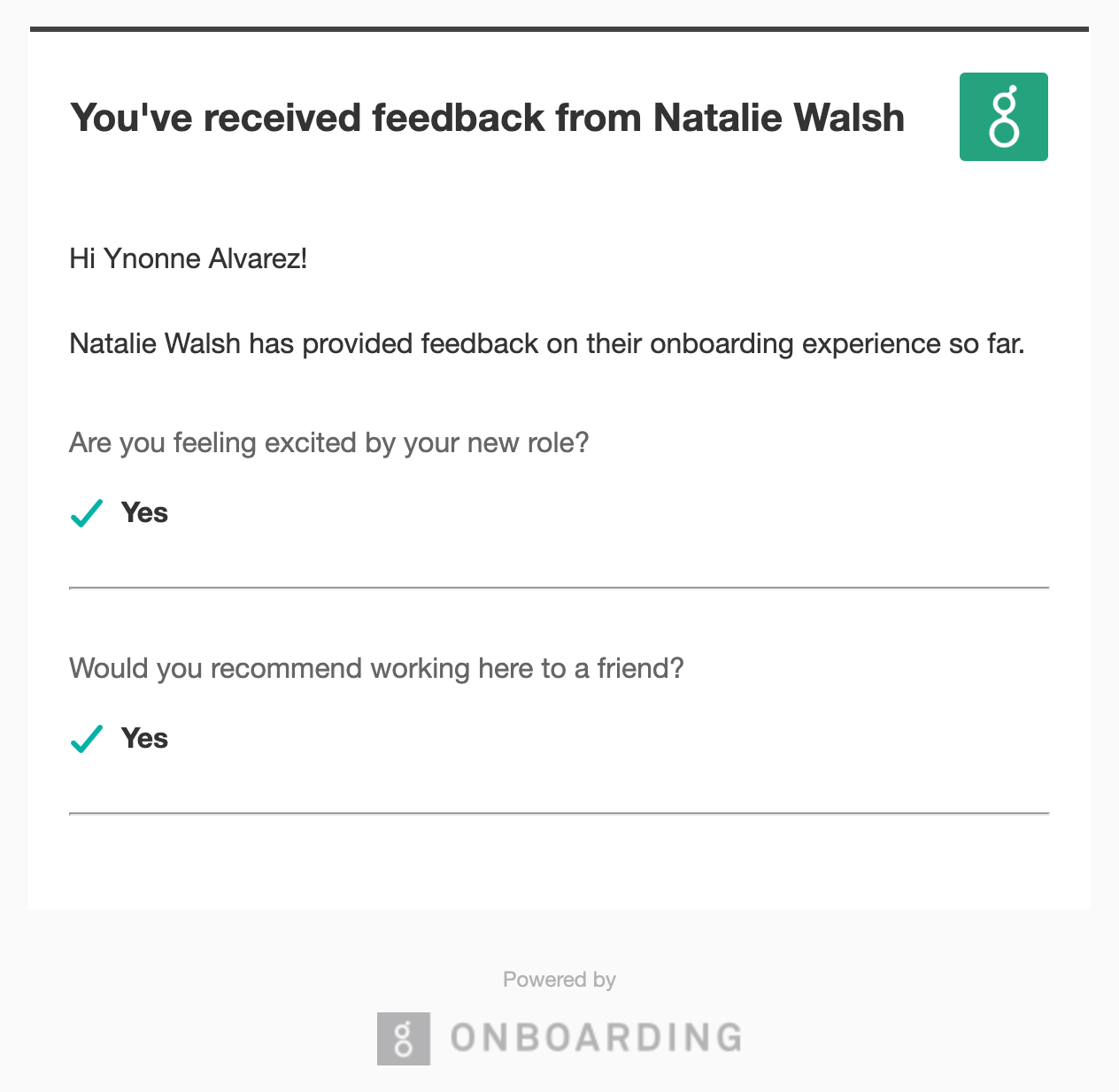 Coordinators and Owners can monitor any new hire's responses to feedback questions on the Greenhouse Onboarding homepage or in the new hire's employee profile. They also have access to a feedback report to quickly assess feedback responses from all employees in your organization.
Learn more about reporting on feedback in Greenhouse Onboarding.