Crosschq 360 is an automated reference check solution designed to help modern recruiters make objective, data-driven hiring decisions fast. By digitizing the reference check process, Crosschq 360 customers receive insightful feedback that focuses on candidate skills and removes unconscious bias to build diverse, high-performing teams modern employees expect.
Greenhouse Recruiting's integration with Crosschq allows your organization to seamlessly add a Crosschq reference check to your existing hiring process.
Enable the Greenhouse/Crosschq integration
Log in to your Crosschq administrator account, click the Integrations tab on the left side and turn on the Greenhouse integration by clicking the slider so it turns green.
Copy the Token/API Key.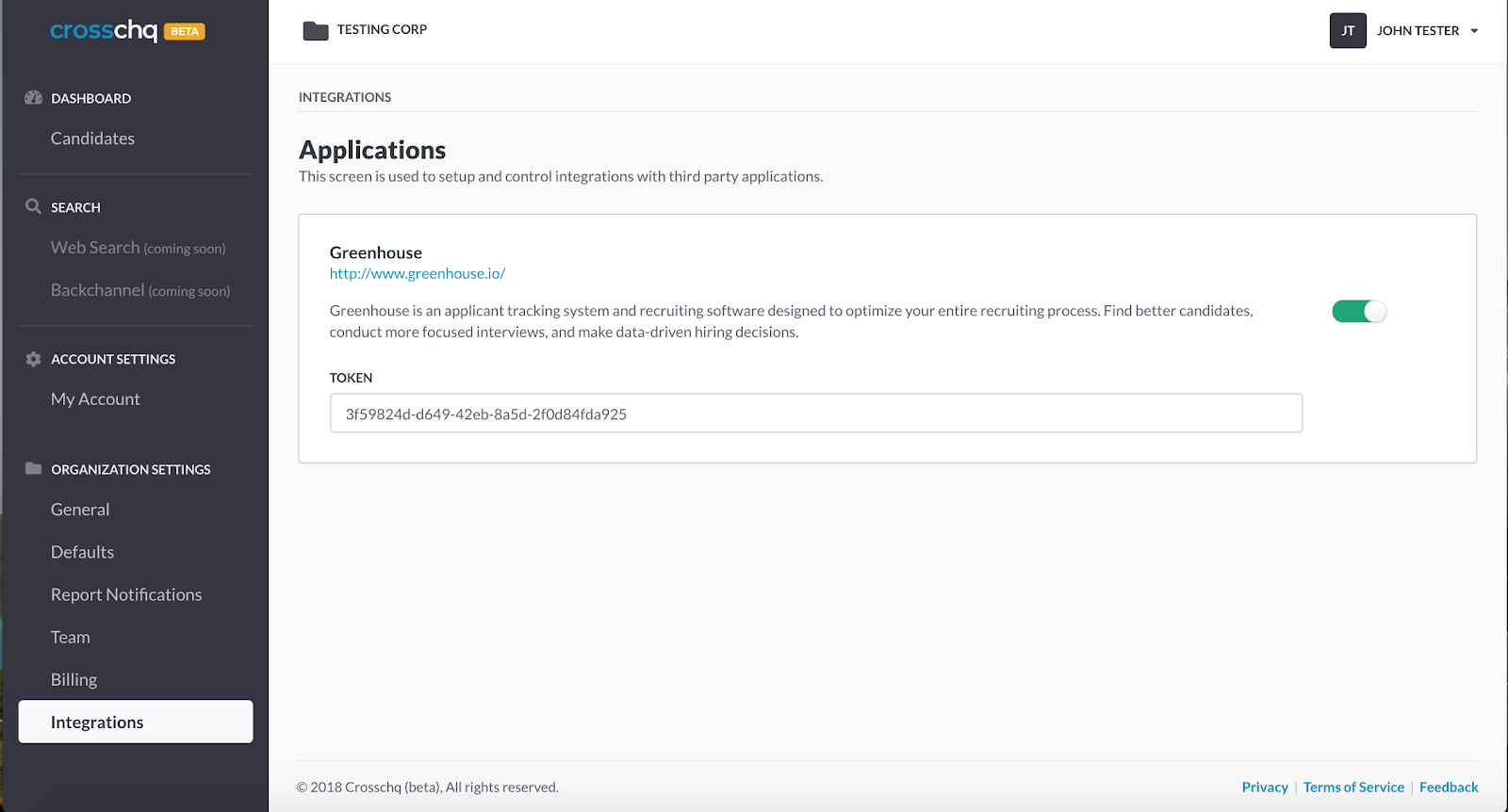 Once you have obtained your API key, contact Greenhouse Support by using live chat or opening a ticket.
Note: For data security purposes, do not include the API key when opening a new ticket.
The Greenhouse Support Team will respond with a SendSafely link for you to enter your API key. A notification will be sent to the Greenhouse Support Team after you have entered your API key and they will email you to confirm that your API key has been set up in your account and your integration is enabled.
Note: To verify your identity, the Greenhouse Support Team might request you provide a Support Verification Code before adding the API key to your organization's account.
Configure surveys for Greenhouse Recruiting
Before getting started in Greenhouse Recruiting, your organization will want to set up your Default settings for all of your survey packs in Crosschq and have them enabled for Greenhouse Recruiting. These settings help you determine the exact type and amount of references that you would like included within each survey pack.
Navigate to your Crosschq account.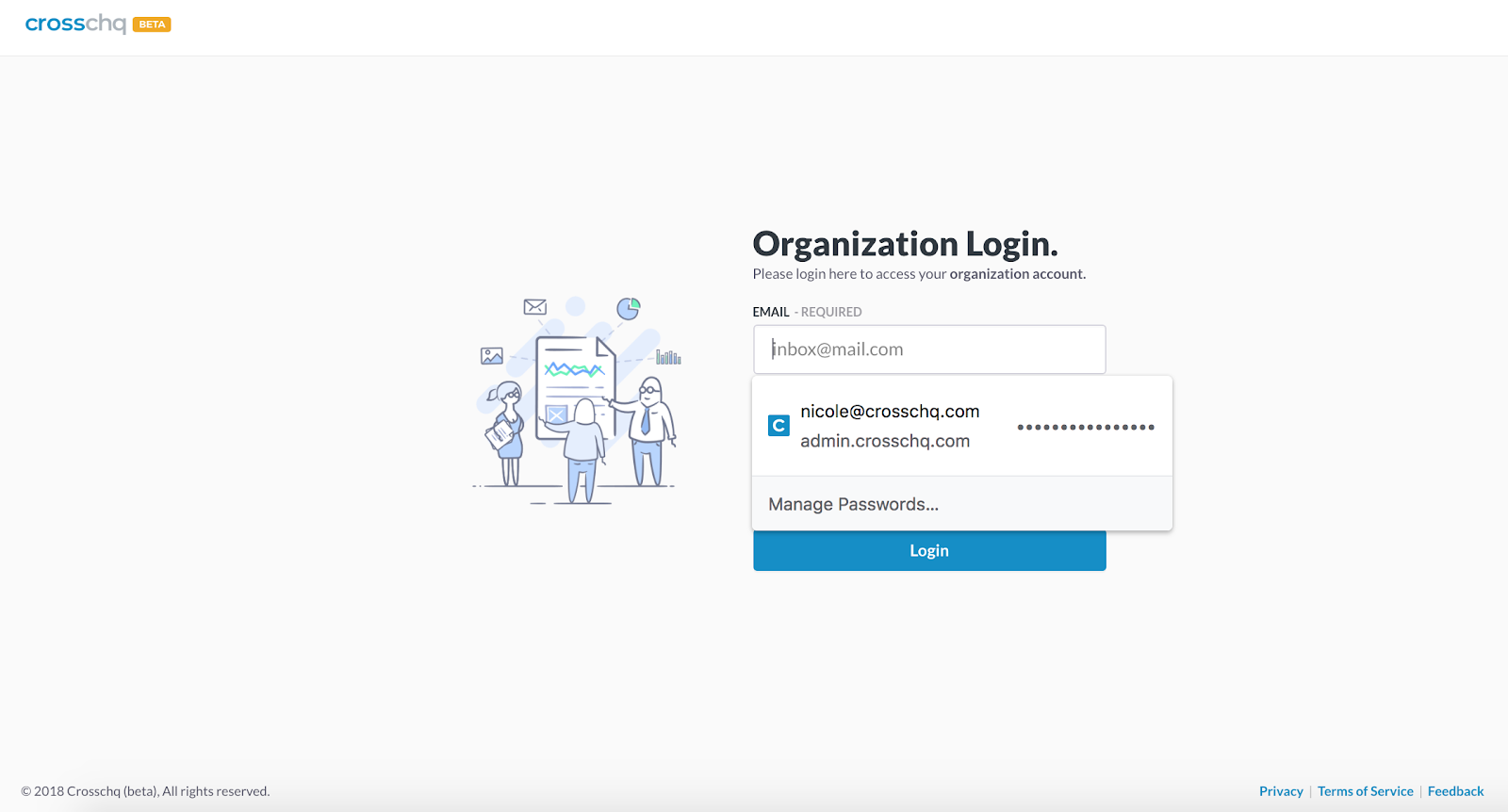 Once you have logged into the Crosschq platform, configure your default settings for each type of survey pack. Click the Defaults button on the left sidebar.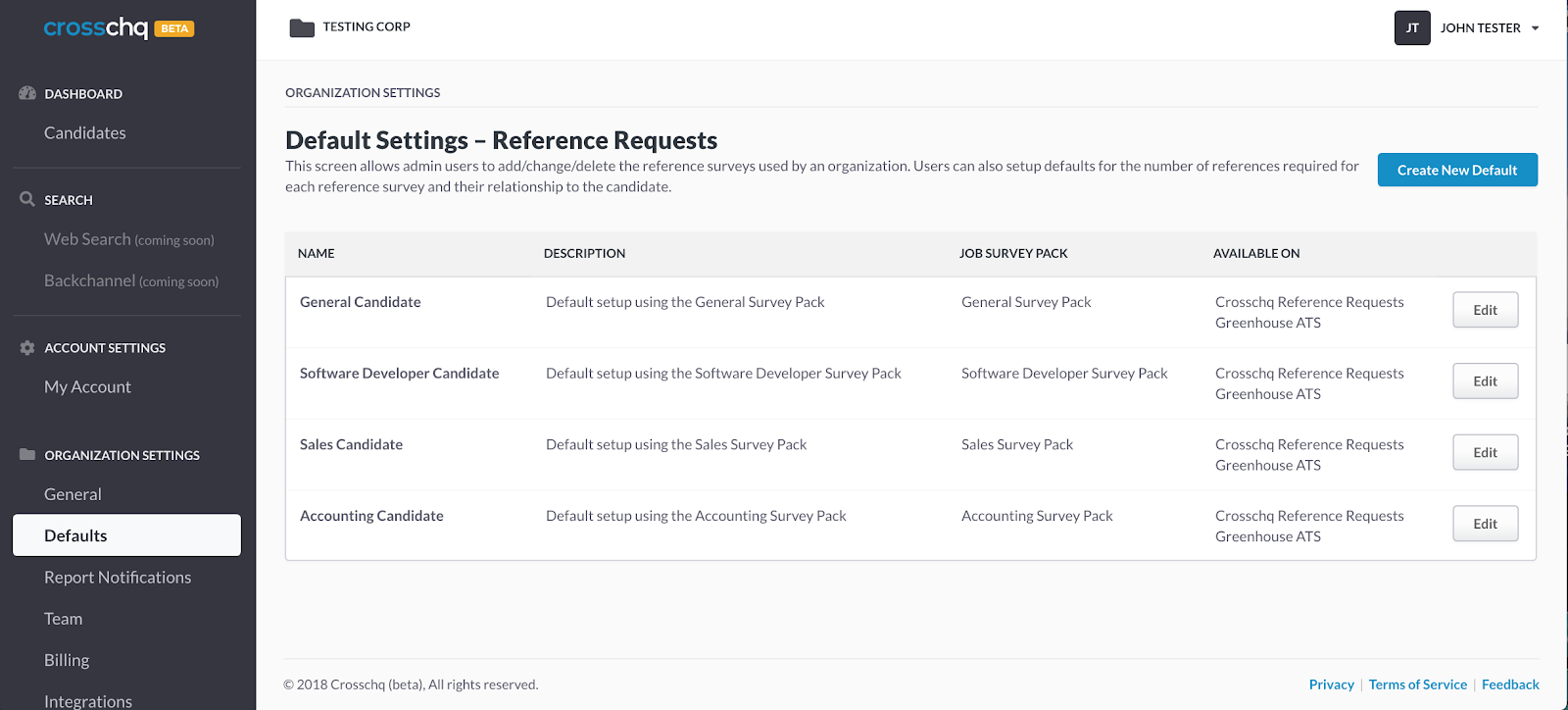 Select the Edit button to predetermine which kind of references you would like to collect on each survey pack. For example, in the sales survey pack, you may want to add a customer/supplier reference. Select Add and press the plus sign until you have added the number of references that you would like for this survey pack.
Select Save Changes and make sure the checkmark next to Greenhouse ATS is selected. Once you press Save, your defaults will be synced within the Crosschq platform and the Greenhouse application. You will want to make sure you have enabled all of your surveys to be available on Greenhouse by following the same process.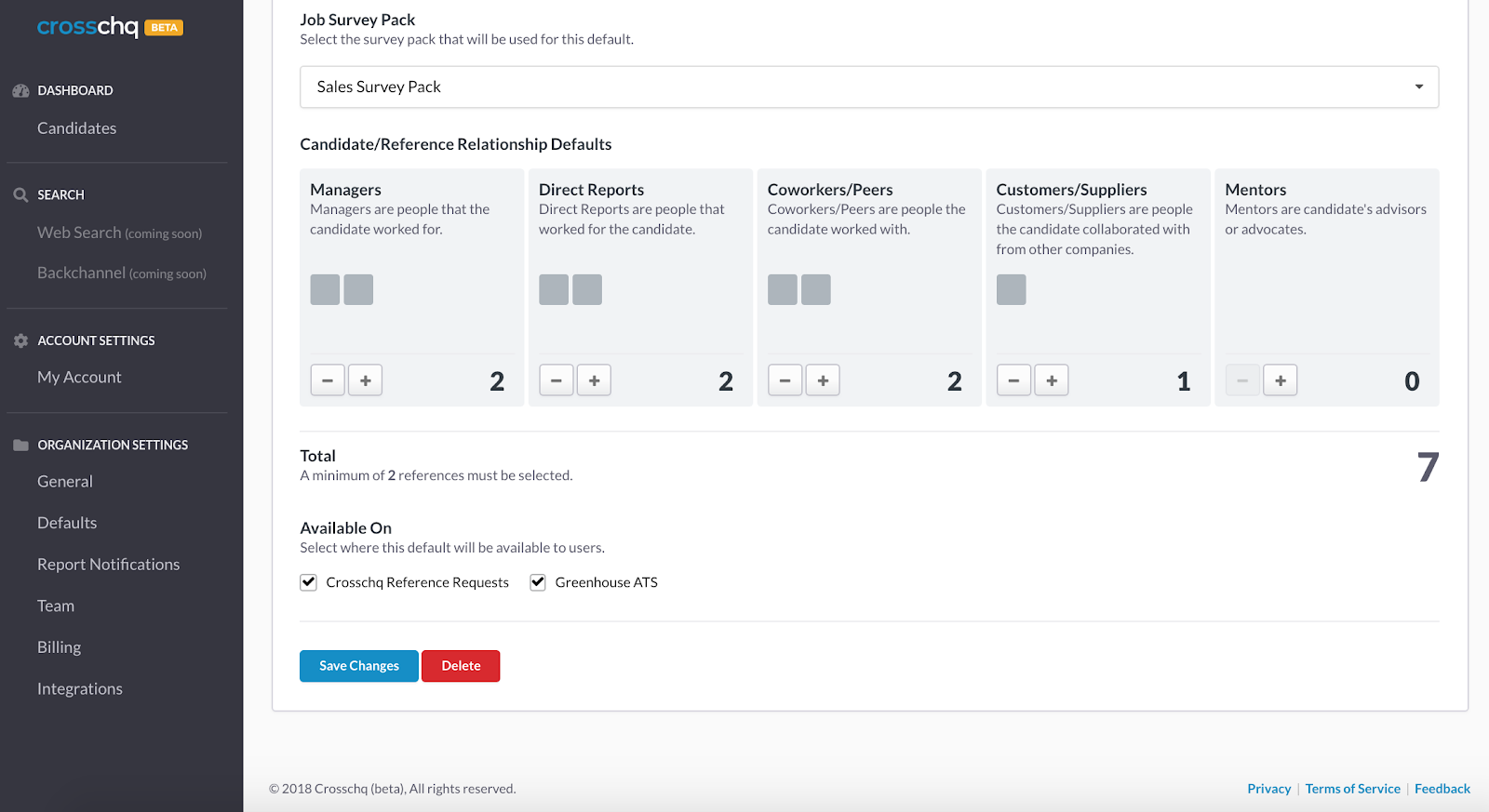 Add Crosschq to a job's interview plan
Once the Greenhouse/Crosschq integration is enabled for your organization, you will be able to add the Crosschq assessment as an Interview stage.
To do this for an existing job, navigate to Jobs > Job Name > Job Setup.

From the Job Setup page, navigate to Interview Plan > Add stage.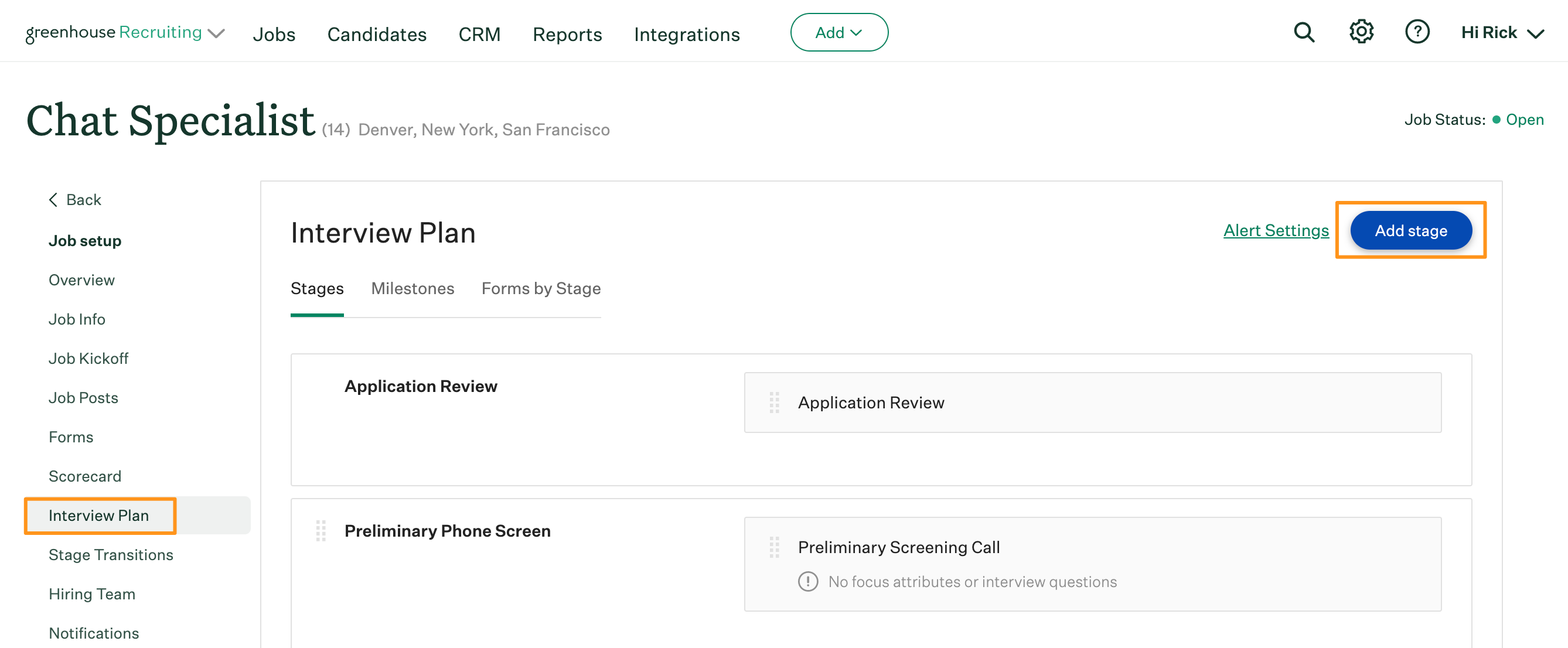 From the Add Stage dialog box, select the Crosschq stage. When finished, click Add to apply the stage to the job's interview plan.
Use the Crosschq integration in Greenhouse Recruiting
Note: If you want to automate Crosschq assessments being sent to your candidates, create a stage transition rule.
Once configured, assessments will be triggered to send automatically after a candidate moves into the partner assessment stage.
Send and review the test
When candidates are moved into the Crosschq Interview stage, Greenhouse will display a Send Test link.
Note: When you send a test from Greenhouse, the interview instructions are actually sent by Crosschq.
Make sure to provide the candidate's email and select which type of survey applies to the job the candidate is applying for and that you would like their references to fill out. Select the Send Test button, and the candidate will receive an email to initiate their Crosschq process.

Once the candidate has filled out their self-assessment, and all of their references have responded to the surveys, the report will be available for viewing within Greenhouse Recruiting. Here you can see the candidate has received their overall Crosschq score and has completed the process.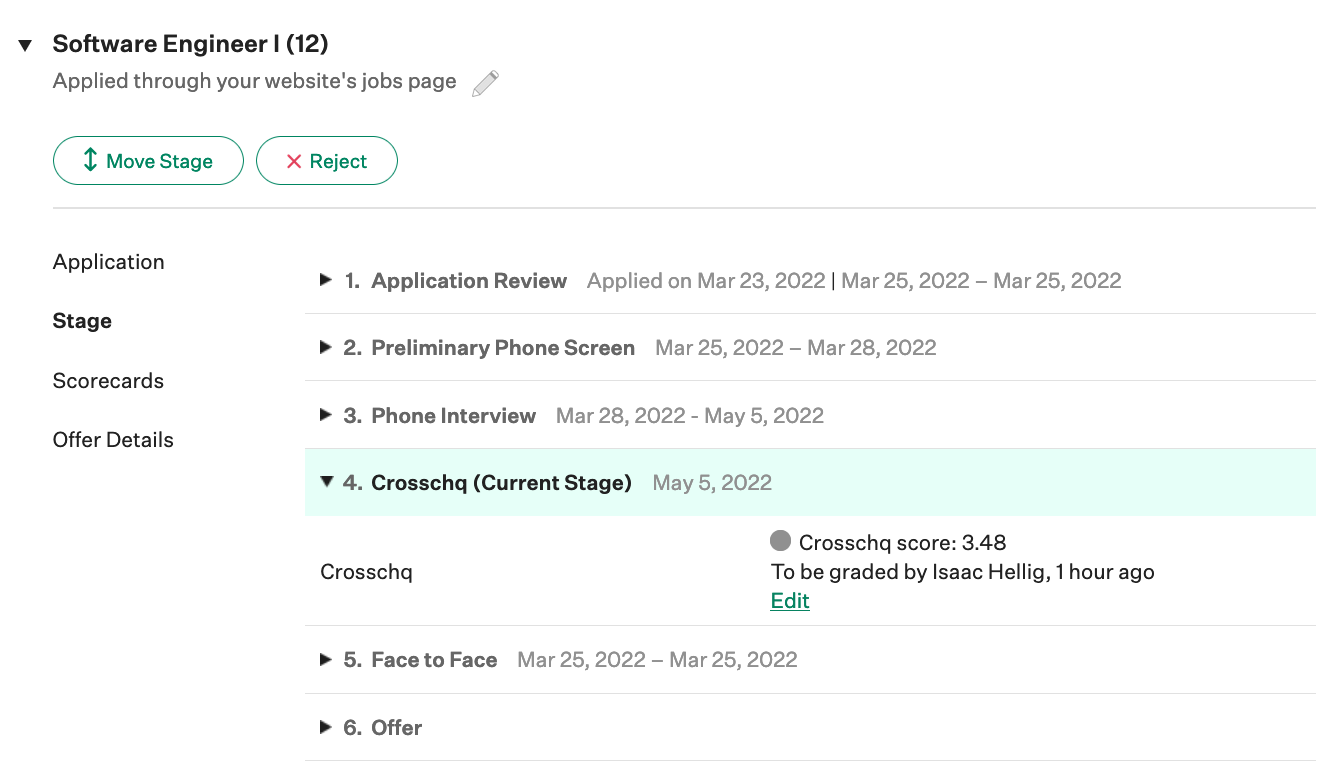 If you click the Crosschq stage, you can click the View Report link to be taken directly to the candidate's report.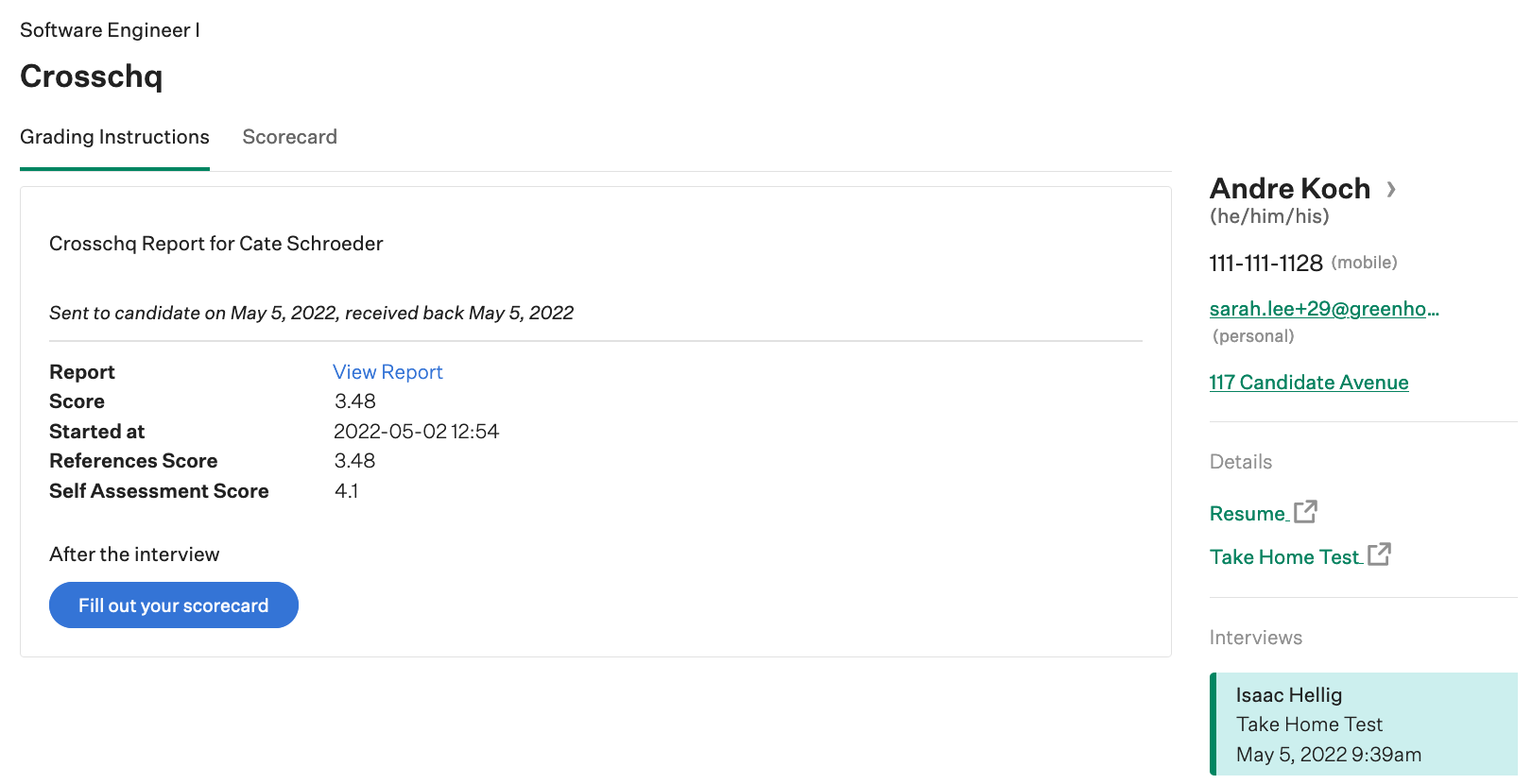 If you have any questions, be sure to email support@crosschq.com.