This article is about Greenhouse Onboarding. If you are looking for help on Greenhouse Recruiting please go back to your search results or the homepage and choose the option that does not begin with Greenhouse Onboarding. If you have any questions about what articles to use, please reach out to chat support.
The Greenhouse integration will allow you to hire new hires in Greenhouse and onboard them with Greenhouse Onboarding. 
To request the integration, email your Greenhouse Onboarding client rep, and they will turn it on for you. 
Using the Greenhouse Integration 
As an Admin of Greenhouse Onboarding you will receive a Pending Hire notification anytime an offer is marked as "accepted" in Greenhouse Recruiting. 
On the Homepage of Greenhouse Onboarding, you will see box that contains all of your Pending Hires.
When you select the employee's name off the list of Pending Hires (see below), you will be taken into the Onboarding flow. 

By default the following pieces of information will be pulled over from Greenhouse Recruiting into Greenhouse Onboarding: 
First Name
Last Name
Work Email
Personal Phone
Personal Email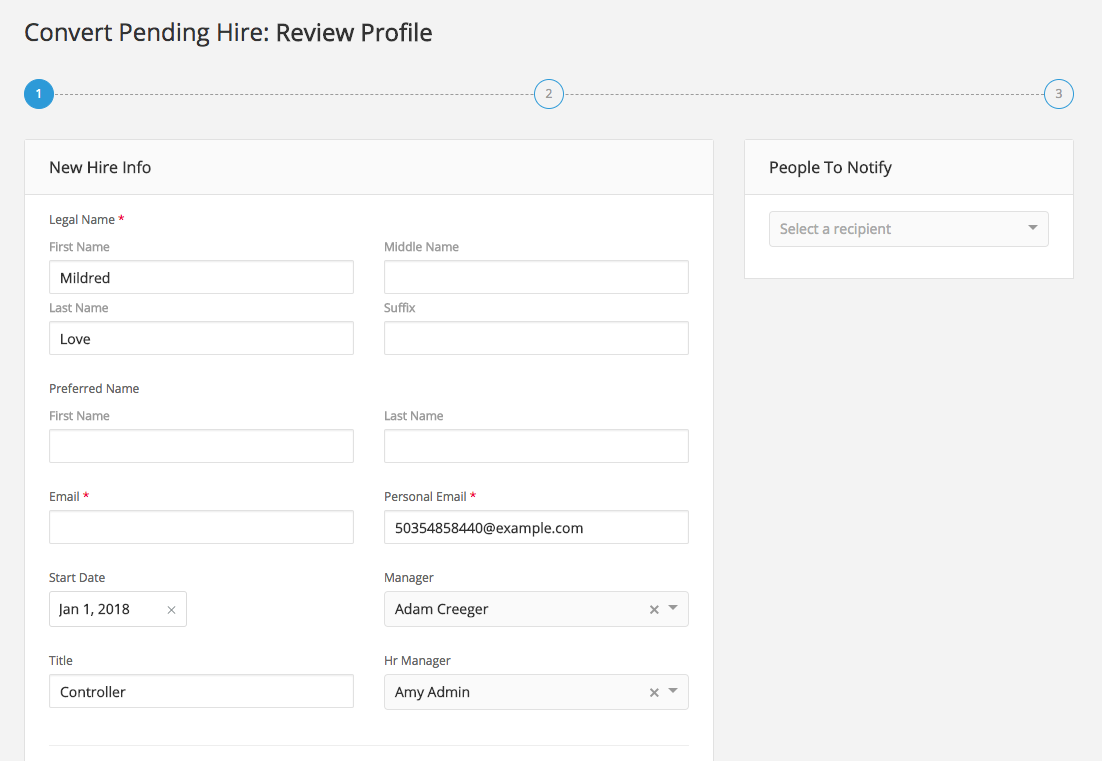 Select Continue and complete the Onboarding process as normal. 
Customizing your integration
Please note: Only Super Admins in Greenhouse Onboarding have the ability to customize the integration between the products. 
After using the integration you may decide more info needs to be shared between Greenhouse and Onboarding.
If you would like additional information transferred from Greenhouse to Greenhouse Onboarding when you onboard a new employee:  
In Greenhouse Onboarding go to Admin > Settings > Custom Fields
Put the field you would like brought over into Edit mode.
Select the Corresponding Field in Greenhouse from the dropdown. 
Update Field
Ta-da!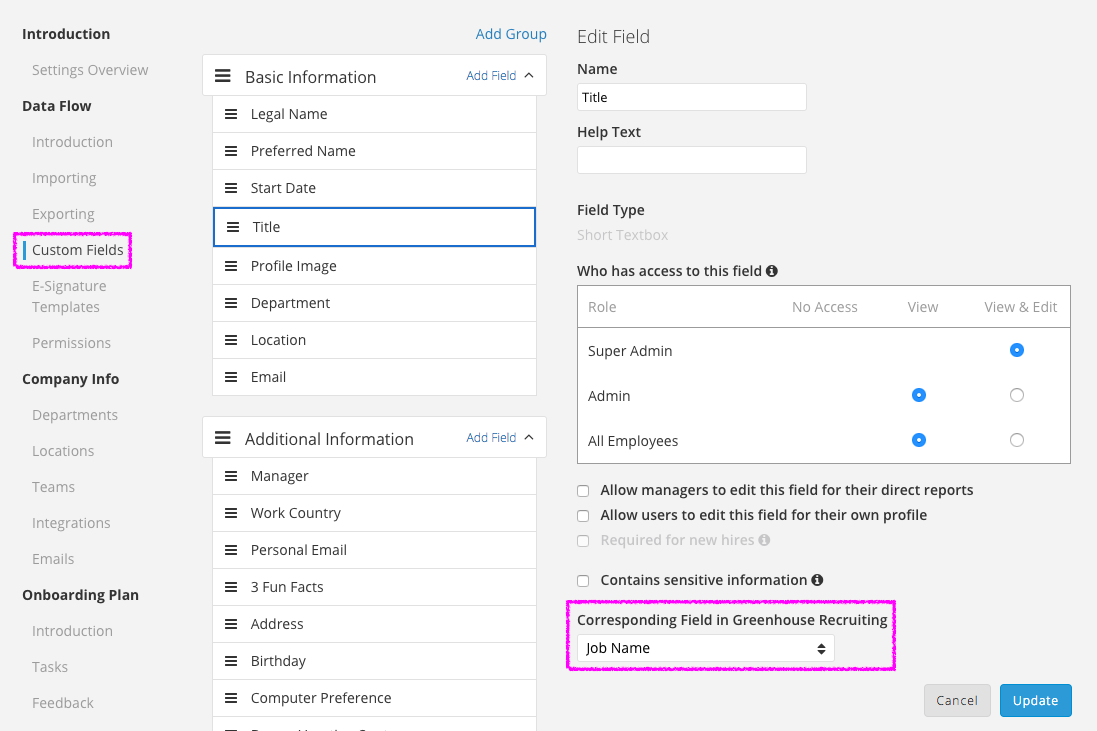 Common questions when customizing your integration:
I tried customizing the integration, but the values are not being brought over from Greenhouse. What do I need to do?
Are the fields in Greenhouse and Greenhouse Onboarding, multiple choice?
If you are mapping a multiple choice field between Greenhouse and Greenhouse Onboarding, the answer values in Greenhouse must exactly match the answer values in Greenhouse Onboarding.
Ex: If you are mapping T-Shirt size and the options in Greenhouse are Small, Medium, Large, then the options for T-Shirt size in Greenhouse Onboarding must also be Small, Medium, and Large (instead of S, M, L). 
Is the field in Greenhouse a text field, and the corresponding field in Greenhouse Onboarding a multiple choice field? 
If the value entered in Greenhouse is not one of the available multiple choice options in Greenhouse Onboarding, it will not be brought over. 
The answer values in Greenhouse must exactly match the answer values in Greenhouse Onboarding