Permissions: Site Admin
Product tier: Available to all subscription tiers
When people create new jobs at your organization, they'll be presented with a standardized job setup flow in Greenhouse Recruiting. You can customize the steps of the job setup flow to best suit your organization's needs.
Configure the new job setup flow
To configure the new job setup flow for your organization, click the Configure icon

on your navigation bar, then click Custom Options on the left.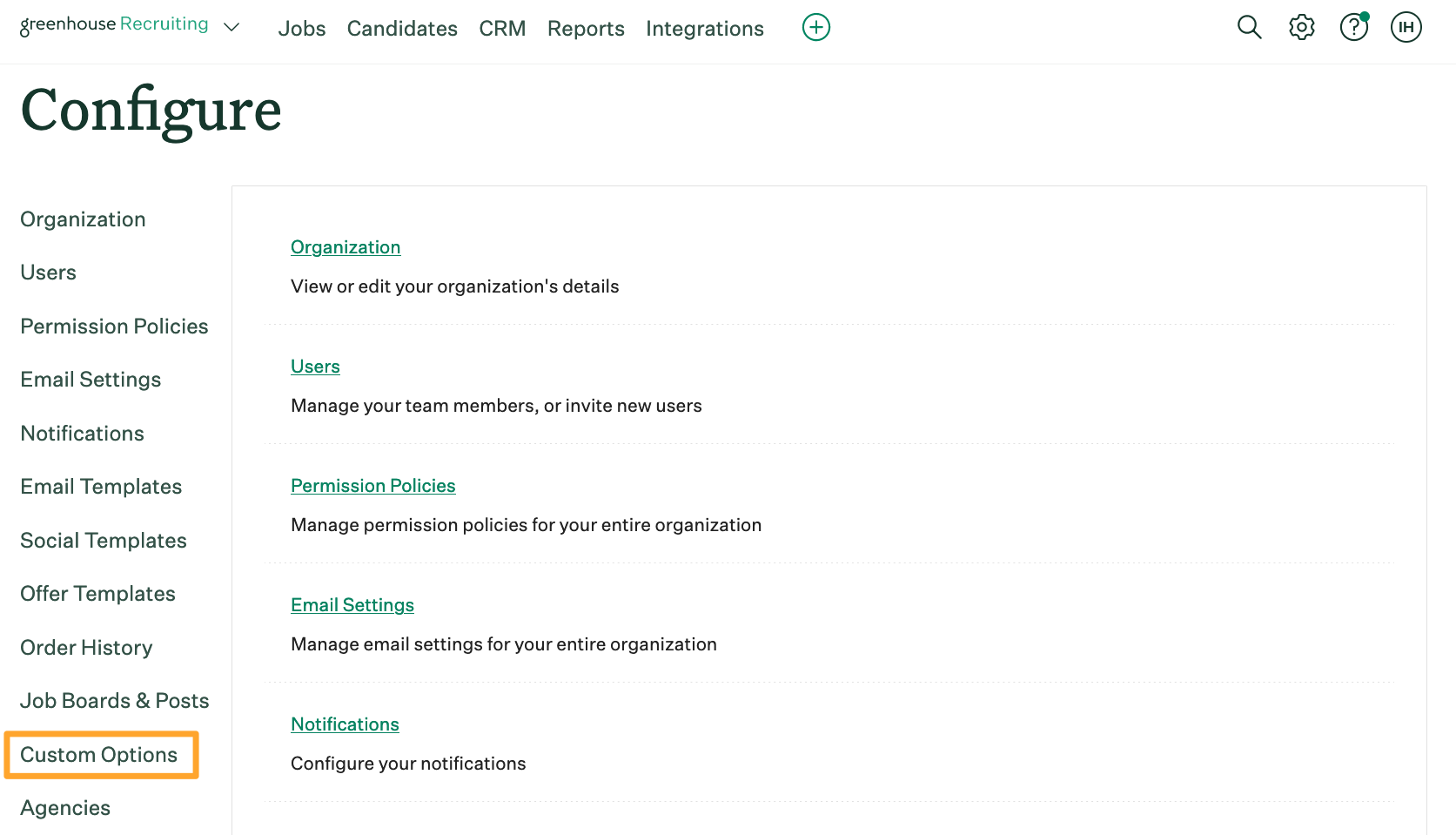 Click Configure Job Setup Flow.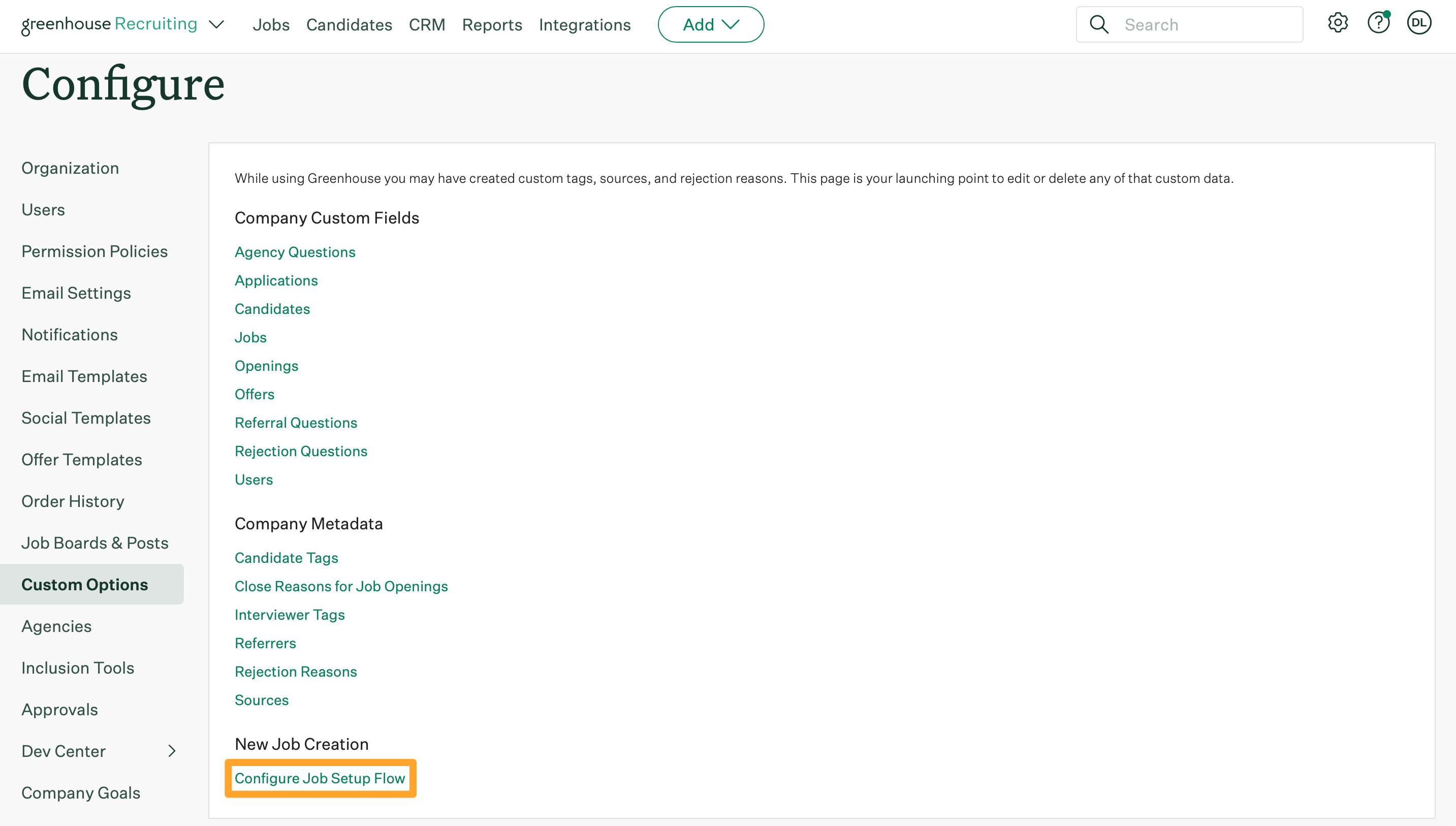 Next, check the box beside the steps you want to include in the job setup flow. The steps you select will appear to all users who create new jobs.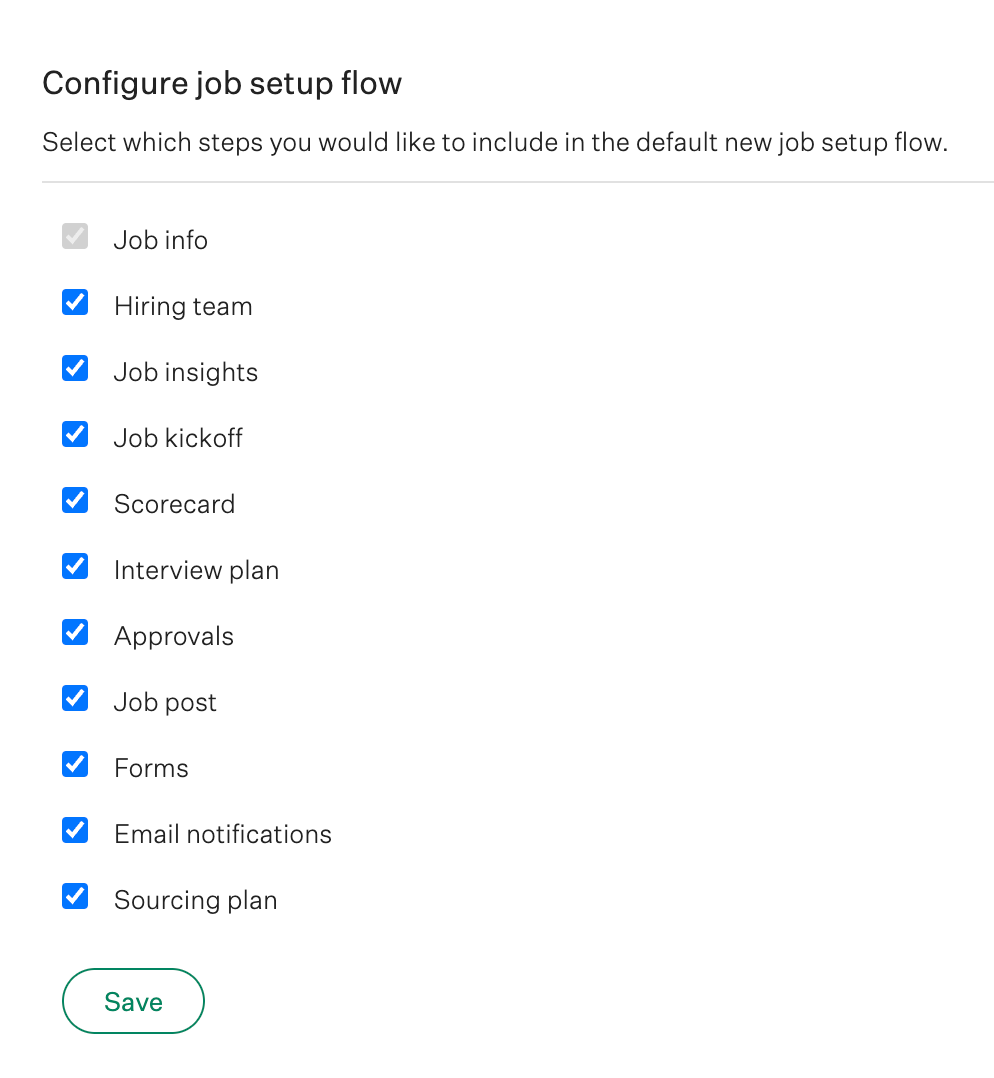 Note: The Job Info step is required.
Note: The Forms step is only available to Advanced and Expert tier subscription customers.
Check out the chart below for more information on each of the available steps:
Job info
Use this step to set the job's department, office, and more. The job info step includes basic information about the job, like its internal name (or the way it appears to your employees), requisition ID and opening IDs, along with any custom job or opening fields you have configured.
Hiring team
Use this step to determine who will be a part of the job's hiring team. You can assign both roles (like hiring manager, recruiter) and permissions (like Job Admin) to the job.
Job insights

Use this step to gain valuable insights into how your job might perform based on how similar jobs performed in the past. You can see at-a-glance information to set expectations for operations, finance, and recruiting teams. You'll see job insights that include:

Total applicants
Top sources
Pipeline history
Offers created

Read more here: Job insights overview

Job kickoff
Use this step to construct the job kickoff form to be sent to the hiring manager. Job kickoff is an essential step of structured hiring that empowers recruiters and hiring managers to collaborate and align on key objectives. Use the form to brainstorm sourcing strategies, scorecard attributes, and more.
Scorecard
Each job should have a standard set of criteria that each candidate is compared against. Use this step to setup the scorecard that will be used to evaluate candidates on the job. Click here to learn more about configuring a well-rounded scorecard.
Interview plan
Use this step to create a consistent interview process for candidates to go through: set stages, expected interviews, and interview kits to prepare interviewers to collect useful feedback. Learn more about creating useful interview plans here.
Approvals
Use this step to assign approvers that should be required to sign off on a job opening or offers being created. Read more here: Configure job approvals and Offer approval overview.
Job post
Use this step to determine how your job post will look. Also known as an application page, this is the candidate-facing part of the job setup flow. Here you'll determine the best way to market the job's responsibilities, perks, and benefits.
Forms
Use this step to configure any forms that will be used on the job. Forms are candidate-facing requests for information. Common use cases include NDAs and post-application questions.
Email notifications
Use this step to configure email notifications for users to be informed of progress on the job. Read more here: Available email notifications.
Sourcing plan
Use this step to assign sourcing tasks, such as the agencies, third-party job boards, or other sourcing strategies you'll tackle. Read more here: Best practices: Sourcing strategies.
When finished, click Save.
Any new jobs will now include the setup steps you selected!