The Greenhouse Recruiting dashboard surfaces tasks across all jobs in a centralized location and helps you find the information most relevant to your role.
To further customize your dashboard, you can show or hide different sections and change the order in which they appear. This allows you to curate your experience to focus on your most important tasks while having control over what you see when logging into Greenhouse Recruiting.
Note: Users with Basic access are unable to personalize their Dashboards.
Personalize your dashboard
Scroll to the bottom of the page and click Personalize Dashboard on the right side of the page.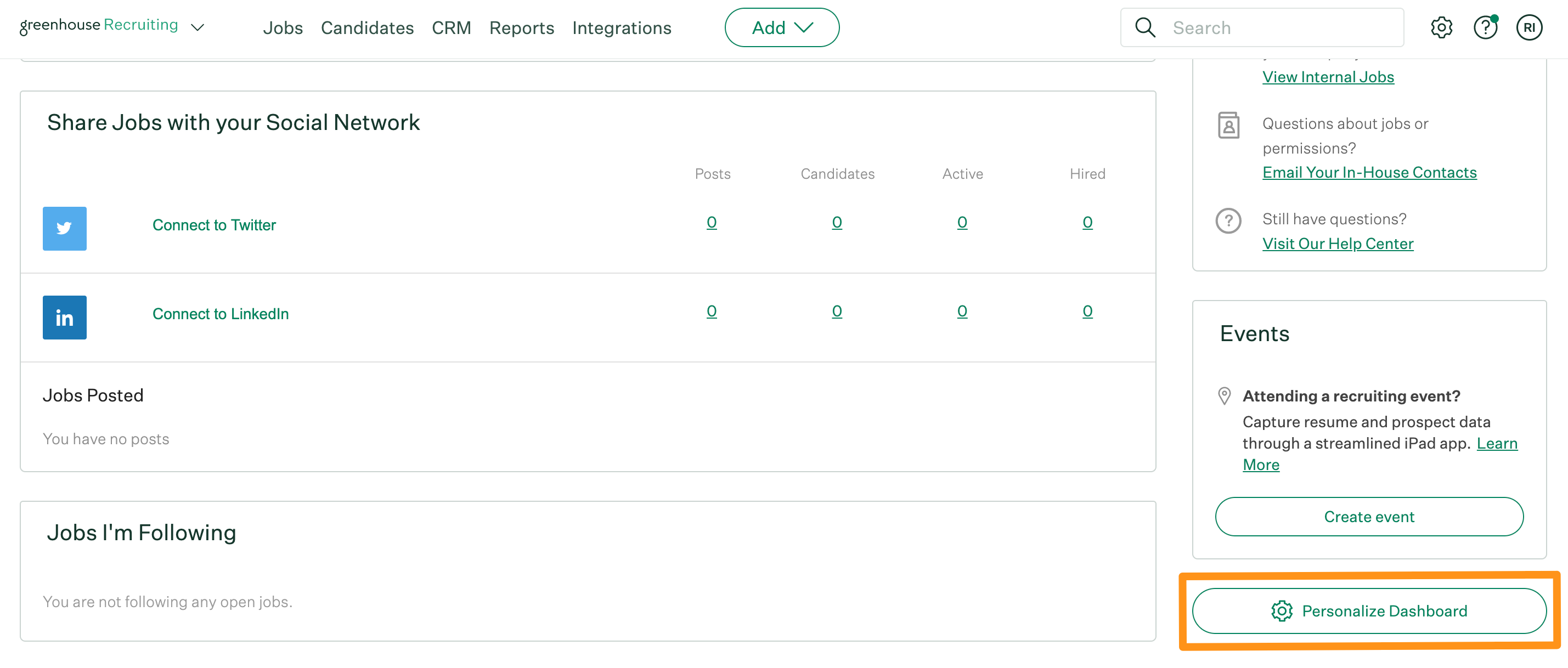 By default, all tiles you have permission to view are shown on your dashboard. To hide a tile, hover over the tile's checkmark icon and click the X. This tile will no longer appear on your Dashboard.
Note: Tiles cannot be moved between the main view and right panel.

To show a hidden tile, click the + icon inline with the tile to add it to your dashboard.

To change the order in which the tiles appear on your dashboard, drag and drop each tile to a new position within its section.
When finished, click Save to apply the changes.
Dashboard options
Depending on your permissions, you may see the following options on your Personalize My Dashboard page.
Main View options
| | |
| --- | --- |
| Tile name | How to use it |
| Internal job board | View internal jobs, open your internal job board, and set up email notifications to be alerted about new opportunities. |
| My Goals | Create and view your individual goals, or view company goals. |
| My Interviews | View your upcoming and past interviews. |
| Applications to Review | See applications you need to review. Applications appear here if you're a recruiter on the hiring team and the job has candidates in the application review stage, or if you're the Hiring Manager and candidates are in the Hiring Manager Review stage. |
| My Reminders | View follow-up reminders that were assigned to you based on your role on a Hiring Team or that were manually assigned from a candidate's profile. |
| Add a Referral | Submit a referral for any open job. |
| My Referrals | View the candidates you referred for jobs. |
| Share Jobs with your Social Network | Connect Greenhouse Recruiting to your Twitter or LinkedIn accounts, and view your post history and activity. |
| Jobs I'm Following | View jobs you've followed. |
Right Rail options
| | |
| --- | --- |
| Tile name | How to use it |
| Sourcing automation | View your active campaigns and any associated sourcing tasks. |
| Tasks | View your tasks, which are automatically assigned to you based on your role on a job's hiring team. |
| My Approvals | If you're assigned to approve jobs, you can view your pending approvals here. |
| People I'm Following | View candidates or prospects you've followed. |
| DE&I Initiative | View a preview of your company's DE&I initiative. Note: The name of this tile may be different if your organization provided a new title when updating their DE&I initiative. |
| Helpful Links | View links to your internal job board, email your in-house contacts, and visit the Greenhouse Recruiting Help Center. Note: Links vary based on your organization's configuration. |
| Events | View upcoming recruiting events you created. |