Permissions: –
Product tier: Available for all subscription tiers
Greenhouse Recruiting includes a variety of ways to stay up to date on your hiring progress, manage important tasks, and keep tabs on candidate progress.
Alerts
Alerts let your team know when a candidate has remained in a given stage for too long. Alerts help ensure candidates aren't unintentionally overlooked, improving the candidate experience and your hiring metrics.
Your team can choose which of a job's stages should include an alert, and define when to trigger each alert. Alerts are configured from the job's interview plan page.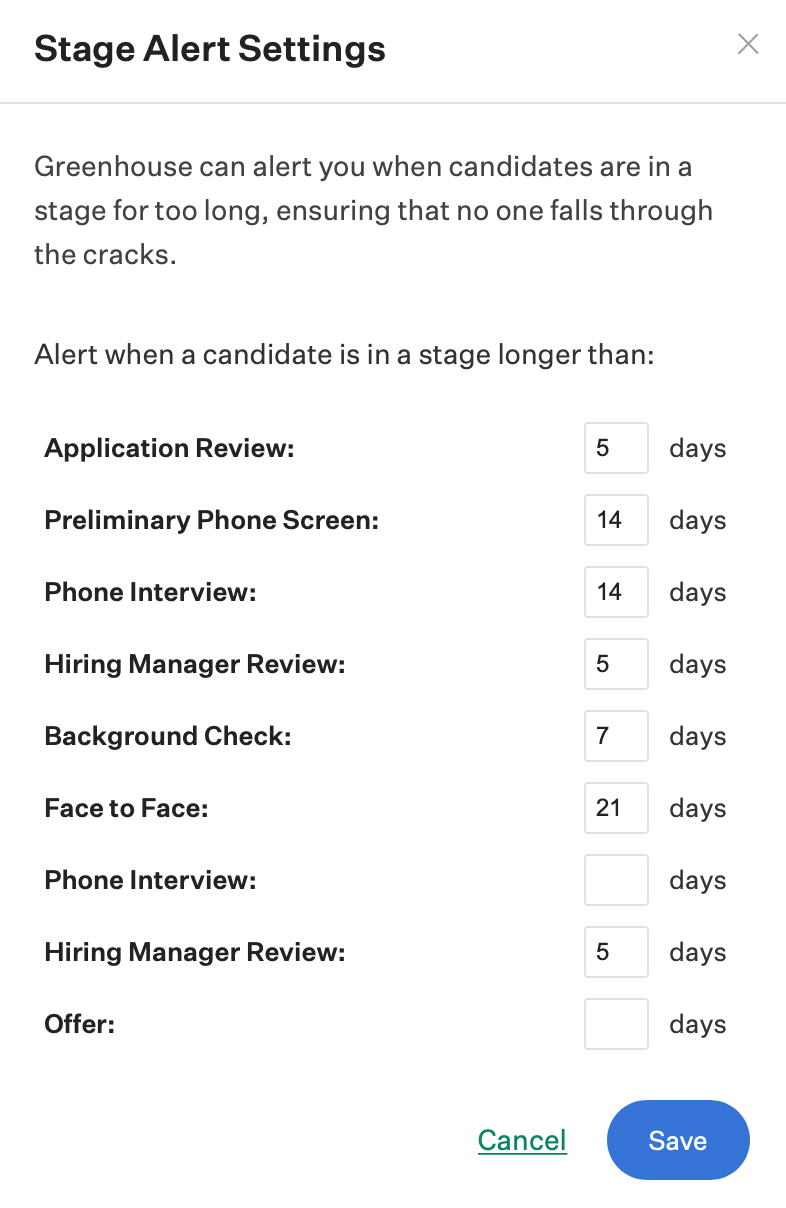 Members of the job's hiring team and Site Admins can view activated alerts on the Job Dashboard page in the Pipeline Tasks panel.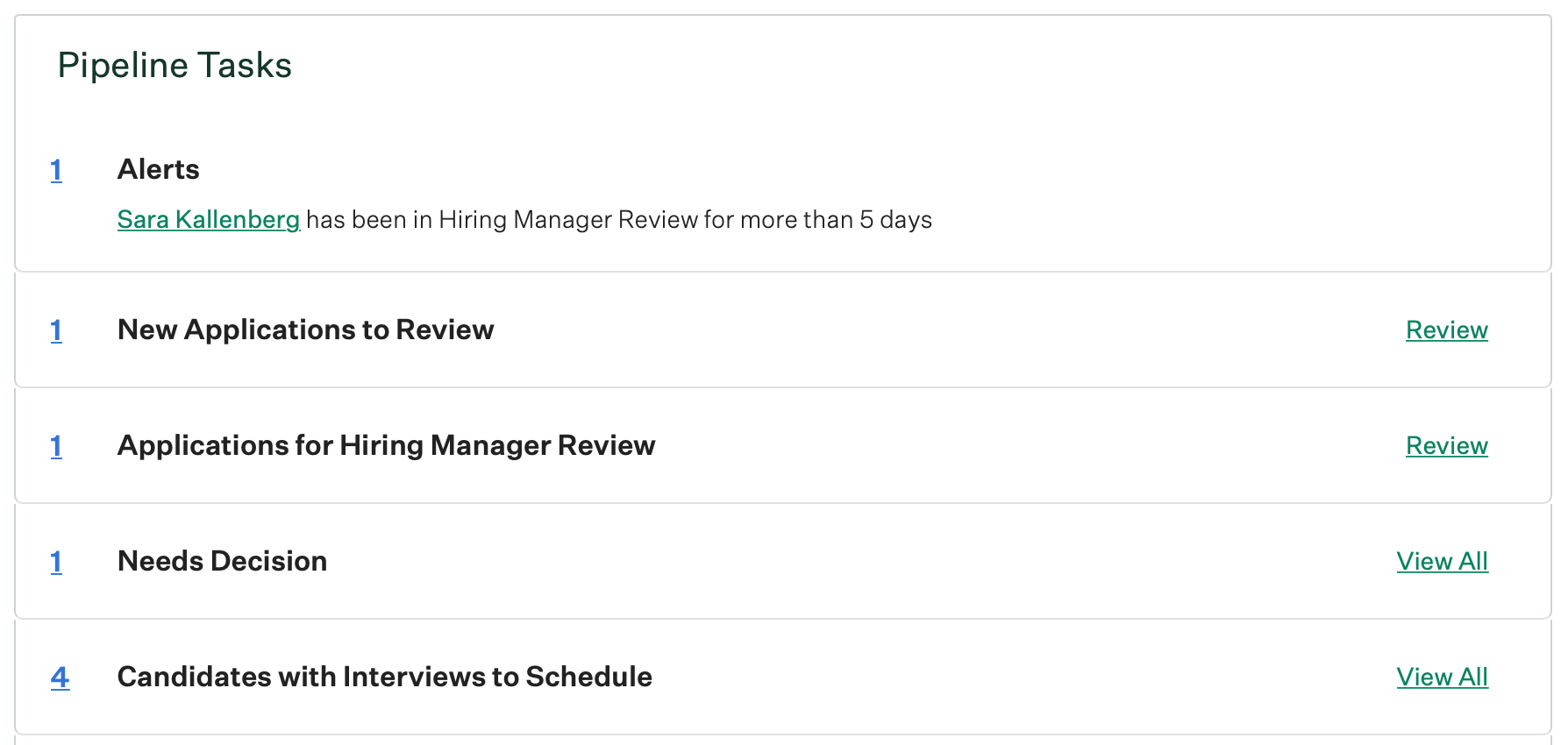 Check out the following articles to learn more about configuring and using alerts:
Candidate notifications
Note: Organizations can choose to turn off the ability to follow a candidate for their entire Greenhouse Recruiting instance. If your organization has deactivated this feature, you can't follow candidates, prospects, or referrals to receive notifications.
Candidate notifications are automated emails sent to a user when a candidate or prospect they are following is advanced to a new stage or rejected from a job. The contents of the automated emails cannot be edited.

Job Admin and Site Admin users can follow any candidate or prospect they have permission to view. Basic users can follow their submitted referrals.
Check out the articles below to learn more about following candidates, prospects, or referrals:
Follow-up reminders
Follow-up reminders help users track and complete custom candidate-specific tasks with a future due date.
To create a follow-up reminder, navigate to the right panel on a candidate's profile and click + Add next to Follow-up reminder. Select the date the reminder should occur, then choose users by name or hiring team role to receive the reminder. Add notes with any next steps, then click Set Follow-up.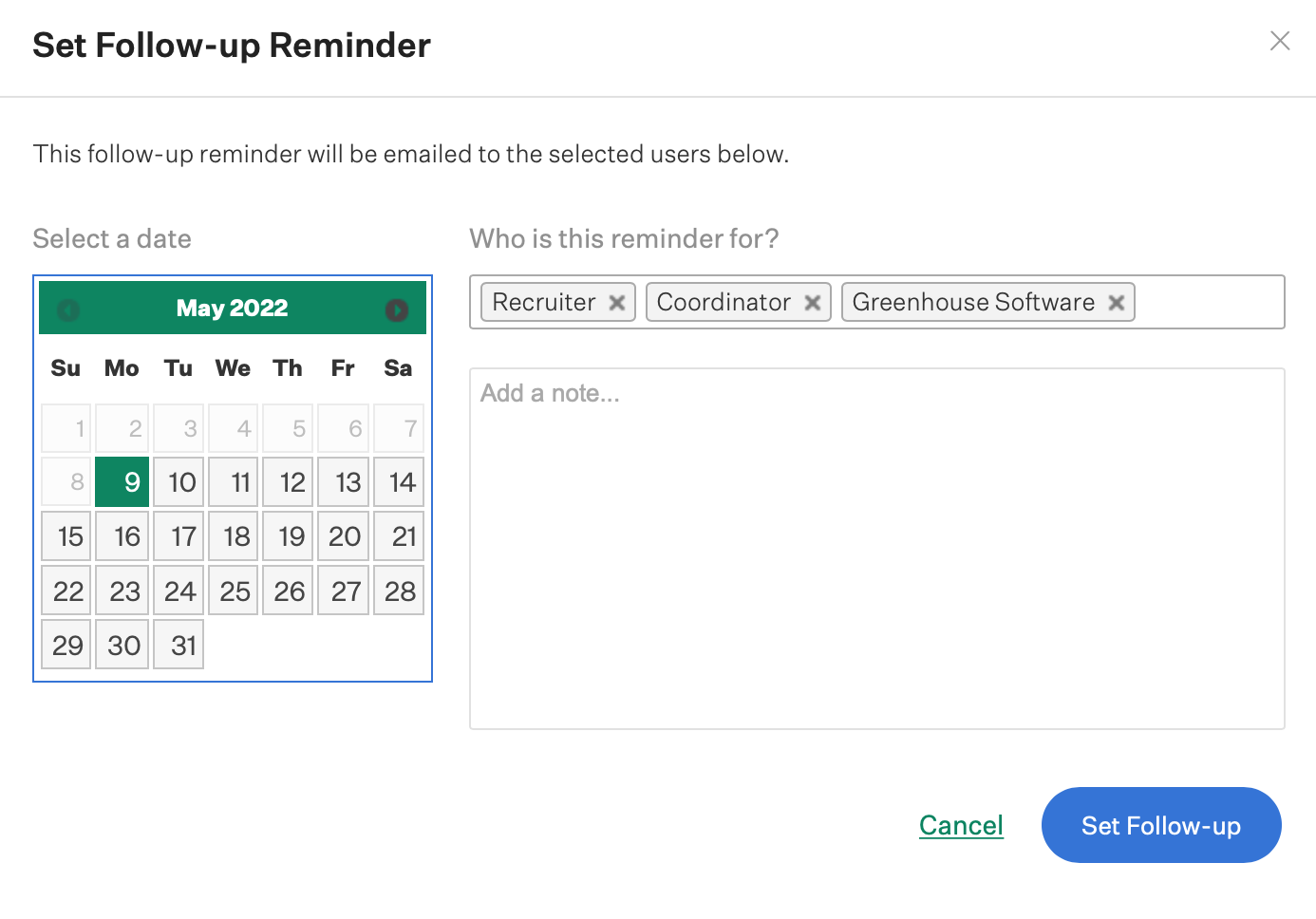 When due, follow-up reminders appear on the assigned user's My Dashboard page in the My Reminders panel. Assigned users also receive an emailed reminder on the due date.

Check out the following article to learn more: Follow-up reminders.
Job notifications
Job notifications are automated emails sent when a specified event occurs, and help hiring team members stay closely informed about a job's pipeline. Job notifications can be configured for the following types of events:
New candidates submitted
New scorecards submitted
Scorecard due reminders
Approvals requested or issued
Candidate moved stages
Job notifications can be configured at the job level by navigating to a job > Job Setup > Notifications, or at the user level by selecting your initials at the top-right on the navigation bar > Account Settings > Notification Preferences. When configured at the user level, you can choose to set specific notification types for all jobs where someone has permissions, or for specific jobs only.
When a notification is triggered, the user receives a default email from Greenhouse Recruiting. The text of these emails cannot be edited.
Many notifications, such as scorecard reminder notifications, also can be sent via the Slack integration.
Check out the following article to learn more about notifications on jobs: Job notification overview.
Tasks
Tasks are specific actions in Greenhouse Recruiting that are assigned automatically to a user based on their role on a job's hiring team.
Example: The user assigned as a candidate's coordinator is responsible for all the candidate's scheduling-related tasks.
Only Job Admin and Site Admin users can be assigned hiring team roles and thus be assigned tasks. It is not possible to manually assign tasks to a user.
A user's assigned tasks appear on their My Dashboard page, in the My Tasks panel. Site Admins can view all outstanding tasks for all candidates from the My Dashboard page in the All Tasks panel.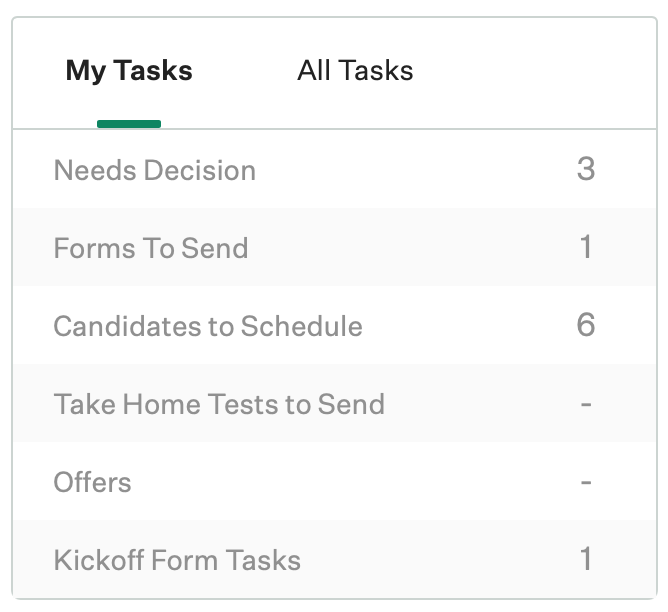 Tasks include activities such as:
Advancing / rejecting a candidate once all scorecards are submitted for a stage (recruiter)
Sending take home tests (recruiter)
Completing hiring manager review (hiring manager)
Scheduling (coordinator)
Check out the following articles to learn more about the tasks assigned to each hiring team role: