It would be very difficult to evaluate every attribute on a scorecard for every interview conducted. Instead of covering all attributes in every interview, Greenhouse Recruiting suggests that your interviewers be directed to focus on different key attributes that when considered holistically provide a complete portrait of the candidate. For more information on scorecard best practices, click here.
Greenhouse Recruiting's Focus Attributes feature allows your organization to select and emphasize which attributes interviewers should focus on during their respective interviews. In this article, we will cover how to:
Assign Focus Attributes When Creating a New Job
Note: Assigning focus attributes during the new job creation process requires that your organization has Interview Plan enabled as a step in the job setup flow.
To assign focus attributes for a new job's scorecard, navigate to the Add icon

in the upper right-hand corner and select Create a Job from the dropdown menu.

Follow the on-screen instructions to create a new job and provide job details. When finished, click Create Job & Continue.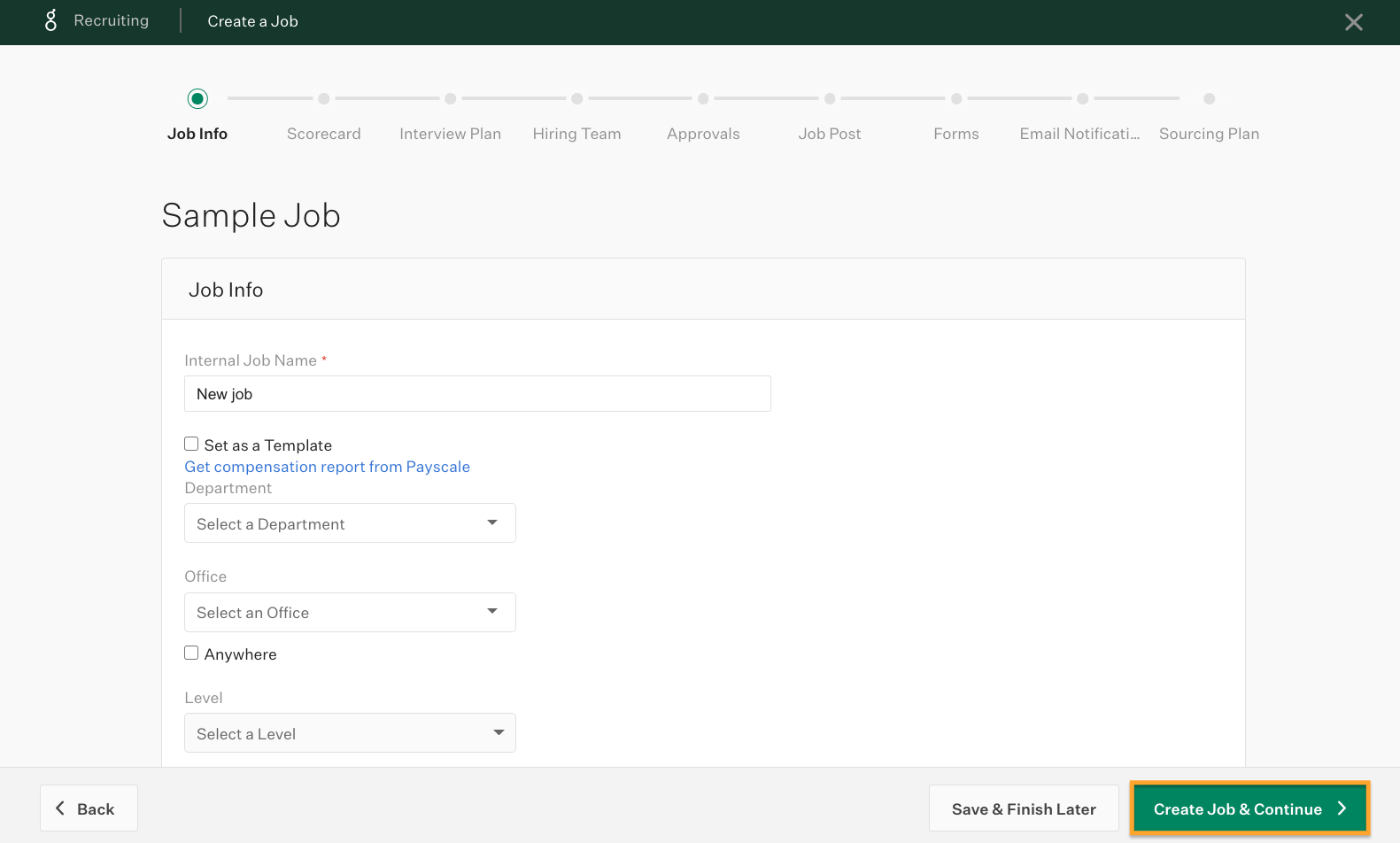 Configure your scorecard and click Next until you reach the Interview Plan configuration page.
Depending on whether you are working from a sample template, blank template, or a custom job template, the Interview Plan configuration page may or may not have pre-populated stages in your interview pipeline.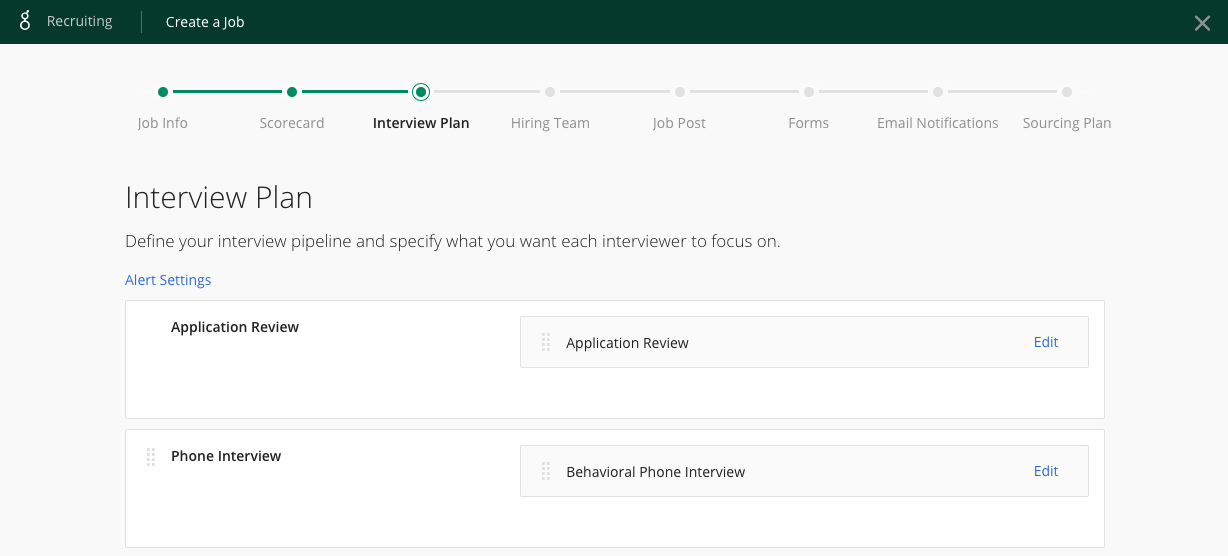 To assign focus attributes to any stage, click Edit beside the name of the Interview Kit for that stage.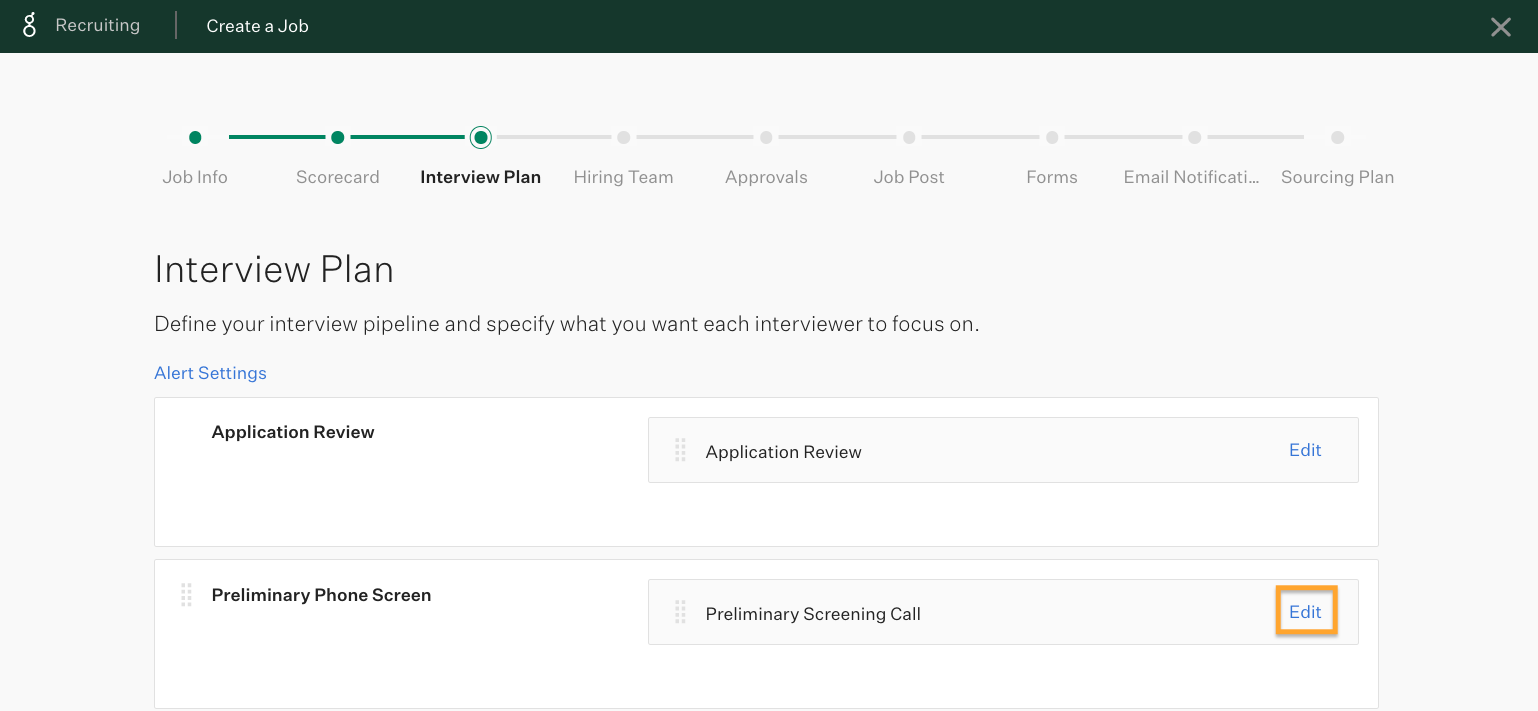 From the subsequent page, navigate to the Focus Attributes on Scorecard panel. Attributes populated in this panel are pulled from the Scorecard stage of job setup flow.
Select attributes that you want the interviewer to focus on during this particular interview. When finished, click Save at the bottom of the page.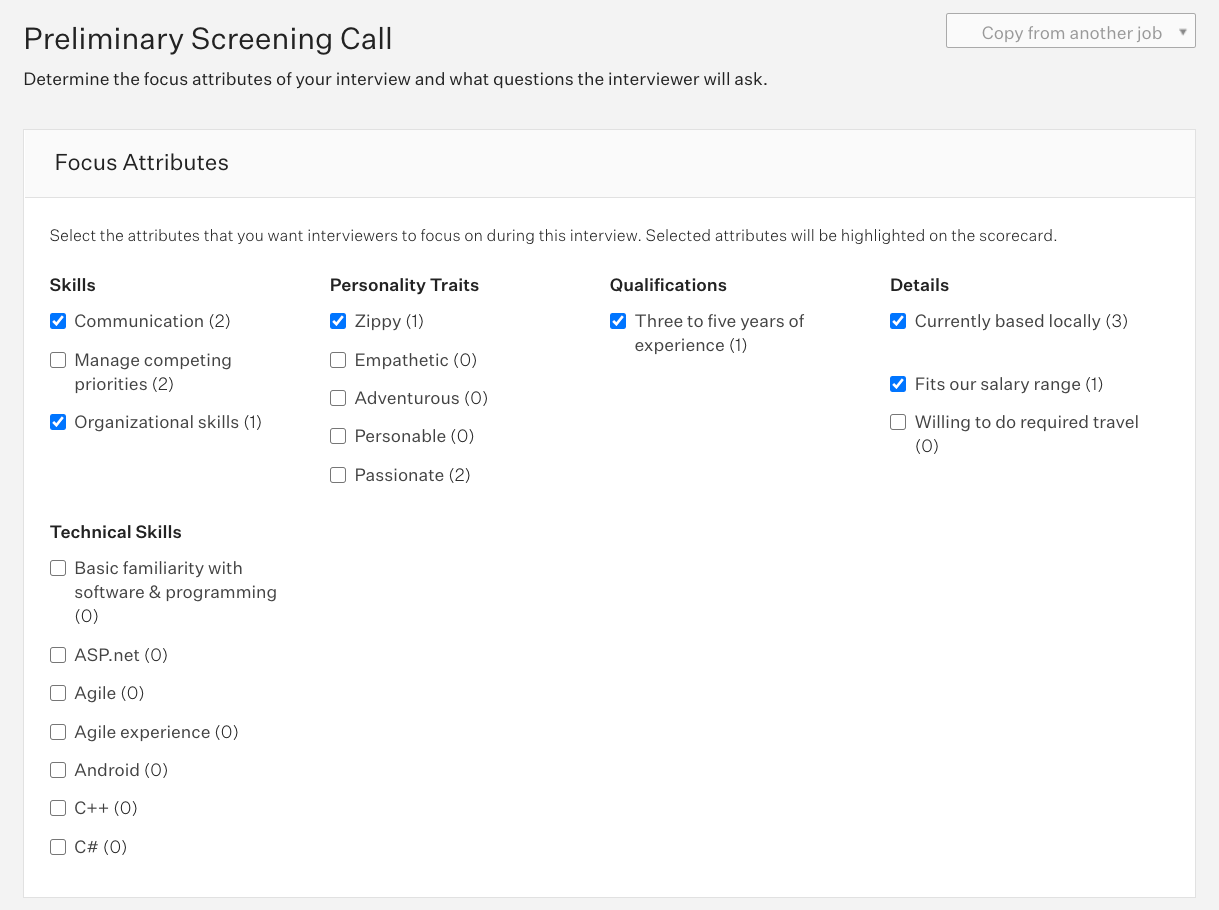 Repeat as necessary for additional scorecards.
Interviewers assigned to this Interview Kit will see the selected Focus Attributes grouped at the top of their Scorecard. All other Scorecard Attributes for the Interview Kit will be listed below the Focus Attributes section. Additionally, your organization can link focus attributes to specific interview questions.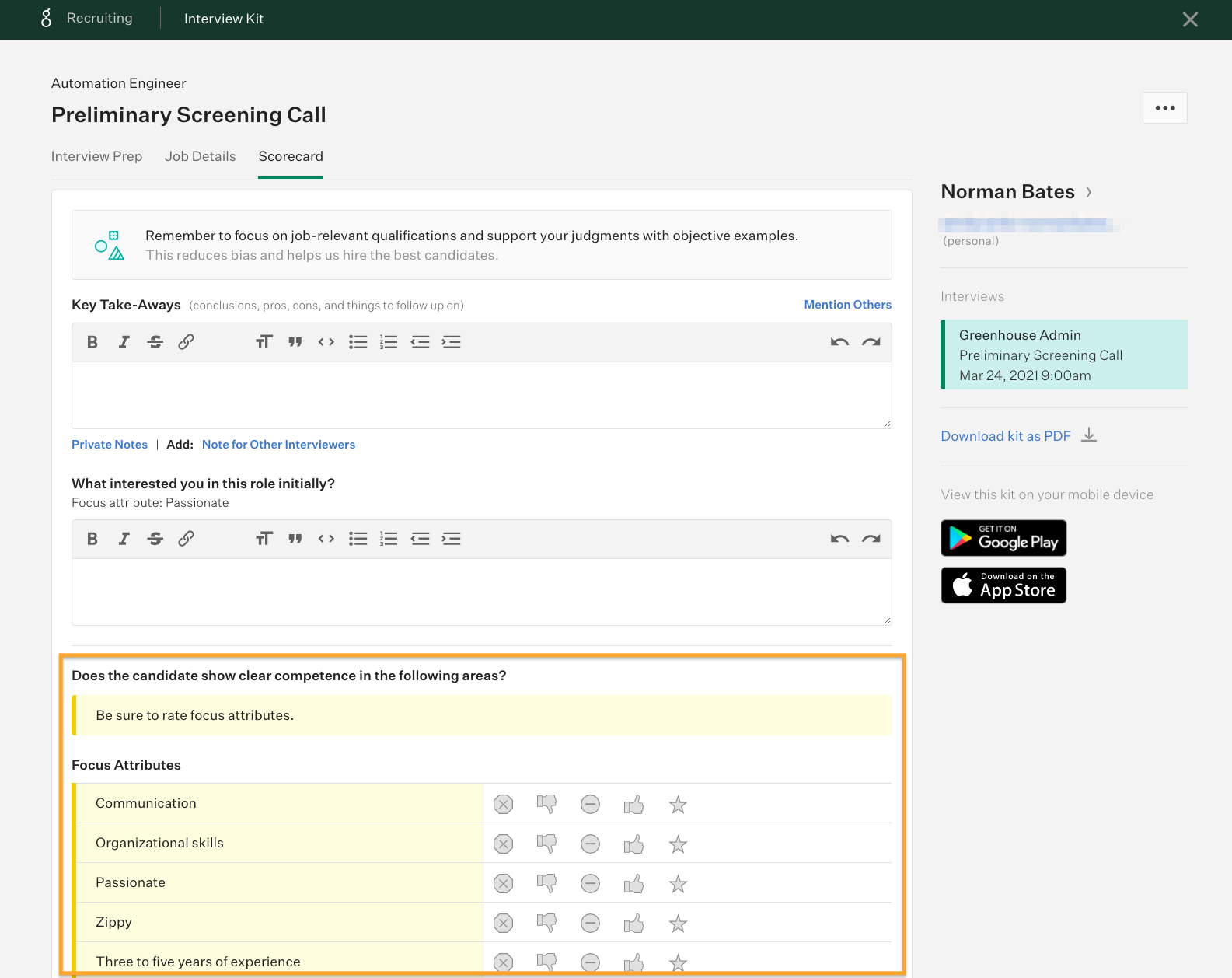 Assign/Edit Focus Attributes for Existing Jobs
Note: Users with Job Admin level permissions do not need the user-specific permission who can create new jobs and request job approvals to edit focus attributes on existing jobs.
If your organization's Hiring Team needs to edit the focus attributes for an existing Scorecard, navigate to the job profile (All Jobs > Job Name) and click Job Setup from the job page navigation bar. From the Job Setup page, navigate to Interview Plan on the left-hand panel.

From the Interview Plan page, click Edit next to a specific interview.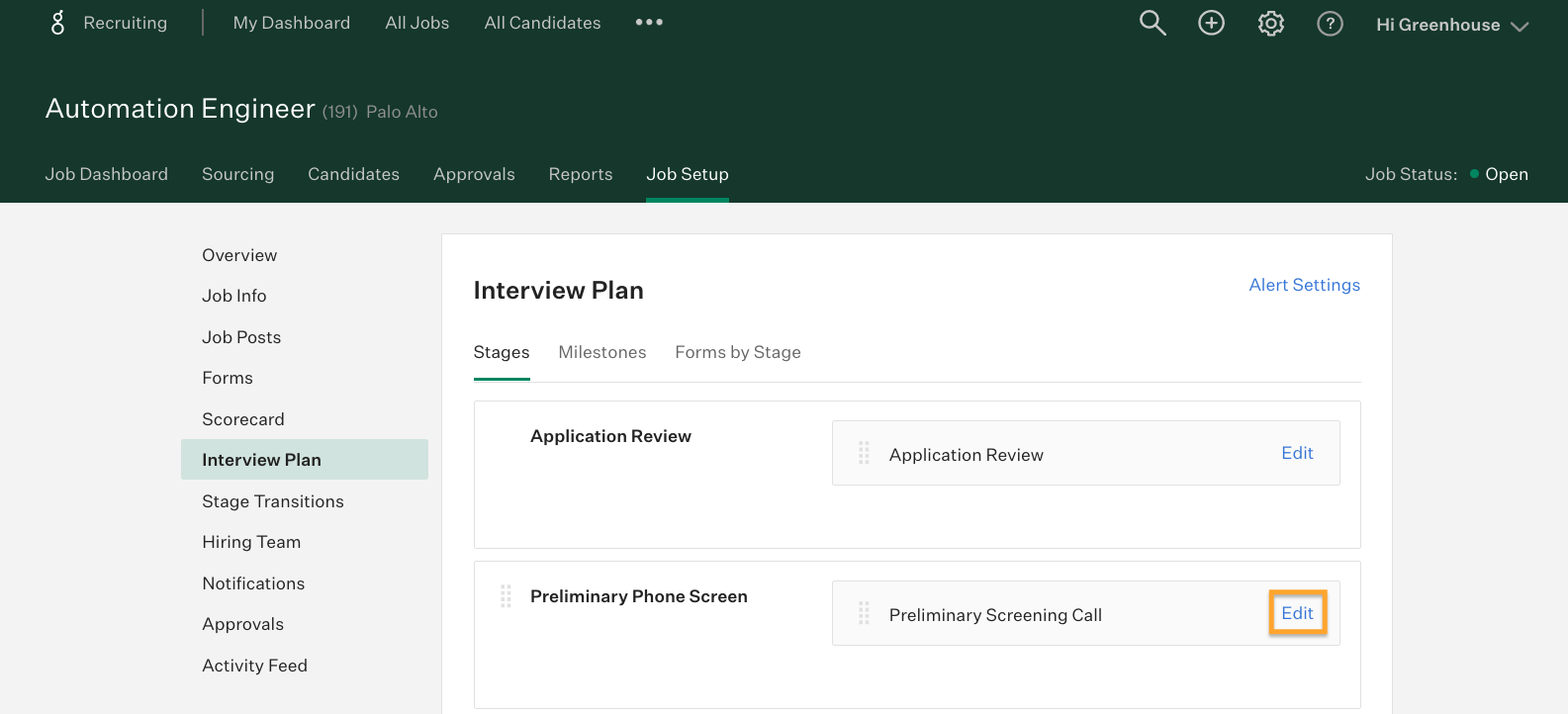 From the Edit interview kit page, navigate to the Focus Attributes panel and check the attributes you wish to highlight as focus attributes, or uncheck attributes you wish to remove from the focus attributes list for the scorecard. Click Save when finished.