As the name implies, a template job is a template that includes the key components for most of the jobs your organization will open. This streamlines the job creation process since users do not have to enter repetitive information such as desired candidate attributes or common interview questions. In this article, we will review some best practices to help your organization configure its template jobs.
Note: Click the following links for more information on how to create a new template job or mark an existing job as a template job.
The number of templates you create will depend on the size of your organization and the differences between pipelines per department. If each department or Hiring Manager has a unique component to each interview, it may be worth creating a template just for those instances.
Regardless of how many template jobs your organization creates, every template should include basic information that is captured for every job. Below are some considerations to make when creating the template job:
Job Info:
Internal job name: A name indicating that the job is a template job (you will want to provide additional detail if you have multiple templates)
Set as a template: Be sure to check the box to make the job a template so it is selectable in the future
Department: Add the template to the appropriate Department
Custom Fields: Enter in any information that you want to pre-populate
Optional Information for Interviews: If you would like to add more context regarding the template, or information about the format for other others to follow, enter it here.
Scorecard:
Add categories that are relevant for all jobs such as:

Requirements (e.g. "Fits our Salary Range" or "Based Locally")
Company Attributes
Department Attributes

Add example characteristics to help your team brainstorm skills they should include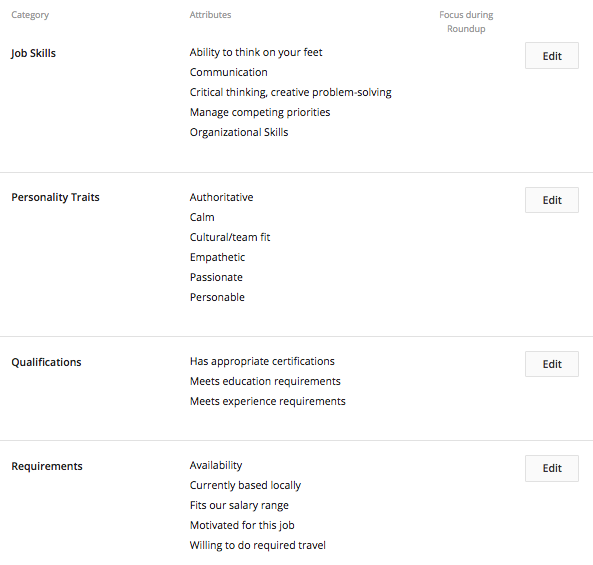 Interview Plan:
Define a basic interview pipeline with stages that all jobs will most likely include (such as Application Review, Phone Screen, Face to Face, and Offer)
Customize the Interview Kits for interviews that will happen across all jobs

Phone Screen: Add custom questions (questions the interviewer will ask) and select focus attributes for topics that are covered on all phone screens (such as tell me about yourself, desired salary range, and availability to begin work)
Culture Fit: Add custom questions and select focus attributes for the traits that represent your company culture
Other Interviews: If you have any interviews with standard questions and criteria that you're evaluating, add them to the interview kit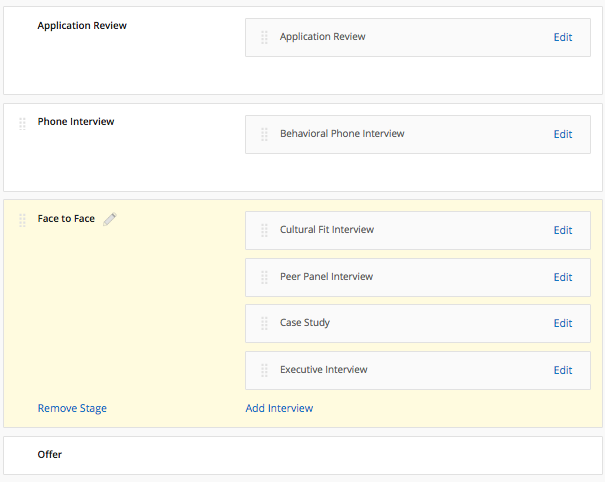 Hiring Team:
Grant Job Admin permission to all users who should have access to copy the template to create a new Job
Job Post:
Description: If there is consistent messaging about your company, benefits, or other information, include it in the description box.
How Candidates Apply For This Job: Select Optional or Required on all basic information fields, and add custom questions that should appear on all applications.
Settings: Determine standard settings.
Once you have configured all the steps in the job creation process, click Finish. Your template job will be saved as a Draft and can be copied when creating new jobs in the future.
Note: To exclude your template jobs when running a report, expand the Filters and more panel at the top of the report, navigate to the Job Filter section, and click Change Filter. In the subsequent dialog box, uncheck the box next to Include template jobs.