Duplicate applications can cause confusion and significantly more work for your users. The merge feature allows your organization to combine two or more candidate profiles into a single candidate profile.
In this article, we will cover:
Note: Click here for more information about merging candidates via Auto-Merge.
Merge Candidate Profiles Manually
To merge multiple candidate profiles into a single candidate profile, click the All Candidates tab from the navigation bar and identify the candidates who should be merged from the subsequent list.
Note: Use the search feature and filter panels on the left-hand side of the page to help narrow down the list of candidates if necessary.
Click Bulk Actions.

Select the candidate profiles to be merged by adding a check in the box to the left of their name. Click Edit Selected (#) when finished.

From the subsequent dialog box, click Merge.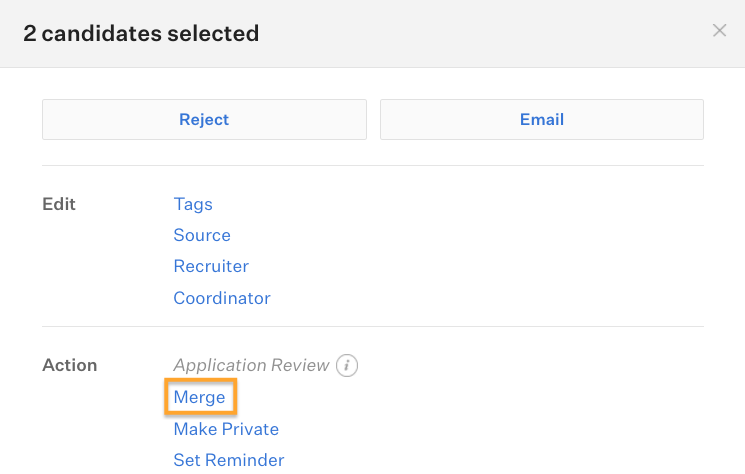 Select which profile should become the primary candidate profile. All other candidate profiles will be merged into this profile. To learn more about what data will be retained and what data will be deprecated as a result of setting a primary candidate profile, review the section below.
Note: This action is irreversible. Candidate profiles cannot be un-merged after Merge Candidates is clicked.
Click Merge Candidates when finished.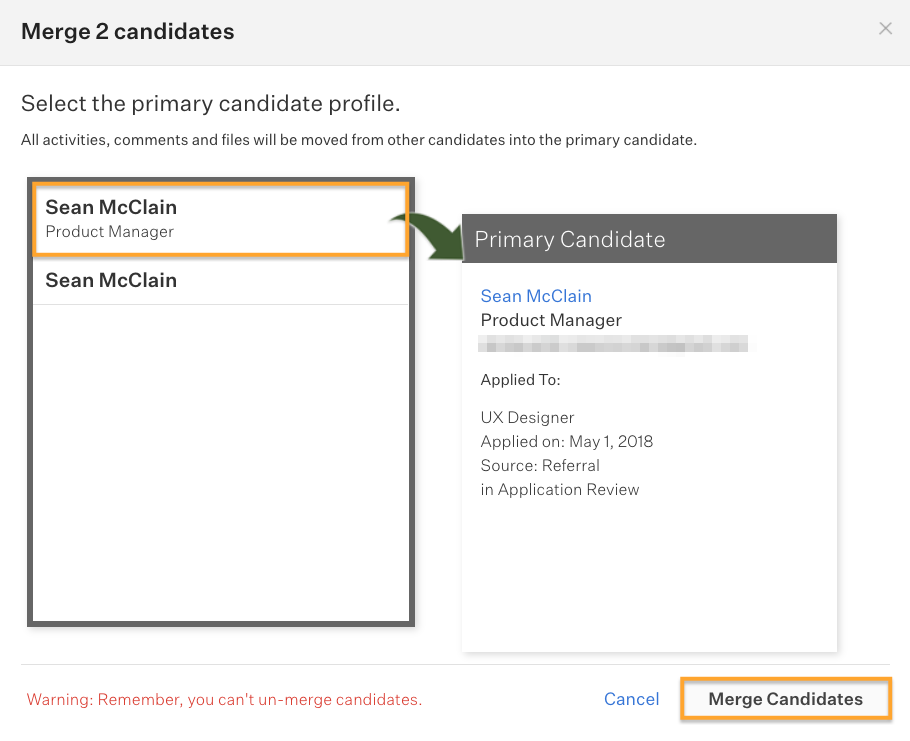 All selected candidate profiles will be merged into the primary candidate profile.
Note: Candidate profiles cannot be merged if data from either profile has been deleted via the GDPR feature.
Deprecated Candidate Data for Merge
For manually merged candidate profiles, the newly merged profile will prioritize data from the candidate profile you selected as primary. Candidate details from any other profiles (secondary profiles) will be deprecated and removed from the newly merged profile.
Note: If you have enabled Auto-Merge, Greenhouse Recruiting will prioritize the oldest candidate profile when merging duplicate profiles.
Below are data points deprecated for non-primary candidate profiles after a merge:
Current Company
Current Title
Source
Recruiter
Coordinator
Referral
Job Forms
Interview Kit URL (this will impact any scheduled interviews you may have for the non-primary candidate; those interviews will need to be manually updated for the merged candidate)
Deprecated data points will be referenced in the new candidate profile's Activity Feed.

The following data points are not deprecated for non-primary candidate profiles after a merge:
Data in the Activity feed
Scorecards
Attachments
Phone Number
Email
Social Media Links
Websites
Address
Education
Candidate Tags