In the event admins manually merge two profiles via the merge candidate option, the primary profile selected will be the data that the system prioritizes to retain on the newly merged profile. The secondary profile's candidate details would then be deprecated. In this context "deprecated" means removed from the newly merged profile.
If you've enabled auto-merge in the system, the system will prioritize the oldest candidate profile when merging the duplicate profiles. Below is list of candidate data points that separated into two categories. Info that is retained and info that is removed from the merged profile.
Points of data that ARE deprecated from the secondary or newer profile:
Current Company
Current Title
Source 
Recruiter
Coordinator
Custom Candidate fields via Other Details & Private
Points of data that are NEVER deprecated on a newly merged profile:
Data in the Activity feed
Scorecards
Attachments
Phone Number
Email
Social Media Links
Websites
Address
Education
Candidate Tags
Please keep in mind that any points of data that are deprecated will be referenced in the new candidate profile's activity feed like in the screenshot below for historical purposes.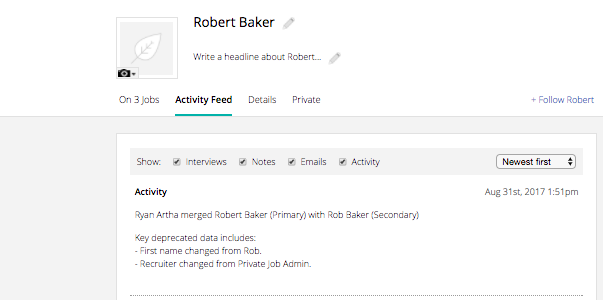 Keywords: [Merge, Candidate, Activity Feed, Primary profile, Secondary profile]