Permission Policies allow you to define certain settings that apply to your entire Greenhouse Recruiting account. Some settings configured on this page impact all users, while other settings are specific to a subset of users, such as Job Admins, Interviewers, or Agency Recruiters. The Permission Policies page also provides access to configure Job Admin levels.
Note: Only organizations with an Advanced or Expert subscription can customize and create new Job Admin levels. Organizations with an Essential subscription cannot edit Job Admin levels.
In this article, we will cover:
How to Access the Permission Policies Page
To view the Permission Policies page, a user with Site Admin permissions with the additional user-specific permission Can edit another user's advanced permissions can navigate to the Configure icon

in the upper right-hand corner and click Permission Policies on the left-hand panel. The following Permission Policies will be available to configure: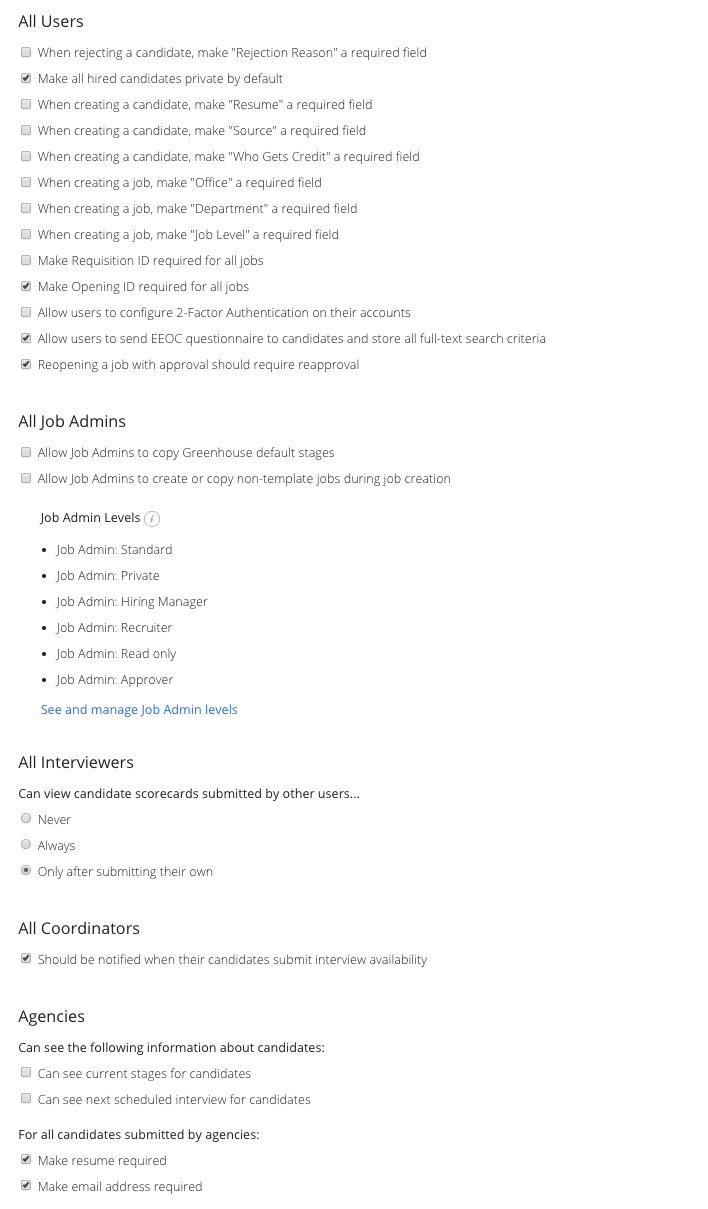 To edit Job Admin levels, click the See and manage Job Admin levels link under the Job Admin Levels section.
Note: Organizations with a Core subscription will not see an option for See and manage Job Admin levels, as the Core subscription tier does not include Custom Job Admin levels.
Additional Resources
For information about specific permissions that can be configured on the Permission Policies page, see the following Help Center articles:
For information about managing Job Admin levels, see the following Help Center articles: