Climbing the Greenhouse Hiring Maturity™ curve
Once you've understood the Greenhouse Hiring Maturity™ curve and taken the assessment to see where your team currently sits, what happens next? This is the time to start taking action. The great news is that no matter where you fall on the Hiring Maturity curve, there are changes you can make now to start improving your hiring process. This article outlines many actions you can take – remember to start small and pick just one or two focus areas as you start driving significant change in your hiring efforts.
We've identified four important competencies within hiring to work on as you move up the Hiring Maturity curve:
These four competencies represent the foundation of excellent hiring. By focusing on these specific areas, you'll be honing in on the essential skills and behaviors that your team needs to develop to become more strategic at hiring.
This article focuses on owning every moment of your hiring experience. We've outlined recommendations to help your team move the needle and become more sophisticated in this particular area of hiring. Your company may not progress up the curve from Chaotic up to Strategic in a linear way, and that's completely okay. Read through each section and take the most relevant next step based on your organization – every small step is a move toward hiring excellence and achieving your business goals that much faster.
Own every moment
What does it mean to own every moment of your candidate, new hire and hiring manager experience? Why should you focus on it?
Greenhouse is on a mission to unlock the power of human potential at work. This mission stems from a belief that in today's society, a company's employees are the most important driver of its success. For companies, this means that hiring decisions are more important than ever. For candidates, their value gives them a new advantage at work and in the hiring market. Companies need high-quality candidates, so they need to be proactive in making themselves attractive to potential employees.
Making the recruiting process and experience as smooth and transparent as possible gives candidates a positive impression of your company. It can be a differentiator for companies that can't always compete on salary or other perks. With a positive candidate experience, an offer is more likely to get accepted at the end of the process. Even candidates who don't end up with an offer can help build your talent brand by sharing their positive impressions on review sites, through word of mouth and on social media.
You don't want the positive impression to stop when the candidate starts on day one – their new hire experience should be just as seamless. Onboarding a new hire is a big, important financial investment and the better the onboarding experience, the more likely the new hire will be successful in the role and stay with your organization.
Finally, the relationship between the hiring manager and the recruiting team is essential to making the right, data-driven hires. A positive hiring manager experience means a strong partnership that will yield quick, high-quality hires for open roles. If you are ready to work on hiring experience and move up the curve in this focus area, read on.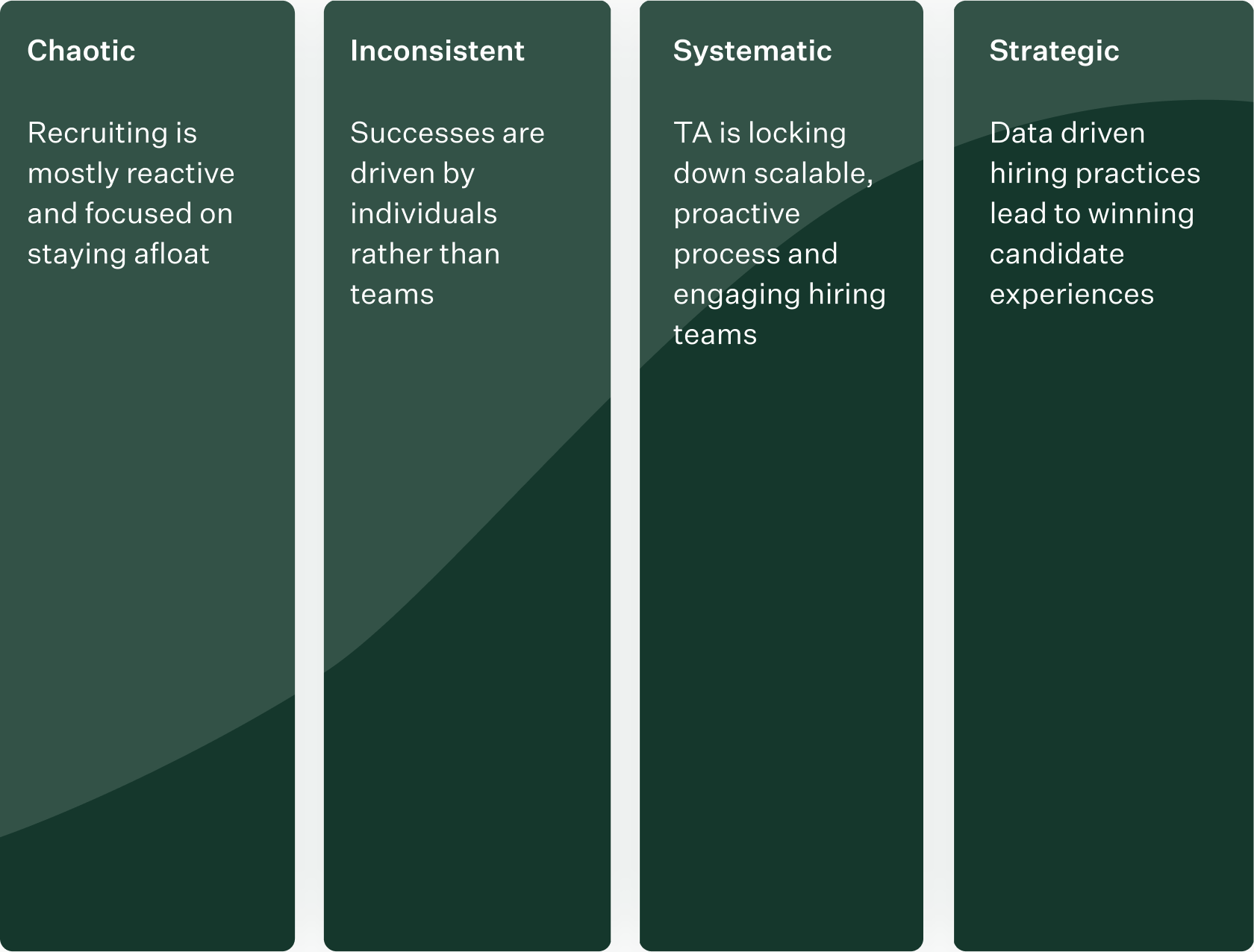 Candidate experience
Chaotic: Start collecting candidate feedback. Setting up a simple survey is an easy way to get valuable feedback directly from candidates to improve your process.
Inconsistent: Create and customize email templates for candidate communication. Consider adding key information to help candidates better prepare for interviews. Make sure your templates are branded for the best experience.
Be sure to let every candidate know once you've decided that you are not moving forward with them. Even when you are communicating bad news, transparency helps to build a positive overall candidate experience.
Systematic: Set specific goals around candidate feedback, identifying your target percentage for positive candidate experience. Start digging into this data by department, office and candidate demographics to discover areas for improvement.
Strategic: Build candidate experience into your structured hiring interview process. Start with an in-person or remote office tour, build in time for the candidate to have a break and end with a recruiter wrap-up to share expectations for next steps.
Map out the entire candidate journey and pick 2 or 3 places to integrate something creative to help your company stand out.
New hire onboarding
Hiring manager<>recruiter relationships
Chaotic:

 

Begin to build guidelines for how your

 

recruiters and hiring managers

 

should interact and work together. Think through how a role gets opened, how a hiring manager gets updated on progress and how a role gets closed.
Inconsistent:

 

Start every new role with a

 

kickoff meeting. Document the decisions made in that meeting in a hiring plan. Set expectations around how long you expect it will take to make a hire based on past data. Have a clear, structured hiring workflow that is agreed upon by the recruiter and hiring manager so that the expectations for their roles are aligned from the beginning and decisions are streamlined in the end.

Systematic: Customize or automate weekly recruiting updates with the hiring manager – how many candidates have been interviewed, what stages they are in, how the process is aligning to the goals that were set out, etc.

Strategic:

 

Improve hiring manager satisfaction and compliance with internal service level agreements (SLAs) for recruiting processes. Include things like the frequency of pipeline updates and interviews starting on time. Having structured alignment will improve the experience for everyone.
Making hiring a company-wide effort
Chaotic:

 

Create channels of communication to share hiring goals and any progress toward them. Start getting the whole company invested and celebrating when a hire is made. Consider creating a Slack channel or newsletter to share the news regularly.
Inconsistent:

 

If you use a tool with a

 

mobile app, roll it out to your team. Having on-the-go recruiting updates and info will help your team become more consistent about submitting interview feedback on candidates. Always follow up if you don't receive feedback from an interview. At first it might feel repetitive and that you might be bothering your colleagues, but you'll start building the behavior with your team to provide feedback after an interview within a certain time frame when the information and conversation is fresh in their minds.
Systematic:

 

Plan recurring training for new talent acquisition team members. Do the same for hiring managers, general interviewers and culture-add team evaluators.
Strategic:

 

Give out awards to your

 

Talent Makers. Solidify your partnership with the rest of the company by celebrating those who go above and beyond to support hiring efforts. Recognize talent magnets making referrals, talent partners devoting extra time to give detailed interview feedback and talent leaders who help the entire organization value recruiting.
Hear how companies like The Knot Worldwide and ThoughtWorks have moved up the Greenhouse Hiring Maturity curve by listening to our Hiring for what's next podcast.