Permissions: Owners, Coordinators, and users with custom access to manage pending hires
Product tier: Available for Greenhouse Welcome and Greenhouse Onboarding subscription tiers
Greenhouse Onboarding allows your organization to assign individual onboarding plans or onboard multiple pending hires simultaneously. You can bulk-onboard up to 500 pending hires at a time to ensure a seamless onboarding experience for your organization and new hires.
Select pending hires for bulk onboarding
If your organization has set up the integration between Greenhouse Recruiting and Greenhouse Onboarding, any candidate marked as hired in Greenhouse Recruiting will automatically appear in Greenhouse Onboarding as a pending hire.
Your organization may have multiple pending hires at different stages of readiness. You'll be able to filter a list of pending hires to identify which are ready for bulk onboarding.
Note:
A pending hire is considered ready for bulk onboarding when they have a
personal email address
,
start date
, and
employment status
on their profile. This information is only added to the pending hire's profile in Greenhouse Onboarding if it was added to their candidate profile in Greenhouse Recruiting prior to marking the candidate as hired.
These fields must also be synced to their corresponding field in Greenhouse Recruiting in order for the information to appear on the pending hire's profile. Learn more about
field mapping between Greenhouse Recruiting and Greenhouse Onboarding
.
If your pending hire is missing this information, you should onboard them individually instead of in bulk. Learn more about how to
convert an individual pending hire to a new hire
.
To get started, navigate to the Pending Hires panel from your Greenhouse Onboarding dashboard.
Click See All.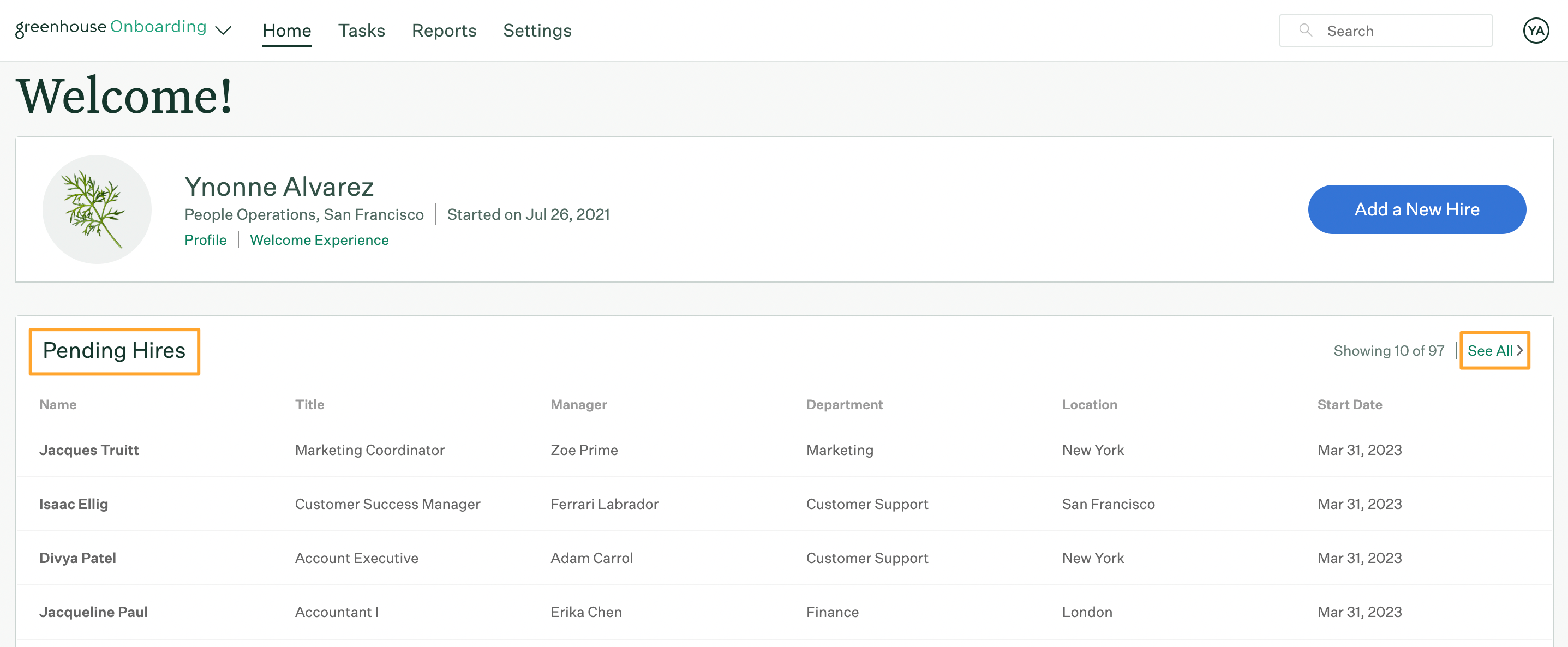 You'll be taken to the Pending hires report page.
Scroll to the report's filter panel, then mark the checkbox Show only pending hires ready for bulk onboarding.

Mark the checkbox next to each pending hire you'd like to include in bulk onboarding. You can also mark the checkbox in the top-left corner of the pending hires report to select all available pending hires.
Click Bulk Onboard once you've selected all the pending hires you'd like to onboard in bulk.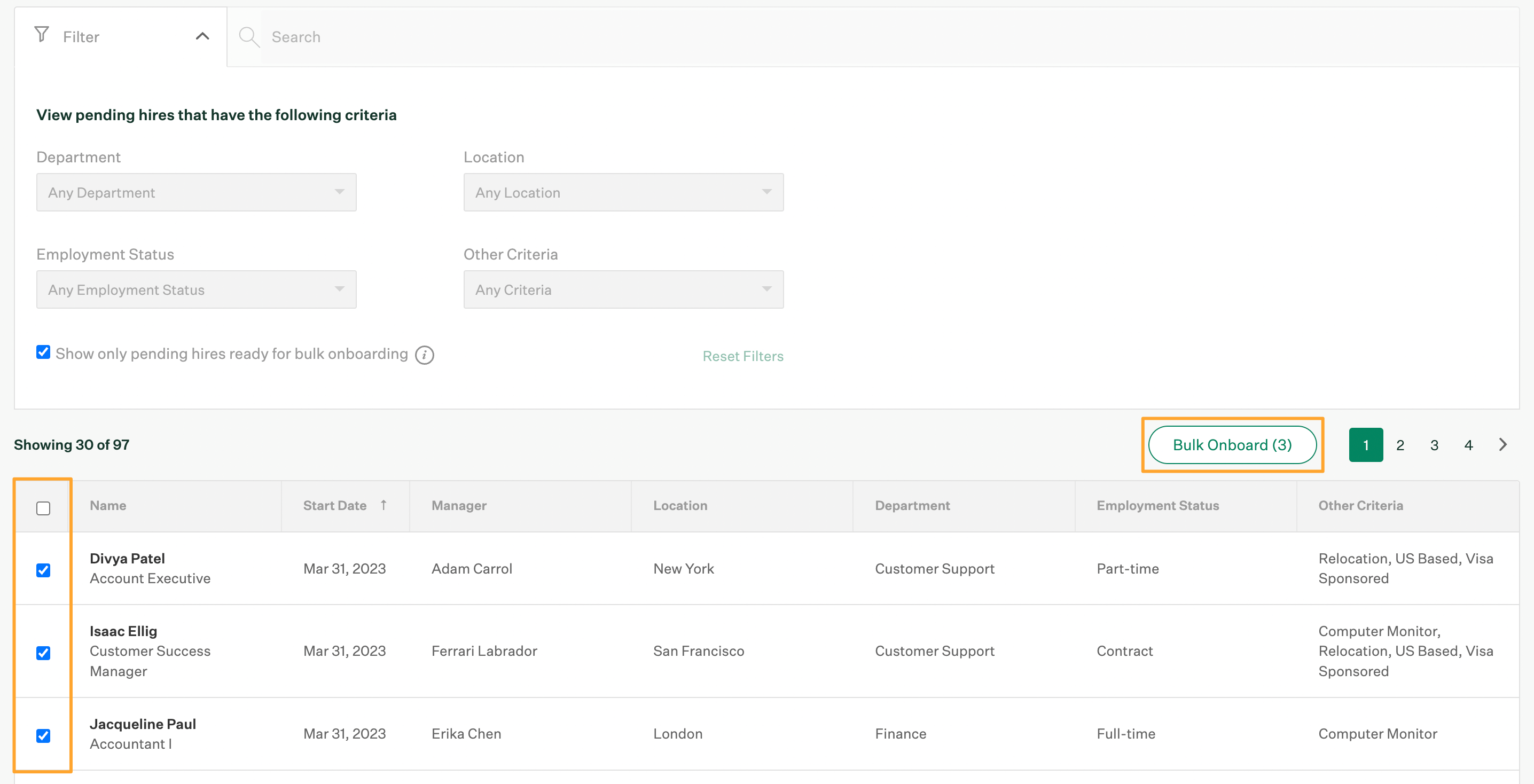 Assign onboarding groups
Now that you've selected pending hires for bulk onboarding, Greenhouse Onboarding will automatically sort them into onboarding groups based on the following four criteria:
Department
Location
Employment status
Other criteria
On the Onboarding Groups page, these groups will be listed in the left panel. You can click to review the details for each onboarding group.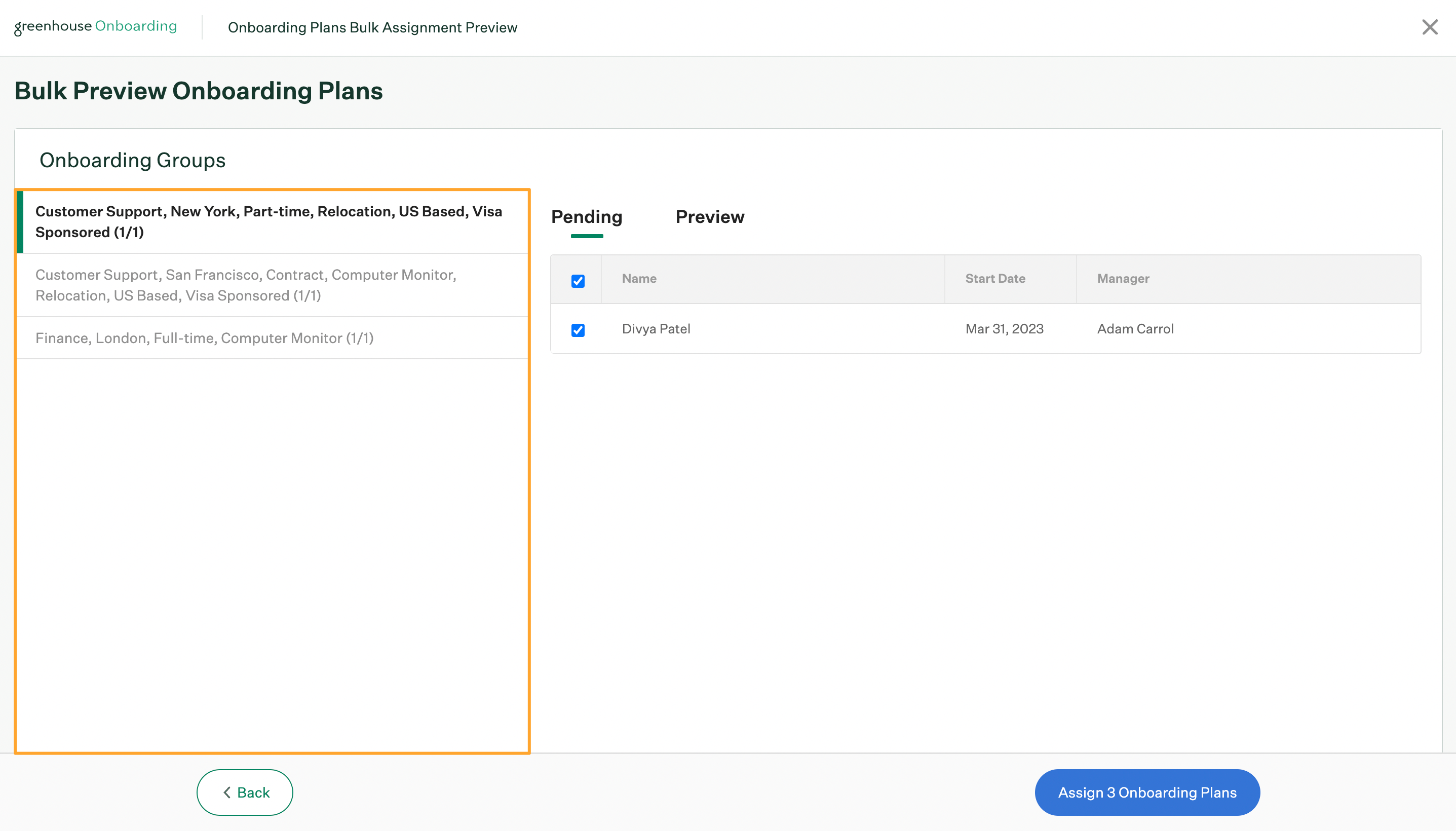 Use the Pending tab to see which pending hires have been included in each onboarding group.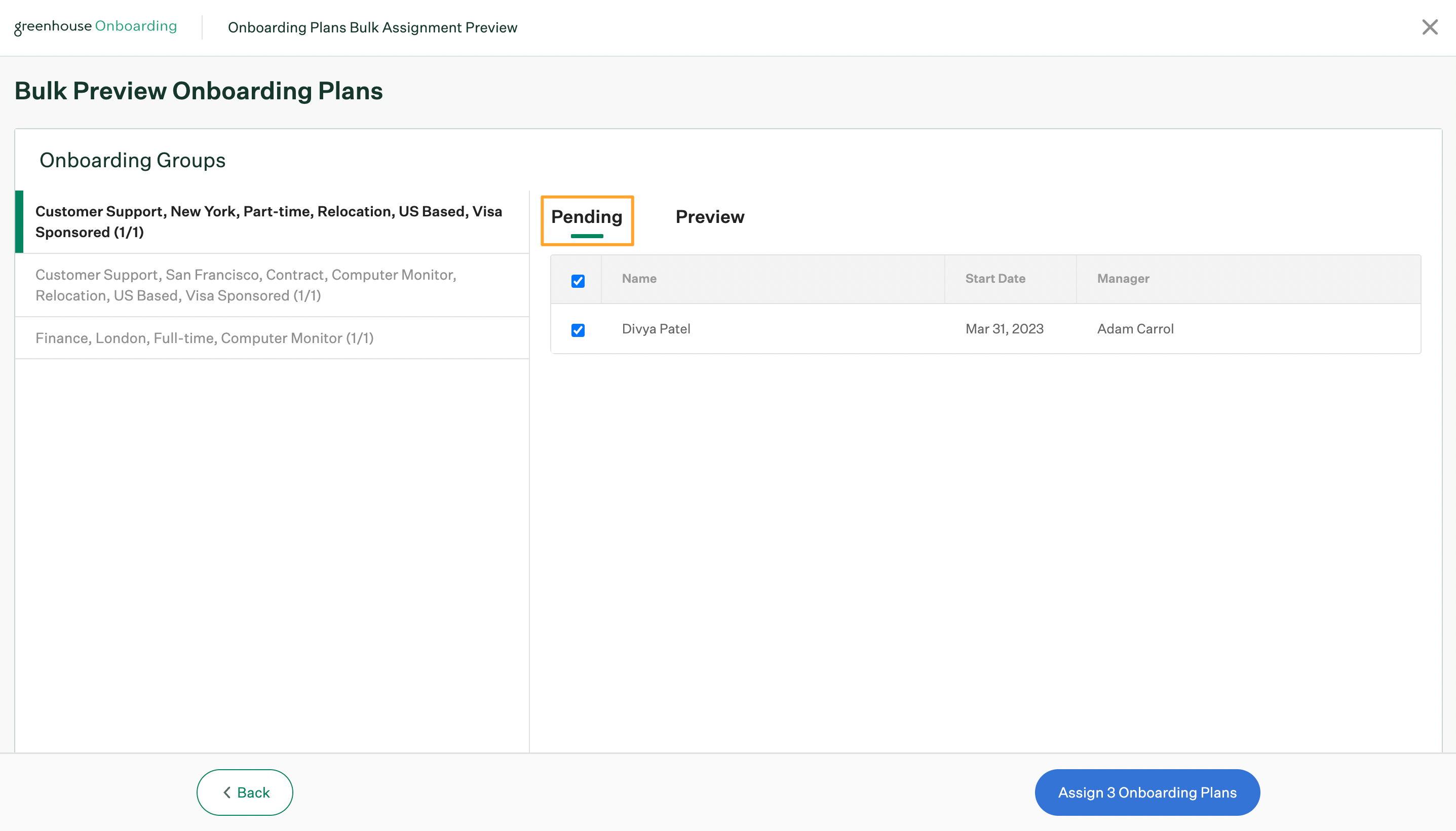 You can deselect the checkmark next to a pending hire's name if you decide you'd like to exclude them from bulk onboarding.

Use the Preview tab to preview the onboarding plan that will be assigned to pending hires in each onboarding group.
Onboarding plans will assign tasks, E-Signature templates, feedback questions, and emails to pending hires whose criteria match the rules you've configured in Settings.
Note: Onboarding plans can't be edited while onboarding pending hires in bulk. You can make changes to the rules used to match pending hires to onboarding plan activities in Settings.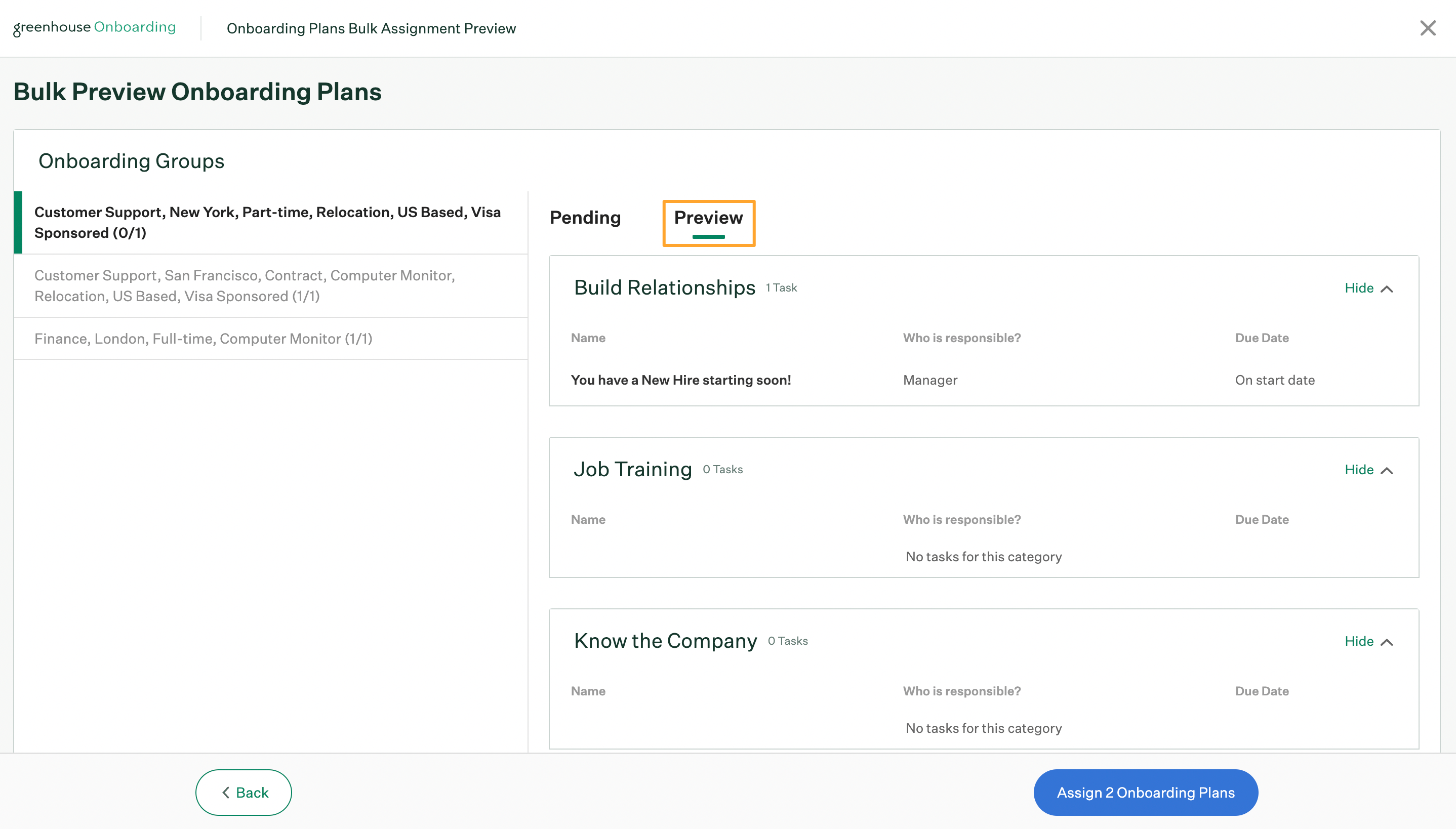 When you're ready, click Assign Onboarding Plans to onboard your selected pending hires in bulk.
Note: Pending hires may be excluded from bulk onboarding if Greenhouse Onboarding is unable to process them successfully. For example, if a pending hire's email address already exists in your account, the pending hire will be excluded. Bulk onboarding will continue for all remaining pending hires.
You can review which pending hires were onboarded successfully or excluded during bulk onboarding in your Bulk assign onboarding email.
Review your bulk onboarding summary email
Once bulk onboarding is complete, the Greenhouse Onboarding user who performed the bulk action will receive a summary email. You can review this email to see the following details:
Pending hires who were successfully onboarded
Any pending hires who were excluded during bulk onboarding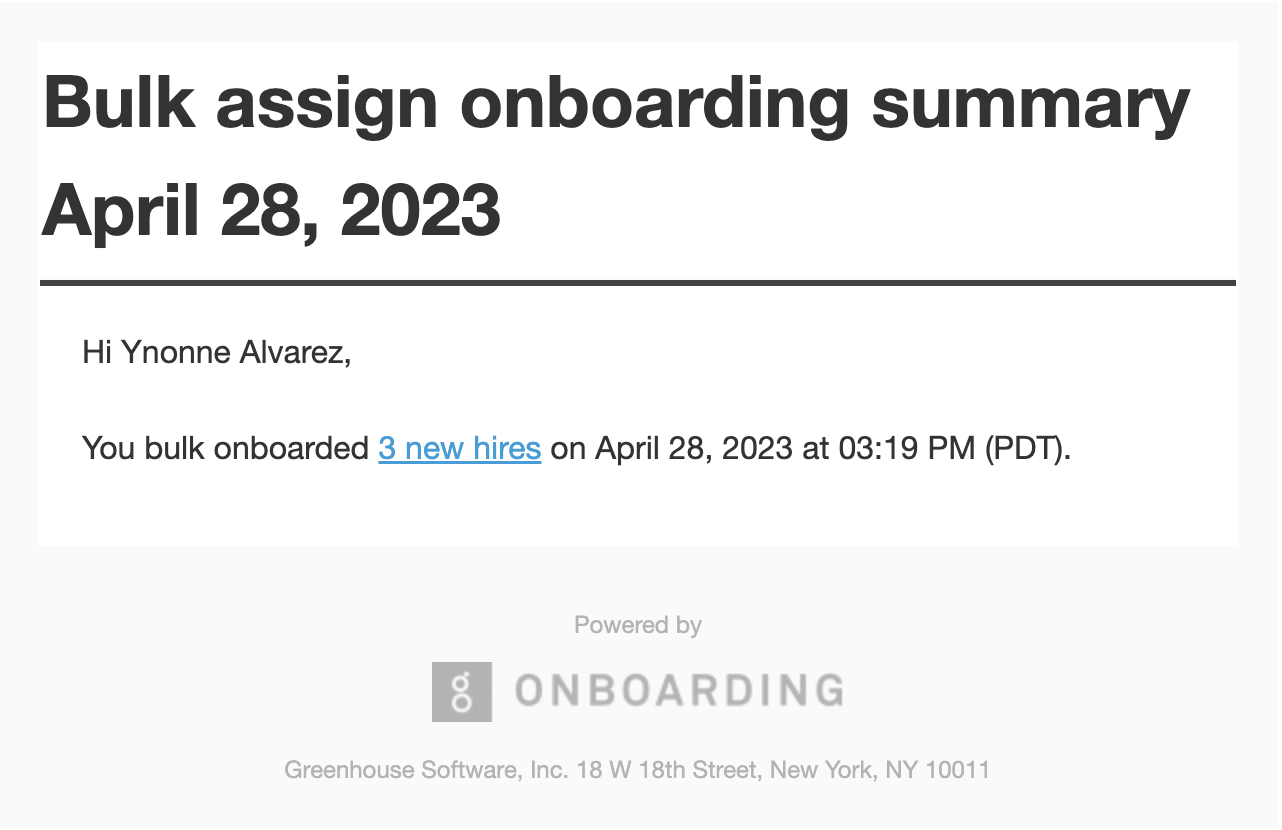 Additional resources
Learn more about onboarding pending hires with the below resources: