Greenhouse Onboarding allows your organization to onboard multiple pending hires simultaneously and supports up to 500 pending hires per bulk action. In this article, we will cover the following sequential steps:
Select Pending Hires Ready for Bulk Onboarding
Your organization may have multiple Pending Hires at different stage of readiness prior to the actual onboarding process. You must first filter the list of Pending Hires to those ready for bulk onboarding prior to performing the bulk action.
Note: A Pending Hire is considered ready for bulk onboarding when they have an email address, start date, and employment status associated with their profile. Greenhouse Onboarding uses these fields to sort Pending Hires into Onboarding Groups during the bulk action.
From the Greenhouse Onboarding Home page, navigate to the Pending Hires panel and click See All.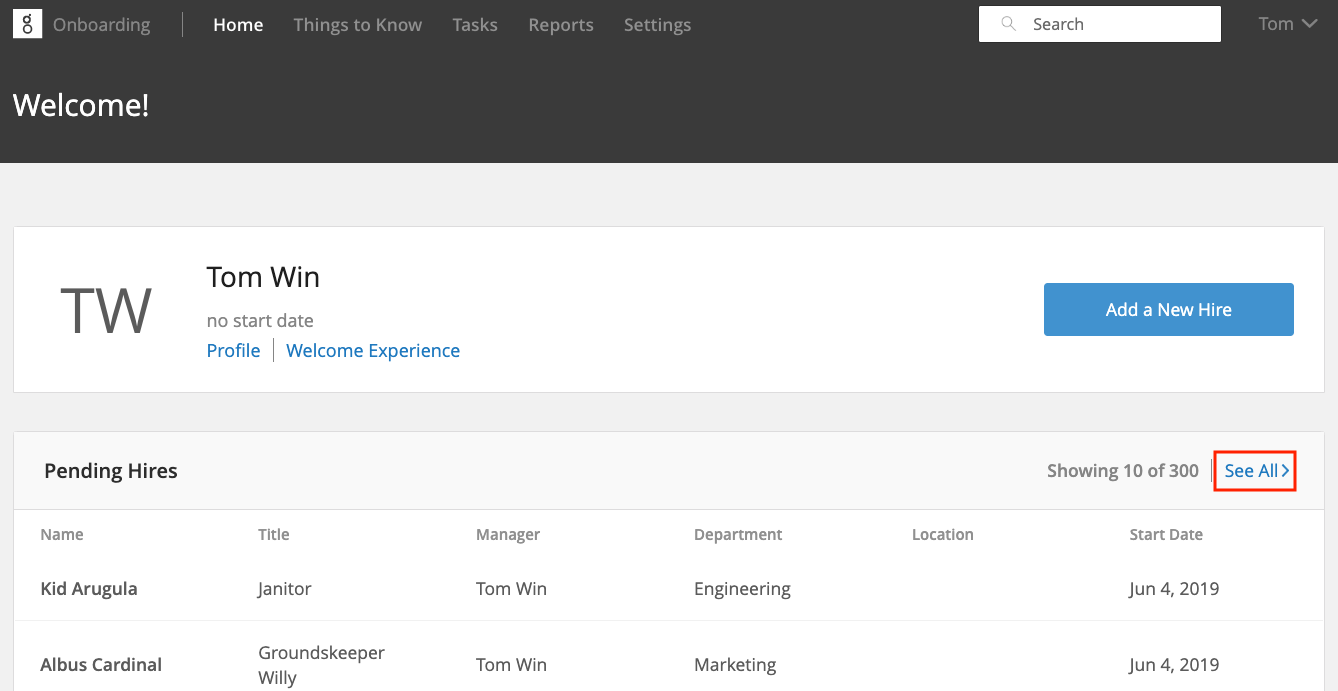 From the Pending Hires page, navigate to the filter panel and click the checkbox to the left of Show only pending hires ready for bulk onboarding.
Note: Additionally, filter the list of Pending Hires by any other criteria in the filter panel.
Select Pending Hires from the list who should be included in this bulk action and click Bulk Onboard (#) when finished.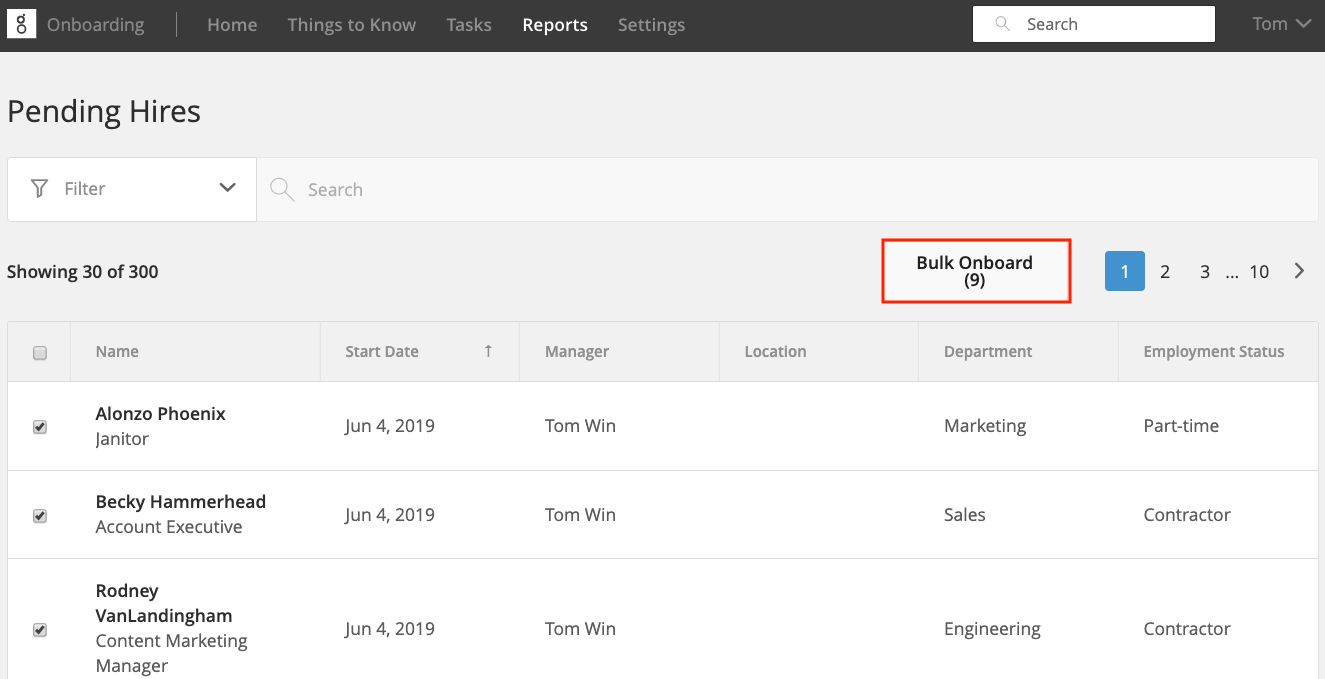 Onboarding Groups
Once the Pending Hires are selected for the bulk onboarding, we will sort them into Onboarding Groups based on the following three criteria:
Department
Location
Employment Status
Navigate between different Onboarding Groups by clicking the different groupings on the left-hand side panel.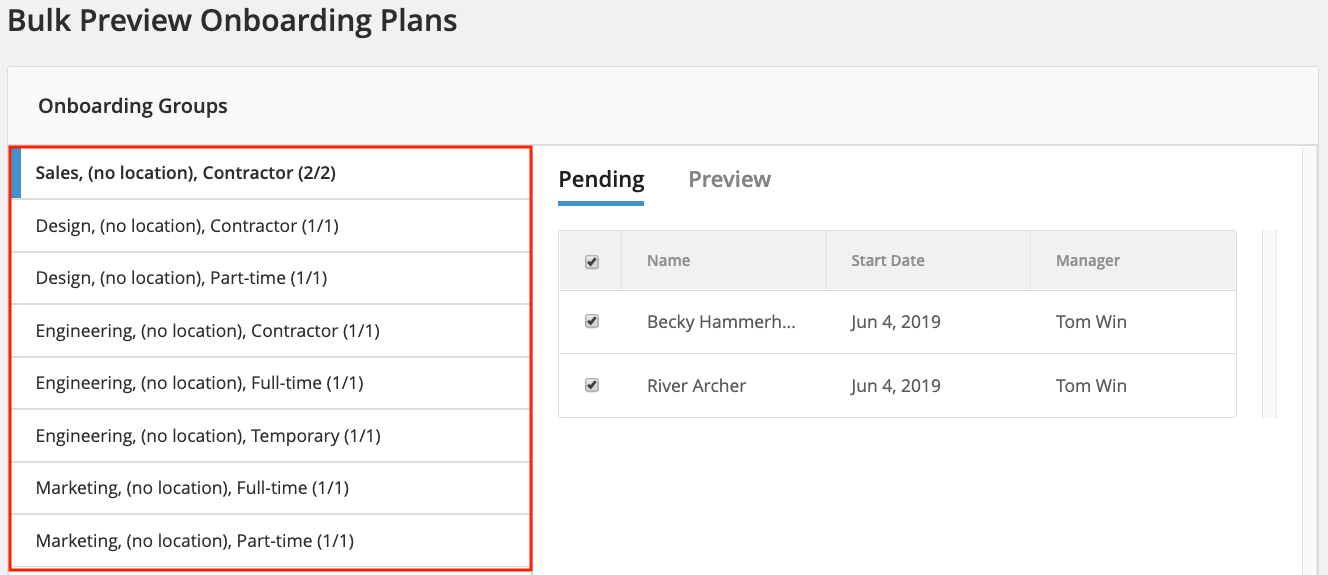 The panel on the right-hand side allows you to view which Pending Hires are included in a specific Onboarding Group. To deselect a Pending Hire so they are not included in the bulk action, click the checkbox to the left of their name to remove the check.
Click Preview in the right-hand side panel to view the Onboarding Plan for Pending Hires in this Onboarding Group.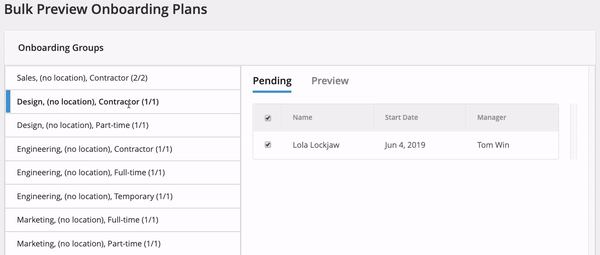 Review the Pending Hires and Onboarding Plan for each Onboarding Group. Click Assign Onboarding Plans when finished.
Note: If we are unable to process a Pending Hire included in the bulk onboard action (e.g. Pending Hire's email already exists in your Greenhouse Onboarding account), bulk onboarding will still continue for the remaining Pending Hires. All Pending Hires who fail during bulk onboarding will be included in an email.
Bulk Onboarding Emails
When a bulk onboard action is complete, the user who performed the bulk action will receive a summary email of Pending Hires successfully onboarded and any Pending Hires who were excluded from the bulk action.

Additionally, users who are assigned to complete tasks for Pending Hires included in the bulk onboard will receive an email of tasks to complete per Pending Hire