Permissions: Owner
Product tier: Available for Greenhouse Welcome and Greenhouse Onboarding subscription tiers
Before launching Greenhouse Onboarding with a Greenhouse Recruiting integration, we suggest testing your new hire flow. In this article, we will cover how to set up the connection between Greenhouse Recruiting and Greenhouse Onboarding, create and hire a test candidate in Greenhouse Recruiting, then convert that test candidate into a test new hire.
Map fields from Greenhouse Recruiting to Greenhouse Onboarding
Note: Ask your Customer Success Manager (CSM) to link your Greenhouse Recruiting account to your Greenhouse Onboarding account.
Click here to learn how to map fields from Greenhouse Recruiting to Greenhouse Onboarding.
Create and hire test candidate in Greenhouse Recruiting
After your Greenhouse Recruiting and Onboarding accounts are linked, create a test candidate in Greenhouse Recruiting. Learn how by using our support resource, manually add a candidate.
Be sure to fill in the appropriate fields for a new candidate with particular emphasis on the information you plan to import into Greenhouse Onboarding.
Tip
: Assign a modified version of your admin email to the test candidate in Greenhouse Recruiting to receive the test candidate's emails in your admin inbox. To create a modified email, add a "+" and a descriptor to your email. For instance, if your email is
AdminUser@yourcompany.com
,
assign the email
AdminUser+NewHireFlow@yourcompany.com
to the test candidate
.
You will not have to create a new email and you will receive any and all emails the test candidate would receive in your AdminUser inbox.
Once the candidate is created, you will be directed to the test candidate's profile.
Navigate to Offer Details from the Job tab and select Mark Candidate as Hired.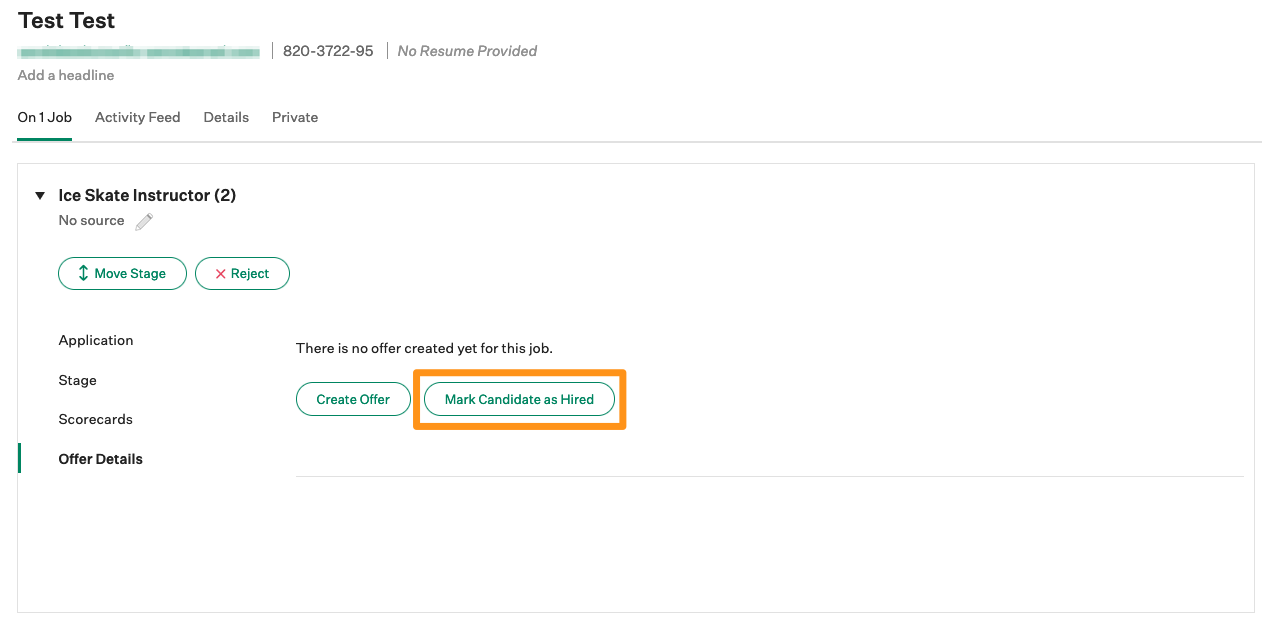 From the Accept Offer dialog box, fill in the offer details. When finished, click Save.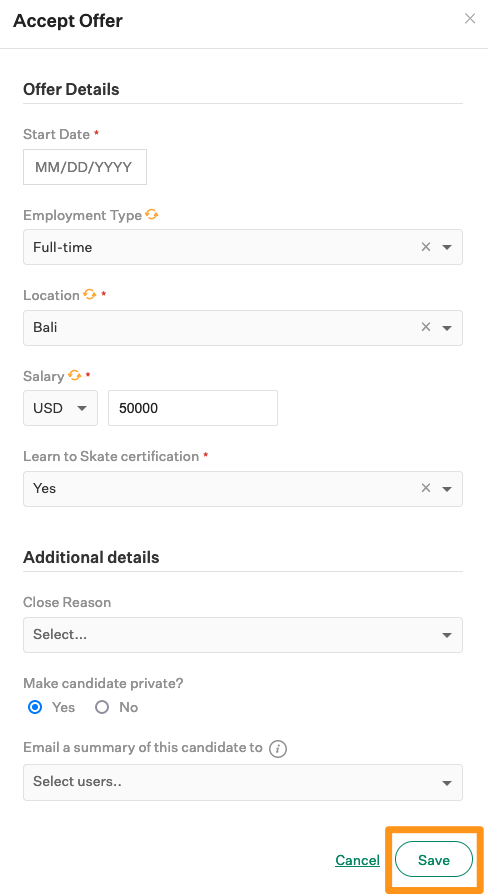 Your test candidate will be marked as hired in Greenhouse Recruiting and imported into Greenhouse Onboarding as a pending hire. pushed into your Greenhouse Onboarding account.
Note: This test candidate can be deleted after testing both platforms and will not affect your reports. Be aware of any approval flows in Greenhouse Recruiting that your company currently has and notify the approval person accordingly.
Convert pending hire to new hire
The hired test candidate appears in Greenhouse Onboarding as a pending hire.

Use our support resource, Onboard pending hires, to successfully onboard your test employee.
Note: When completing the onboarding workflow, add yourself to the People to Notify panel so you can test the email notification.
Once the onboarding workflow is complete, your test pending hire will be converted to a new hire and assigned an onboarding plan.
Test new hire flow
Finally, navigate to the test new hire's profile by using the search feature in Greenhouse Onboarding.

From the test new hire's profile, click the Admin tab and manually send the Welcome to the Team email by clicking Resend Your "Welcome to the Team" Email.

Navigate to your inbox and select the "Welcome to the team" email designated for your test new hire. Make sure all email tokens are populating correctly.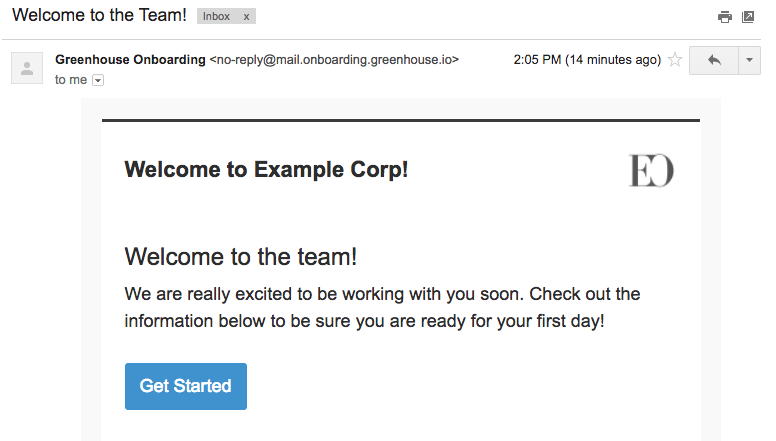 Click Get Started to begin the new hire experience workflow. Fill out all fields and e-signature documents as the new hire. Also, review the task notification emails received by you (or members of your implementation team) and mark tasks as complete.
If everything looks good, you are ready to launch Greenhouse Onboarding with the Greenhouse Recruiting integration!