Permissions: Job admins and above with CRM access and a Sourcing Automation seat
Product tier: Available for all subscription tiers with the Sourcing Automation add-on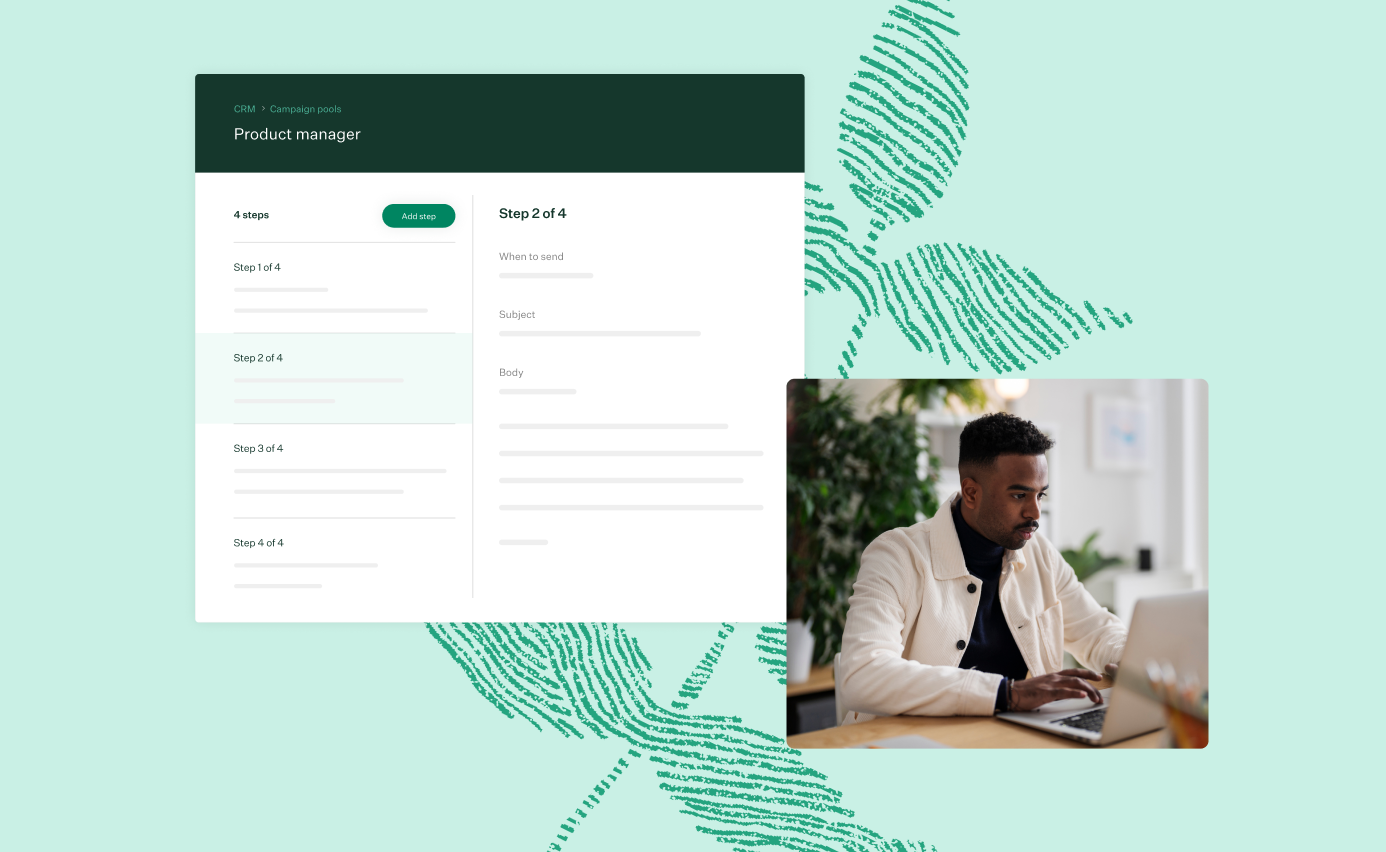 Greenhouse Sourcing Automation is an add-on product in Greenhouse Recruiting that makes sourcing your superpower, helping you find, reach, and engage top talent quickly and effectively.
If your organization has invited you to start using Sourcing Automation, follow this guide to get set up and begin building effective sourcing campaigns.
Note: If you're a Sourcing Automation admin, use this quick start guide to learn how to configure your organization's Sourcing Automation settings and assign seats.
Step 1: Accept your Sourcing Automation seat
When an admin has assigned you a Sourcing Automation seat, you'll receive an email invitation to authenticate your seat. Click Authenticate your seat to get started.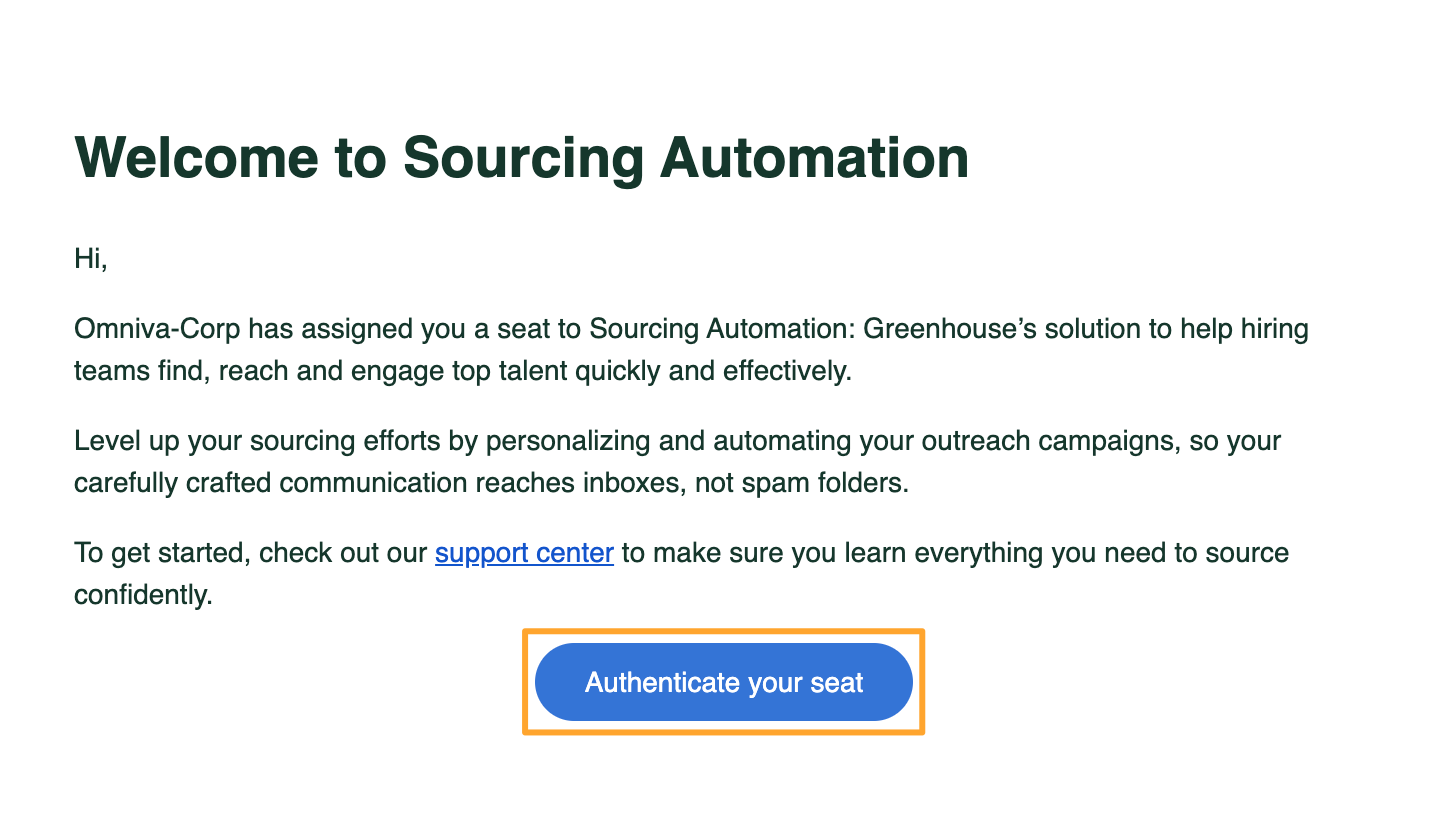 Step 2: Configure your personal Sourcing Automation settings
Once you've accepted your Sourcing Automation seat, navigate to Greenhouse Recruiting and set up your personal Sourcing Automation account settings.
These settings include your custom message schedule, holiday schedule, lookup priority settings, and unsubscribe link.

Note: If your Sourcing Automation admin has set up a campaign-level schedule, all campaign pool messages will be sent according to that schedule rather than your custom schedule.
Step 3: Install the Greenhouse Recruiting Chrome extension
Install the Greenhouse Recruiting Chrome extension so you can quickly add prospects from LinkedIn, Indeed, and other sourcing sites to your campaign pools in Greenhouse Recruiting.
Tip: Make sure to pin the extension to your browser for easy access.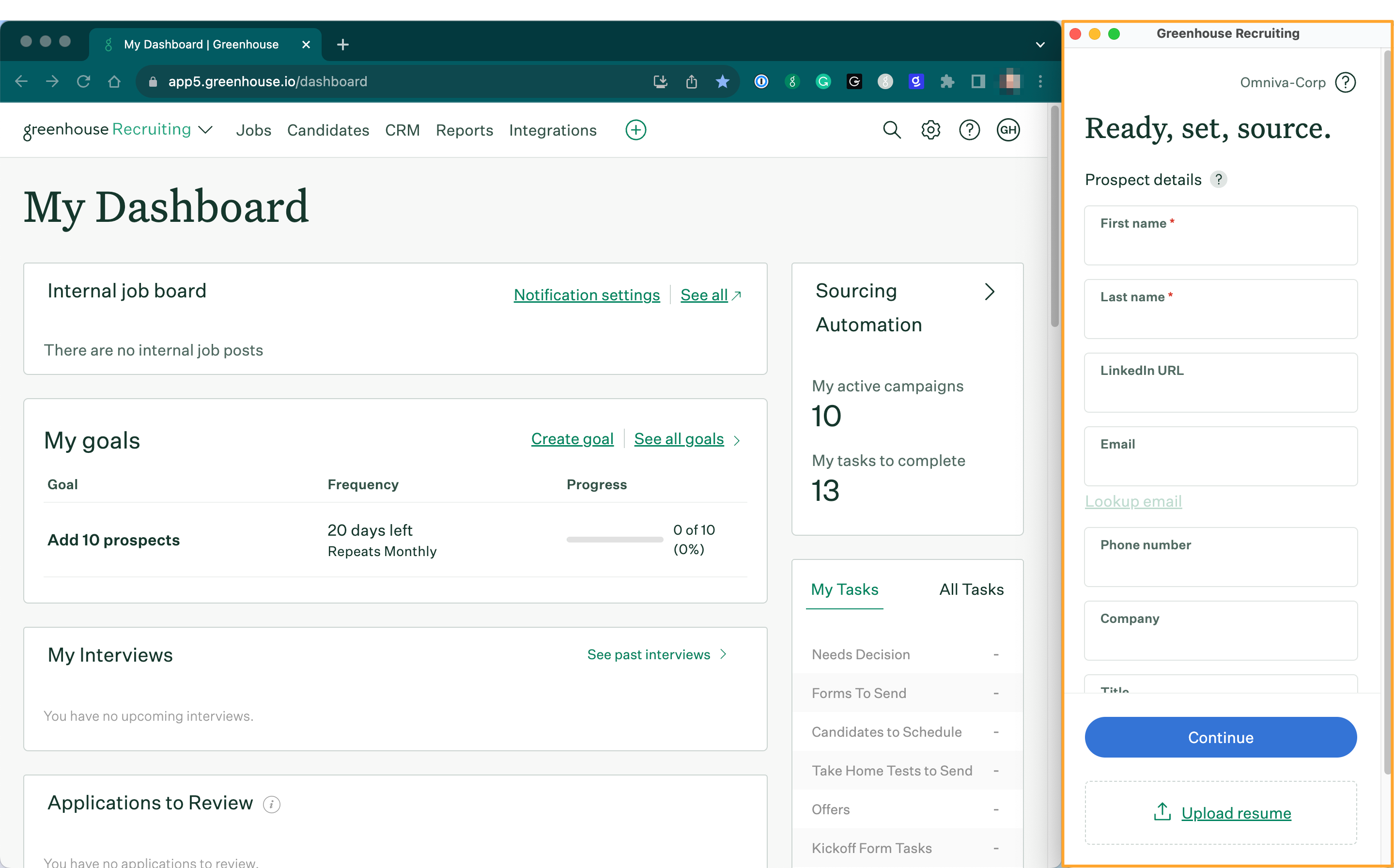 Step 4: Create your first campaign pool
Create a campaign pool to begin sourcing prospects for one of your open jobs.
Your campaign pool will include steps, where you'll create automated email messages, InMail messages, or other manual tasks to help you reach out to prospects.
Steps that include email messages will be sent automatically based on the cadence set in your custom message schedule or your organization's campaign-level schedule (if one's been set up).
Best practices for campaign pool steps
Build campaign pools with three to four steps for optimal results.
Use your organization's Sourcing Automation email templates to stay on brand!
Your step emails should be 200 words or fewer – don't overload prospects with text-heavy emails.
Be direct in your campaign messages and focus on one call-to-action.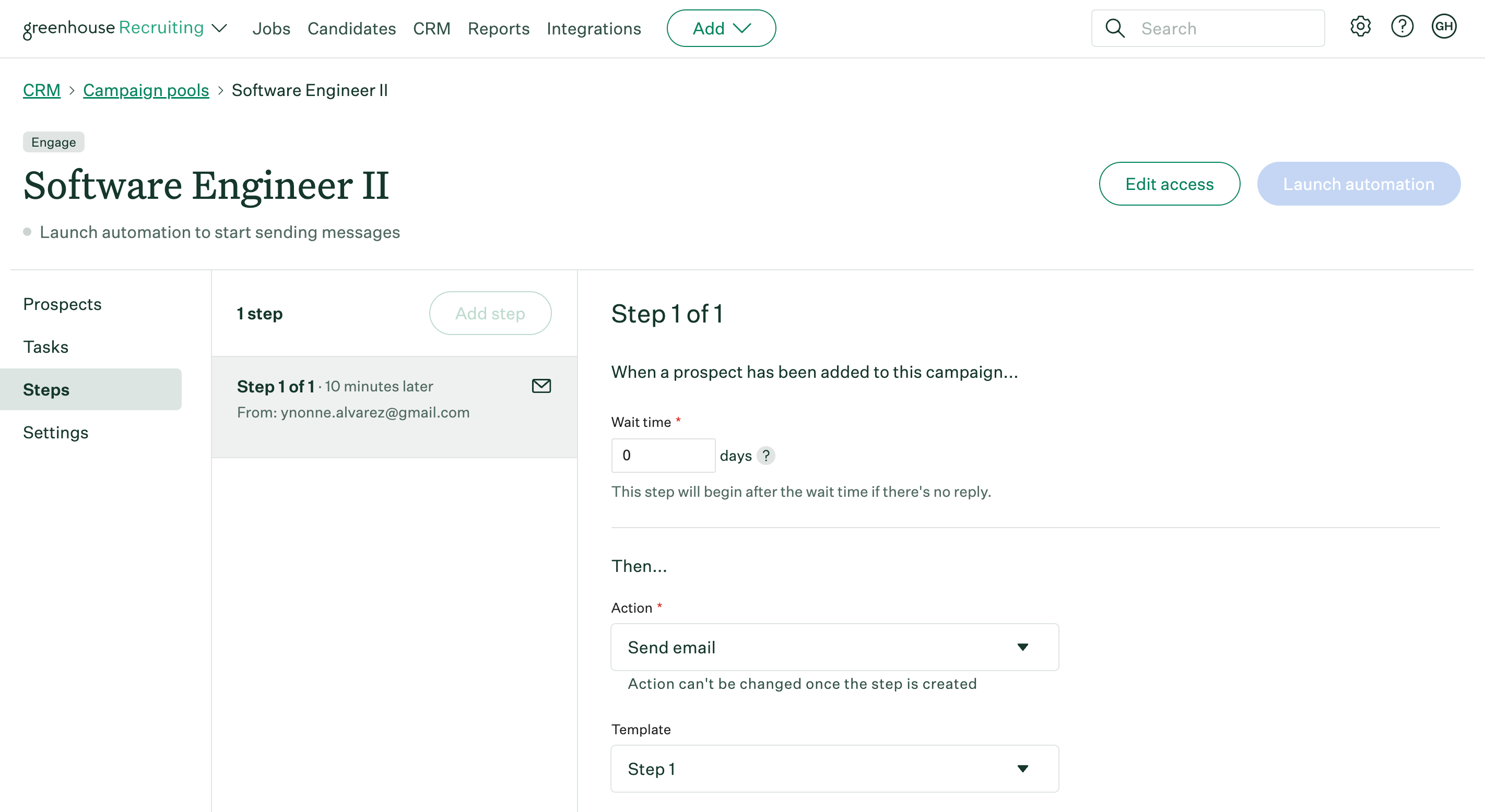 Step 5: Add a prospect to your campaign pool
Start adding prospects to your newly created campaign pool!
From your dashboard navigation bar, click Add > Add a Candidate to manually add a prospect to your campaign pool. Here, you can manually enter their information or drag their resume to automatically parse it.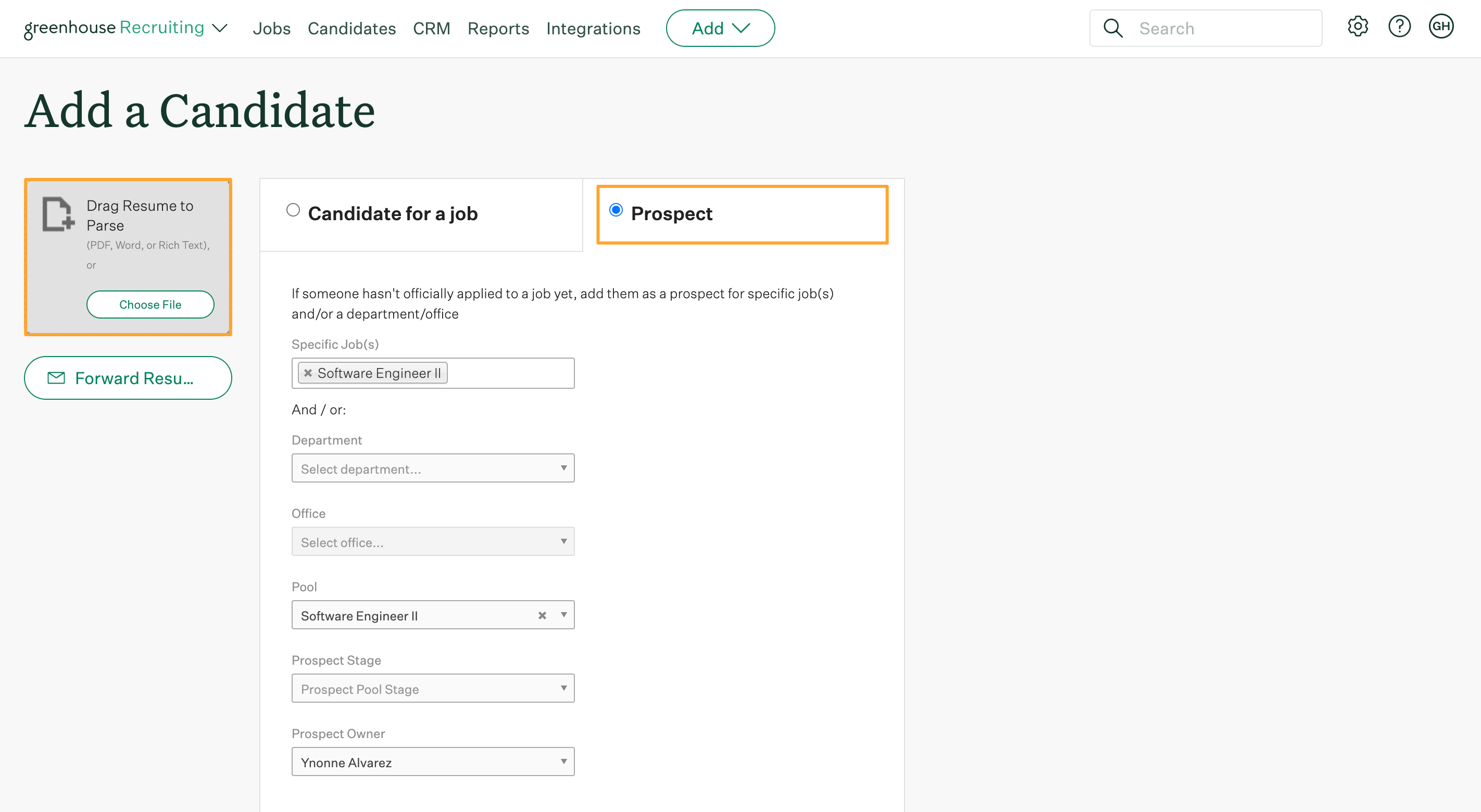 When you've found a prospect on LinkedIn, Indeed, or another sourcing site who may be a good fit for your open job, you can also use the Greenhouse Recruiting Chrome extension to quickly add them to your campaign pool.
You'll have the option to personalize your first step email or InMail message directly in the Chrome extension to reach out to the prospect right away.
Additional resources