Permissions: Managers
Product tier: Available for Greenhouse Onboarding and Greenhouse Welcome subscription tiers
Users assigned as a manager have access to view and manage their employees' profiles in Greenhouse Onboarding.
Access your employee's profile
To access your employee's profile, click on their name under My New Hires or enter their name in the Search bar at the top of your home page.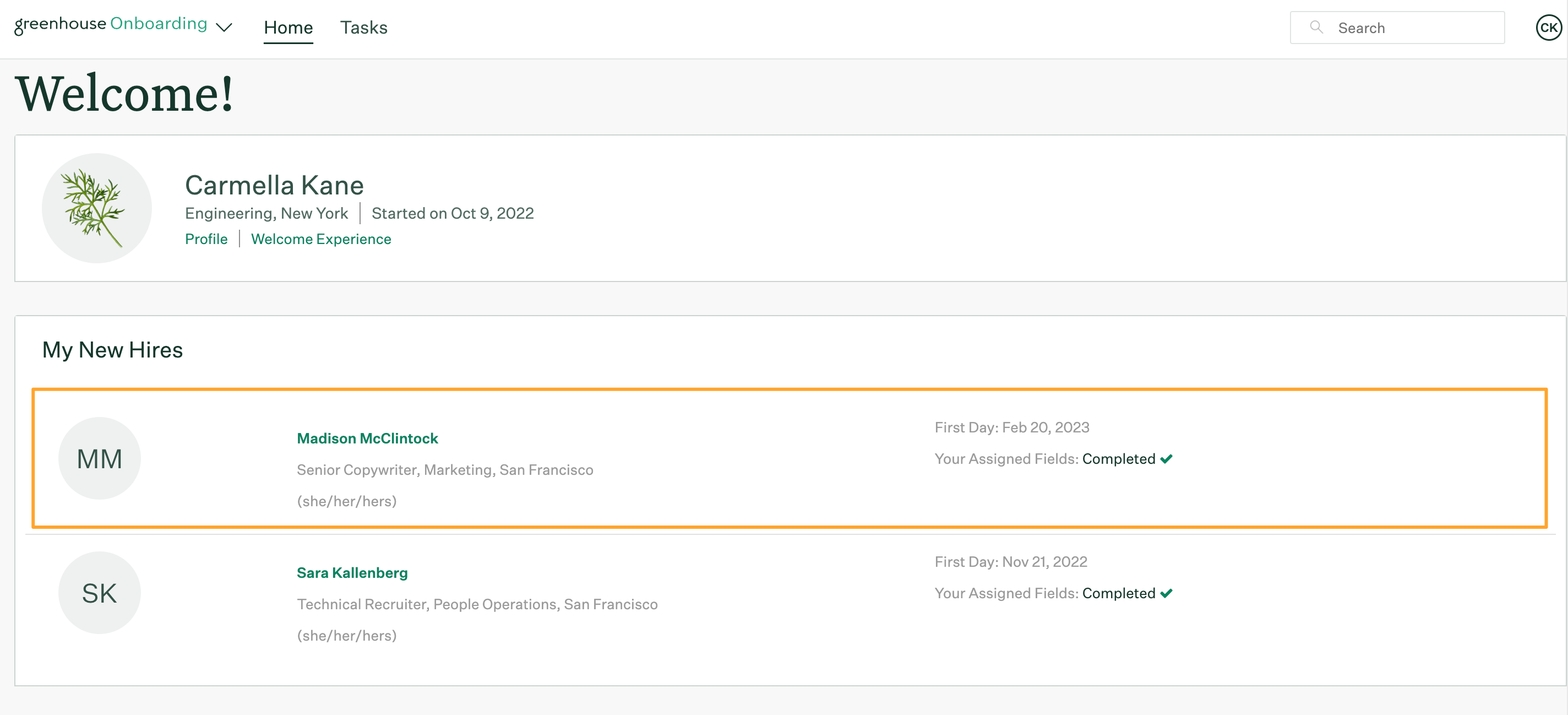 The header of their employee profile includes their name, profile picture, pronouns and pronunciations, job title, department, start date, and work email.
The employee's profile includes the following tabs:
Info tab
On the Info tab, you'll find additional personal information for your employee and a list of your employee's direct reports (if they are assigned as a manager to other users).
Note: Managers have access to view or edit employee information based on permissions granted by your organization's Admin Owner. For example, managers may be able to view an employee's ethnicity but cannot edit it.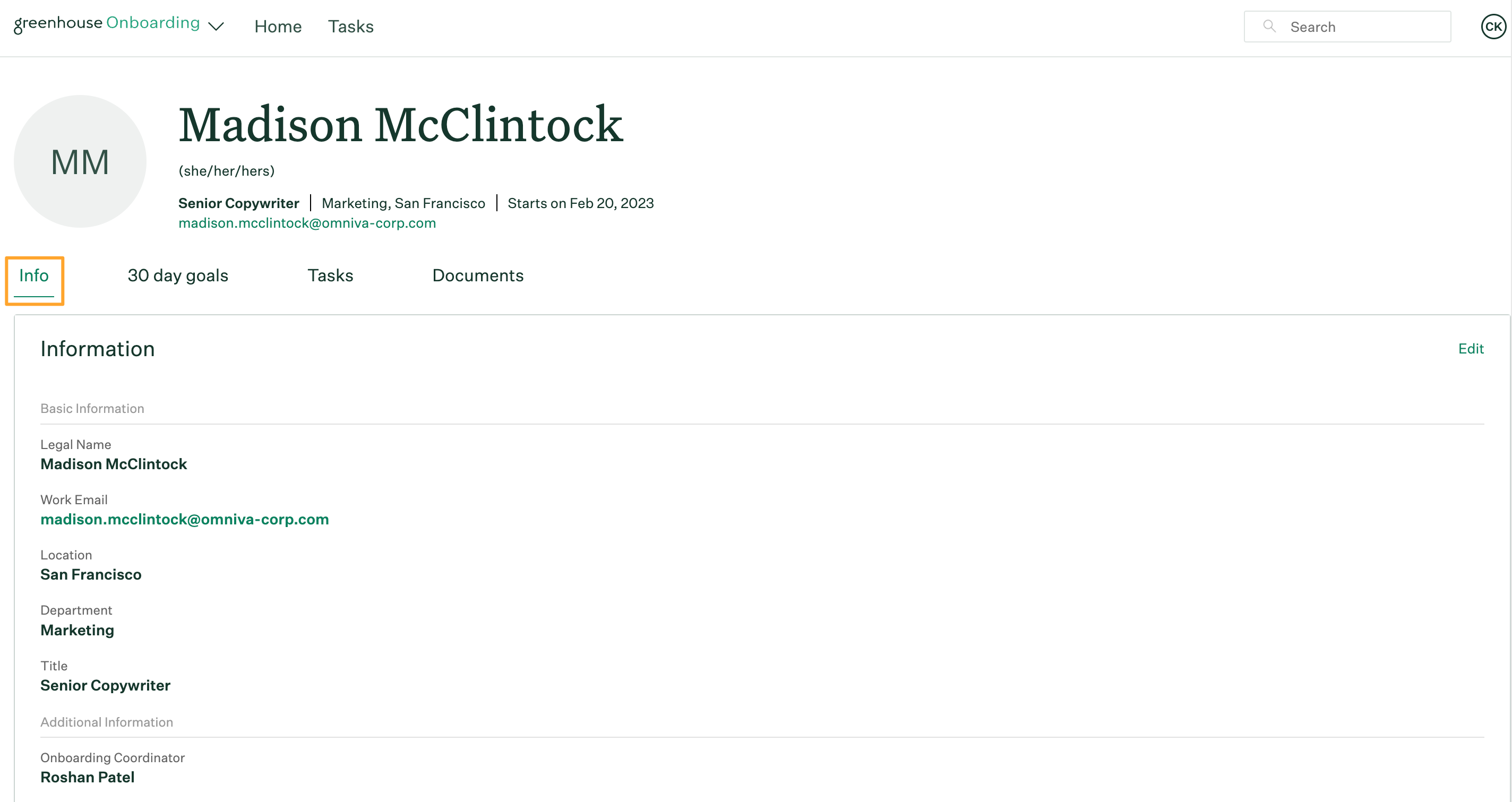 Any field that has a private icon next to it indicates that this information is not viewable to other employees in your organization unless they have specified permissions granted by your Admin Owner.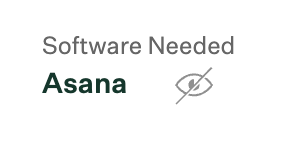 Click Edit to add or make changes to the employee's information. Once finished, click Save at the top of the Information dialog box.
30-day goals tab
Use the 30-day goals tab to configure and assign onboarding goals for your new hire.
Note: Goals for new hires is currently running as a beta with opt-in participation. Please contact your Customer Success Manager to request access to this feature.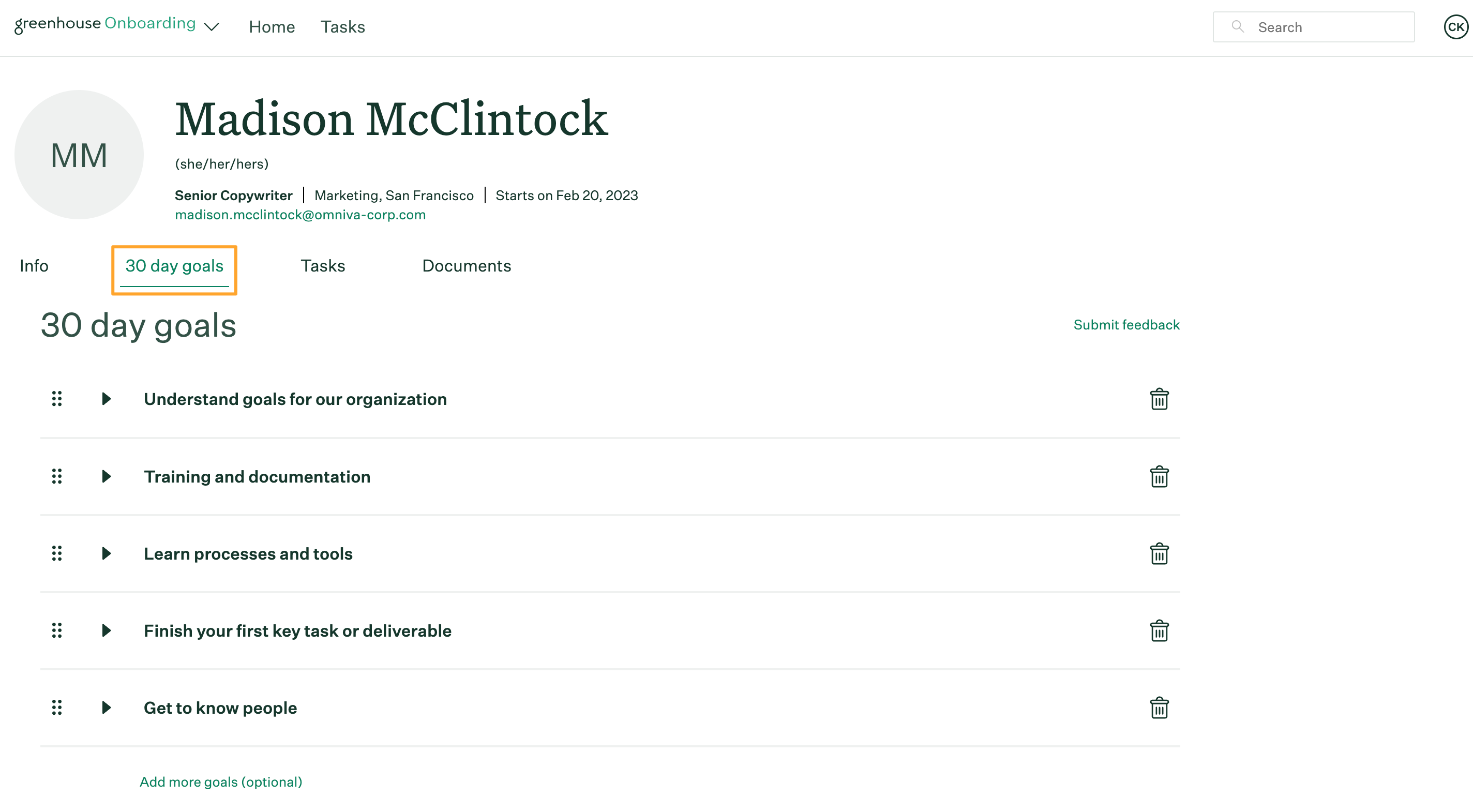 Tasks tab
The Tasks tab shows all tasks assigned to your employee. You'll also see tasks related to onboarding this employee that have been assigned to you as manager and other users in your organization (such as an onboarding coordinator).
Note
: Owners can configure whether managers have view-only access or full edit access to their direct reports' onboarding tasks. Learn more about
setting manager access to tasks
.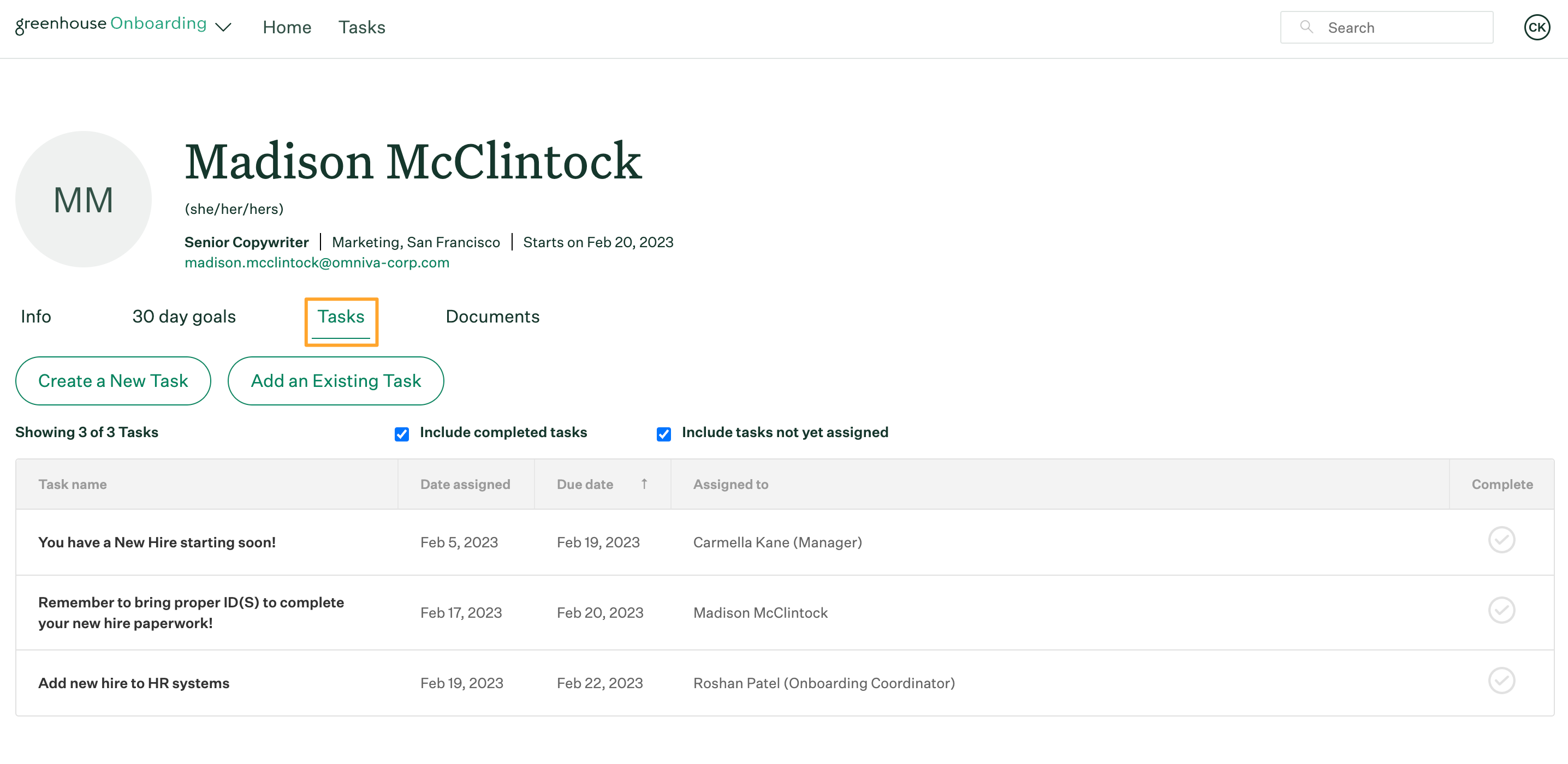 If you have access to edit your employees' tasks, click Create a New Task to create and assign a new task for your employee. Click Add an Existing Task to assign an existing task that your organization already created.
Documents tab
The Documents tab shows all documents and e-signatures assigned to your employee by you or your organization.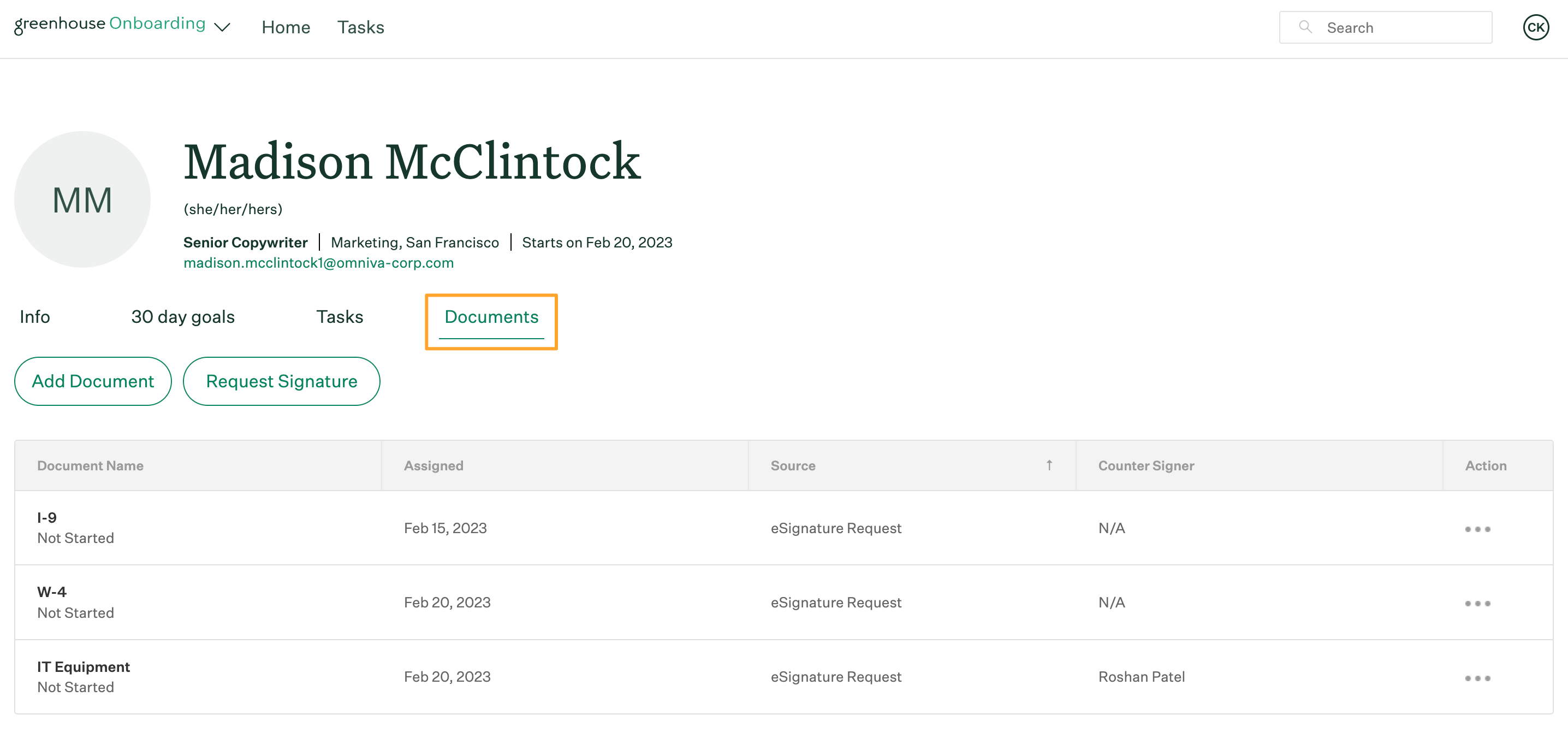 Click Add Document or Request Signature to add a new document or send an e-signature request to your employee.
Click the ellipsis icon to Cancel a signature request or Download a signed document. If your employee has completed multiple signatures, you can select Download All to download all available signed documents.

Additional resources