Greenhouse Recruiting's integration with Deel allows users to streamline their hiring and onboarding process, and customize data mapping to ensure data accuracy between both platforms. In this article, we will cover how to:
Configure user permissions in Greenhouse Recruiting
In order to enable the Greenhouse/Deel integration, you will need the developer permission "Can manage ALL organization's API Credentials."
Contact a Greenhouse user in your organization with Site Admin level permissions with the additional user-specific permission Can edit another user's advanced permissions to apply the API credential management permission to your account. Have the user with Site Admin level permissions edit your user account's permissions by navigating to the Configure icon

> Users > Your Name).

The user with Site Admin level permissions should navigate to the Permissions panel on your user page and expand the Developer Permissions dropdown menu.
Select Can manage ALL organization's API Credentials so that a check is in the checkbox. When finished, click Save.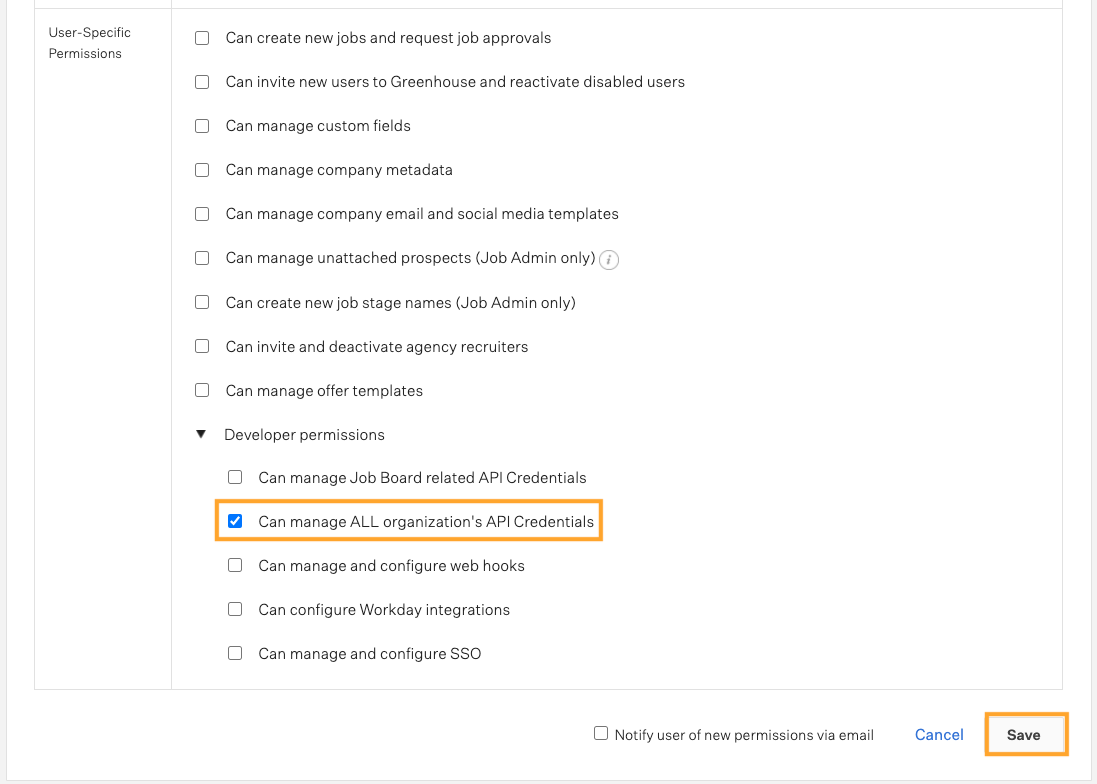 Repeat as necessary for any other user that should have access to set up the integration.
Create a Harvest API Key for the Greenhouse/Deel Integration
To create a Harvest API key for the integration, click on the Configure icon

in the upper right-hand corner. Navigate to Dev Center on the left-hand panel.
From the Dev Center page, click API Credential Management.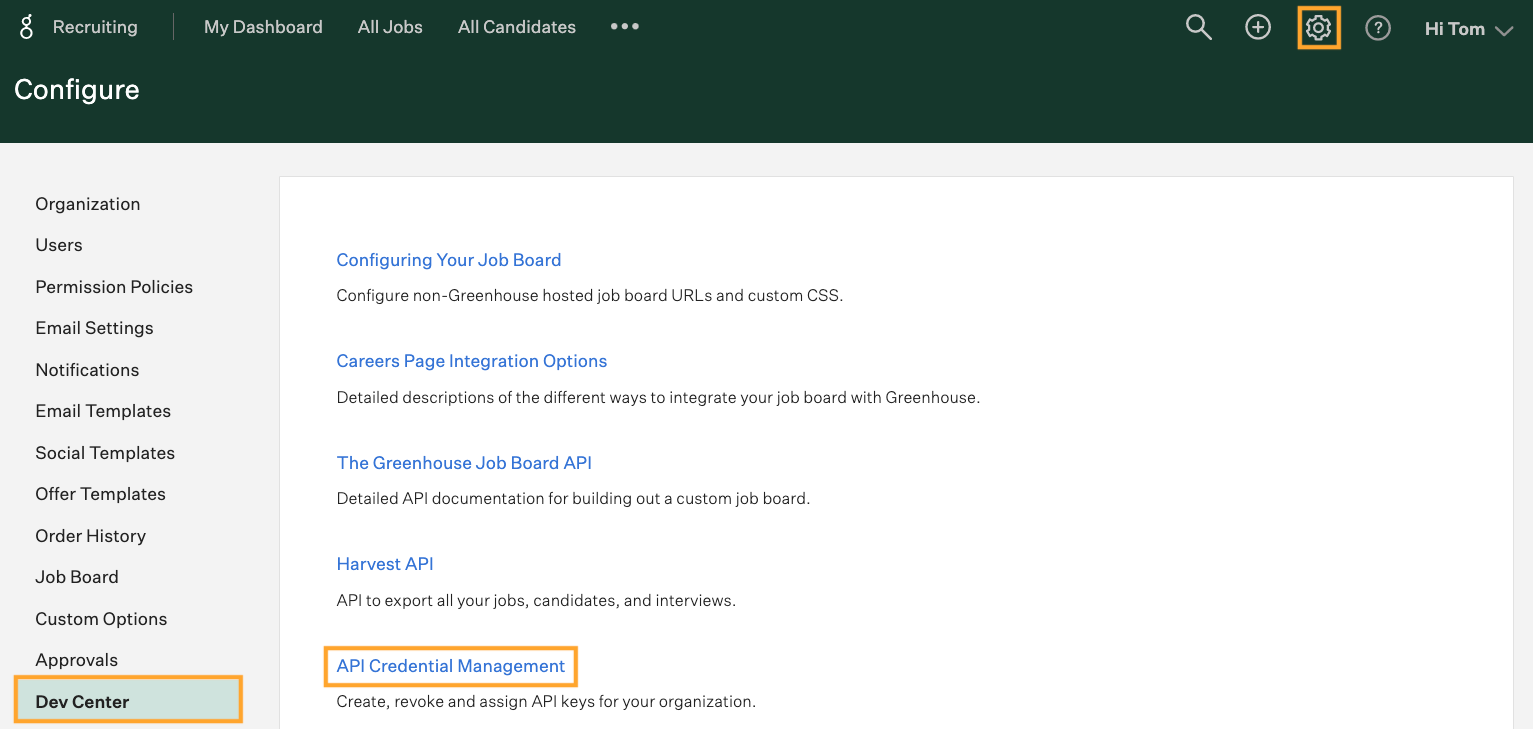 From the API Credential Management page, click Create New API Key to generate the API key for Deel.

In the Create New Credential dialog box, make the following selections:
API Type: Harvest
Partner: Deel
Description: Deel Harvest API Key
Selecting the partner as Deel will set the API permissions Deel needs to access your Greenhouse so that it can ensure connectivity.
When finished, click Manage Permissions to generate the Harvest API key and automatically assign it the appropriate permissions required by Deel.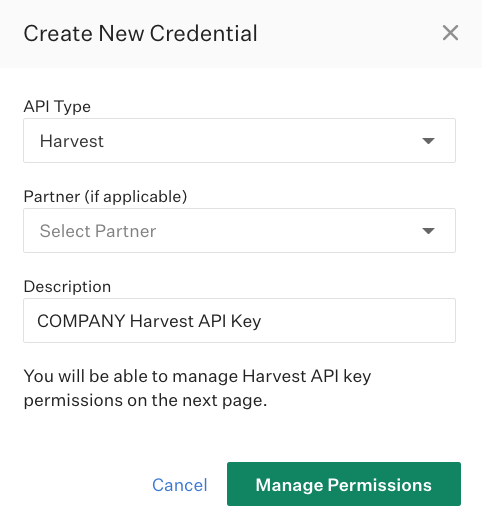 In the subsequent dialog box, click Copy to save your API key to your clipboard. Store the API key in a secure location to provide to Deel in the next step. Click I have stored the API Key once you have copied and saved the key.
Note: You cannot access the full API key again after clicking I have stored the API Key. If you lose your API key and need to access it later, you must create a new API key, provide it to the integration partner, and then revoke access to the original key.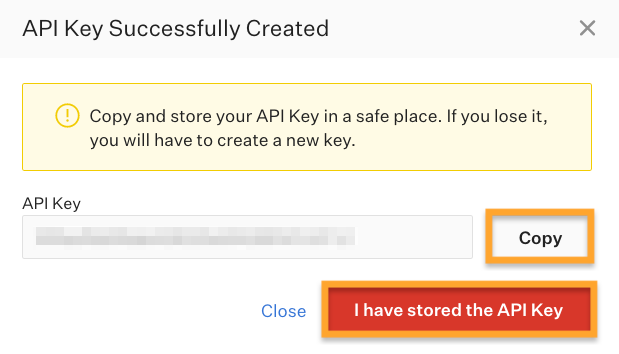 On the subsequent page, confirm the following permissions are assigned to your new API key:
On the Manage API Key Permissions page,
Get: Retrieve Application
Get: Retrieve Candidate
Get: Retrieve Offer
Get: Retrieve Job
Get: Get custom fields
When finished, click Update.
If any of the permissions above are not checked, place a check in the box next to the appropriate permission. Click Save when finished.
Your Harvest API key for the Greenhouse/Deel integration is created and configured.
Creating mandatory and suggested Greenhouse custom fields for integration
You now must configure certain fields in Greenhouse for the integration to function.
Step 1: Navigate to the Configure page and click "Custom Options" followed by "Offers" under "Company Custom Fields"

Step 2: Create new custom Offer field, "Hire remotely using Deel?" on offer object.
You can do this by clicking "Add Field", naming the field name "Hire remotely using Deel?" We also suggest you add a description for your colleagues to see.
Set the field type to "Yes/no" and we also suggest you make it required, though this is not mandatory.
You must check off this field on the offer for the integration to function.
Step 3 (suggested): Create custom field for specifying the Deel contract type.
It is not required to set this up, but it will reduce double-keying by allowing your Greenhouse users to select the contract type to create in Deel, which the data mapping options are based upon.
This field needs to be created as a single-select field. We suggest you name this as "Deel Contract Type" and create 5 options as per the screenshot below:
Options should include:
Deel Fixed
Deel Milestone
Deel Pay As You Go Time
Deel Pay As You Go Milestone
Deel EOR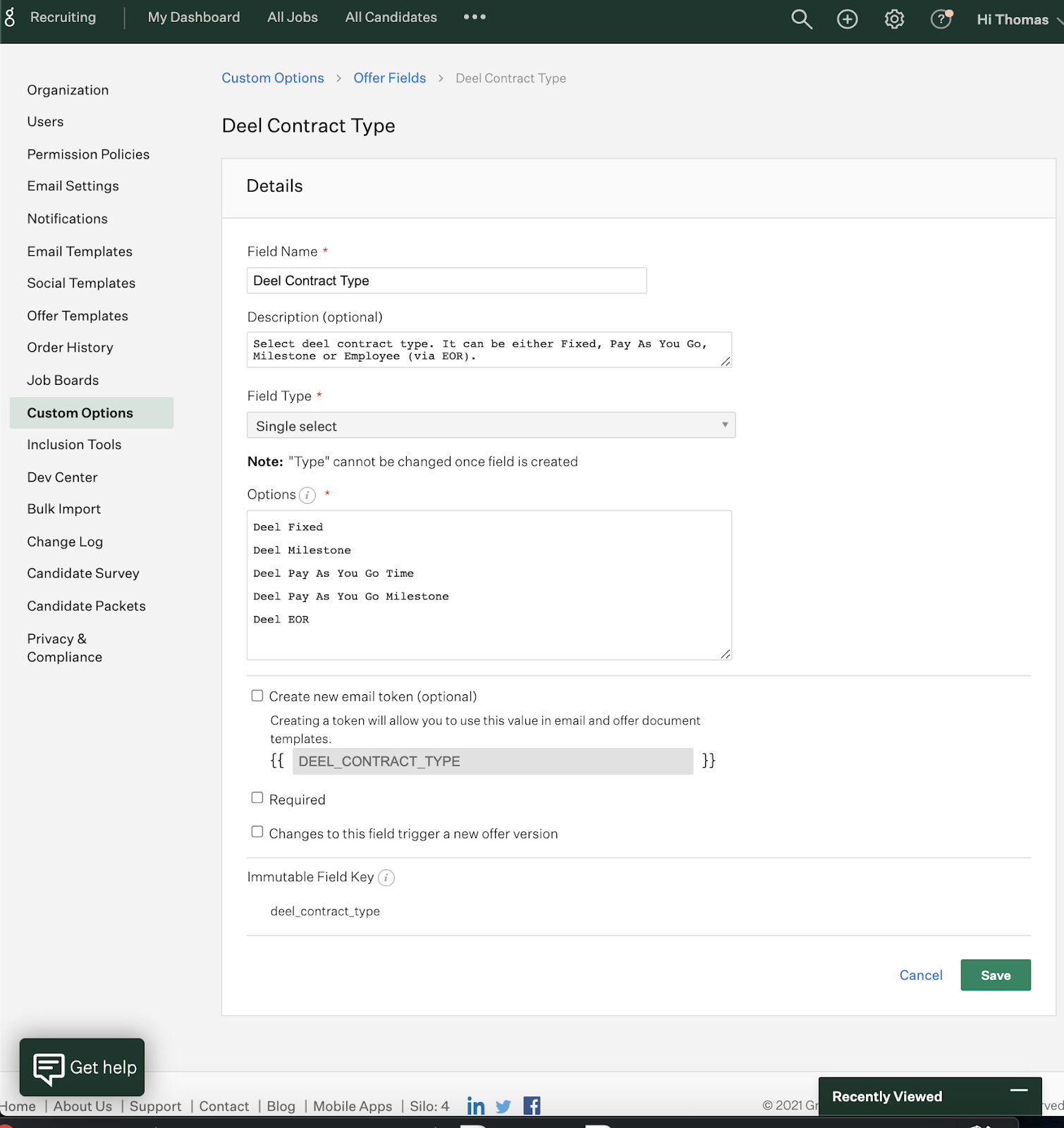 Retrieve Deel's Endpoint URL and Secret Key to set up webhooks
Deel's integration with Greenhouse relies on certain webhooks to be configured. For this to happen, you will need to get 2 key pieces of information:
Deel's Endpoint URL
Deel's Secret Key
This information can be retrieved during the setup process documented below:
Step 1: Navigate to Deel integrations directory in your client admin.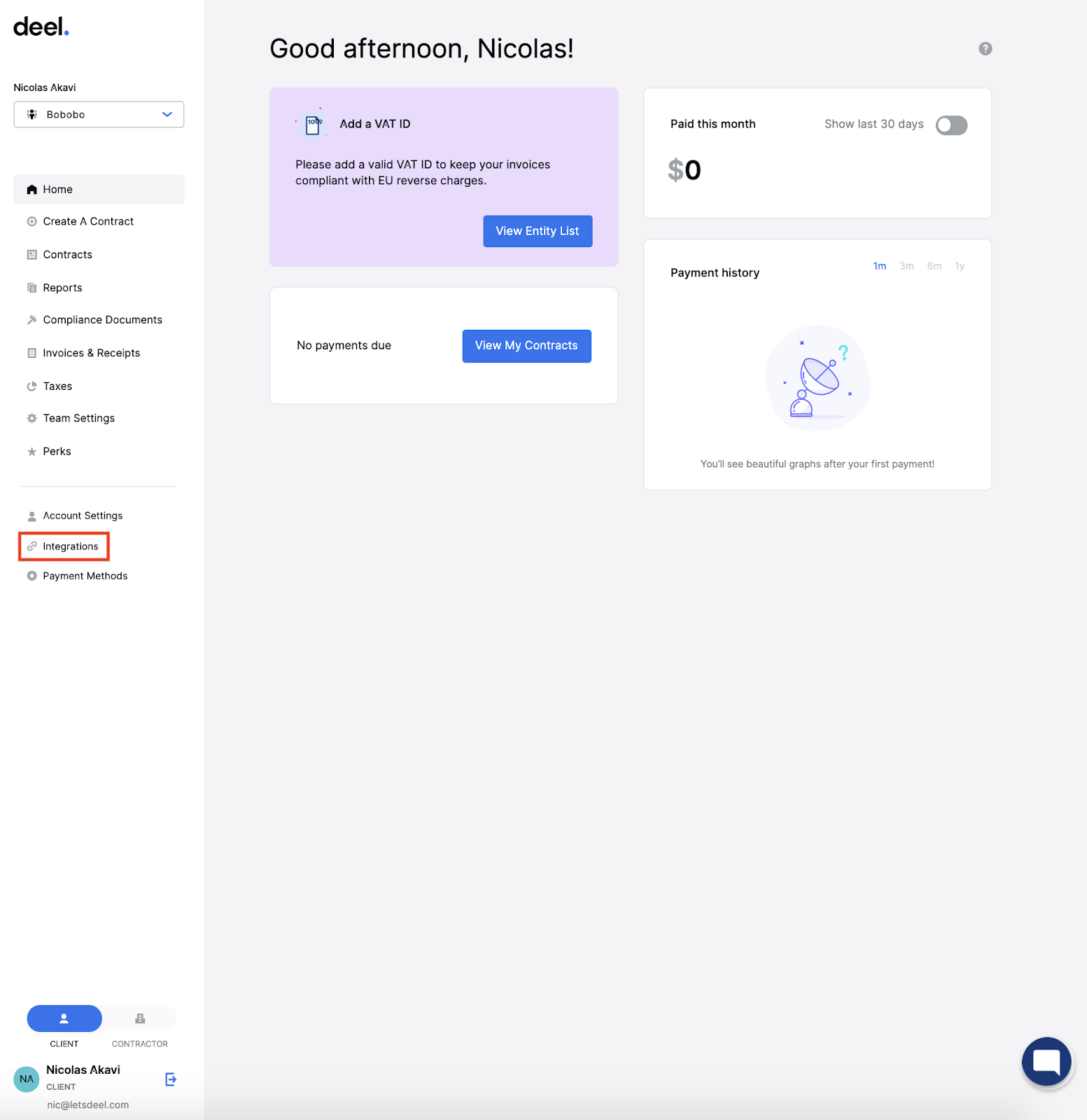 Step 2: Navigate to Greenhouse integration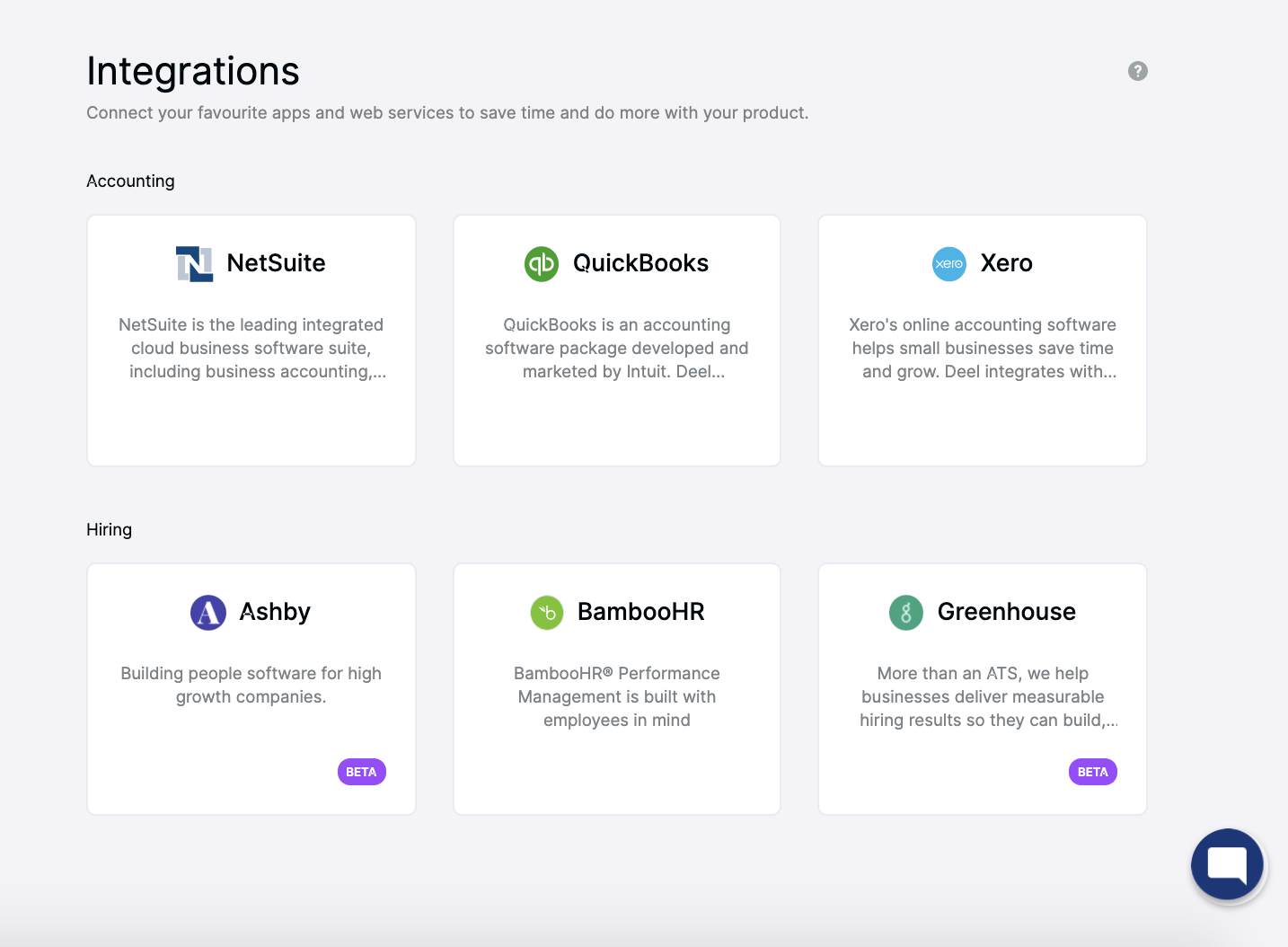 Step 3: Click the 'connect' button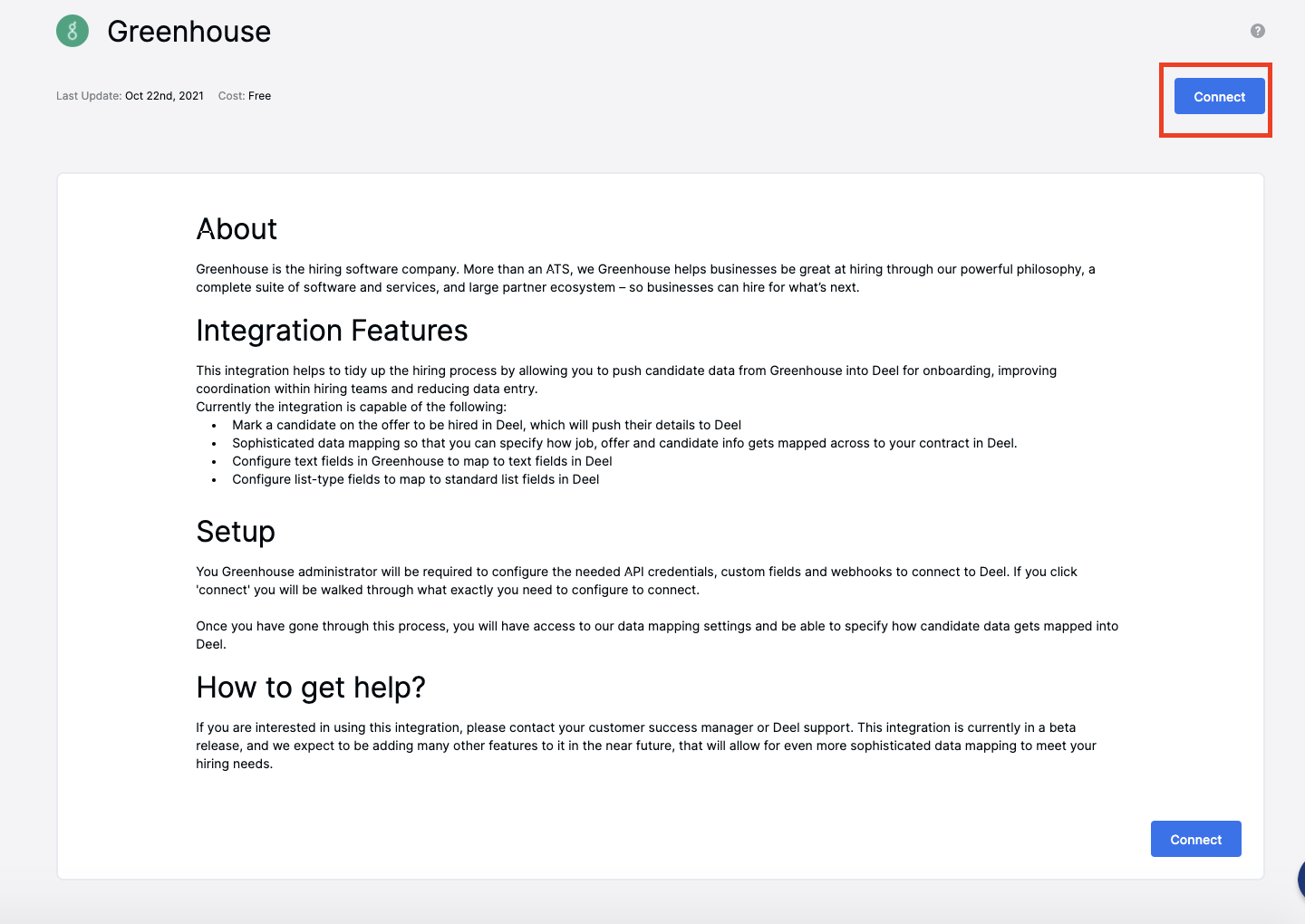 Step 4: Input the API key you have saved from Greenhouse.
As with Greenhouse, keep in mind that Deel does not store this key.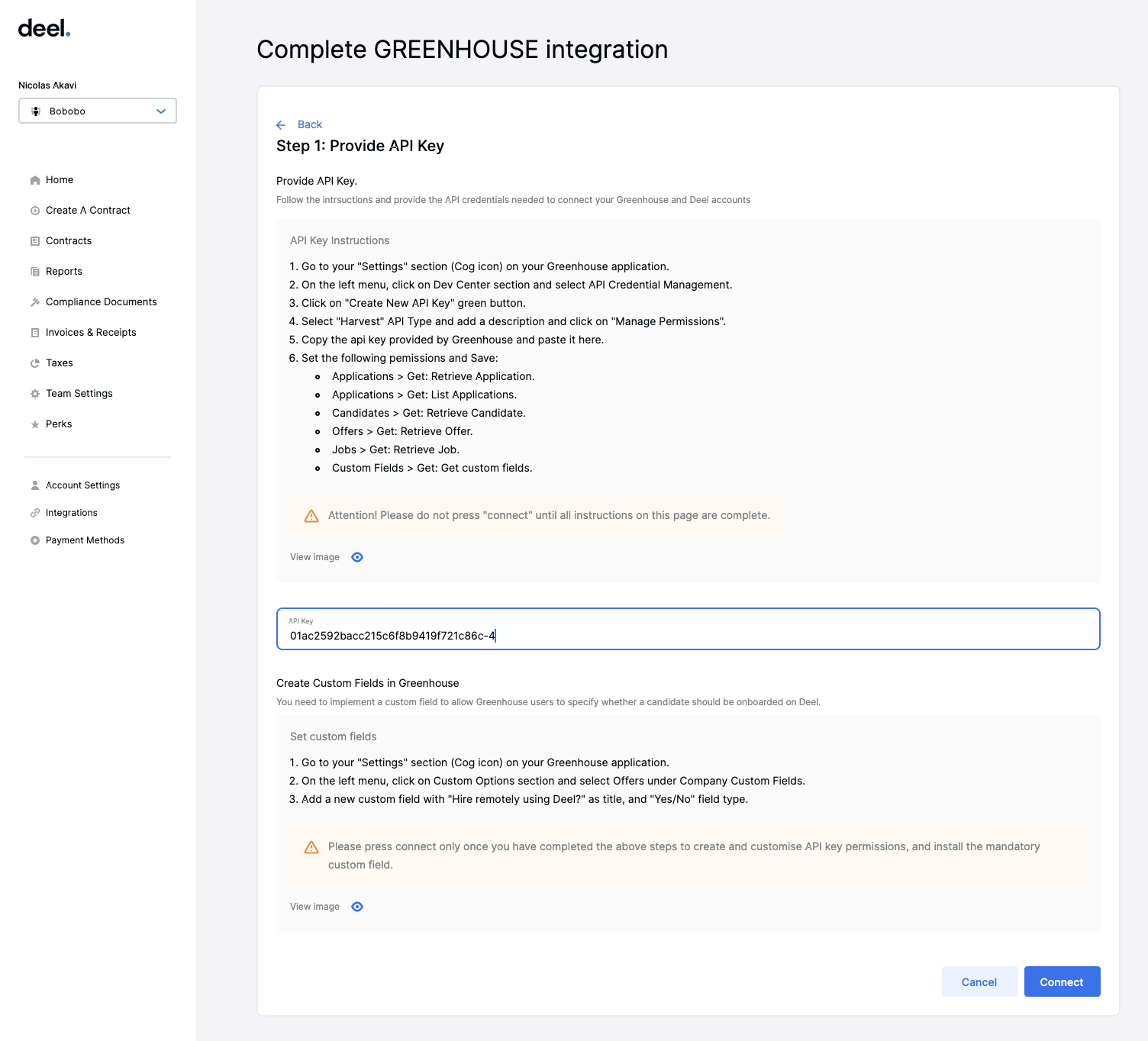 Step 3: Click connect to get access to Deel URL and Secret to configure webhooks in Greenhouse.
Upon user clicking connect, we will validate API connection and that all mandatory fields are installed and you will then see a new screen with the URL and Secret you need for the next step - configuring webhooks.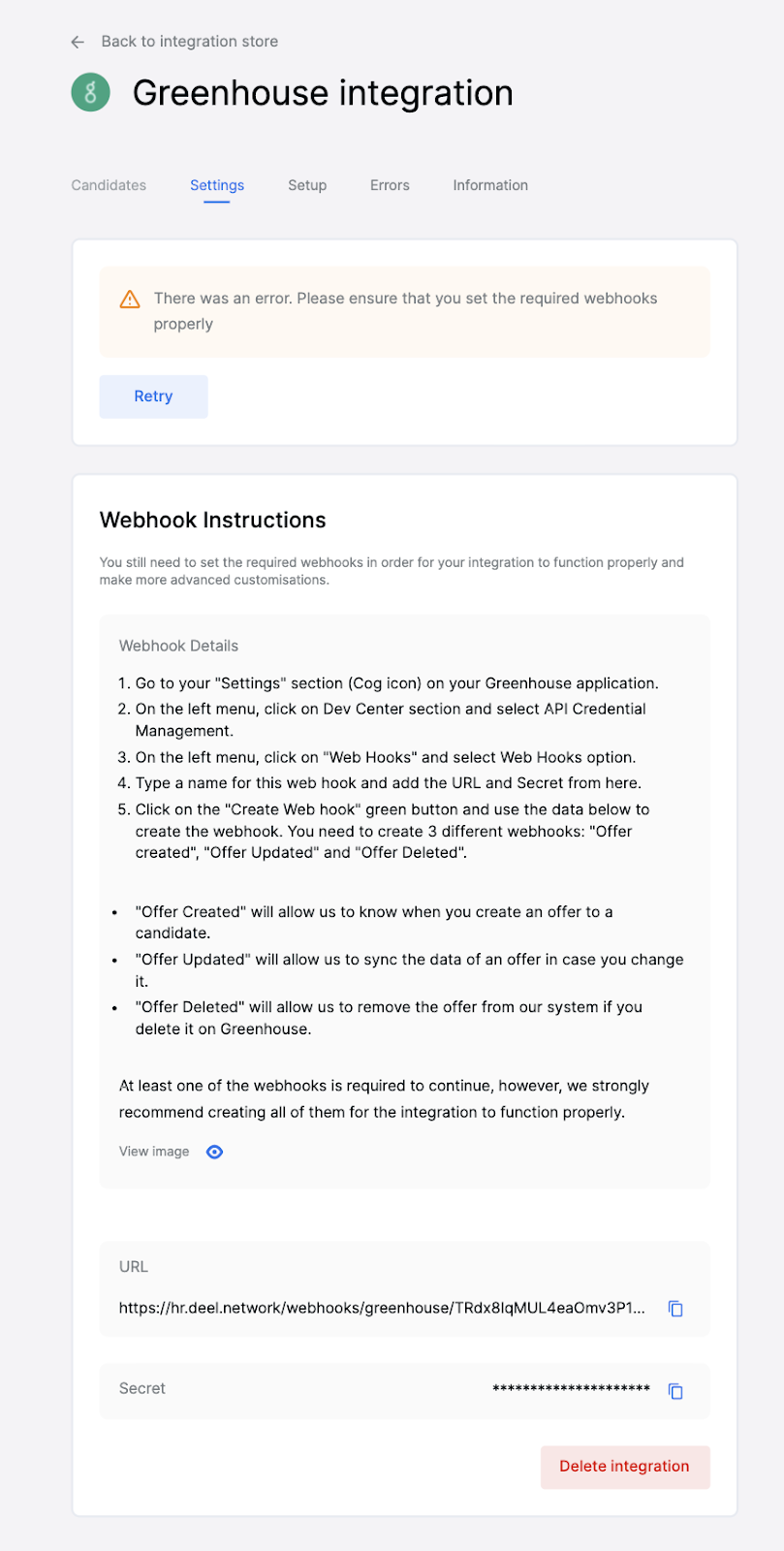 Step 4: Configure the webhooks in Greenhouse
Navigate to Dev Center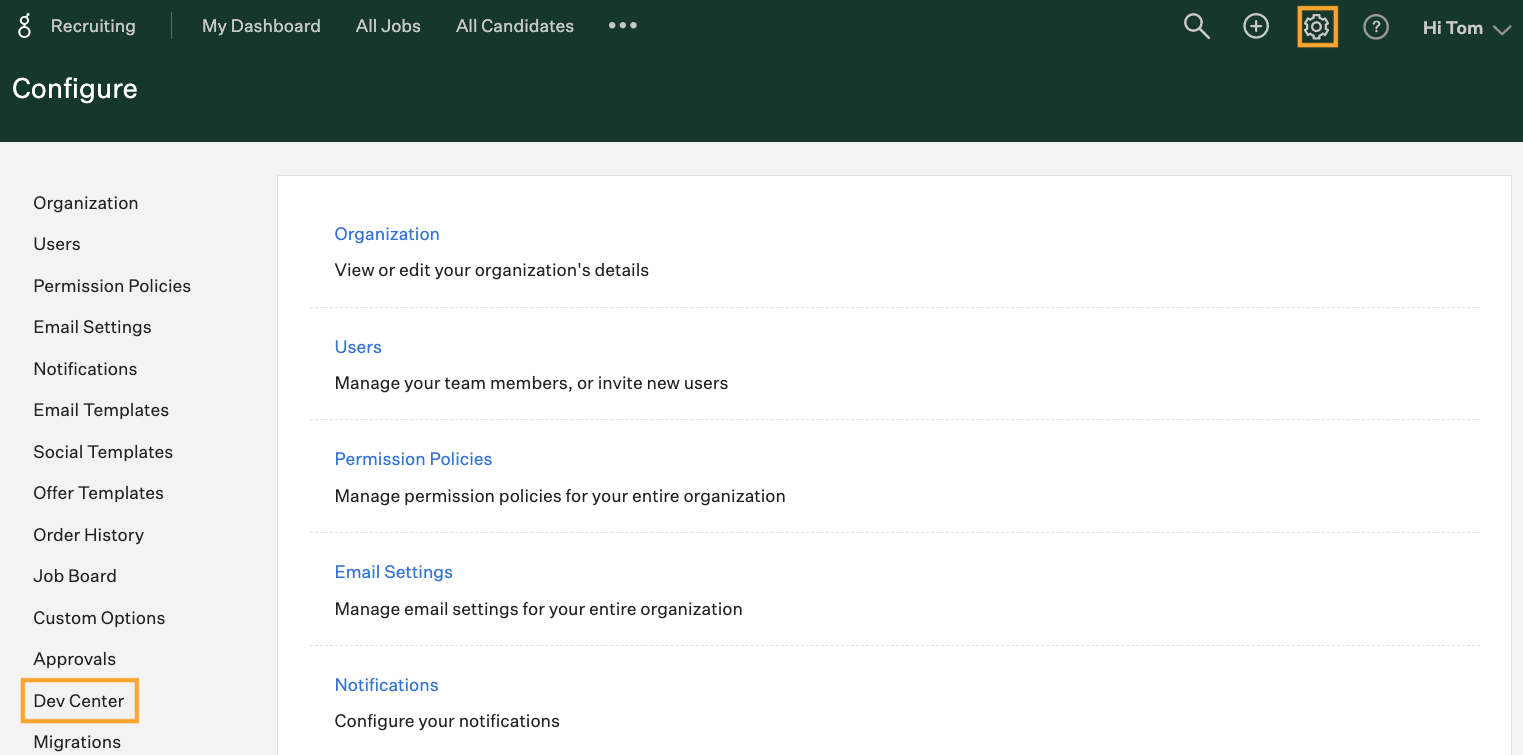 From the Dev Center page, click Web Hooks. Click Web Hooks from the subsequent page.

You will be directed to a new page where you Create a New Web Hook. From this page provide the following details:
Name: we suggest Deel Integration
When: Be sure to select the right web hook so that the web hook fires at the appropriate event in Greenhouse ( Offer Deleted, Offer Updated, Offer Created)
Endpoint URL: The Endpoint URL shown in the instruction page on Deel
Secret Key: The Secret Key also shown in the instruction page on Deel
When finished, click Create Web hook.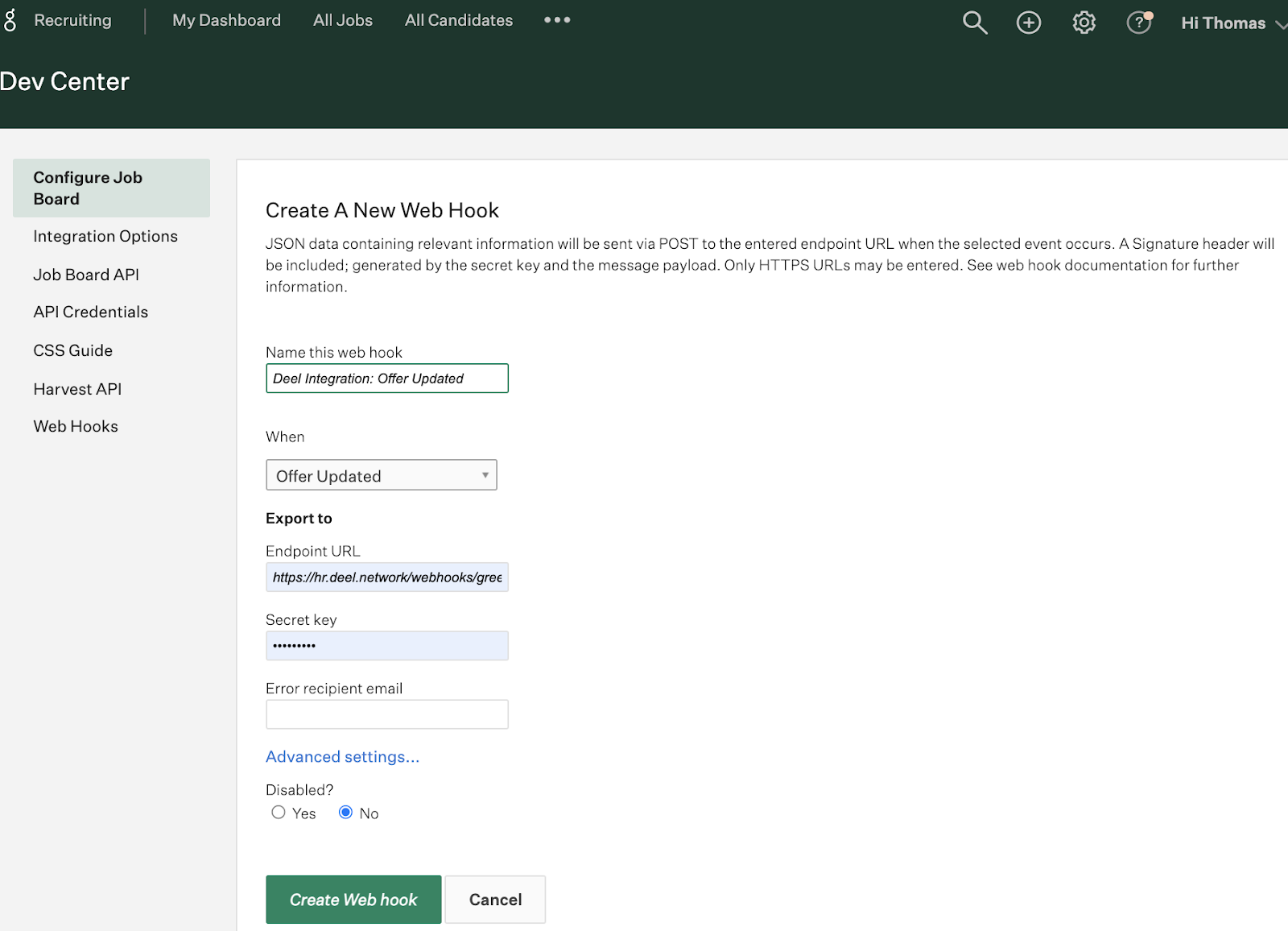 Enable Greenhouse/Deel Integration
With Deel's endpoint URL and Secret Key copied into the 3 webhooks, and your Greenhouse user permissions enabled, you are ready to enable the Greenhouse/Deel integration!
Simply click connect, Deel will verify that webhooks have been enabled and you will have access to the settings to customise your integration, as well as candidate list.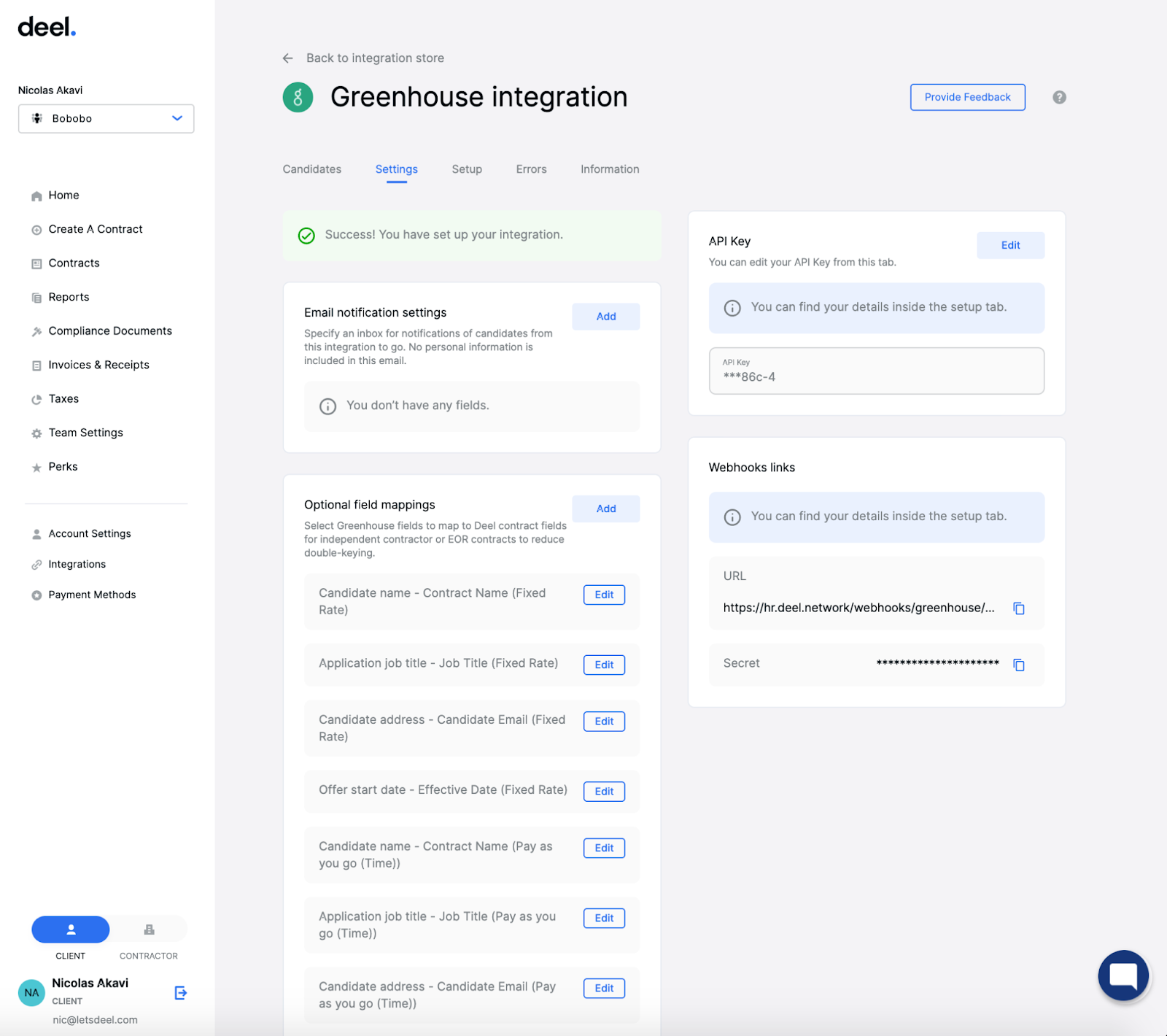 How to use the Deel Integration with Greenhouse
Once the integration is complete, the hiring process will be tidier by allowing you to push candidate data from Greenhouse into Deel for onboarding, improve coordination within hiring teams, and reduce data entry.
During the integration setup, the client can select a box in the job offer in Greenhouse saying 'Hire through Deel?'
When a candidate has accepted the job offer, the client can 'Mark them as hired' in Greenhouse. This will push the candidate through to the Deel platform.
If a client has set up email notifications, then the linked email will let them know a candidate has been pushed to Deel.
They can go to integrations > Greenhouse > Candidates and click 'Onboard [Employee] in Deel'. This will bring them into the relevant contract creation flow with their pre-populated information available in the contract already based on the custom fields they have set up.
Additional support
For additional help, click the Information or Setup tabs inside the Deel platform to see more configurations you can apply to your integration. The integration and support are free to Deel clients. Please contact customer service directly within the platform if you have any other questions.
You may also contact partnerships@letsdeel.com for troubleshooting assistance regarding the integration.