HRIS Link uses the Harvest API to import and update jobs, offices, departments, and users. We recommend creating an Integration System User (ISU) to authenticate these Harvest API requests. Unlike a normal user's account, an ISU is a created user account whose sole purpose is to authenticate Harvest API requests. Creating an ISU has a couple key benefits:
Since an individual user's account is also used for their normal Greenhouse Recruiting activities, any changes in permissions or access (such as the user getting a promotion or leaving the company) could cause errors with the integration. By creating an ISU, you can avoid these issues.
The ISU's name will appear in the Change Log for auditing purposes. Using an individual user's account will make it appear as though that specific individual is validating all requests, which could impact audit reporting.
Create an ISU
Click the Configure icon

and select Users in the left panel.

Click New Users on the next page.

Enter an email address to be associated with the Integration System User.
Note: The HRIS Link user's email address should not be associated with a real user. This does not have to be an email address with a real inbox (since the user is not required to login to Greenhouse Recruiting), but the email address should use your company's domain.
Under the Set permissions section, click Site Admin and grant the ISU all Site Admin user-specific permissions.
Uncheck the Send invitation email box at the bottom of the new user setup. Since the ISU is not associated with a real individual, they do not need to go through the normal Greenhouse Recruiting setup steps.
When you're finished, click Save.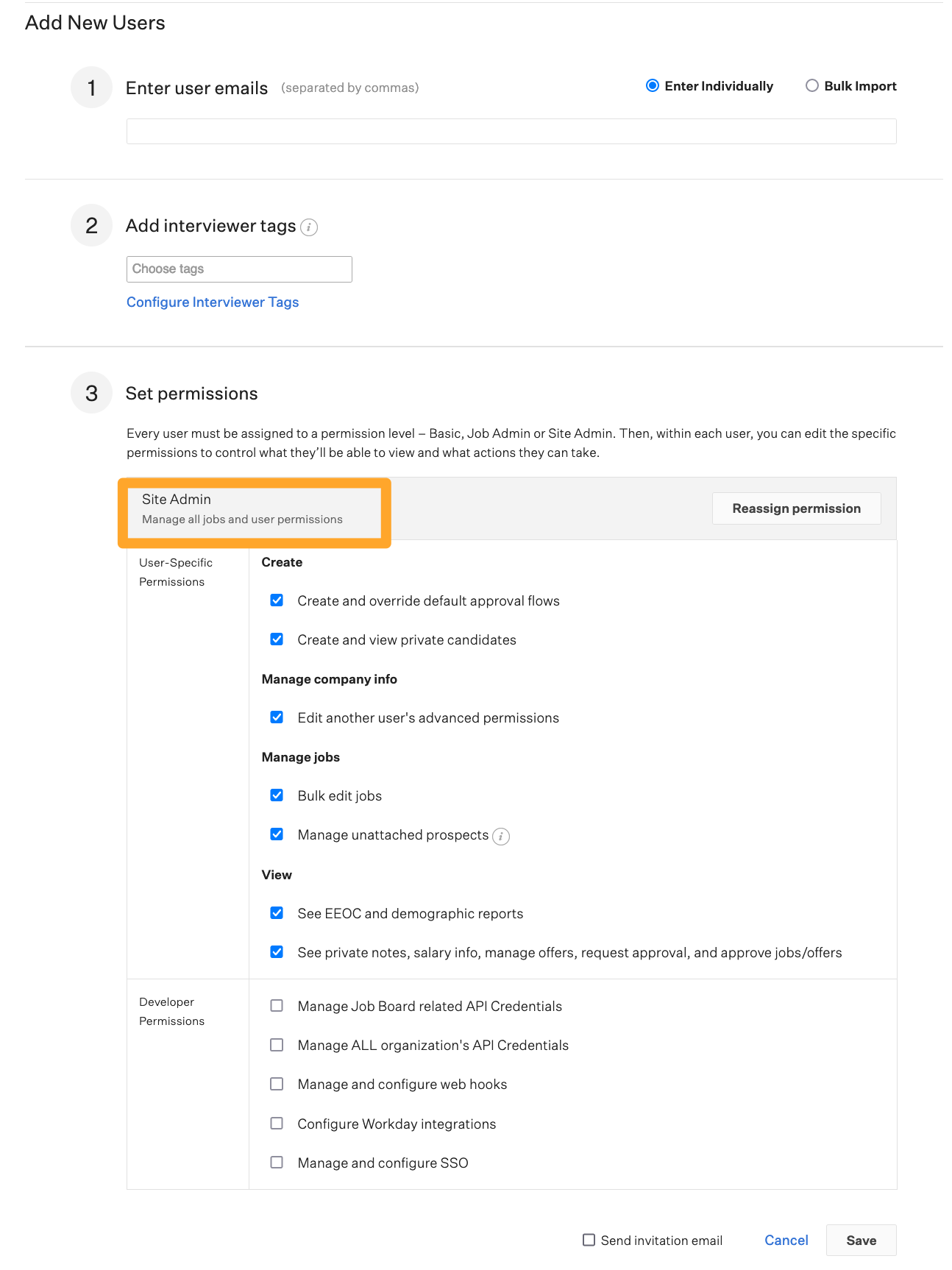 To finish setup, locate the ISU in your user list update their details so their First name is HRIS and their Last name is Link. This setup ensures that the ISU shows up correctly in audit logs.

When you're finished, select Save at the bottom of the page.
Additional resources