The Change Log is an itemized catalogue of actions that have taken place in your organization's Greenhouse Recruiting account. In this article, we will provide a brief overview of the Change Log, including the types of actions that can be audited through it.
Note: Generally, the Change Log does not include actions that happen for individual candidates. This information can be found on a candidate's Activity Feed. Click here to learn more.
To view your organization's Change Log, click the Configure icon
in the upper right-hand corner and navigate to Change Log on the left-hand panel.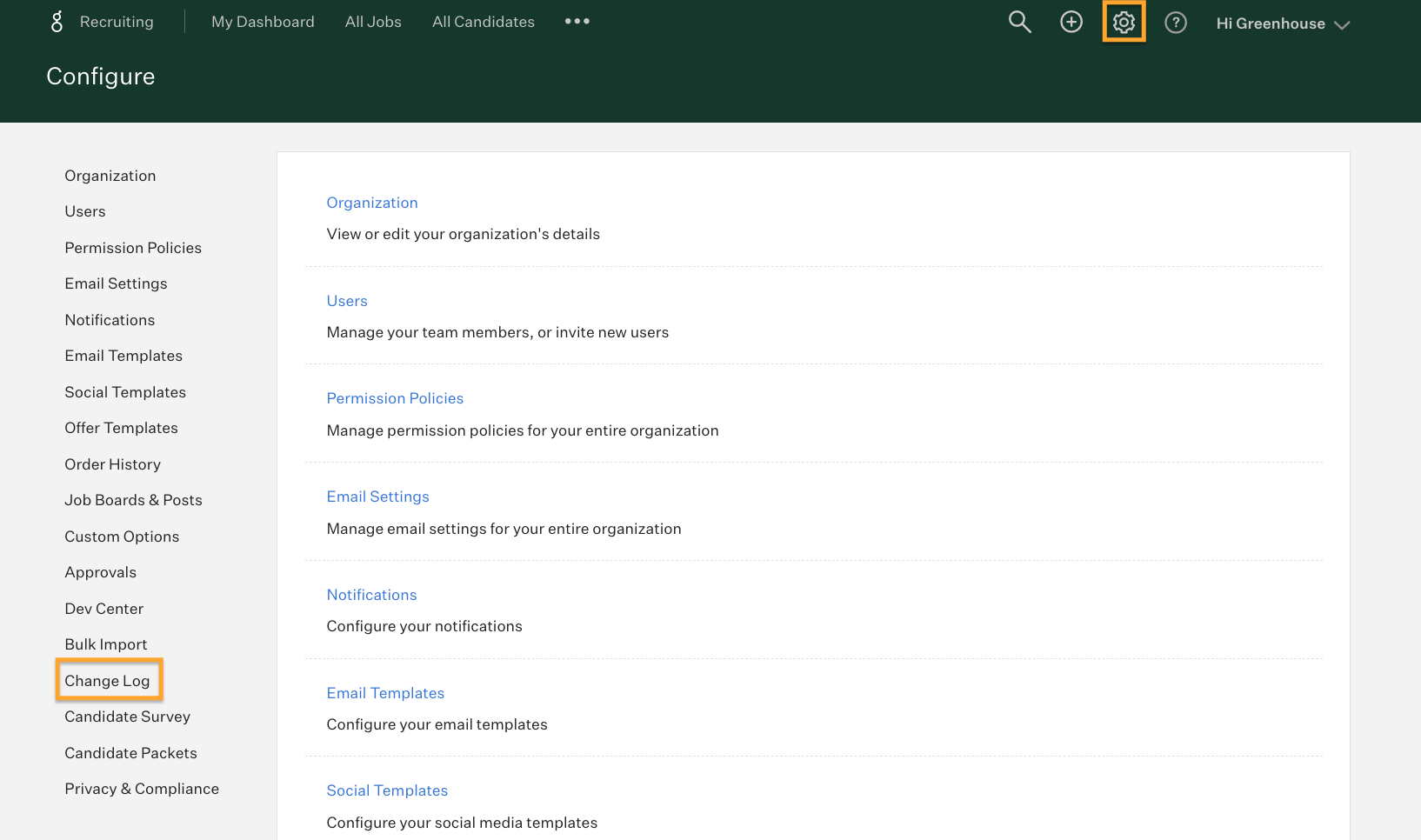 From the Change Log page, you can sort the entries by oldest or newest, as well as filter by a specific user, job, and/or date range. Additionally, you can filter/audit the following actions:
Note: Actions can be audited only if your organization has the associated subscription tier and/or product (e.g., Greenhouse Inclusion).
| | | | |
| --- | --- | --- | --- |
| Agency Invited | Agency Job Edited | API Key Created | API Key Permissions Updated |
| API Key Re-Enabled | API Key Revoked | API Key Updated | Application Rules Created |
| Application Rules Deleted | Application Rules Updated | Approval Plan Edited | Auto Merge Setting Changed |
| Bulk Agency Job Edited | Bulk Copy Form to Jobs | Bulk Delete Candidate | Bulk Delete Candidates' Personal Data |
| Bulk Edit Job Application | Bulk Interview Plan Edited | Bulk Job Scorecard Edited | Bulk Merge Application |
| Bulk Reject Candidate | Bulk Remove Form from Jobs | Candidate Unhired | Candidate or Prospect Unrejected |
| Candidate Packet Created | Candidate Packet Deleted | Candidate Packet Updated | Custom Option Added |
| Custom Option Deleted | Custom Option Changed | Custom Option Updated | Default Approval Plan Edited |
| Delete Application | Delete Candidate | Delete Prospect Process | Department/Office Changed |
| Department/Office Deleted | Form Copied to Job | Form Removed from Job | GDPR Data Retention Period Cleared |
| GDPR Data Retention Period Updated | GDPR Data to be Deleted Added | GDPR Data to be Deleted Removed | GDPR Data to be Deleted Updated |
| GDPR Delete Candidates' Personal Data Changed | GDPR Email Recipient Settings Added | GDPR Email Recipient Settings Removed | GDPR Email Recipient Settings Updated |
| GDPR Notifications Cleared | GDPR Notifications Updated | GDPR Office Added | GDPR Office Removed |
| GDPR Offices Updated | GDPR Provide Candidate with GDPR Information Changed | GDPR Rule Modified | Global Email Added |
| Global Email Removed | Hiring Team Responsibility Changed | Hiring Team Roles Changed | Inclusion Setting Disabled |
| Inclusion Setting Enabled | Inclusion Setting Modified | Interview Plan Edited | Job Admin Level Created |
| Job Admin Level Deleted | Job Admin Level Name Changed | Job Admin Level Permission Added | Job Admin Level Permission Removed |
| Job Admin Level Permission Updated | Job Approval Accepted | Job Approval Rejected | Job Approval Requested |
| Job Approved | Job Board Accessible Changed | Job Board Auto Load Changed | Job Board Custom CSS Changed |
| Job Board Edit | Job Board Hide Description Changed | Job Board Hide View All Jobs Link Changed | Job Board No Auto Scroll Changed |
| Job Board Responsive Changed | Job Board Status | Job Board Tracking Links Changed | Job Board URL Changed |
| Job Created | Job Deleted | Job Info Changed | Job Opened |
| Job Post Deleted | Job Post Edited | Job Post State Change | Job Posts URL Changed |
| Job Scorecard Edited | Merged Candidate | Offer Section Created | Offer Section Deleted |
| Offer Section Updated | Organization Name Changed | Organization Permission Policy Changed | Organization Wide Email Template Changed |
| Phantom User Login | Prospect Pool Admins Changed | Prospect Pool Created | Prospect Pool Deleted |
| Prospect Pool Renamed | Prospect Post Created | Prospect Post Deleted | Prospect Post Edit |
| Prospect Post State Change | Prospect Stage Updated | Scorecard Reminder Emails Preference Changed | Temporary Access Granted |
| Temporary Access Revoked | Update Application | User Import Completed | User Linked to Candidate |
| User Permission Edited | User Unlinked From Candidate | | |
Note: The following actions are not available in the Change Log:
Enabling a partner integration
Partner actions (for example, partner sends results of an assessment)
Actions performed using Greenhouse Recruiting's API