Permissions: Site Admin and Job Admin, who can edit job info
Product tier: Available for all subscription tiers
Closing a job preserves all the configurations made on the job while restricting users from adding candidates to the job, visiting the job dashboard, and submitting scorecards to the job. Additionally, this action un-publishes the job's job posts from all of your organization's job boards.
There are many reasons to close a job:
Making the necessary new headcount or backfill hires
The job is placed on hold while your organization priorities other roles
Your organization has implemented a hiring freeze
The job is temporarily not being filled
Note: All active candidates will remain active on a closed job. We suggest your organization reject these candidates or move them to another job.
To close a job, click the Jobs tab from the navigation bar and select a job from the subsequent list. Click Job Setup and navigate to Job Info.
From the Job Info page, hover over Job Status and click the Edit icon

.

Select Closed from the dropdown menu. Click Save.

Note:
If the job has any pending offers, a dialog box will ask if you wish to Mark Candidates as Hired before closing the job. Click a candidate name to review their application without closing the job. Alternatively, click Cancel to dismiss the close job action, or click Continue to move forward with the close job action.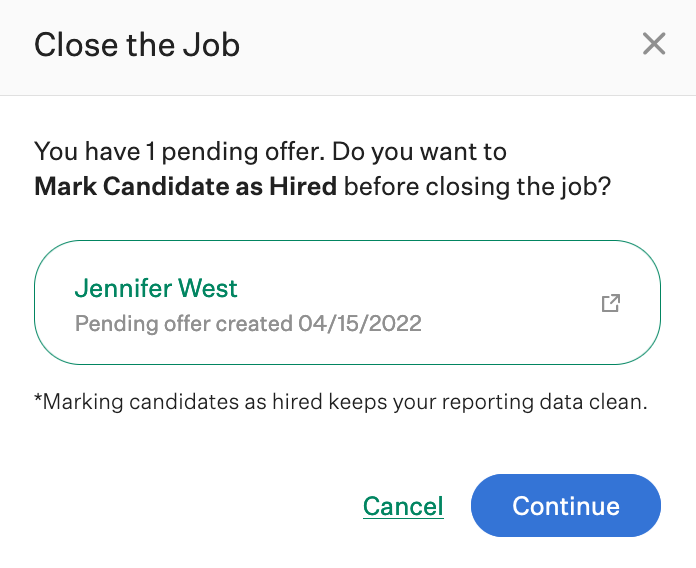 If the job does not have any pending offers, or if you click Continue in the dialog box discussed above, a subsequent dialogue box will ask you to confirm the decision to close the job. Select a Close Reason from the dropdown menu and click Save.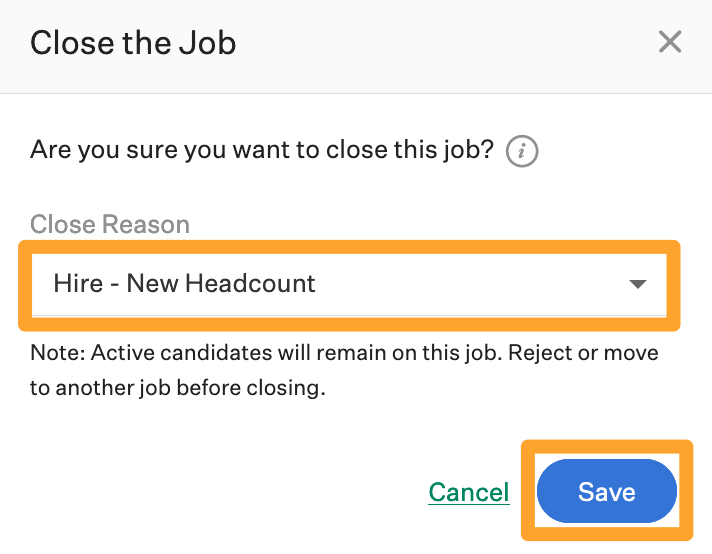 The job will be closed and users can no longer add candidates to the job, visit the job dashboard, or submit scorecards for the job.
Note: An interviewer with an outstanding scorecard for a closed job will encounter an error page if they click the Interview Kit URL provided to them. The job must be re-opened for the interviewer to access and submit their scorecard.

To learn how to search for and re-open a job after closing, review the following articles: