Wepow is a video interviewing platform used by thousands of recruiters and organizations around the world. We empower organizations to hire better people in a faster and more cost-effective way, without losing the personal touch.
This integration will allow a recruiter to streamline the process of inviting candidates to take Wepow video interviews.
Also you can automatically import candidates from the Wepow platform into your Greenhouse account saving time and effort!
To start, contact your Wepow account representative to request your API key. Once you have received your API key, click here to open a ticket with the Greenhouse Support team.
Note: Do not send the API key in this initial email.
The Greenhouse Support team will respond with a SendSafely link for you to enter your API key. A notification will be sent to the Greenhouse Support team after you have entered your API key and they will email you to confirm that your API key has been set up in your account and your integration is enabled.
Note: To verify your identity, the Greenhouse Support team might request you provide a Support Verification Code before adding the API key to your organization's account.
Optional – Candidate Import Module
If you plan to use Wepow's "Public Link" function or invite candidates directly from Wepow, you may want to automatically export new Wepow applicants to Greenhouse. To enable this capability, you'll need to generate a Harvest API Key and an Ingestion API Key in Greenhouse and send them to support@wepow.com.
In order to create these API Keys:
Login into your Greenhouse account.

Click the cog icon located on the top of your Greenhouse browser screen.

Click on the Section called "Dev Center"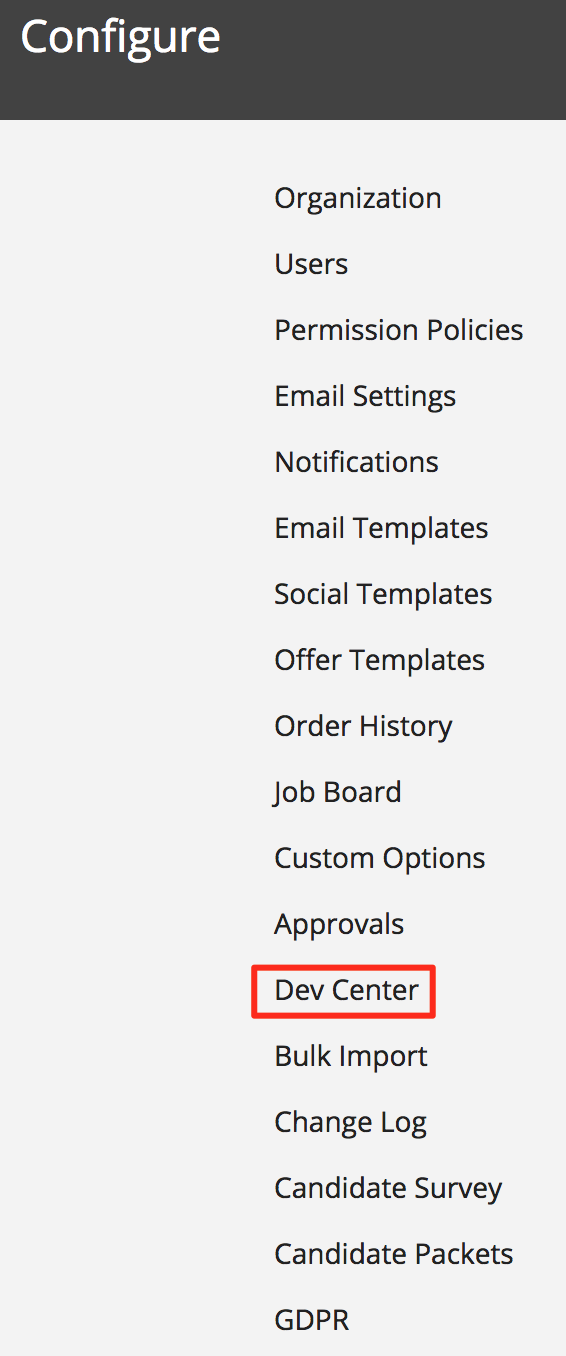 Click on "API Credential Management"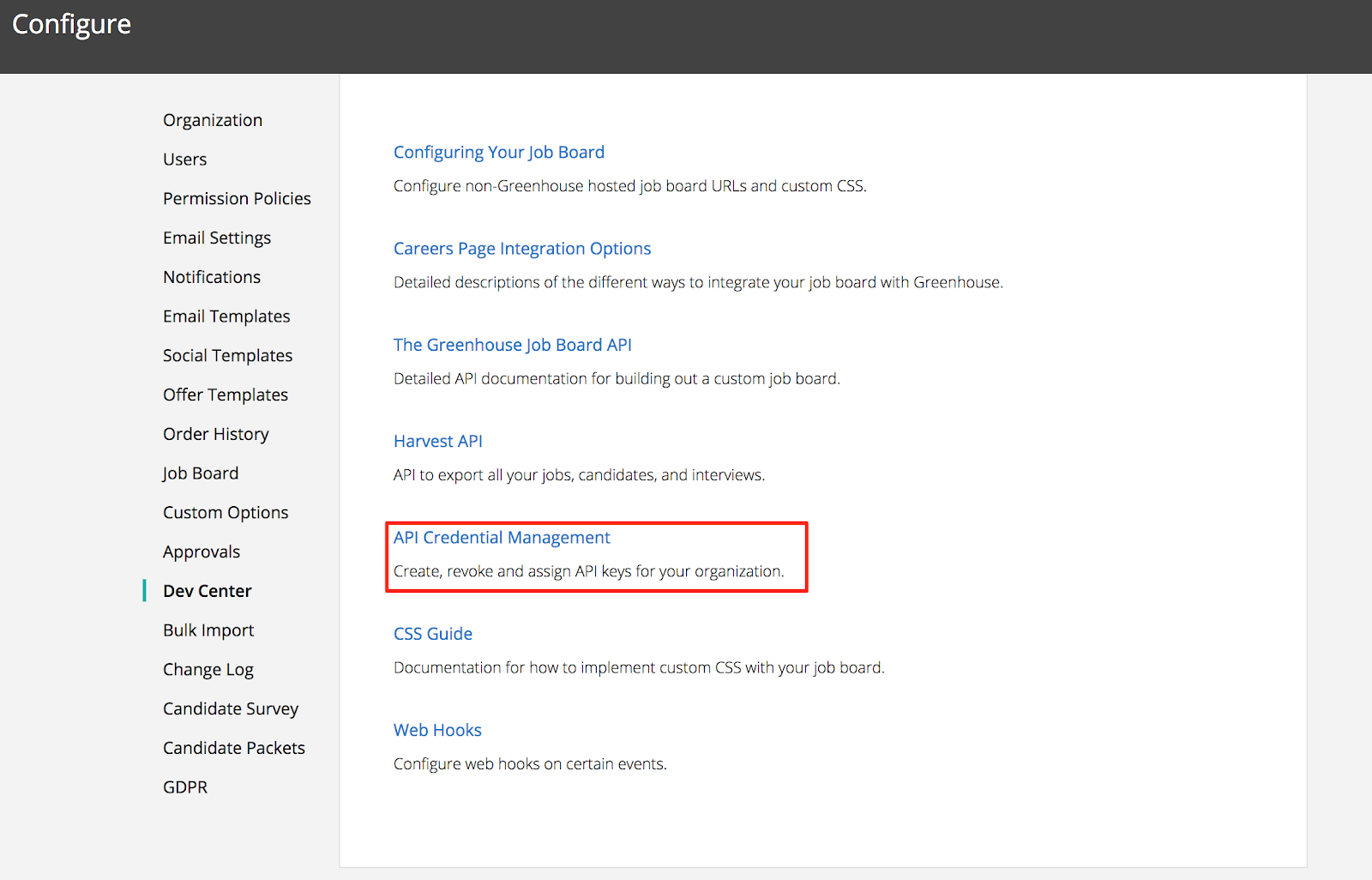 Creating the Ingestion API key:
Click on "Create New API Key"

Select the Type Partner and select the WePow option for the Client application, type "Wepow Ingestion" for description: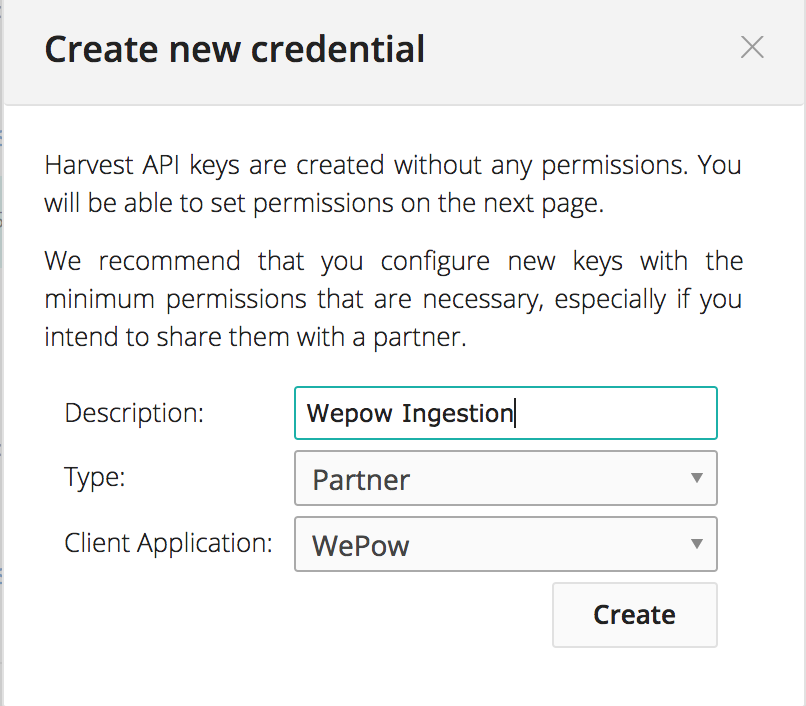 The modal window will close and the API key will be listed. Take note of the API key to provide it to your WePow account manager.
Creating the Harvest API key:
Follow the first 4 steps the same way as you did for the Ingestion API Key.

This time, select "Harvest" as the type, and use "Wepow Harvest" as description.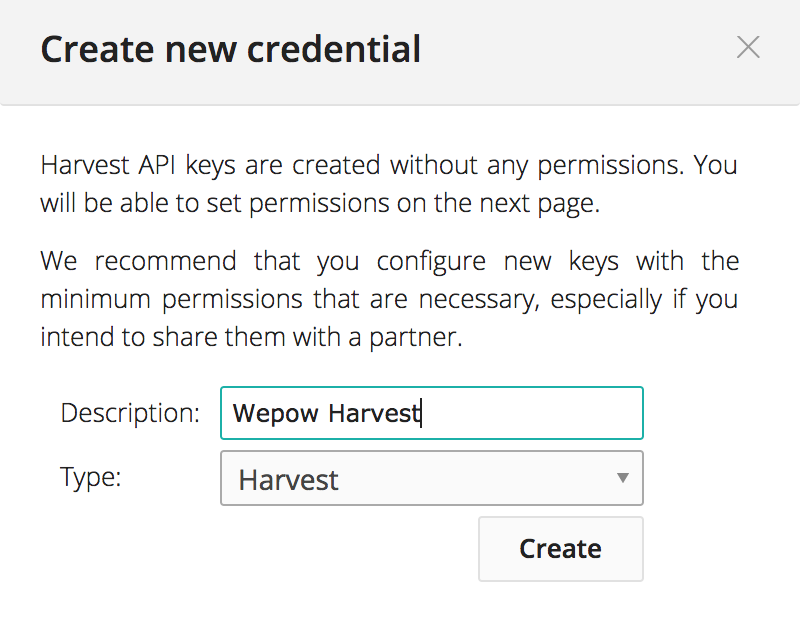 The modal window will close and the API key will be listed. Take note of the API key to provide it to your WePow account manager.
For more information about how to manage your API Keys in Greenhouse go to https://support.greenhouse.io/hc/en-us/articles/202842799-How-do-I-generate-API-keys-for-Partners-that-work-with-Greenhouse-
Adding a Take Home Test Stage
After our team enables the integration for your account, you can select and job and go to the Job Setup > Interview Plan to add a new stage called Wepow. Site Admins with the advanced permission to Bulk Edit Jobs can also add this stage to many jobs at once.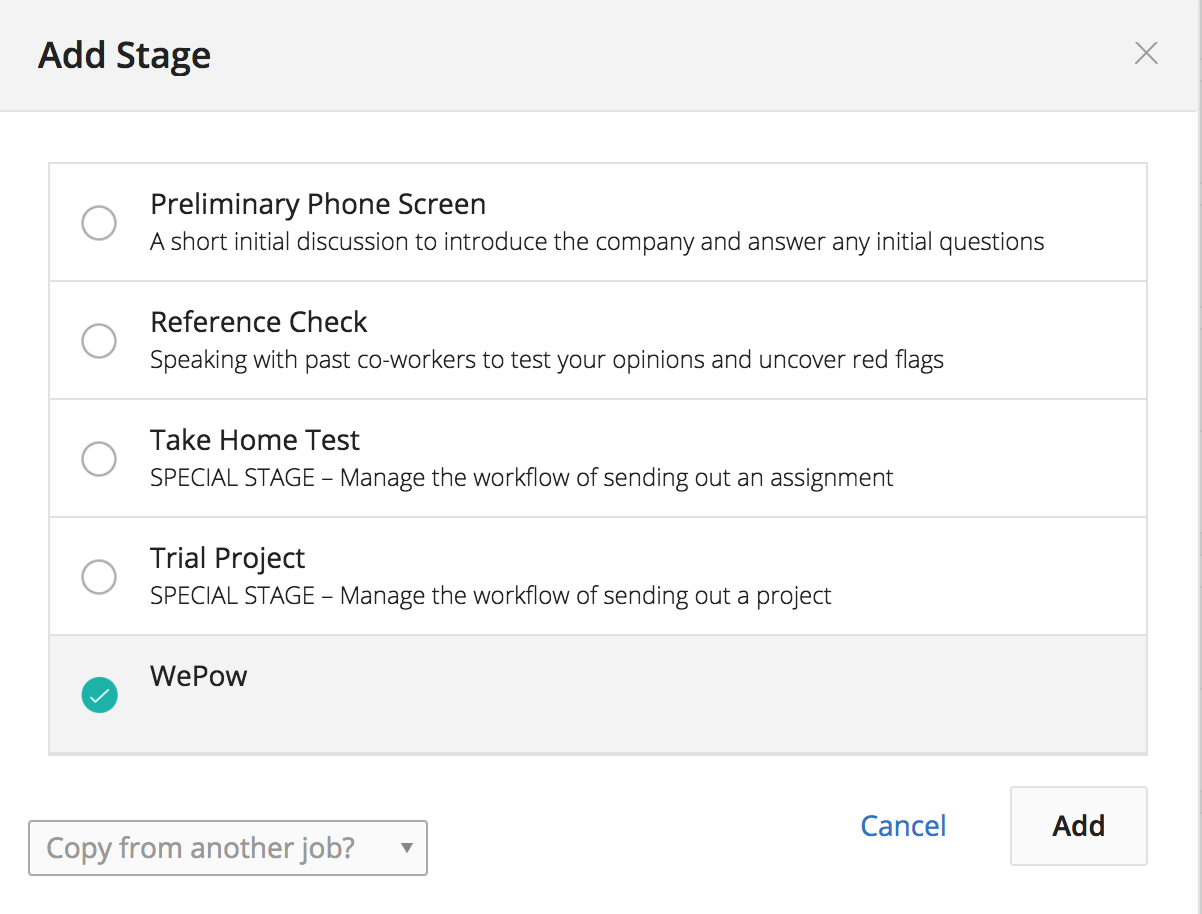 Place the stage in your plan, edit the Interview Kit to select the correct test, then move candidates into the stage to send over the test! Once they complete it, graders will be notified and can view a link to their submission directly from the scorecard!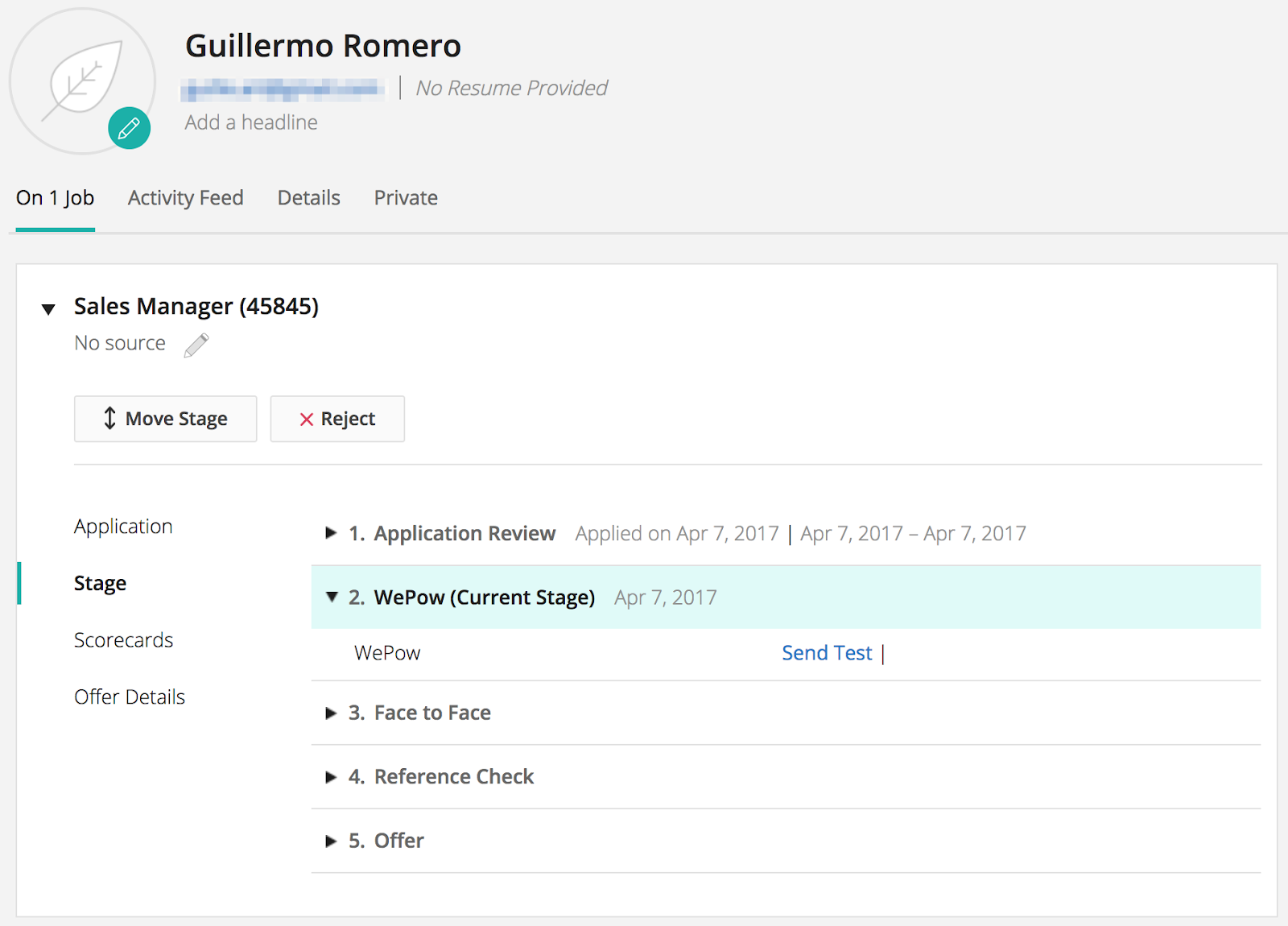 Linking a Wepow Interview to a Job in Greenhouse
If you enabled the "Candidate Import" module, you'll be able sync you candidates in Wepow to Greenhouse. To do this, open the "Settings" section of your interview in Wepow and select the Greenhouse Job you wish to link to this interview.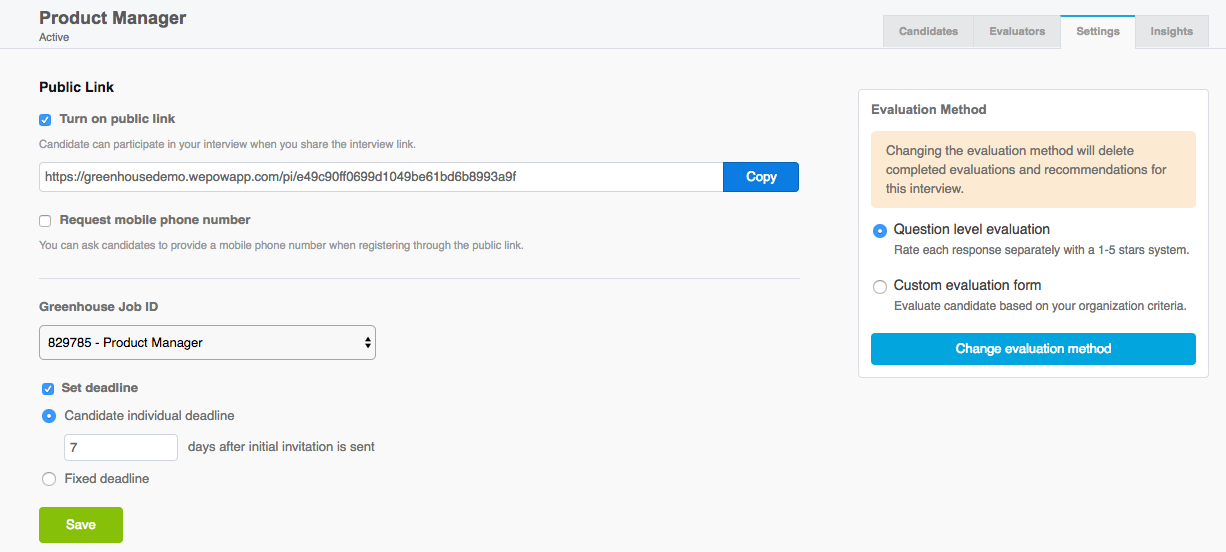 Next time a new candidate is added to this interview, the data will be automatically sent to Greenhouse.