Permissions: Job Admin or above
Product tier: Available for all subscription tiers
Users who enabled the Google Calendar integration can schedule interviews to calendars where they have appropriate editing permissions. In this article, we will cover how to schedule and invite interviewers to a user's personal calendar event.
Click here for details about scheduling interviews in a shared Google Calendar.
Schedule a new interview
Navigate to a candidate profile with an interview that needs to be scheduled and click the Stage tab. (Jobs > Job > Candidates > Stage)
Find the interview you want to schedule and click Schedule Interview.
Note: To make sure scheduling goes smoothly, we always recommend requesting the candidate's availability before scheduling an interview. Click here to learn more.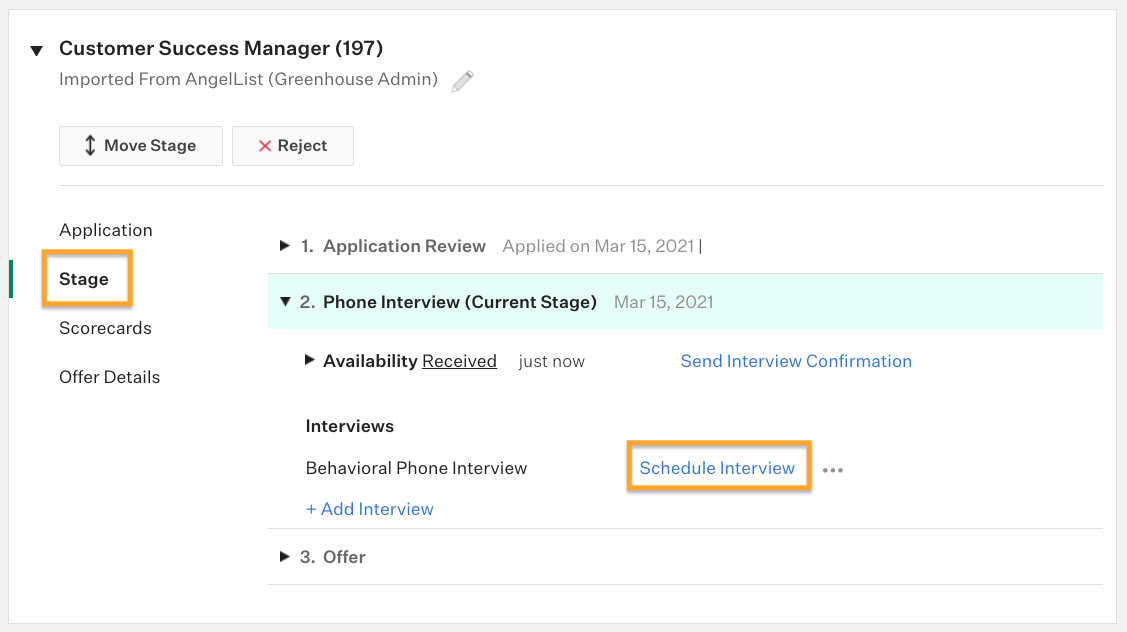 Select your timezone and calendar
When you schedule an interview, some settings will be automatically selected based on your user account and organization configuration. However, you can update these options by clicking the Settings icon.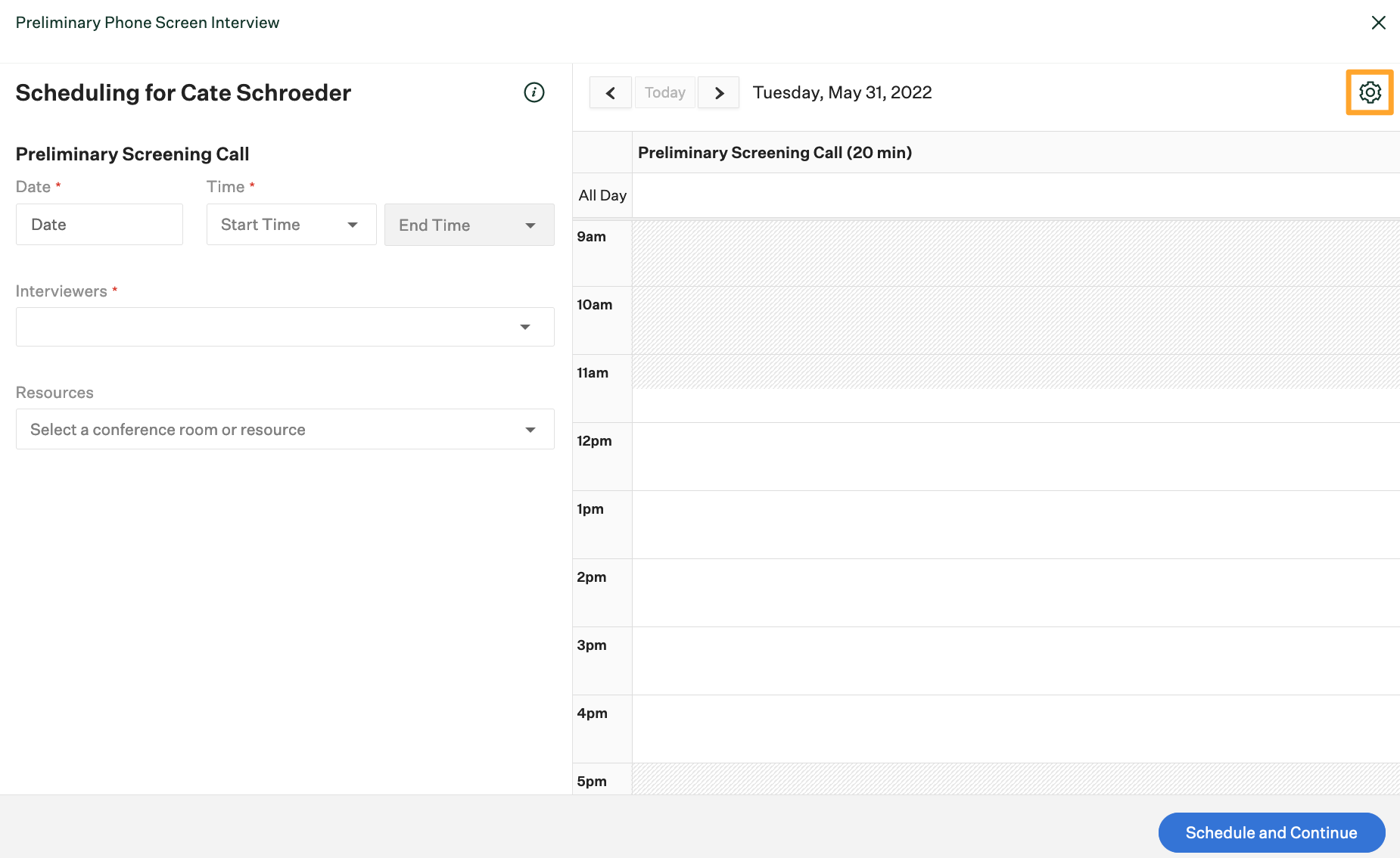 You can select a new Time Zone, Calendar Type, and Calendar Name for the interview.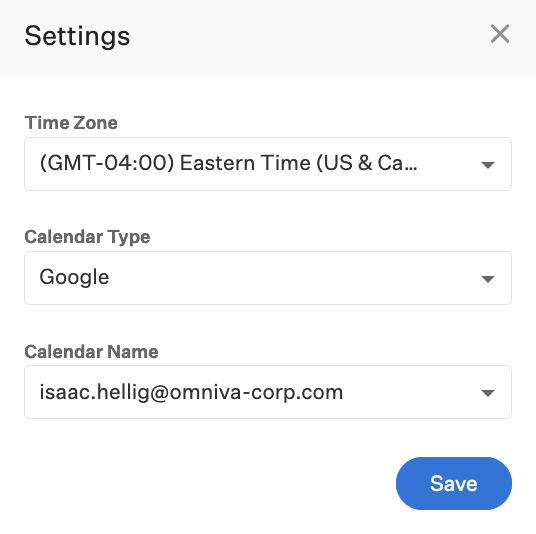 When you're finished, click Save. These settings will be automatically selected anytime you schedule an interview.
Add interview details
Enter the interview details (date and time, interviewers, location, and office) in the left panel.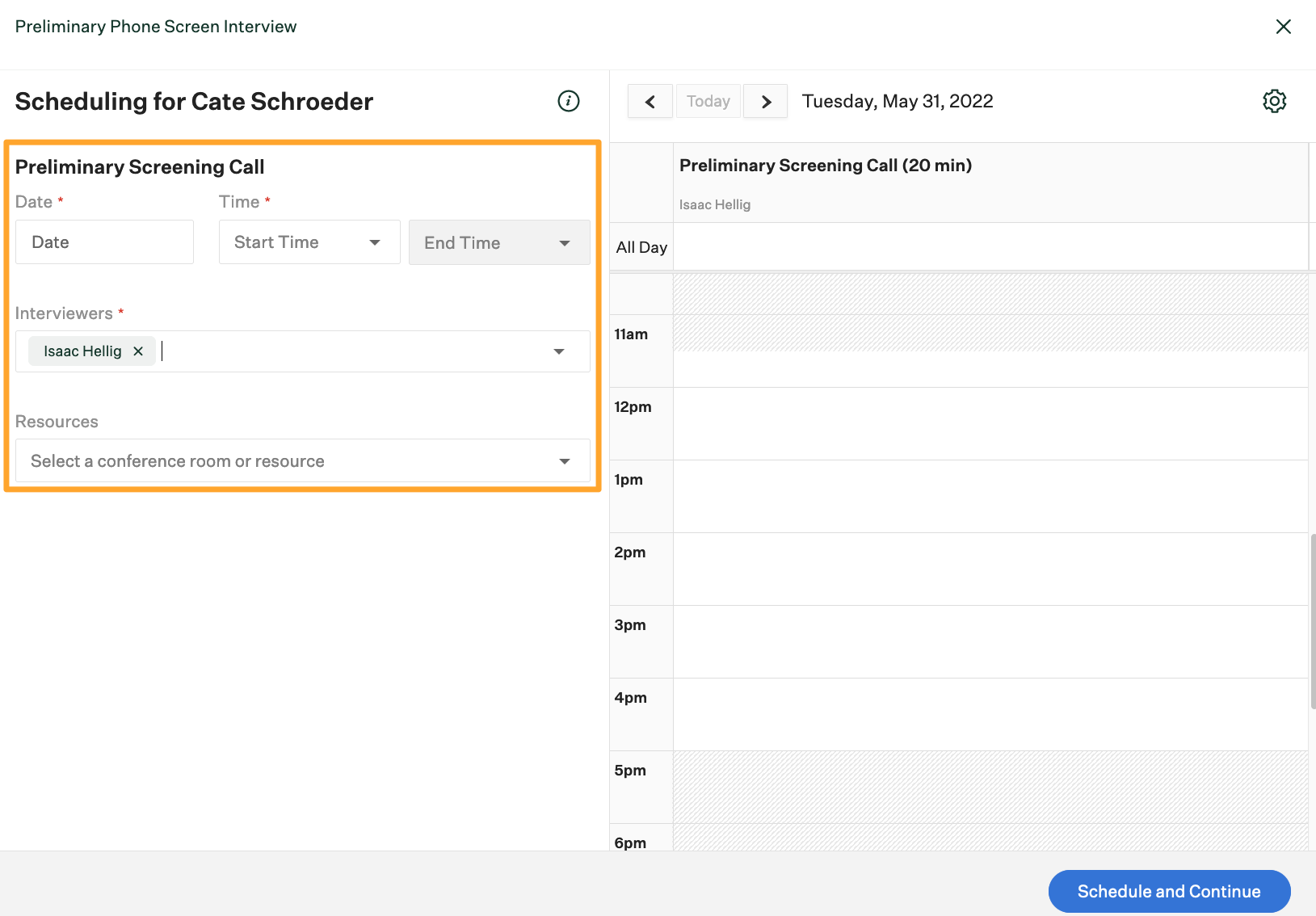 If your organization's Google Admin has configured calendars for conference/interview rooms, they can be selected in the Resources dropdown menu. If you select a resource, it'll be added directly to your interview invite. Click here to learn more about scheduling resources.
If the candidate submitted their availability for an interview, it will display in white blocks in the calendar panel. Availability for a selected room or resource will also display in this panel.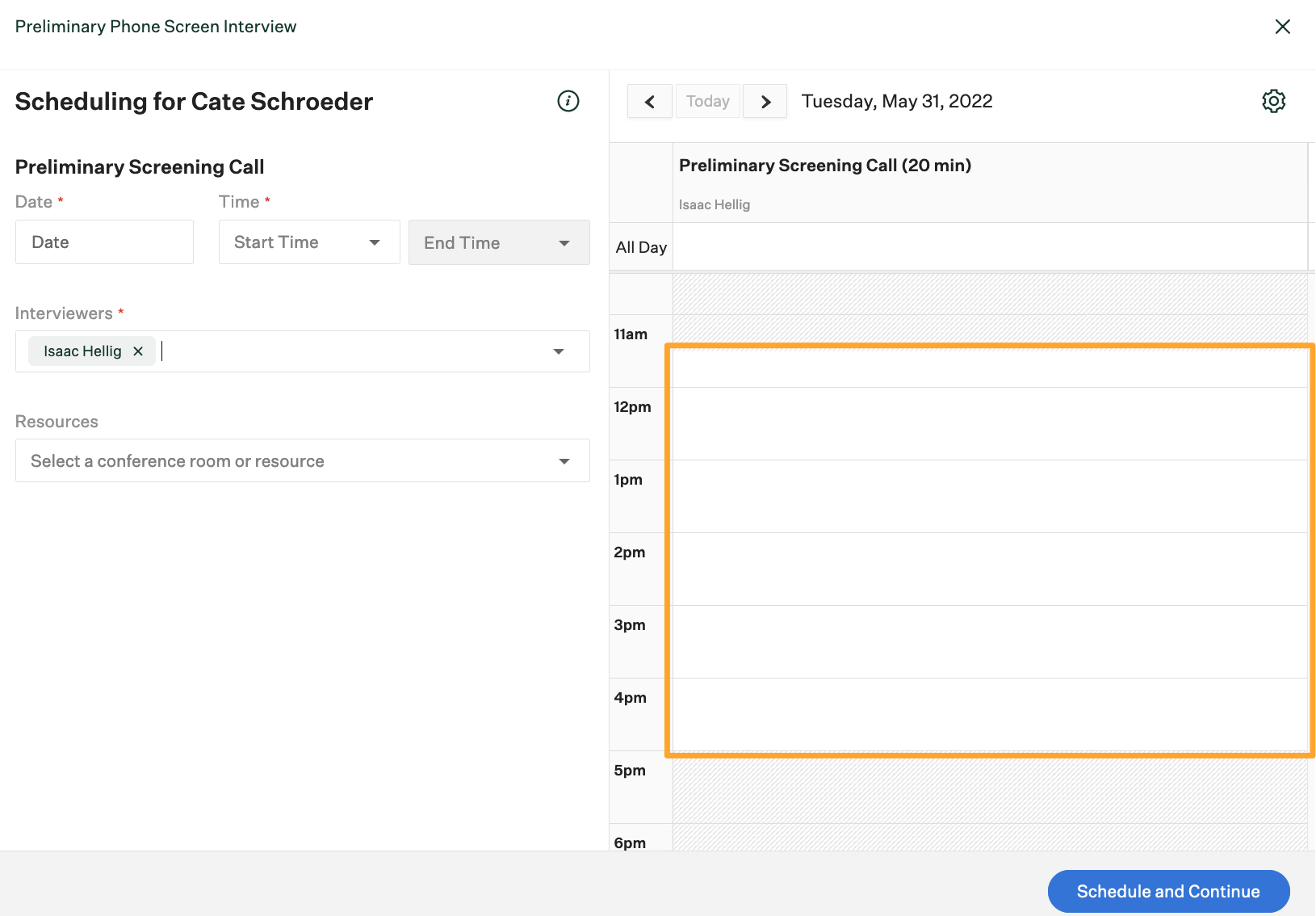 Select a slot for your interview by clicking an open section on the calendar. You can tweak the specific timing using the left panel. If you're having issues finding an open slot on a specific day, you can navigate between days at the top of the page.
Note: To see the availability of a member of the hiring team, you must have the Make changes to events permissions for the interviewer's calendar. Click here to learn more.
When you're finished entering details, click Schedule and Continue.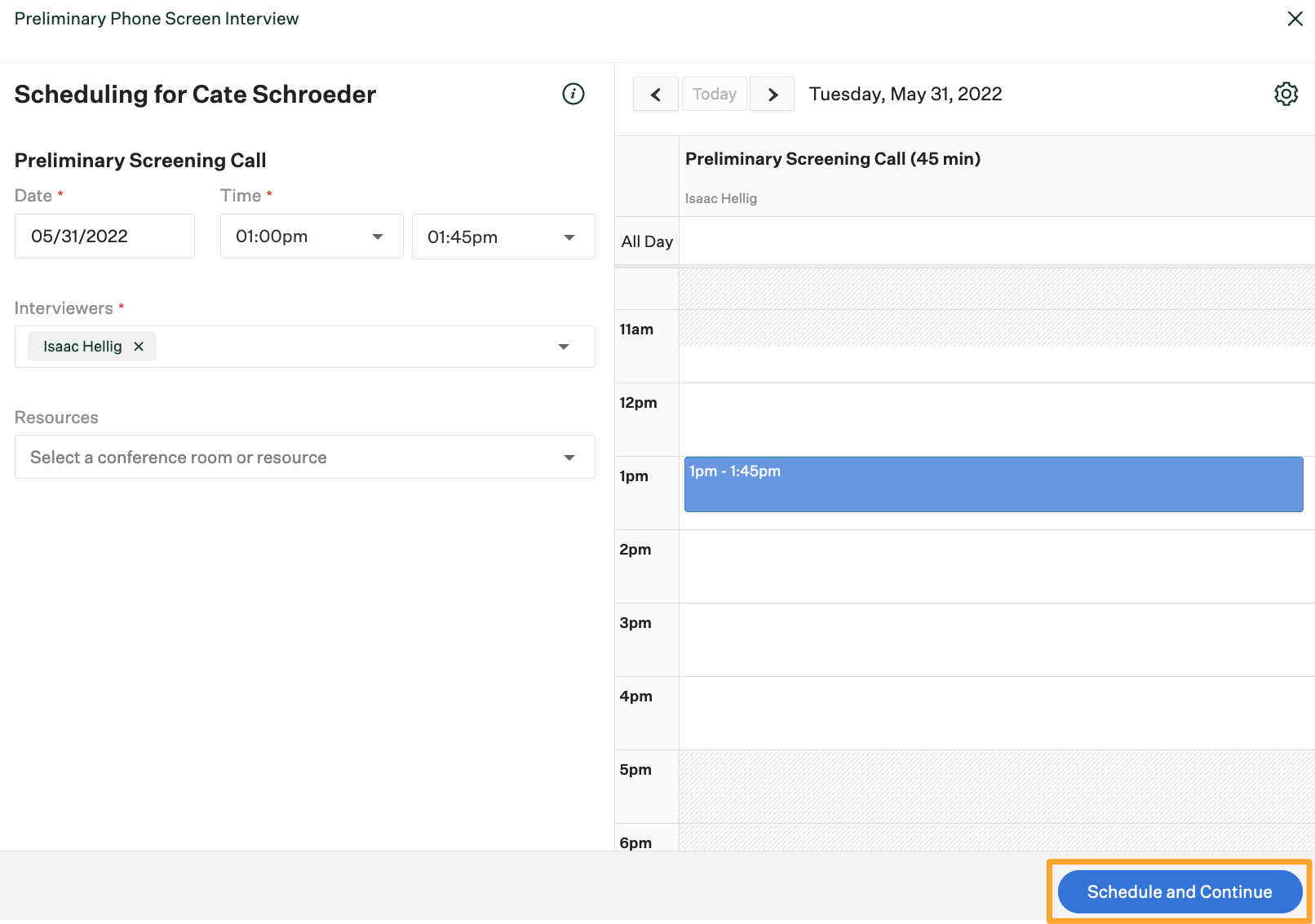 On the next page, use the Schedule Summary panel on the right to verify that the interview details are correct.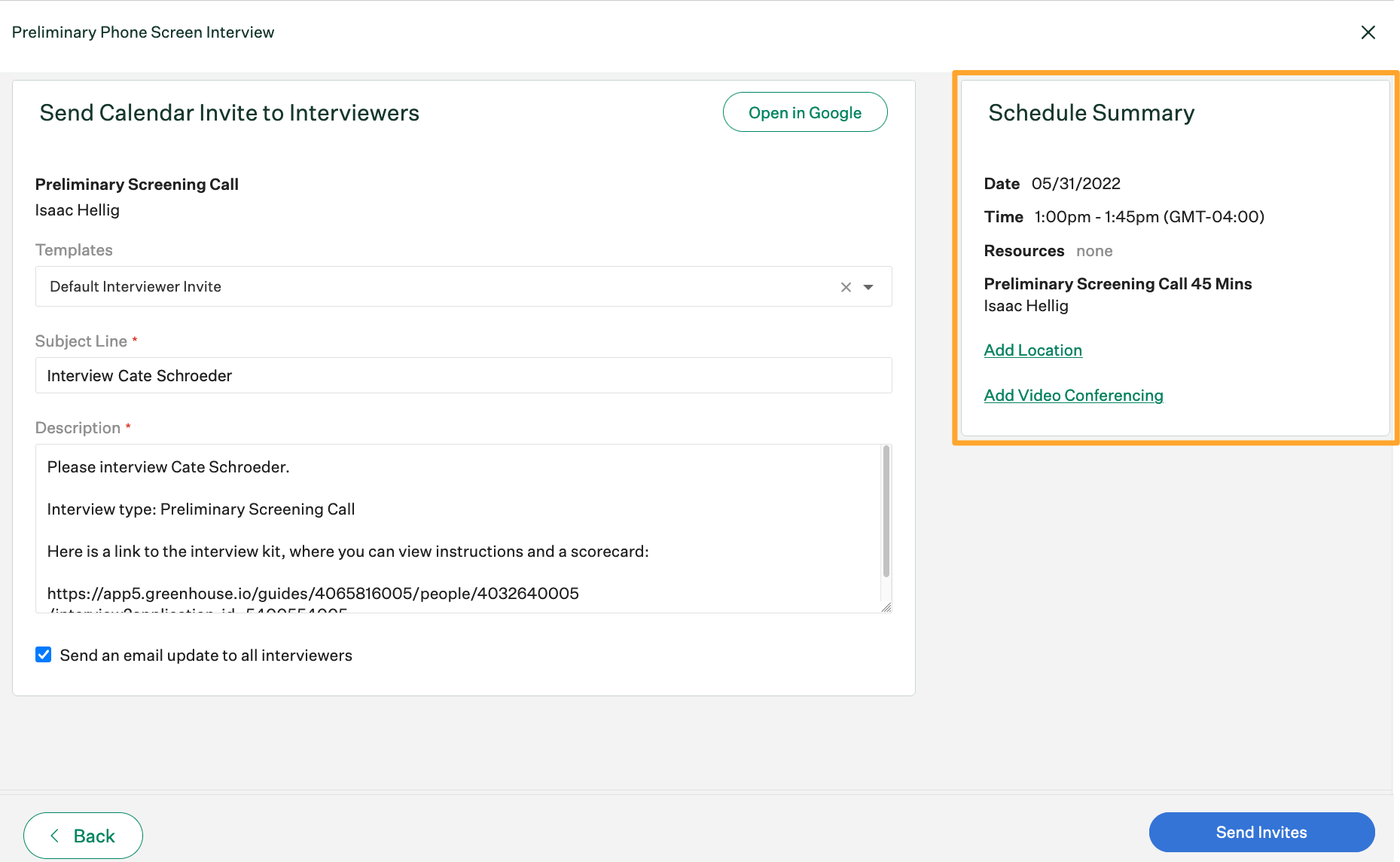 Before sending an invite, you can select an invite template from the dropdown menu, or type your own in the text field.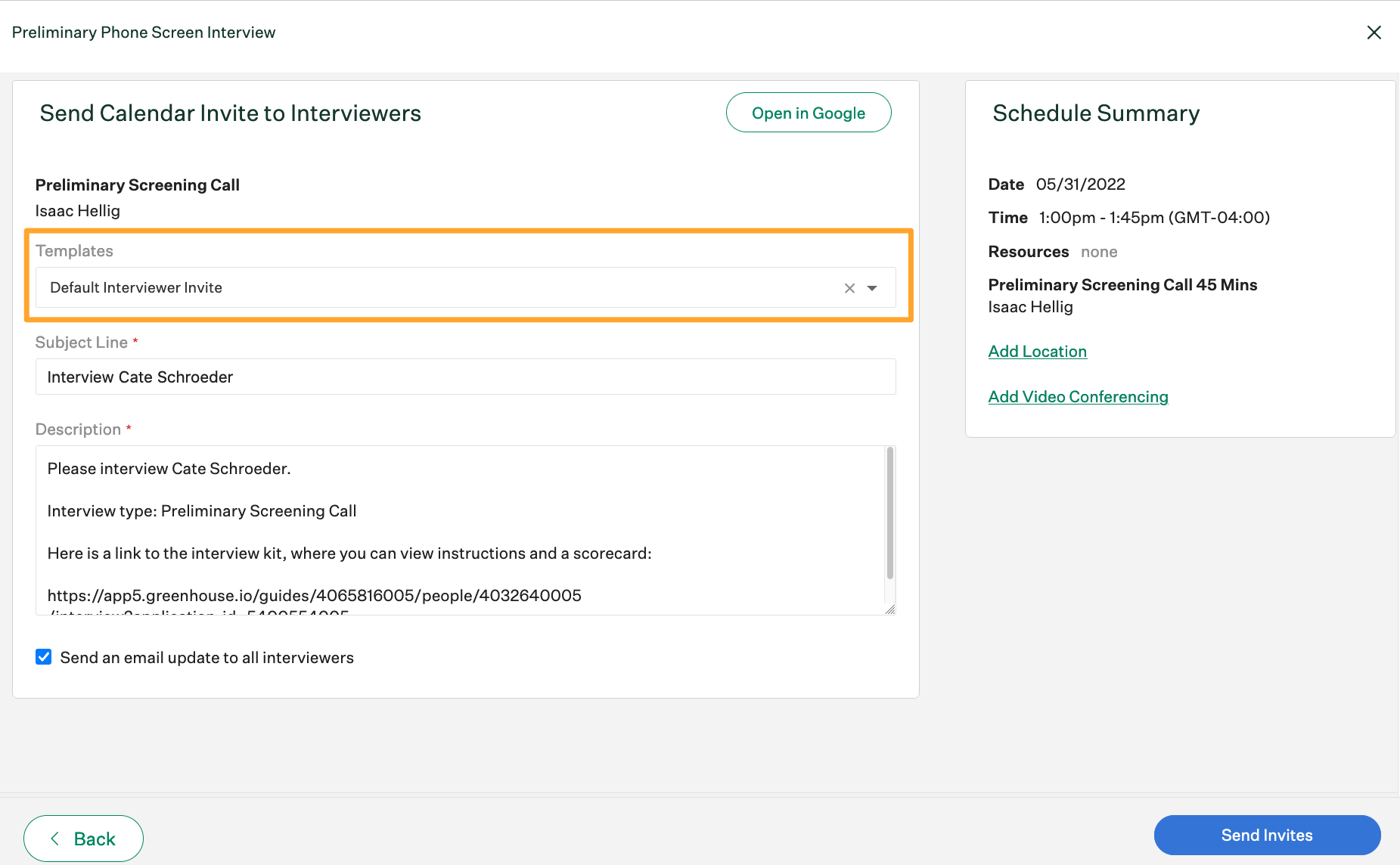 If you want to notify interviewers of the event by email, select the Send an email update to all interviewers box.

When you're ready, click Send Invites.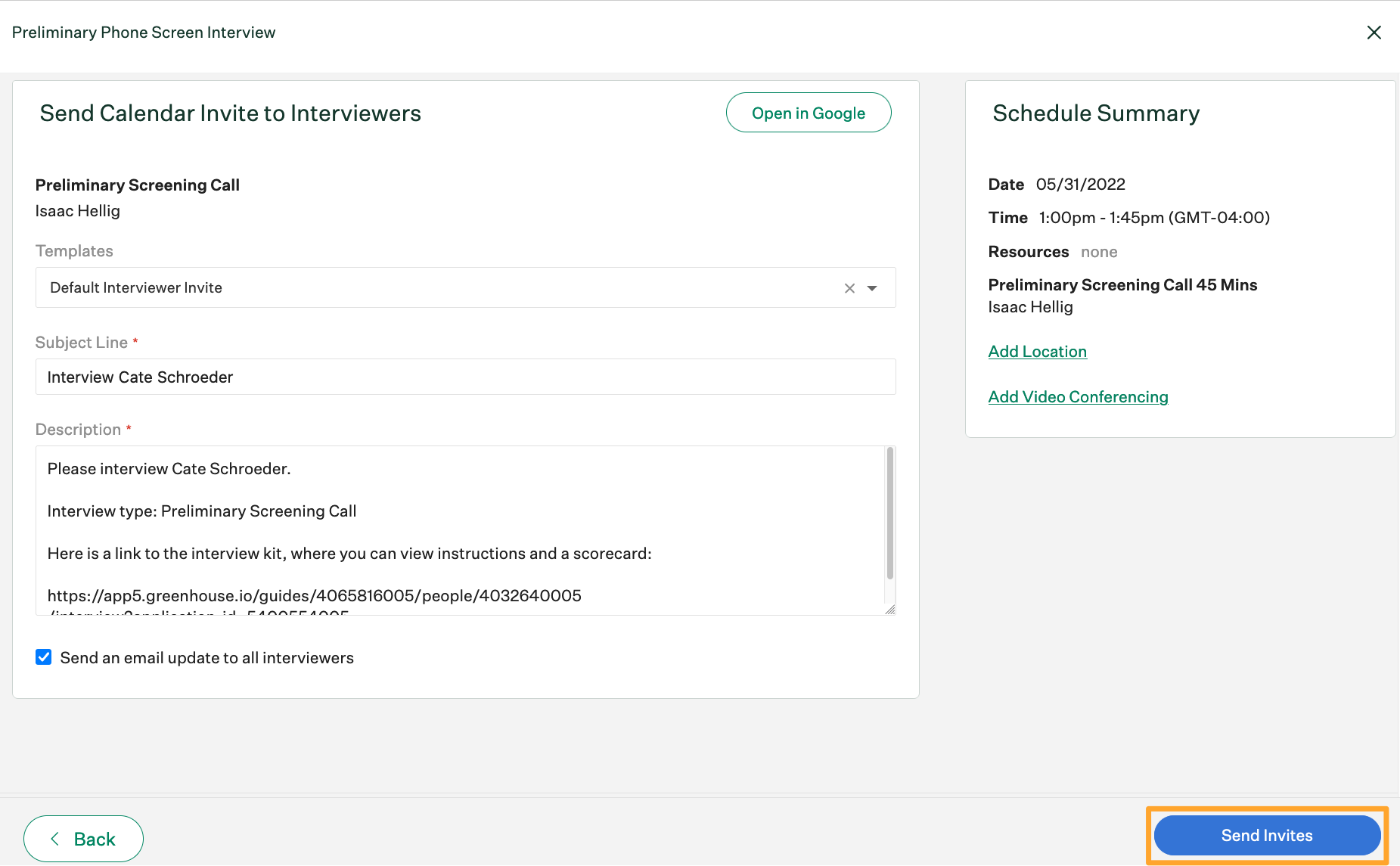 Note: Greenhouse Recruiting's scheduling calendar (the system that lets us compile and manage your interviewing schedule) is added to all of your organization's interviews as a guest. By sending an email update to all interviewers you ensure that Greenhouse Recruiting is also notified of the change to your organization's interview schedule.
When you send invites, all listed interviewers and the Greenhouse Recruiting scheduling guest user will display on the event as attendees. You'll need to send a separate interview confirmation email to the candidate for the new interview.