Note: Some organizations have been updated to a new version of the scheduling process. If the steps in this article do not align with the workflow you see after clicking Schedule Interview or Schedule All on the candidate's profile page, please click here to learn more about the updated process.
Users who have enabled the Google Calendar integration will be able to schedule interviews to calendars where they have appropriate editing permissions. In this article, we will cover how to schedule and invite interviewers to a user's individual calendar event.
To learn more about how to schedule interviews to your organization's shared calendar, please click here.
Note: The following steps cover how to invite interviewers in your organization to an interview. Once an interview is scheduled, a confirmation email should be sent to the candidate to confirm the interview date and time.
Navigate to a candidate profile with an interview that needs scheduling (All Jobs> Job >Candidates). From the candidate profile, navigate to the Stage tab on the On Job panel.

Expand the Stage that requires a scheduled interview and click Schedule Interview.
Note: It is recommended to request the candidate's availability prior to scheduling an interview. Click here to learn more.

Settings
From the Schedule Interview page, expand the Settings panel. By default, any scheduled interviews will be added to your own calendar.
Double-check that your Google calendar is connected.

The Time Zone will default to your user account's time zone. Interviews that are scheduled between time zones are automatically adjusted for the interviewer and the candidate to reflect their respective time zones.
You can return to Settings panel at any time to make updates and Greenhouse will remember your selections the next time you schedule an interview.
Interview Details
From the Interview Details panel, manually input the interview date and time, or use Greenhouse Recruiting's Find Times feature. Additionally, select the Interviewers, Location, and Office for the interview.
If your organization's Google Admin has configured calendars for conference/interview rooms, they can be selected from the Resource drop-down menu. If available, select a room to add it directly to your interview invite. For more information, click here.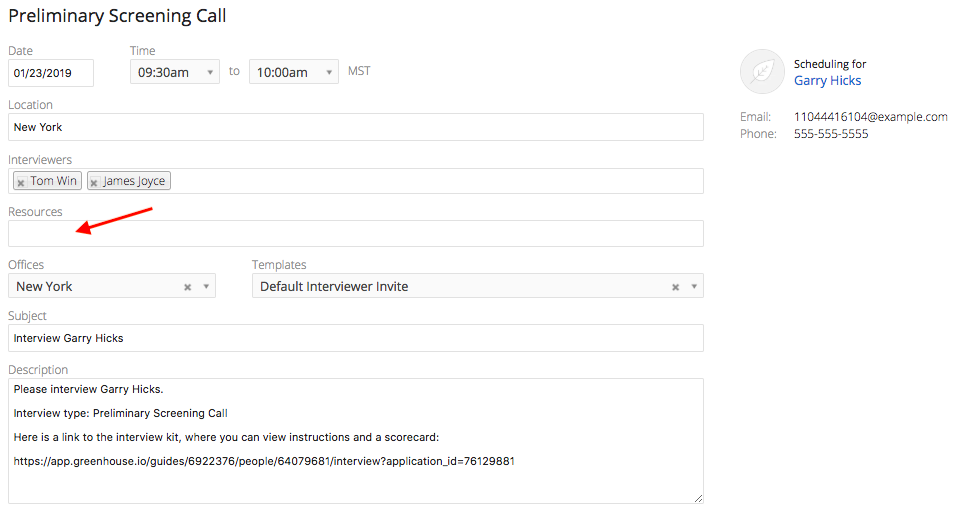 The invitation email sent to the selected interviewers is drawn from the Default Interviewer Invite template.
To use an alternative template, use the provided Templates dropdown menu or edit the Description field directly

Find Times
Note: Interviewers must be added in the Interview Details panel before you can use the Find Times feature.
As an alternative to manually inputting a date and time for the interview, users can compare the availability between multiple interviewers, different conference rooms, and/or the candidate's schedule. To choose the best date, time, and location for the interview, click Find Times.
Note: In order to see the schedules of rooms and/or colleagues, you will need to have been granted Make changes to events permissions to those calendars. For more information, click here.

From the subsequent page, users will find the calendar details for all selected interviewers and conference rooms, as well as the candidate's availability. Available times selected by the candidate will show up as white time blocks on the calendar while all other time slots they did not select will be shaded in gray.
Click any available time slot that best suits the schedules of your interviewers, candidates, and conference rooms.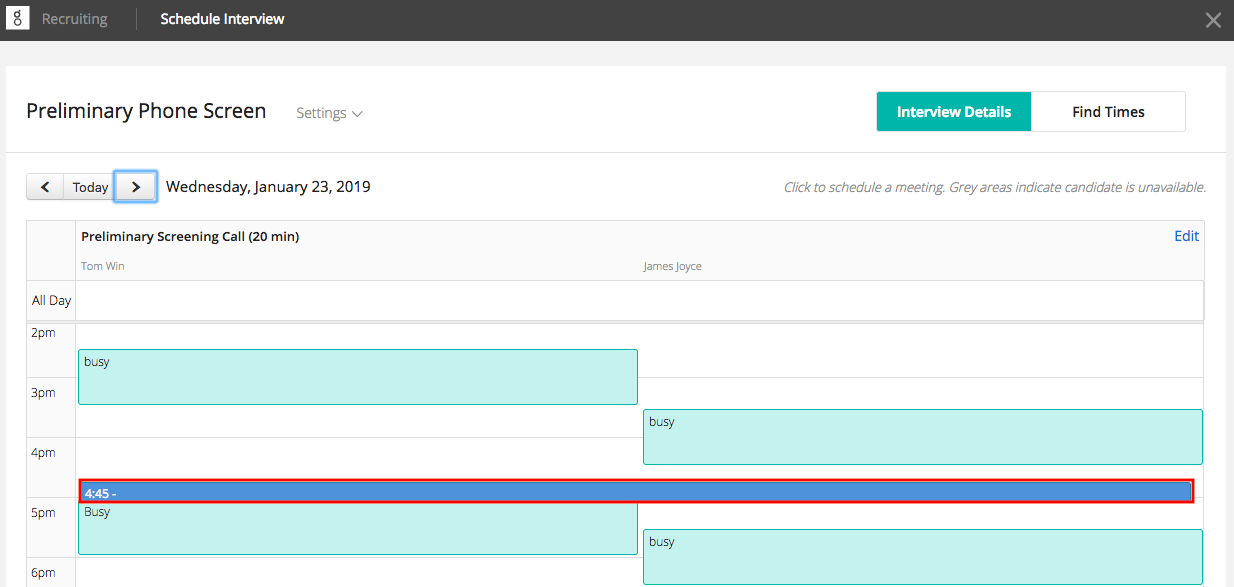 You can also toggle between days by clicking on the arrows at the top of the calendar to compare availability across different dates.
When finished, navigate back to Interview Details or click Send Invites to Interviewers.
Send Invite to Interviewers
Once the interview is configured, click Send Invites to Interviewers. Additionally, ensure that the checkbox for Send an email update to all interviewers is active.

Note: Greenhouse Recruiting's scheduling calendar (what enables us to compile and manage your interviewing schedule) is added to all of your organization's interviews as a guest. By sending an email update to all interviewers you ensure that Greenhouse Recruiting is also notified of the change to your organization's interview schedule.
Once sent, interviewers (and Greenhouse Recruiting) will be invited to the newly created interview. Users will also need to send a separate interview confirmation email to the candidate for the new interview.