Greenhouse Recruiting's integration with Google Calendar enables your organization to see interviewing availabilities, schedule, update, and delete interviews from calendars where users have appropriate permissions. In this article, we will cover how to enable the Google Calendar integration for an individual user account.   
Note: Every Greenhouse user who wishes to use the Google Calendar integration must perform the following configuration.
Click the ellipsis from your navigation bar and select Integrations from the dropdown menu.

From the Integrations page, use the provided search bar to find Google Calendar. 
Click Google Calendar from the subsequent results list. 

Click Connect on the right-hand side of the Google Calendar integration page. 

Input your Google credentials from the subsequent page. You will be prompted to provide Greenhouse Recruiting with permissions to view calendar resources on your domain and see, edit, share, and permanently delete all the calendars you can access using Google Calendar. Click Allow.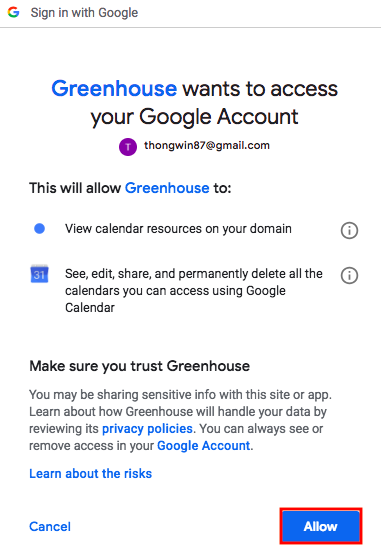 Google Calendar is now authorized for your Greenhouse Recruiting user account and you can schedule to Google Calendars where you have permissions to Make changes to events.
For more information on how to share Google Calendars (i.e. grant them permissions to view, edit, and/or manage) click here.