Any user with at least Job Admin level permissions on a job can send a Form to a candidate. However, only users assigned to a permission level with the Can edit forms permission stripe applied to it can create and edit Forms. In this article, we will cover which default permission levels have the Can edit forms permission stripe applied to it and how to add/remove the permission stripe from a custom Job Admin permission level. Lastly, we'll explore a 
Default Permission Levels with the Can Edit Forms Permission Stripe
By default, all permission levels provided by Greenhouse Recruiting except for the Basic permission level will have the Can edit forms permission stripe activated. The following permission levels will have the permission stripe activated:
Job Admin: Standard
Job Admin: Private
Site Admin
Note: The Can edit forms permission stripe cannot be removed from the Job Admin: Standard and Site Admin permission level.
Add/Remove Can Edit Forms Permission Stripe from Job Admin Levels
In addition to other permission levels in Greenhouse Recruiting like Basic, Job Admin: Standard, and Job Admin: Private, Greenhouse Recruiting also provides a Job Admin: Custom permission level to create new levels of visibility and access that is needed to manage a diverse recruiting process.
To add or remove the Can edit forms permission stripe from a custom Job Admin level, click the Configure icon 

in the upper right-hand corner and navigate to Permission Policies on the left-hand panel. 

From the Permission Policies page, navigate to the All Job Admins section and click See and manage job admin levels.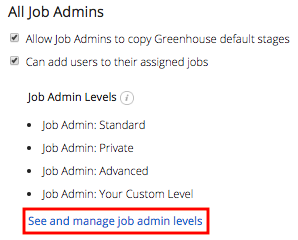 Find the name of your custom Job Admin level from the provided list.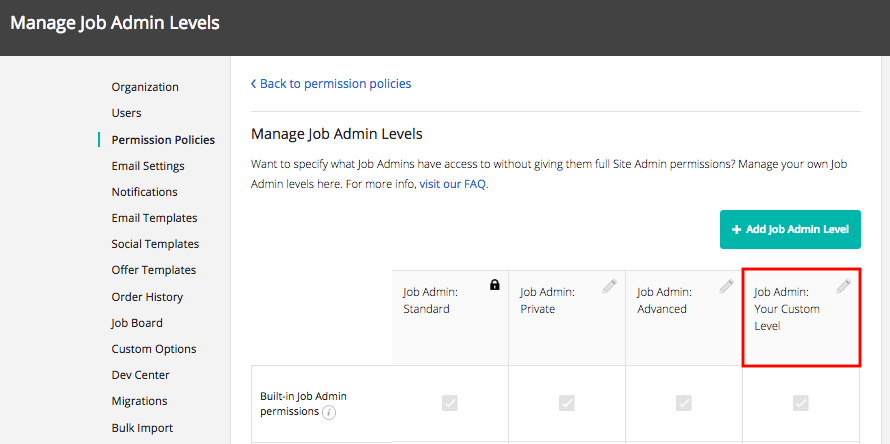 Navigate down the rows of permission stripes and place a check in the Can edit forms row underneath your custom Job Admin column. 

Note: Since users with Job Admin permission levels can only add other users to jobs at a permission level equal to their own, users who do not belong to a Job Admin permission level with the Can edit forms permission cannot add a user Job Admin:Standard to a job (i.e. a Job Admin:Custom lacking the Can edit forms permission cannot add another a Job Admin:Standard to the job).