In addition to other permission levels in Greenhouse like Basic, Job Admin: Standard, and Job Admin: Private, Greenhouse Recruiting also provides a Job Admin: Custom user permission level to create levels of visibility and access that is needed to manage a diverse recruiting process.
With the Job Admin: Custom user permission level, organizations are able to configure and name brand new levels of Job Admins with a mix of different permissions before assigning them to jobs!
To start, click the Configure icon

in the upper right-hand corner of your screen and navigate to Permission Policies on the left-hand panel.

From the Permission Policies page, navigate to the All Job Admins header and click See and manage job admin levels.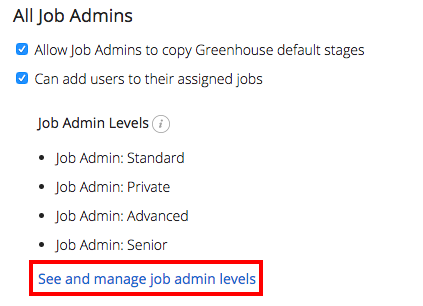 The Manage Job Admin Levels page will outline the various permissions for each of the Job Admin levels in your account. You can add, edit, and remove certain individual permissions from Job Admin levels to create new combinations of permissions, or delete the Job Admin level entirely.
To create a new custom Job Admin level, click + Add Job Admin Level. A new column will appear that will allow you to provide your new job admin level with a name and to select the various permissions granted to the level.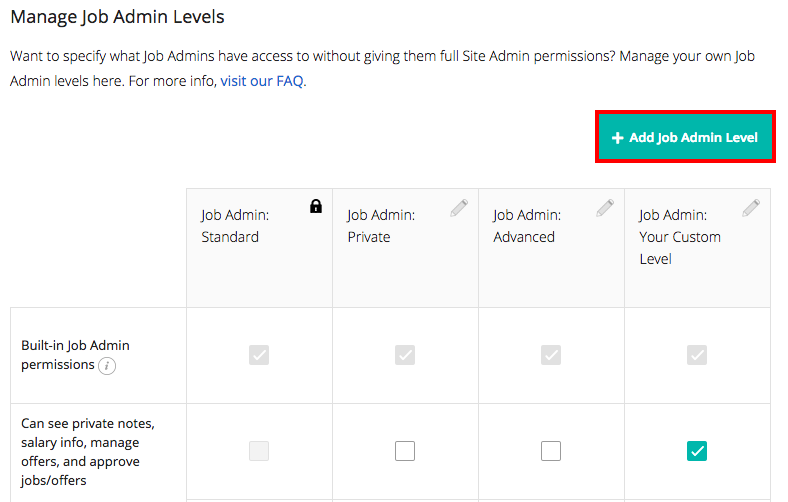 Once you have the role configured the way you want it, you'll be able to assign your custom job admin level to users on each of your jobs or assign users in bulk on the Configure > Users page.