TextUs is a business class messaging service that allows your organization to reach out to candidates via text message. With TextUs, users can use their existing desktop landline or a virtual number to send a message from their computer or smartphone. In this article, we will cover:
Configure User Setup Permissions in Greenhouse Recruiting
In order to enable the Greenhouse/TextUs integration, you will need the developer permission Can manage ALL organization's API Credentials.
Contact a Greenhouse user in your organization with Site Admin level permissions with the additional user-specific permission Can edit another user's advanced permissions to apply the API credential management permission to your account. Have the user with Site Admin level permissions edit your user account's permissions by navigating to the Configure icon > Users > Your Name.

The user with Site Admin level permissions should navigate to the Permissions panel on your user page and expand the Developer Permissions dropdown menu. 
Select Can manage ALL organization's API Credentials so that a check is in the checkbox. When finished, click Save.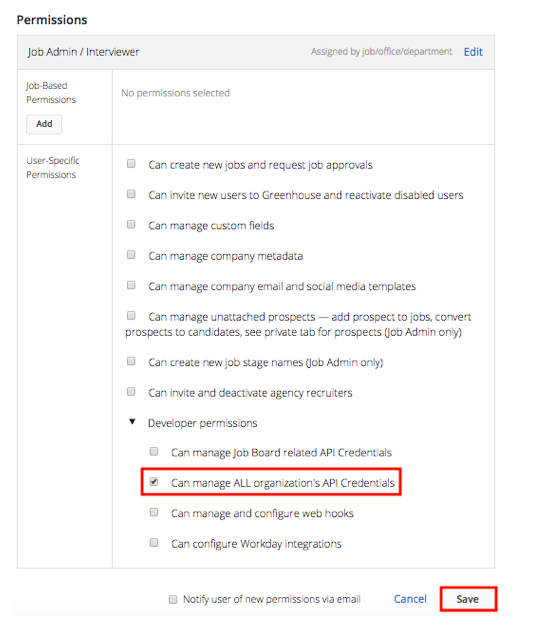 Repeat as necessary for any other user that should have access to set up the integration.
Create a Harvest API Key for the Greenhouse/TextUs Integration 
To create a Harvest API key for the integration, click on the Configure icon in the upper right-hand corner. Navigate to Dev Center on the left-hand panel.
From the Dev Center page, click API Credential Management.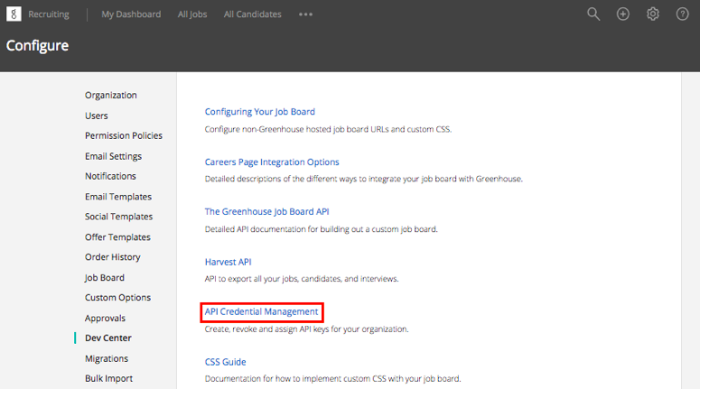 From the API Credential Management page, click Create New API Key to generate the API key for TextUs.

From the Create new credential dialog box, give your API key a name and select Harvest from the Type dropdown menu. When finished, click Create.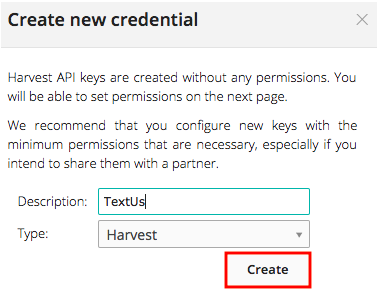 On the Manage API Key Permissions page, provide the following permissions for the API Key:
Activity Feed (all)
Candidates

GET: List Candidates
POST: Add Note

Users

GET: Retrieve User
Get: List Users

When finished, click Update. Your Harvest API key for the Greenhouse/TextUs integration is created and configured. Navigate back to the API Credential Management page, and copy your new TextUs API key.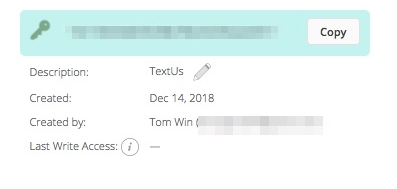 Enable Greenhouse/TextUs Integration 
Log into TextUs on your web browser and select the Settings icon from the top right corner.  

Once in your TextUs Settings, click on the top navigation Integrations. From there click the Greenhouse button.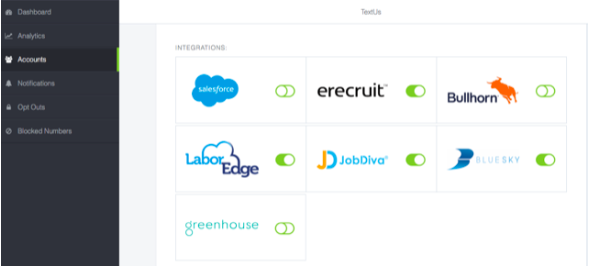 From the subsequent dialog box, input your Greenhouse email and copied API Key. 

With the TextUs Chrome Extension you'll be able to import contacts right from their Greenhouse profile. TextUs Reverse Number Lookup will check if the number is a mobile so you know you can text.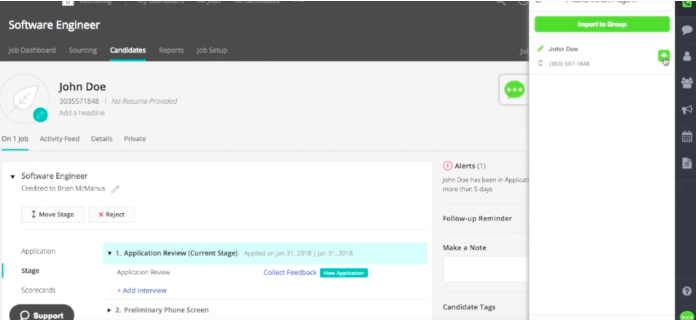 Once a contact is imported,you can start texting with them all without having to leave your Greenhouse workflow.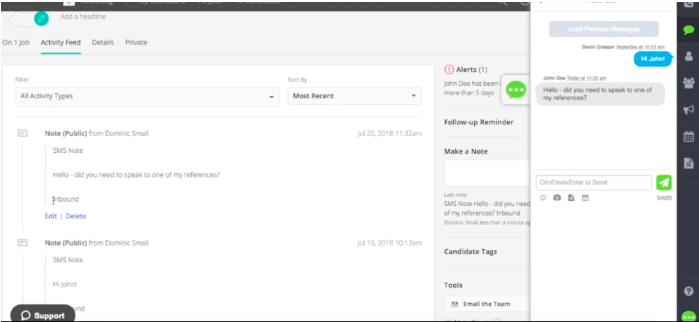 FAQs: 
Why aren't my texts sending?
Your text messages may not be sending for a number of reasons. Please reach out to support with more details so we can help resolve this issue for you.
Please provide the following information:
Are your messages showing as "Delivered" or "Not Delivered" (red)?
What are some of the numbers you are having trouble texting to? 
How do I send a SMS message to a candidate when I am in Greenhouse?
You'll need to have the TextUs Chrome Extension installed and make sure you are logged in to TextUs for the Extension to appear. Visit https://textus.com/apps/chrome-extension/ to install and learn more.
Why are my SMS messages not tracking in Greenhouse?
Be sure to check your account is correctly integrated by visiting the Integrations page. If it is not integrated please follow the instructions on how to integrate.
Where does the TextUs Chrome Extension read a number from in Greenhouse?
The TextUs Chrome Extension pulls the phone number listed below the candidate name by default.
How do I delete a contact?
We rarely recommend deleting contacts! If a user has requested to be opted out it is best practice to lock them so they can't be texted but you have the message and contact history still visible for recording purposes.
To delete or opt out a user you need to open the conversation and hit the Contact Info icon where you will find the trashcan to delete or the lock to opt out.
Reminder: if you delete a contact, you will delete their entire chat history. Even if you add the contact again, their conversation will not reload.