Login to Greenhouse to get your API Key.
In order to gain access to your zone you need to create an API Key that will be used by the integration engine. This key is different than an regular use, it can only be used in conjunction with the API. You will be able to assign only the required rights depending on your integration use cases. You will need to be a Super User as well as an Admin for the following.
From the Configure menu we will need to click the Dev Center then click Configuring Job Board and then API Credentials.
You should be also be able to go to the URL directly   https://app2.greenhouse.io/configure/dev_center/credentials
In that screen you can see the actual key, none should be there for TextUs at this point.
Click on 'Create New API Key' and select 'Harvest' for your TextUsAPIKey.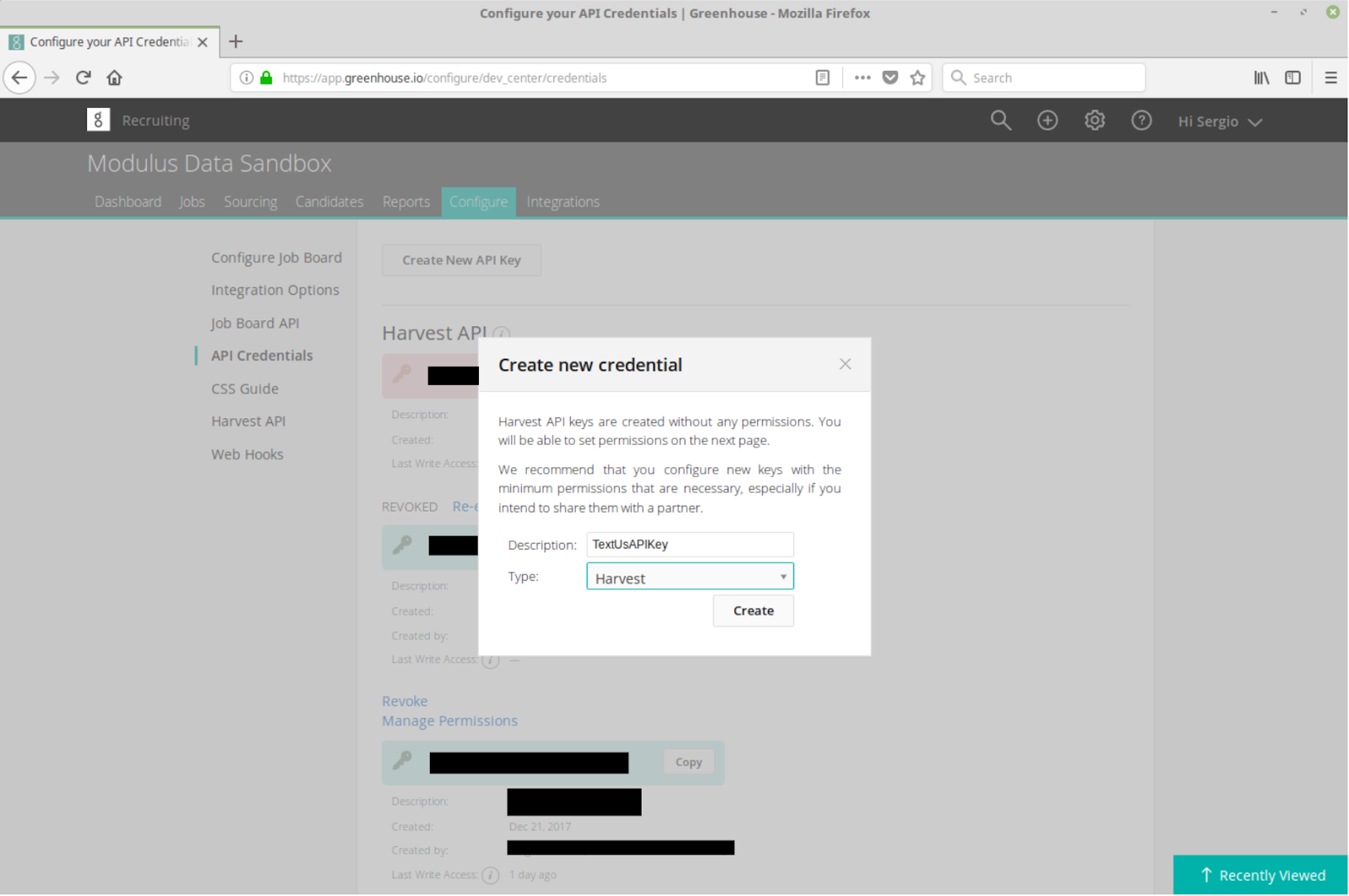 Once create the key is created you can change the access the API will have for each section of the application.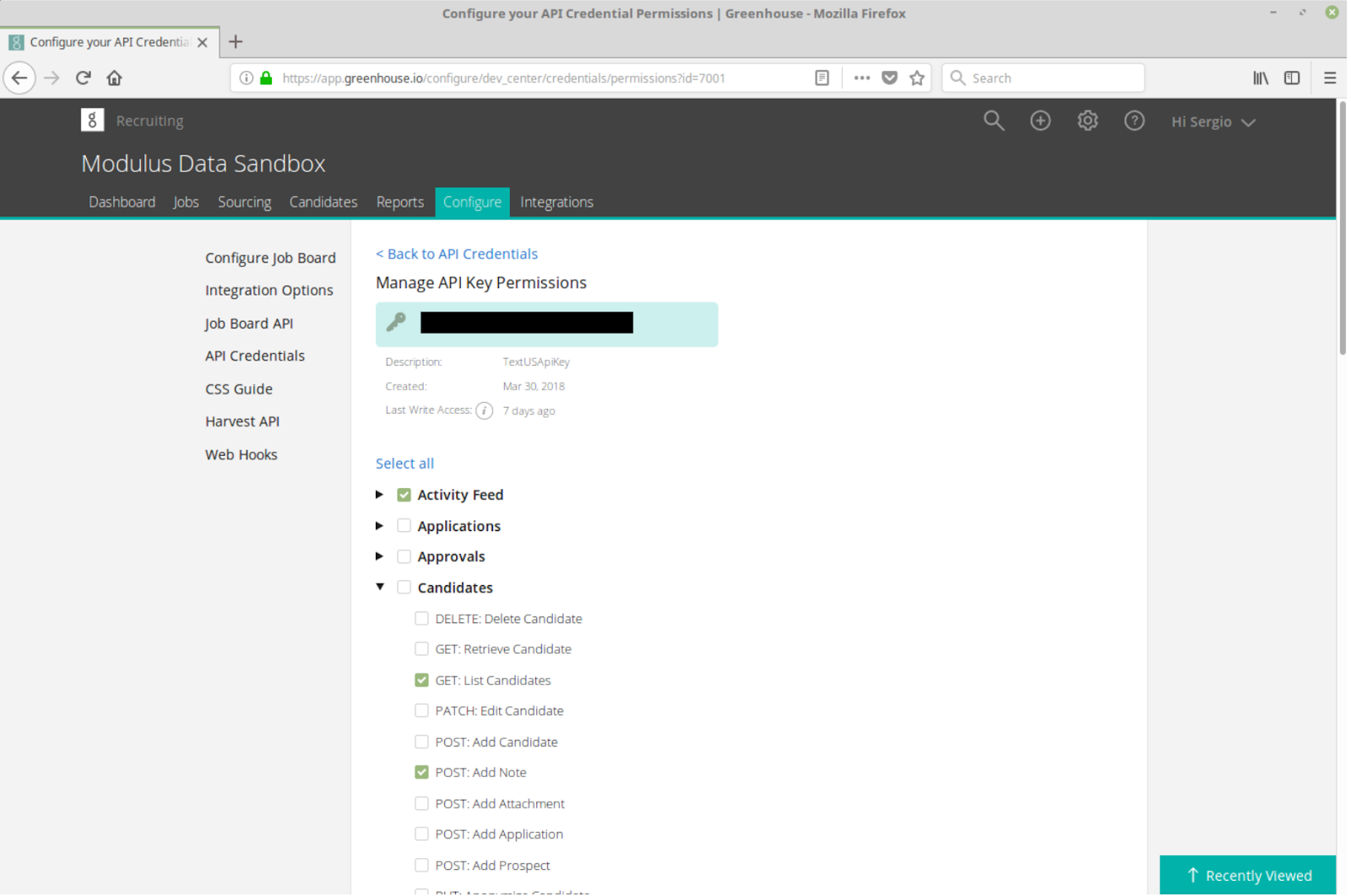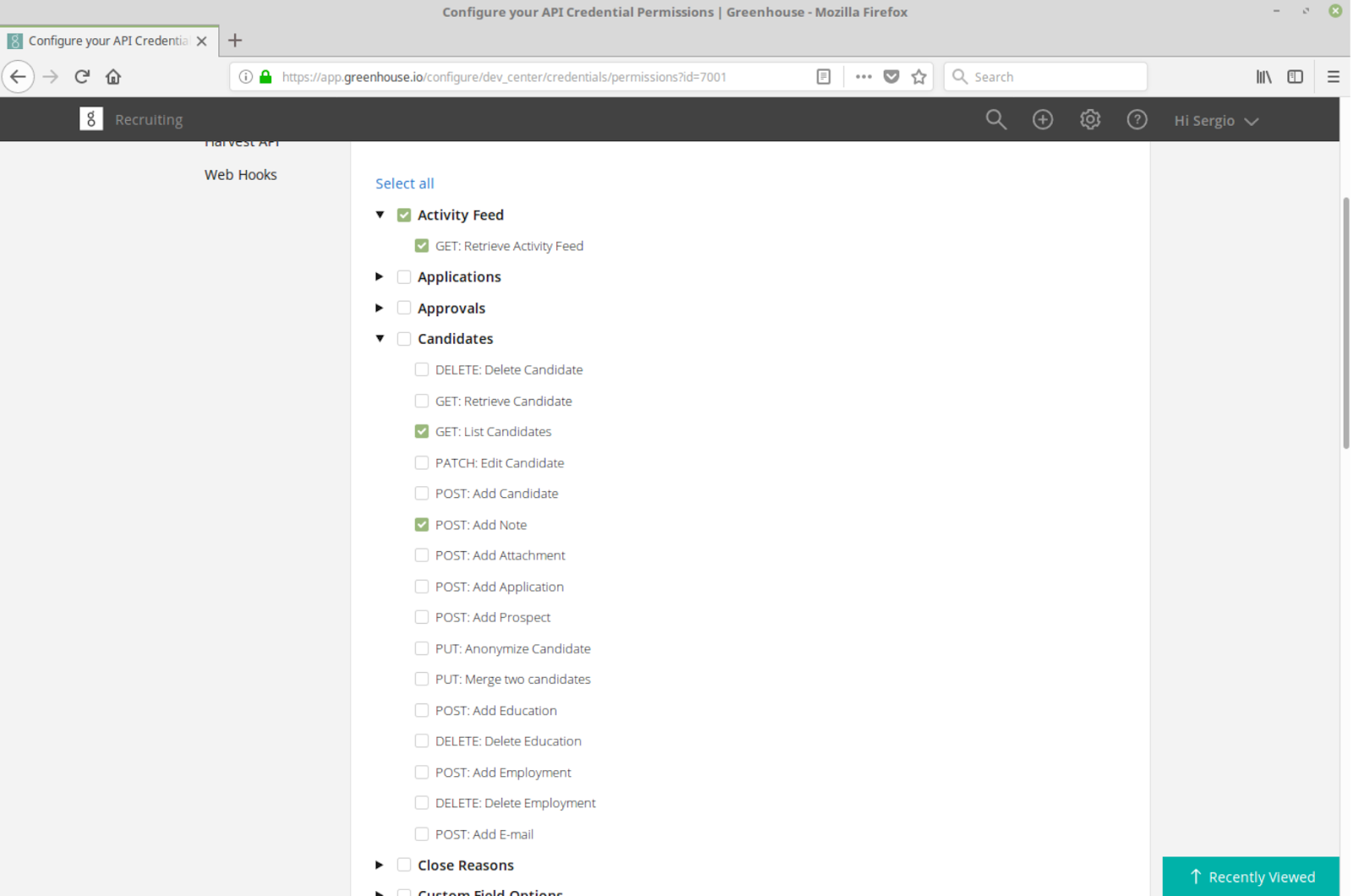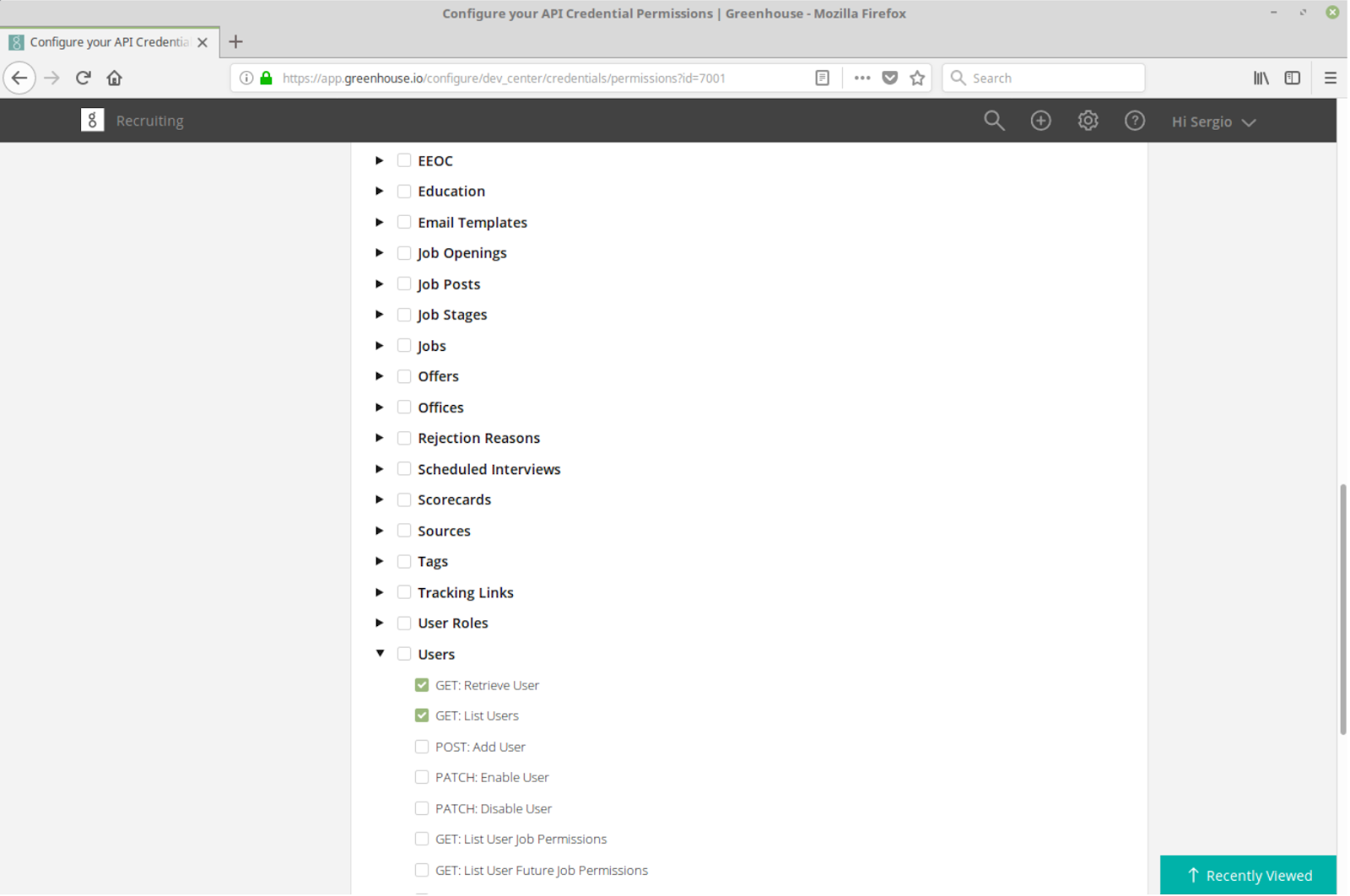 At the minimum we require to have access to activity feed, candidates to list candidates and adding note and listing users. You will also enter your API key in the integration screen of TextUs
---
Login to TextUs on your web browser and select the "Settings" icon from the top right corner.

---
Once in your TextUs Settings, click on the top navigation "Integrations". From there click the "Greenhouse" button.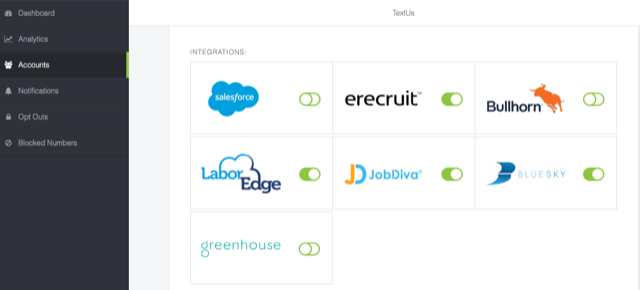 Greenhouse Admins can also provide this API key to users without API access to complete the input of it into TextUs.
---
How it works:
With the TextUs Chrome Extension you'll be able to import contacts right from their Greenhouse profile. TextUs Reverse Number Lookup will check if the number is a mobile so you know you can text.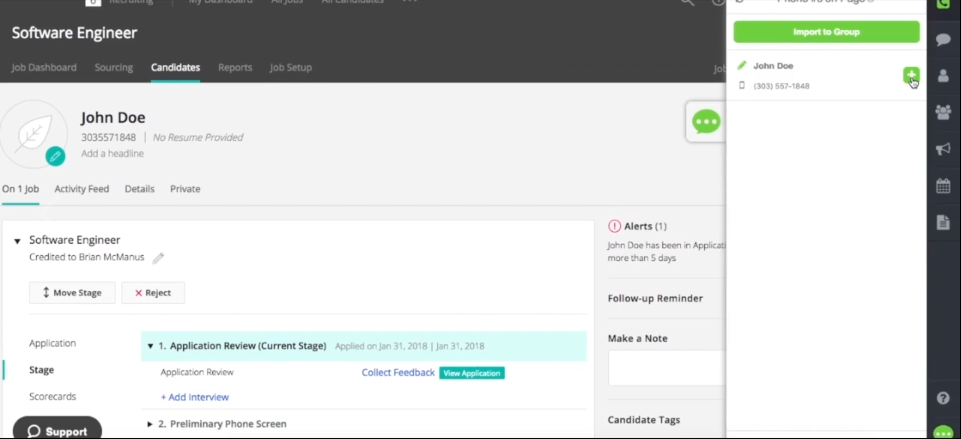 Once a contact is imported, you can start texting with them all without having to leave your Greenhouse workflow.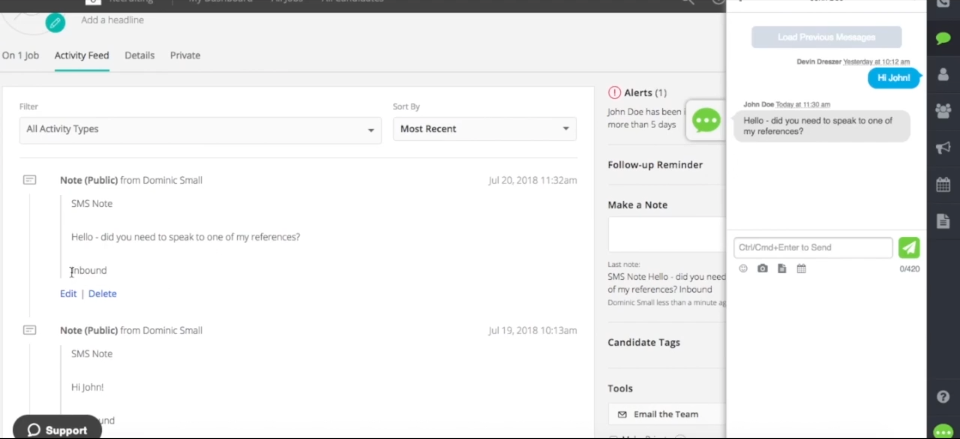 Have a question? The TextUs Integration Team is here to help!  Email integrations@textus.com - Call or Text Us at 303-442-3223
FAQs:
Why aren't my texts sending?
Your text messages may not be sending for a number of reasons. Please reach out to support with more details so we can help resolve this issue for you.
Please provide the following information:
Are your messages showing as "Delivered" or "Not Delivered" (red)?
What are some of the numbers you are having trouble texting to?
How do I send a SMS message to a candidate when I am in Greenhouse?
You'll need to have the TextUs Chrome Extension installed and make sure you are logged in to TextUs for the Extension to appear. Visit https://textus.com/apps/chrome-extension/ to install and learn more.
Why are my SMS messages not tracking in Greenhouse?
Be sure to check your account is correctly integrated by visiting the Integrations page. If it is not integrated please follow the instructions on how to integrate.
Where does the TextUs Chrome Extension read a number from in Greenhouse?
The TextUs Chrome Extension pulls the phone number listed below the candidate name by default.
How do I delete a contact?
We rarely recommend deleting contacts! If a user has requested to be opted out it is best practice to lock them so they can't be texted but you have the message and contact history still visible for recording purposes.
To delete or opt out a user you need to open the conversation and hit the Contact Info icon where you will find the trashcan to delete or the lock to opt out.
Reminder: if you delete a contact, you will delete their entire chat history. Even if you add the contact again, their conversation will not reload.
For all other TextUs FAQ questions you can visit our Help Center at http://help.textus.com/
Integration: TextUs + Greenhouse