In this article, we will review how to set up rejection reasons in Greenhouse and provide best practices on creating strategic rejection reasons. We will also discuss how to use your organization's rejection reasons to improve your hiring process.
Managing Rejection Reasons
Note: Rejection reasons can be managed by users with the Can manage company metadata permission and Site Admins.
To manage your organization's rejection reasons, click on the Configure tab from your Dashboard and navigate to Custom Options on the left-hand panel.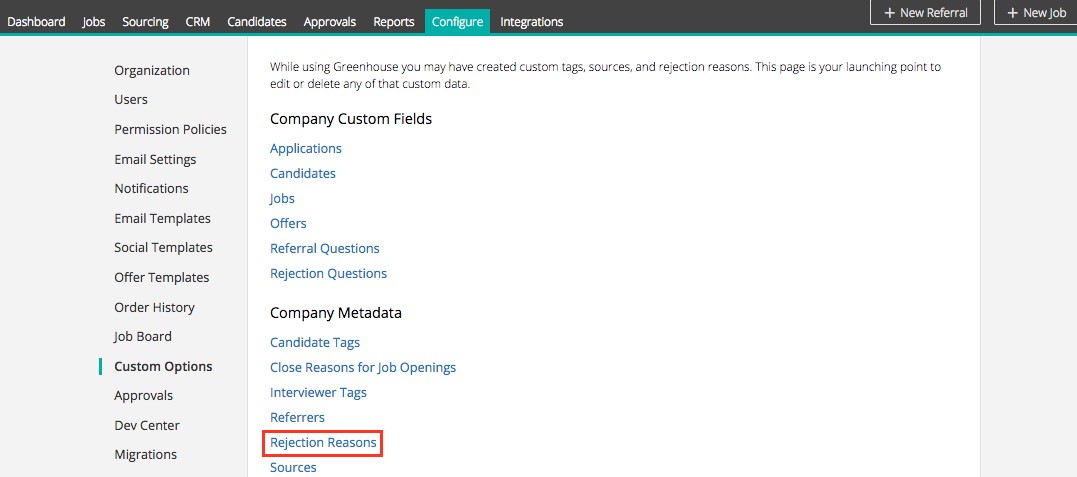 From the Custom Options page, click Rejection Reasons. On this page, you can create custom rejection reasons and hide the Greenhouse default reasons to create a list that is relevant to your company.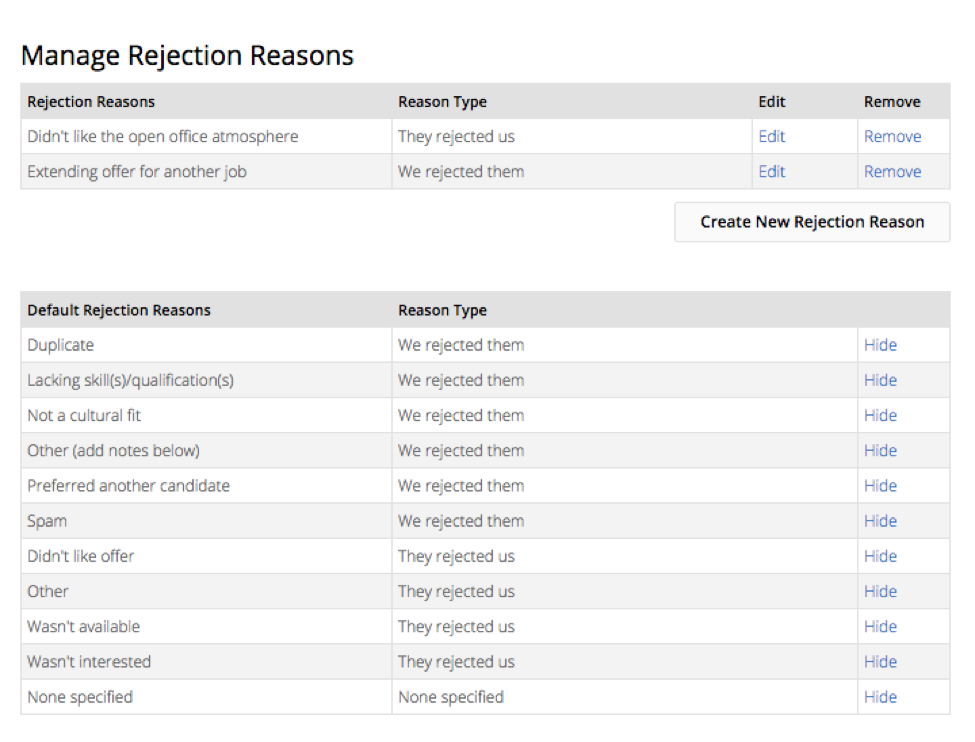 Note: If your organization is a Government contractor, we recommend that your company consult with your legal counsel to ensure you have an approved list of rejection reasons.
Requiring Rejection Reasons
When a candidate is marked, "rejected" in Greenhouse, it is helpful to require a rejection reason so that you know why the candidate wasn't a good fit. These reasons will come in handy when you want to report on it later and reflect on your recruiting efforts. Additionally, should the candidate re-apply in the future, Greenhouse will flag this candidate as a duplicate and their rejection reason will appear on their profile to give you context on their past interviewing process at your company.
To require rejection reasons for you organization, click on the Configure tab from your Dashboard and navigate to Permission Policies on the left-hand panel. 
From the Permission Policies page, check the box next to When rejecting a candidate, make "Rejection Reason" a required field.

Once this feature is enabled, users will be required to provide a rejection reason whenever a candidate is rejected at any stage.
Note: Enabling this feature does not retroactively update your past rejected candidates; however, you can still go into an individual candidate's profiles to update their rejection reason by clicking the 

next to the Rejected On date.
Best Practices for Creating Strategic Rejection Reasons
When creating rejection reasons, we recommend being as clear as possible about why you are rejecting that candidate. The reason should be actionable and also clear enough so that if someone in the future looked at the information without context, they would be able to understand why that candidate was rejected from the listed reason alone. Below are examples of bad/unclear rejection reasons:
Bad/Unclear Reasons:
More qualified applicant selected
Not chosen
Interviewed/screened
Applicant disqualified
Blank
Not great
Strategic rejection reasons for: "We rejected them"
Better qualified candidates selected – education
Not willing to work for compensation
Data management techniques
Position eliminated/on hold
Not willing to work hours
Failed Test
Did Not Show for Drug Test
Failed Background Check
Company does not wish to sponsor work visa
Strategic rejection reasons for: "They rejected us"
Accepted offer at another company - Compensation
Candidate applied to wrong position
Compensation/salary range unacceptable
Job does not meet career objectives
Not willing to relocate
No show to interview
Wasn't interested in our Tech Stack
Overall, while we provide a list of native rejection reasons for you to choose from, creating custom rejection reasons allow you to be more specific and lead to better insights from your data.
Use Rejection Reasons to Improve Hiring Process
After you have set up all of your rejection reasons and have made them required for all rejected candidates, this data will automatically be collected within Greenhouse. From there, you will be able to take it one step further and either search candidates with specific rejection reasons or review a report on rejection reasons to gain a better understanding of why your organization is not moving forward with candidates over time. 
Search by rejection reason
To search for rejected candidates with specific rejection reasons (e.g. "Accepted another position within the company"), click on the Candidates tab from the Dashboard and expand Profile Details from the left-hand panel.
Select Rejected from the Status drop-down menu and a specific rejection reason from the Rejection Reason drop-down menu.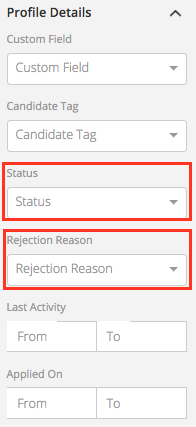 All candidate's rejected because of your chosen rejection reason will be populated.
Rejection reasons report
The Rejection Reasons report lists the rejection reasons, as well as the number and percentage of candidates that fall into each category. Clicking the blue numbers in each column will take you to the candidates tab and show you all of the people in each category.
The Rejection Reasons report can be filtered by Department and Office (located right next to your company name), as well as Job, Date Applied, and Stage Name, which shows you the rejection statistics for everyone who was rejected from that stage.
To see the rejection reasons report, click on the Reports tab from your Dashboard and navigate to Rejection Reasons.

A best practice is to ensure that the category "None Specified" is very low or doesn't appear, as that means there are rejected candidates who did not have a reason associated on their rejection. While you can always go back into their profile to add a reason, you can avoid this additional work by ensuring rejection reasons are required on all candidates.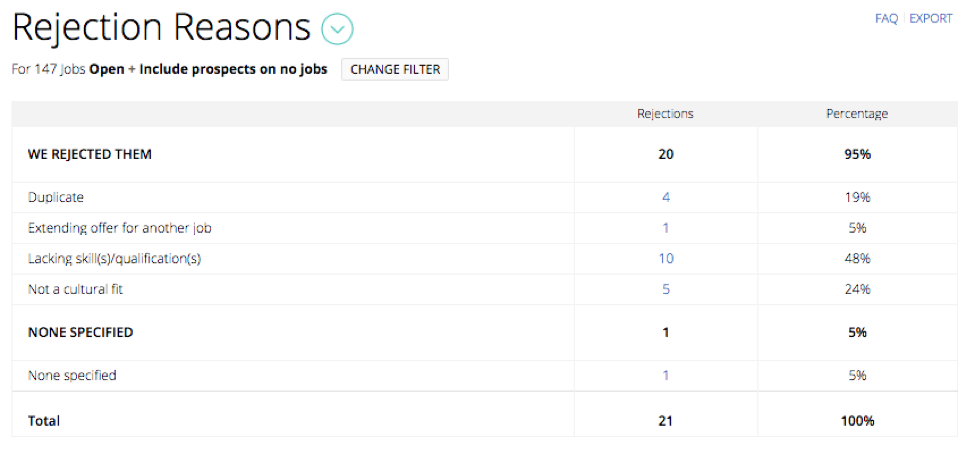 In reviewing this report, you should be able to understand your current pool of candidates and glean insights into why candidates are being rejected. 
For example, from the image above, if a high percentage of candidates rejected are "Lacking skill(s)/qualification(s)," you may consider looking into what exactly they are lacking and consider creating a custom rejection reason such as "Lacking skill(s) - Technical" or "Lacking qualification(s) - Education" so you can get a clearer sense of why you decided not to move forward with these candidates.
This data may also encourage you to revisit certain approaches to your job, such as the job post or interview questions. If you are finding that many candidates are lacking a skill or qualification, you may consider re-writing part of the job post to make it clearer that applicants who lack a skill or qualification will not be considered. This may reduce the number of applicants but result in a group of applicants of a higher quality.
As you can see, there's a lot you learn from rejection reasons once you've set them up. We'd love to hear how your organization has been using rejection reasons, any adjustments you've made, and how often you view/use the rejection reasons report to learn more about your candidate pool!