Greenhouse is designed to help create a structured hiring process. A structured hiring process facilitates alignment between recruiters and hiring managers while improving candidate experience. Interview plans are one of the key features that support this recruiting best practice.
Interview plans in Greenhouse should reflect the interviewing process of an entire organization and not just an individual recruiter, hiring manager and/or department.
If the stage names in your interview plans are inconsistent, outdated, or overwhelming numerous, this article will help you clean them up so that you can leverage Greenhouse to reap the benefits of structured hiring!
Step 1 : Review your current stages
Download the Stages by Job Report. This report will show you a list of all of your organization's jobs and their stage names. Use this report to audit the stage names your organization is using before making any changes.
To access the Stages by Job Report, click the All Jobs tab from your navigation bar.
Expand the Filter panel at the top of the page and select All from the Job Status drop-down menu. Select All Statuses from the Board Status dropdown menu.

Navigate to the list of jobs and select all jobs.
Click Download Stages by Job Report to download the report to your computer.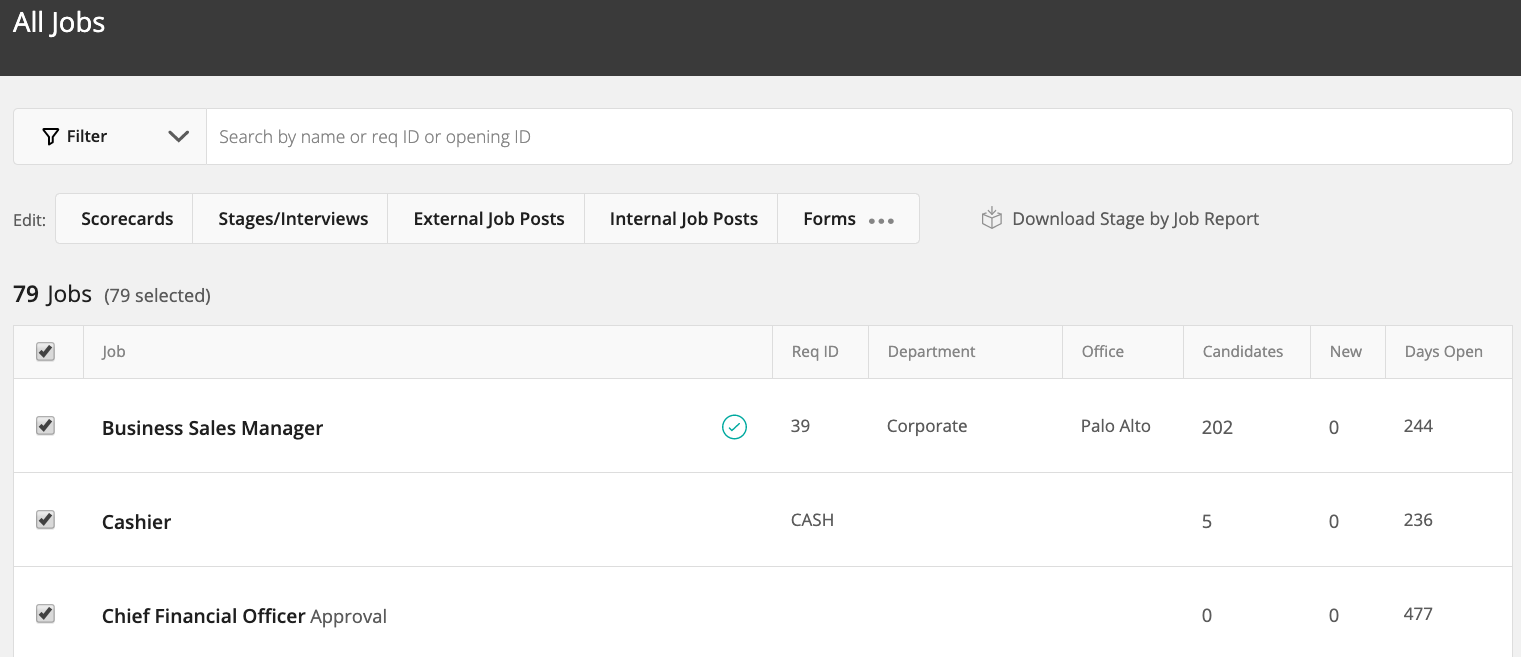 Use the downloaded report to audit stage names and develop an action plan to merge and/or remove stage names.
Step 2: Select jobs to bulk edit their stages.
While still on the Bulk Edit Jobs page, click Edit: Stages/Interviews.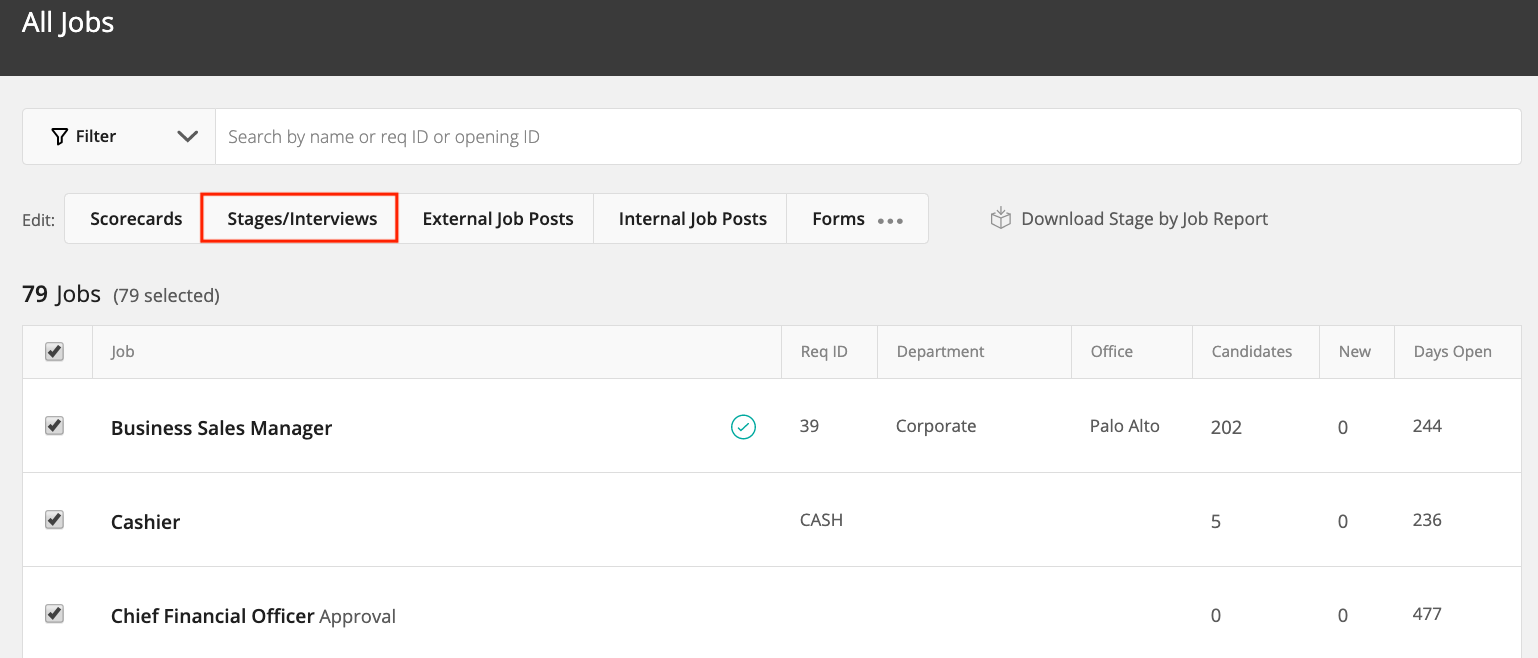 Step 3: Merge current stages
First, determine which job stage names can be merged. Stage names that represent the same stage in your process should be merged.
For example, "Face to Face" vs. "Face 2 Face". If you determine "Face to Face" will be your standardized stage name, you can merge all variations together.
To merge, simply edit the names to match the standardized stage name your team has decided on. To do this, click into the stage name you want to change (Face 2 Face) and edit it to reflect the standardized stage name (Face to Face). Click the green check mark. Save changes and refresh your page to see the updated stage name.
Pro Tip: Variations in capitalization will create new stage names so be sure to stay consistent in formatting!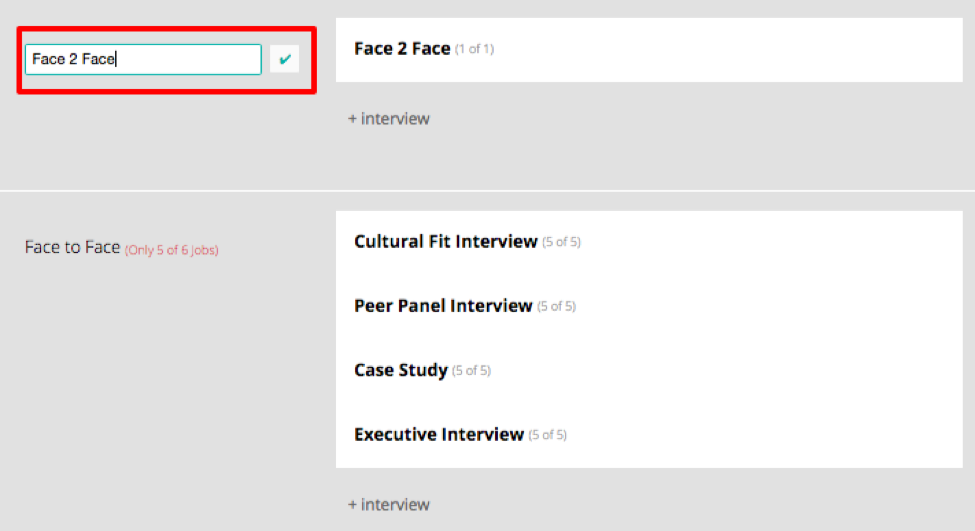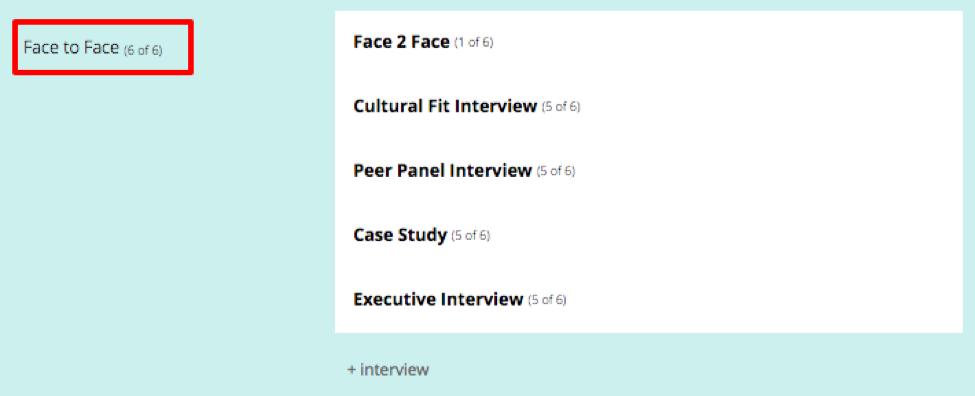 Note: Merging stages will not delete interviews. The interviews from the stage variations will live within the merged stage.
Now that you have edited the names of your stage names to be consistent, you will notice that some of the stages are gray while the others are green. Green stages represent a stage that is present across all of the jobs that were selected for editing while gray indicates that the stage is only present on a selection of roles.
Not all stages in your organization's hiring process must be green. For example, a technical test stage may only exist on certain technical roles.
For those stages that should be included across all jobs you selected, hover underneath the stage name and click Add to all.
Pro Tip: No changes to stage names will be saved until you click Save Changes at the bottom of the page.
Step 4: Remove stages
For open jobs, be sure to move candidates off of stages before removing. Any candidates that exist on removed stages will be moved back to the previous stage in the process. Removing stage names is irreversible. Interviews tied to this stage will also be removed.
To remove a stage, hover underneath the stage name and click Remove from all.

Note: If you prefer not to remove stages in bulk, you can remove them on a per-job basis by navigating to Job Set Up → Interview Plan → Remove stage.
Step 5: Prevent future stage name variations
Limit the amount of users who have permission to edit job stage names. Use the Job Admin permission stripe to grant or restrict this permission.
Users without this permission will now only be able to select from the stage names that remain from your clean-up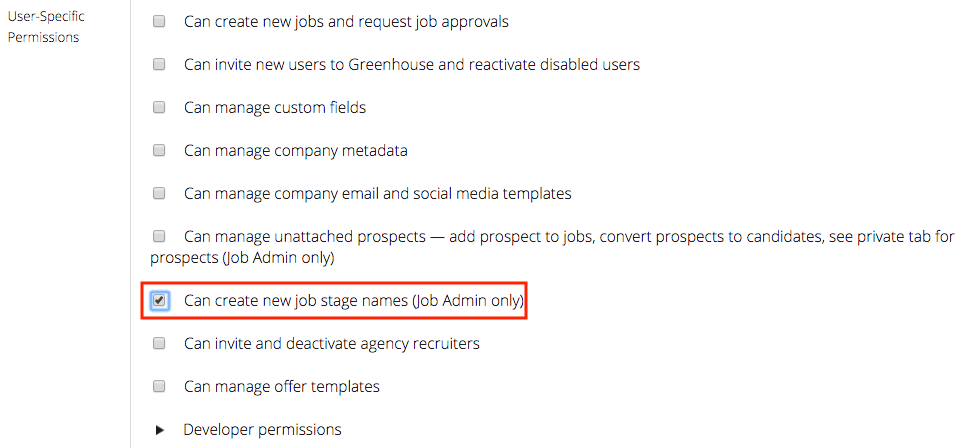 You can also prevent users from choosing the Greenhouse default stage names under Configure > Permission Policies.

Now with consistent interview plans, your organization can successfully leverage Greenhouse to apply structured hiring!
It is important to keep in mind that some actions are irreversible when cleaning up stage names. For more information to get detailed information on best practices, click here. It's always a good idea to consult with your Account Manager or our Support team before you commit to any clean-up project in Greenhouse!