With auto-tags, you can set up application rules so that, based on a applicant's answer to a job post question, they will automatically be assigned a certain tag.  This will allow you to then filter the list of candidates by tag to view candidates who answered questions a certain way.
For example, for the question, "What cities are you available to work in?", you can configure auto-tagging so that candidates who answer "Boston" are automatically tagged with  "Available for Boston".  
In this article we will cover all the steps involved in creating auto-tags: creating candidate tags, creating custom job post questions, and configuring auto-tags.
Create Candidate Tags
We need to populate some candidate tags prior to using the auto-tag feature. To create candidate tags, click on the Configure tab from your Dashboard and use the left-hand panel to navigate to Custom Options.
From the Custom Options page, click Candidate Tags under the Company Metadata header.
Click the Create New Candidate Tag.

Input a name for your candidate tag in the Create a new Candidate Tag dialog box. When finished, click Create Candidate Tag.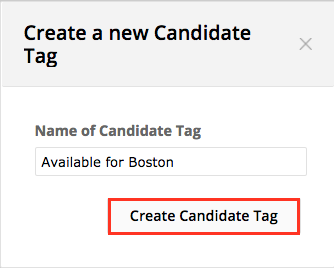 To learn more about creating custom candidate tags, click here.
Create Custom Job Post Questions
With our custom candidate tag created, we need to create a job post question whose response will get be auto-tagged. The directions that follow detail how one would add a custom question to an existing job post.
Important note: auto-tagging can only be configured for questions of the following type:
Yes/No
Single select
Multi select
To create a custom question for a preexisting job post, click on the Jobs tab from your Dashboard and select a job from the list. 
From the job's profile click on the Job Setup tab and use the left-hand panel to navigate to Job Posts.
Click on the 

symbol beside the job post(s) you wish to edit.

Scroll down the Edit Your Job Post page and click Add Custom Question.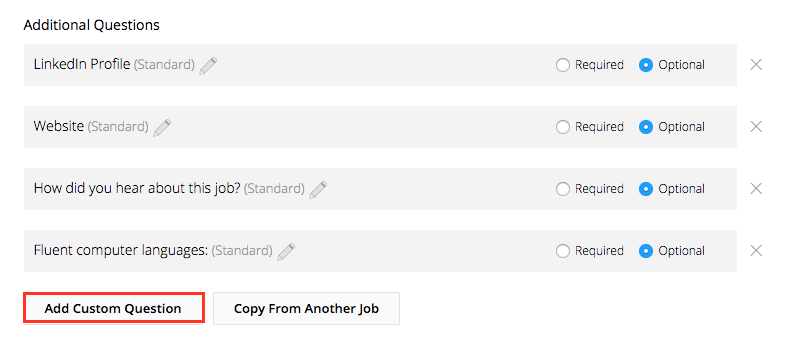 Input your question in the appropriate field and choose either Yes/No, Single Select, or Multi select from the Answer type field. Fill in response choices in the Options field. When you have finished. click Done.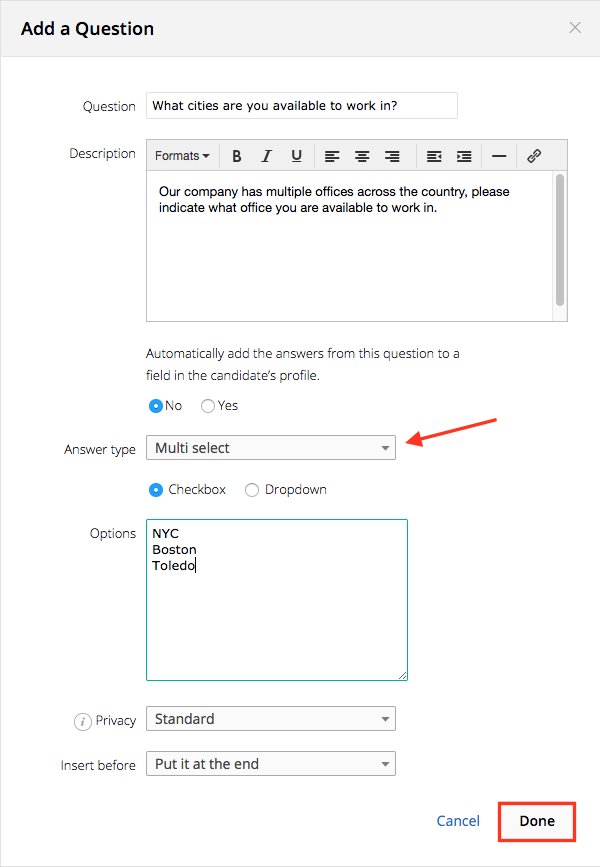 When you have returned to the Edit Your Job Post page, scroll to the bottom and click Preview. Review your job post from the Preview screen and click Save. Your custom job post question is now saved.
For more information on managing job posts, please see our video here.
Create Auto-Tag Rule 
Last, configure the auto-tag rules:
While still viewing the job post, click # rules or Manage Rules under the Application Rules column.

From the Rules page, you can edit, delete, and add new rules. Click 

 to edit existing rules. If you would like to delete an existing rule, click 
. To create a new application rule, click Add a Rule
From the Add a Rule dialog box, select your job post question, the candidate response, and click the check box for tag. 
Select tags from the drop-down menu. You can choose as many tags as you want. When you have finished, click Save.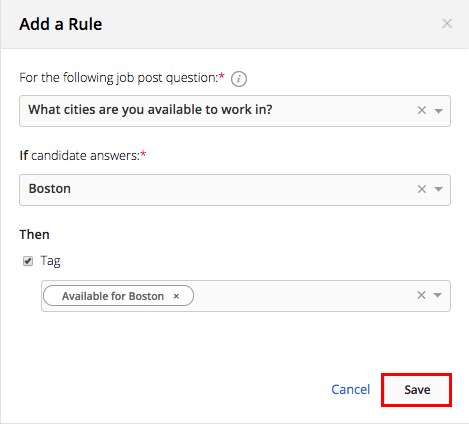 Candidates who respond to the question with the designated response will now be auto-tagged with the tags you selected. 
View Auto-tagged Candidates
If you would like to view candidates that were auto-tagged based on the application rules you created, click the Candidates tab from your Dashboard.
To filter by auto-tagged candidates, navigate to Profile Details on the left-hand panel and select the tag from the Candidate Tag drop-down menu.