Any number of factors can impact why a job is taken offline. It could go on hold while recruiters focus on a higher-value role, it could get cut from the budget altogether, or it could be filled — but with a mix of new hires and backfills. In order to provide flexibility and structured data about what happened to all of the roles you've opened, we're introducing a new concept called Close Reasons that provides metadata on any Job Opening that is closed for any reason.
To set them up, first head to the Configure > Custom Options page and click on the new Close Reasons for Job Openings page. We've added a few default reasons, but feel free to delete those and add as many different options as you'd like to fit your organization's need. 

From there, you can add a close reason in a couple of different places. When hiring a candidate, you will now see an option to choose which close reason should be associated with the hired candidate. If you want to differentiate between different types of hires — backfill, new headcount, or even internal — you can add multiple reasons and choose one for each hired candidate.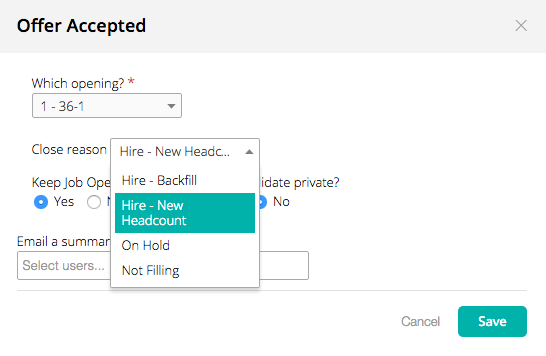 When lowering the number of openings on the Job Setup > Job Info page, you will also see a similar dropdown that lets you pick a reason for each of the openings that are being closed.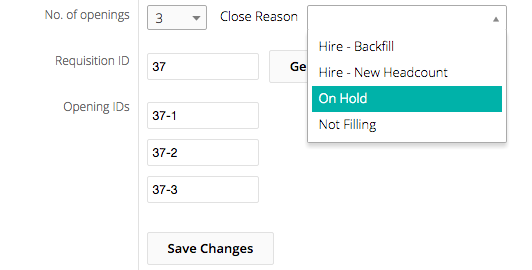 Finally, you can choose a reason when closing a job overall. This reason will be applied to every unfilled opening that you're closing, so if the job is considered On Hold, you can now represent that in Greenhouse.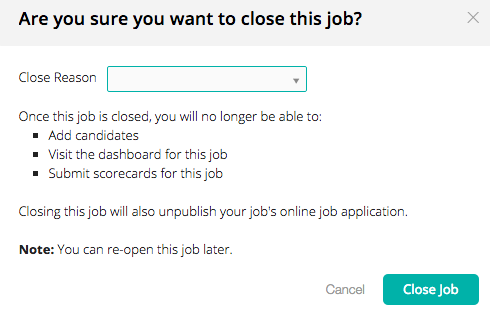 After you've added some reasons, you can click the See Openings button on the Job Info page to see information about each job. Any active openings will appear at the top, while any that have been closed will be at the bottom.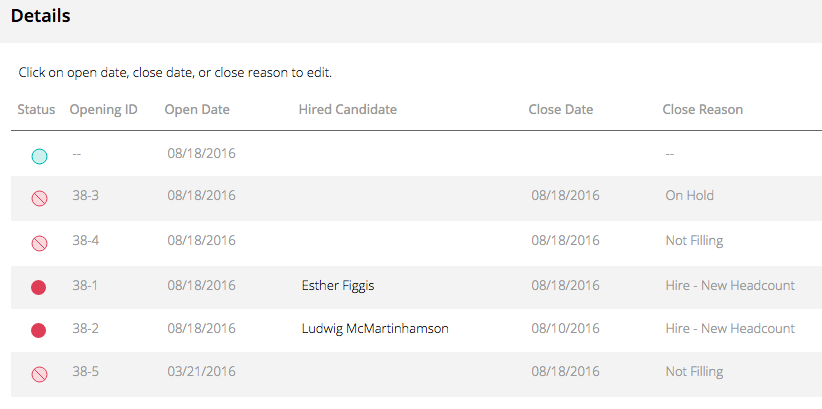 The Job Status Report (https://app.greenhouse.io/reports/job_status) will then help you report on this information. It is a data dump of your openings and close reasons across all of your jobs. It will allow high-level reporting of what happened to each job in your system, and can be easily exported to rectify an external hiring plan with what actually happened in a given month, quarter, or year.