In addition to the free posting on Glassdoor and Indeed, your organization can post jobs on your job board to LinkedIn for free using LinkedIn Limited Listings. While these free ads will not appear as prominently as ads purchased directly through LinkedIn's Paid Ads, they will hopefully expand your reach and allow you to access an additional subset of candidates at no additional cost to your organization.
Unlike other free external job boards like Glassdoor or Indeed, LinkedIn Limited Listings are handled at an organization level in Greenhouse Recruiting and these posts will either be On/Off for every job that is currently live on your job board.
Note: In order for LinkedIn Limited Listings to function properly, every job post must be indexed to a city.
If you are interested in learning how to post individual jobs to LinkedIn with tracking links, click here. In this article we will cover:
Enable LinkedIn Limited Listings
To enable LinkedIn Limited Listings on a specific job board, click the Configure icon 

in the upper right-hand corner. Click on Job Board from the left-hand panel and select Edit next to an external job board.

From the Edit Your Job Board page, navigate to the Turn on Limited Listings on LinkedIn section and click the circle next to Yes.
LinkedIn will attempt to match your company name with the correct company page on LinkedIn, but it is not always perfect. To ensure your ads always appear in the right place, please add your LinkedIn company ID in the field provided. You can find your company ID in the URL of your company page (e.g. linkedin.com/companyID).

Any candidates who apply through the link will be listed with the source LinkedIn Limited Listing.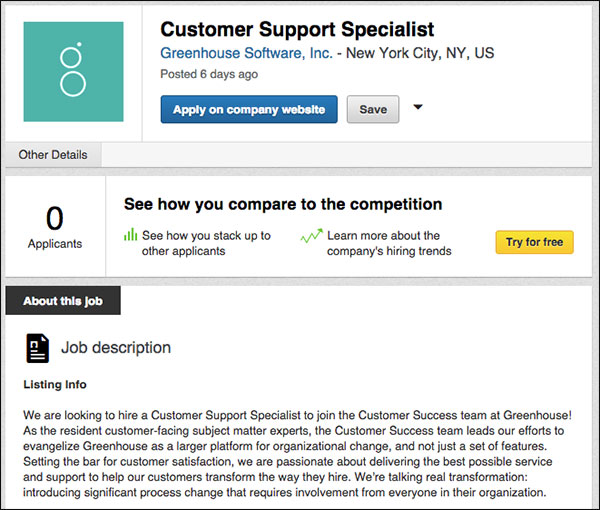 General Considerations for LinkedIn Limited Listings:
LinkedIn Limited Listings only appear through LinkedIn's search after relevant LinkedIn Job Slots and Posts.
Limited Listings do not appear in the recommendations throughout the site (e.g., Jobs You May Be Interested In module and email, Work With Us ads, Similar jobs recommendations, etc.). This means that they are only visible to the subset of members who are actively looking for jobs.
Greenhouse users who post jobs are not able to manage Limited Listings in Recruiter (or online, through LI.com), which means that they do not have access to Job Analytics, suggested matches (Suggested Professionals), people who have viewed the job, etc.
Limited Listings cannot be sponsored across the site.
If you are interested in flexible paid posts please visit our documentation on:
Purchase a LinkedIn Paid Ad Directly Through Greenhouse
To see all the ways Greenhouse Recruiting can interact with LinkedIn, click here.