If you have dozens or hundreds of interviewers across multiple departments and offices, it can sometimes be difficult to figure out which ones should be handling certain interviews. Some may be best at cultural fit while other excel and take home tests, but who has the brain capacity to remember all of those details?
Have no fear, we have a feature for you! Introducing Interviewer Tags, which allow you to better organize your users. Start on the Configure > Custom Options page, where you'll see a new field called Interviewer Tags. Keep in mind, this page is editable by all Site Admins, plus Job Admins/Interviewers who have the added permission for Can manage company metadata.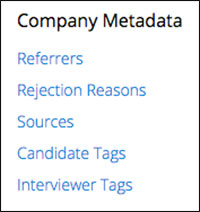 Add a new tag just like you would for a candidate, then save! From there, you can go to the Configure > Users page to assign your tags. You can create them to show which departments and offices your users are in, which interviews they are most proficient at, or anything else you can think of!

You can go back to the Configure > Users page to filter by any of the tags you've set up!

Or you can click the Select Interviewers by Tags button while scheduling an interview to make sure you choose the best person for each one!