Greenhouse Onboarding's Feedback feature is an essential process for your team to survey the experiences of your New Hires and report on the successes and gaps in your Onboarding Plan. Below is an overview of our Feedback feature which will cover the creation and reporting of questions, as well as, the New Hire experience of feedback question
You can enable the Feedback feature by navigating to Settings>Feedback and toggling the button for Feedback from your new hires to ON.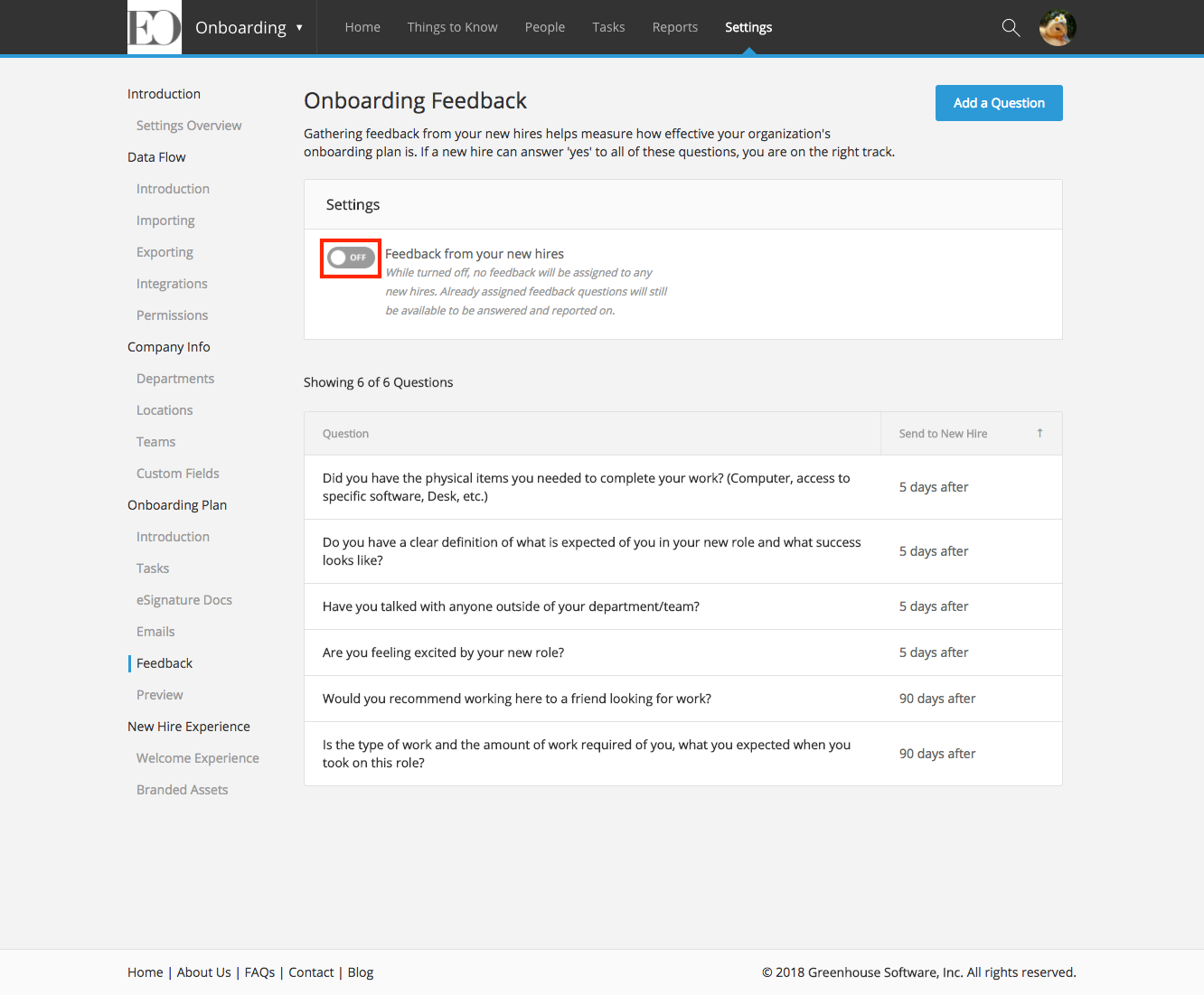 Note: To deactivate feedback questions for your entire organization navigate to this panel and toggle Feedback from your new hires to OFF
Creating Feedback Questions
While we pre-populate potential feedback questions for your organization, you can also create your own Feedback questions to suit your needs and address any areas of concern you might have. These questions are responded to in a Yes/No format, can be automatically assigned based on rules you assign, and the responses can be automatically forwarded to anyone in your organization.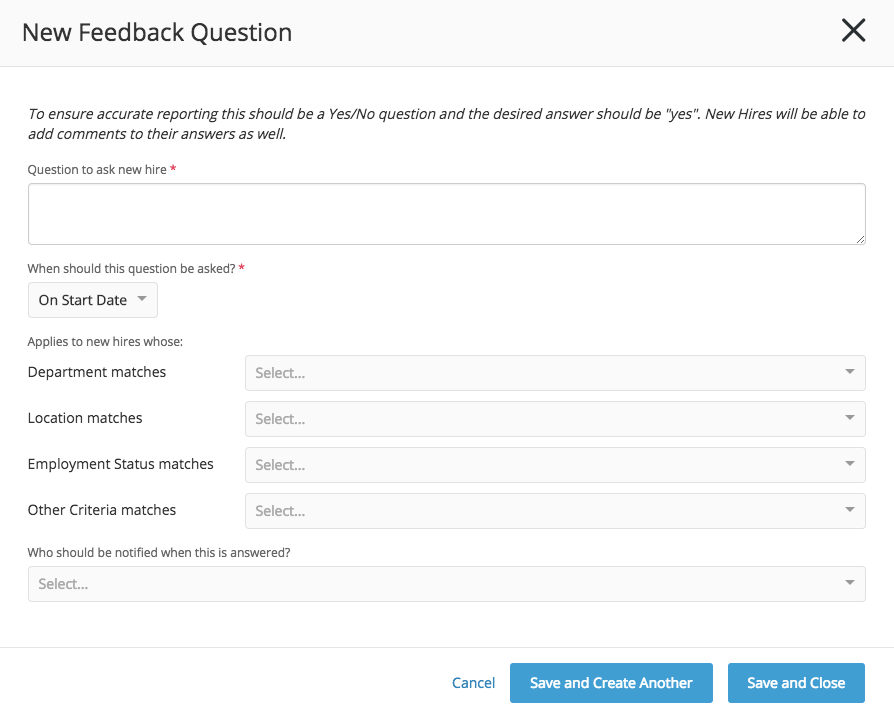 To create a new Feedback question navigate to Settings>Feedback>Add a Question.
Type in a Yes/No question where the desirable answer is 'Yes' (i.e. Do you feel confident that you have the necessary tools to be successful in your new role?) The New Hire will be able to add additional comments during the survey.
Schedule when the question will posed to the New Hire by either selecting On Start Date or Custom from the When should this question be asked? drop-down menu.
Apply any rules to the Feedback Question so that it can be assigned to only New Hires that match certain criteria.
Specify who should be notified of New Hire responses to a Feedback question by clicking on the drop-down menu under Who should be notified when this is answered? and select the appropriate person who should be notified.
Once you have finished, click on Save and Create Another to configure another custom Feedback Question or Save and Close to return.
If you would like a more detailed description of creating Feedback Questions, click here.
Feedback: New Hire Perspective
At the appointed schedule, the Feedback question will be proposed to the New Hire. A New Hire will receive an email with a link to the list of outstanding Feedback questions that have not been submitted.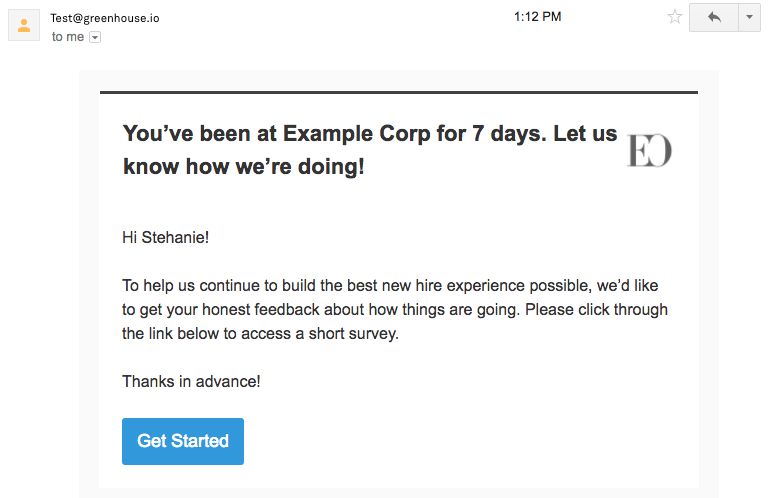 Once the New Hire has answered the Feedback questions, they will be able to submit their responses. New Hires will not be able to change answers after responses are submitted, a dialog box will appear to remind them of this.
Note: Any questions that are scheduled for a later date will not appear on the list and New Hires will be sent another e-mail when those later scheduled questions are asked.
For more information on what a New Hire will see when a Feedback question is asked, click here.
Feedback: Notification of Responses
New Hire responses to Feedback questions can be automatically forwarded to designated recipients from the Who should be notified when this is answered? field.
To add or remove a recipient from the list navigate to Settings>Feedback>[Individual Question]. Under the Who should be notified when this is answered? field, you can remove and/or add individuals who should be notified of responses to the question. Clive Save and Close when finished.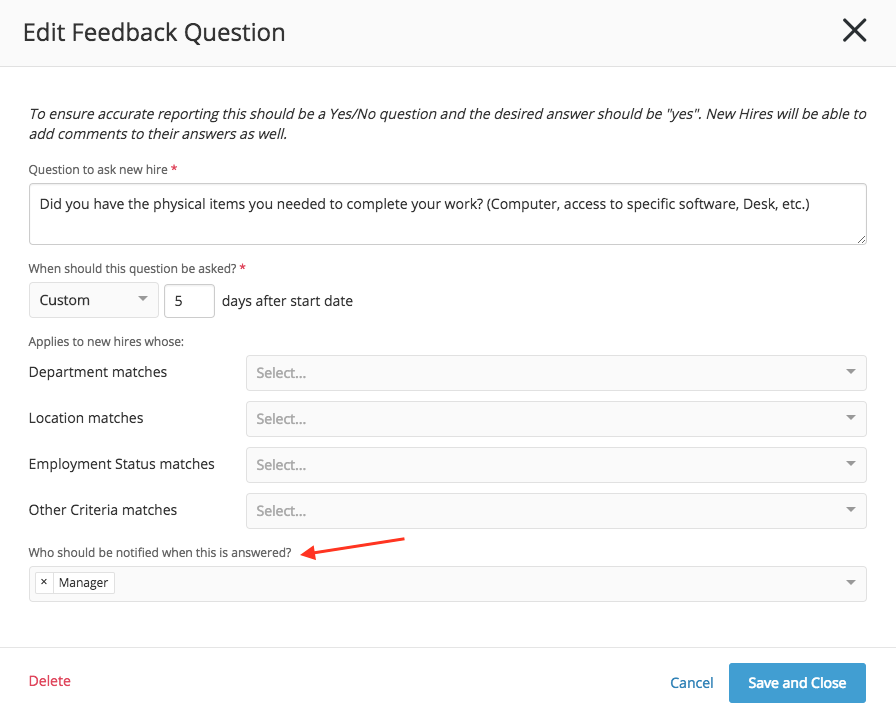 Users assigned to the Who should be notified when this is answered? field will receive an email when New Hires have answered the question.
For more details on notification of responses, click here.
Feedback Reports
Users with Admin level permissions or above can view the general status of feedback questions asked to New Hires from their Home screen. For specific details on questions asked to individual New Hires, click View Details.

To view a report on Feedback questions, click See All Feedback. Use the filter panel at the top of the page to filter your results. Your feedback report will populate in the bottom panel of the screen. If you would like to export these results into a spreadsheet, click Export to CSV.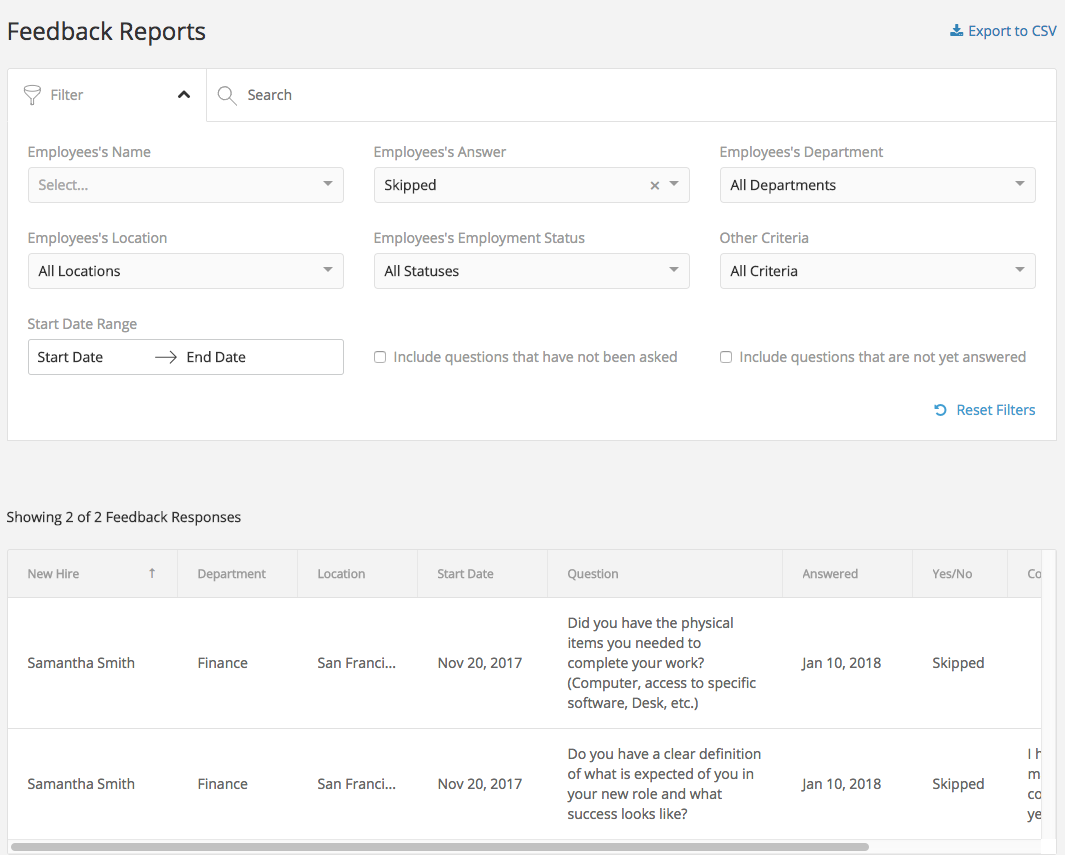 For more details on feedback reporting, click here.